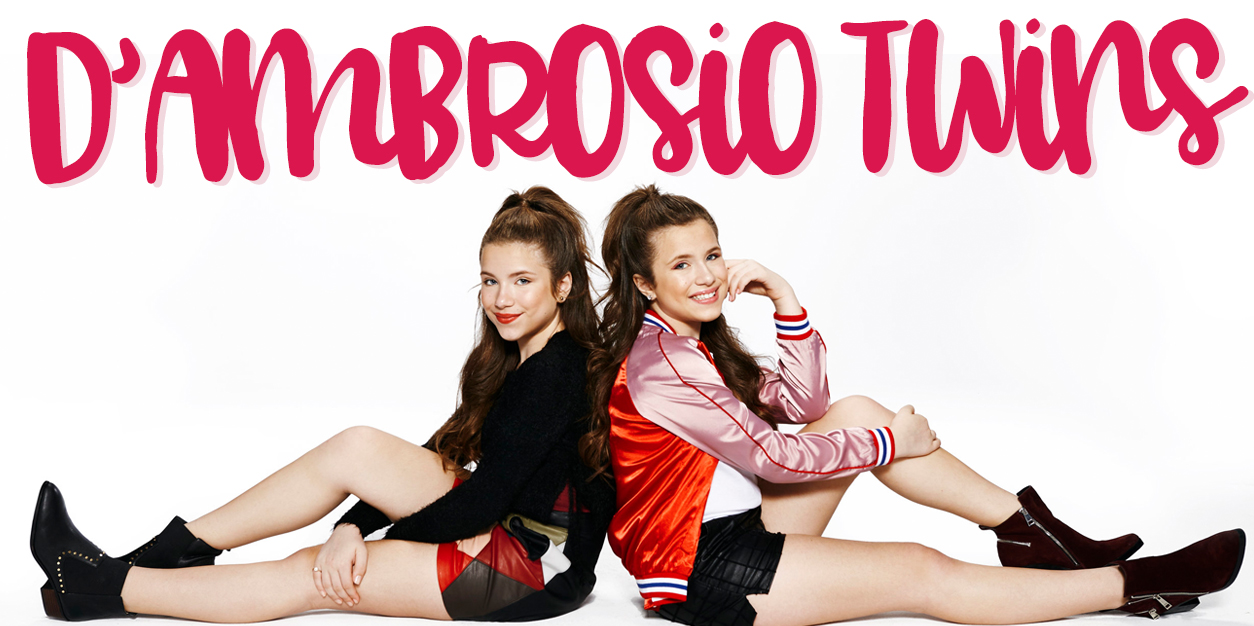 The D'ambrosio Twins Chat NRDD, Using their Influence For Good, and More!
The D'ambrosio Twins are taking the world by storm! Bianca and Chiara recently celebrated their 13th birthday and already have amassed a huge social following, launched a YouTube channel documenting their lives, recorded an album, and kicked off their acting careers. One of our favorite things about these amazing girls is the way they use their influence for good.
Bianca and Chiara can always be found sharing uplifting quotes with their fans on Instagram, and they're on the Board of Directors for Boo2Bullying, an organization working to eradicate bullying. Despite their talent and successes, they're still pretty down to Earth. They love listening to and playing music, spending time with their friends, and making the most of their lives in Los Angeles.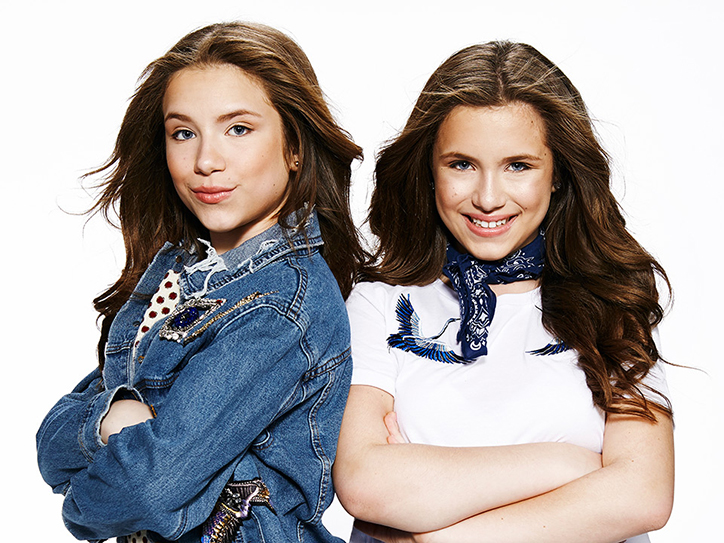 The girls have a bunch of really exciting projects in the works, but they guest-starred on the hit Nickelodeon series, Nicky, Ricky, Dicky, and Dawn last night. We were so excited to be able to chat with Bianca and Chiara about their experience working on the show, their world travels, and their heartfelt advice for their fans.
Get to Know the D'ambrosio Twins:
How did you first discover your love of acting and how did you get your start?
BIANCA AND CHIARA D'AMBROSIO: I think we were born acting and performing! But seriously, we got our first big break playing Summer Newman on The Young And The Restless at the age of 3. Being twins definitely worked in our favor as kids, because legally, minors can only work a certain amount of hours, so when they bring in twins (us), we get to take turns while the other takes a nap.
You appeared as Abby and Norah on last night's episode of Nickelodeon's Nicky, Ricky, Dicky, & Dawn, Quadentity Crisis. Tell us a little about the episode your experiences working on the show.
D'AMBROSIO TWINS: We play twins in the episode! It was so great to be on NRDD because we have always been fans. Getting on set was even more special because a lot of the crew were all people we had worked with in the past when we appeared on Nickelodeon's See Dad Run and they used the same stage. It was also great to work with some of our friends who are cast members we've known for years.
How was it working with the NRDD cast? Do you have any fun memories from the set that you can share?
D'AMBROSIO TWINS: Since we were friends with some of the cast already it was so easy to get into our characters. Once on set, we met everyone, and they were all very friendly. It was such a great experience! One thing we do enjoy when we work at Paramount Studios is just walking around on our breaks. There are so many amazing things to see on that lot! We shot some behind the scenes footage and will put it on our YouTube Channel after the episode airs.
You recently spent a few days traveling the world! What were some of your favorite places you saw during your trip?
D'AMBROSIO TWINS: OMG! We just got back from a trip to Cannes, Italy, and London. They were all amazing! It was our third time at Cannes. So much happens during the Film Festival that there is never a dull moment. Plus, it's absolutely beautiful. If you are ever there, try the macarons! Italy is just amazing. The food is so legit — and we, of course, love the history of the Coliseum, all the amazing buildings, and the awesome Italian people. We also got to go to the Vatican. London was so much fun…especially because you could feel the excitement of the Royal Wedding that had just occurred.

You've already accomplished quite a lot for having just turned 13. You have a dedicated social following and YouTube channel as well as an album, music videos, and of course, your acting careers. What is a goal that each of you has for the future? Is there anything you haven't done yet that you'd like to get into or do more of?
D'AMBROSIO TWINS: We honestly started doing all this because of how much we love to perform, both musically and acting. With social media, it gave us a place to just make new friends and share the craziness that is our life! We are always playing music and looking to do more with that. Acting keeps us busy, and it's so much fun. We have been fortunate to have done so much so far, but we hope this is just beginning of a lot of videos, recordings, and acting!
We saw on your Instagram that you've been doing a lot of auditioning and filming new and exciting things lately. Is there anything you're able to share that fans should look out for?
D'AMBROSIO TWINS: We actually are currently filming a series with Hayden Summerall, Madison Hu, Brooke Butler, and Ashley Casalegno called Sage Alexander that has been so much fun. We are going to be filming a couple more projects later this Summer and Fall as well. We are also doing work with Justice and are going to be a part of a YouTube channel we are really excited about, but can't mention yet! So keep following us for announcements!
How do you use your platform and influence for good?
D'AMBROSIO TWINS: We are super big on two major issues that we try to raise awareness on as well as do work with. One is Boo2Bullying, where we started as ambassadors and are now on the Board of Directors. Bullying is pretty much (especially now with social media) the #1 issue that kids (and adults) go through and can be so damaging. It's really upsetting, so we do what we can to help let people know that they are never alone and there is always help and people that care.
We are also very big on advocating for the rights and protections of animals. We believe in adopting animals. Since we were born, all the pets we've had were adopted, and we foster them too. We currently have a St. Bernard named Max and a Newfoundland named Callie. We have been able to raise awareness for these issues through social media, YouTube, our music, and by attending events. We do our best to make it a big part of our platform.
Being twins, you have lots in common, and you spend a lot of time together. What's one way that you're different from each other?
D'AMBROSIO TWINS: We've totally noticed this more as we get older. We used to always like exactly the same things. Now we're different in ways such as both of us liking the same kinds of music, but one liking certain artists more than the other. Or how Bianca plays guitar and Chiara took up the drums. Same with movies, TV shows, and more — but we still both love pasta and hanging out with our friends just the same!
What is one way you two are hoping to make a difference in the world?
D'AMBROSIO TWINS: I hope by making people happy in the things we share with them. Life can be so hard and lonely sometimes, so if someone can enjoy watching us be goofy and fun then we are doing something to make a difference in that person's life at that moment. If we record a song and it connects with someone or play a part in a show or film that a person can relate to that would be super awesome. You just never know what makes someone's day better, so if anything, we hope we can do that.
Our YAYOMG! readers are passionate girls with big dreams, just like you. What advice would you like to share with them?
D'AMBROSIO TWINS: Dreams are everything! If you don't have them, you'll never see them come to life. We work really hard — some days are great, some days are hard —but with friends and family around us, everything can turn around. You never know when your big break will come. That can be writing a poem, hitting a home run or anything you are passionate about. So, just keep doing it and have fun doing it. Never give up on your dreams and surround yourself with great people and family!
If you enjoyed getting to know Bianca and Chiara, we think you'll love getting to know fellow NRDD star, Lizzy Greene!