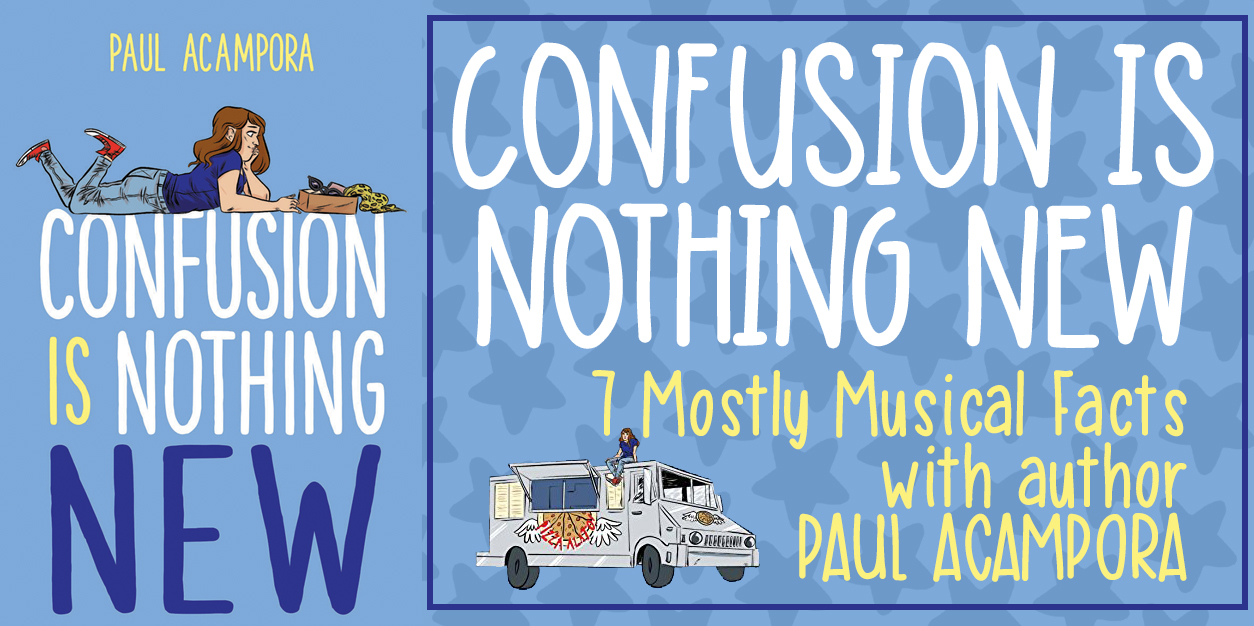 7 Mostly Musical Facts About Confusion is Nothing New with Author Paul Acampora
How do you deal with the death of the mother you've never met? Pizza trucks, a Cyndi Lauper tribute band, and the support of your best friends. That's how Ellie is handling things, at least, after discovering that the mother she never met has passed away. After a dramatic glockenspiel tossing incident and receiving a mysterious box of her mom's treasured mementos, Ellie and her friends team up to solve the mystery of who her mom truly was and what that means for Ellie as a middle school girl on the verge of growing up. Confusion is Nothing New by Paul Acampora is brimming with heart, lots of laughs, and the constant reminder that music and friendship can fix pretty much anything.
Even though this one is a bit shorter than most of the books we recommend here on YAYOMG!, we just couldn't resist sharing it with our readers. The story so emotionally honest about family and loss. It shows readers that not every family is picture perfect, and better yet – that it's completely okay. Every page is sprinkled with hope, laughs, the fabulous music of the 80's. It's a genuinely great read that is great for anyone who's experienced a death in the family, is a die-hard music fanatic, or is just looking for a fun adventure to read over Summer break.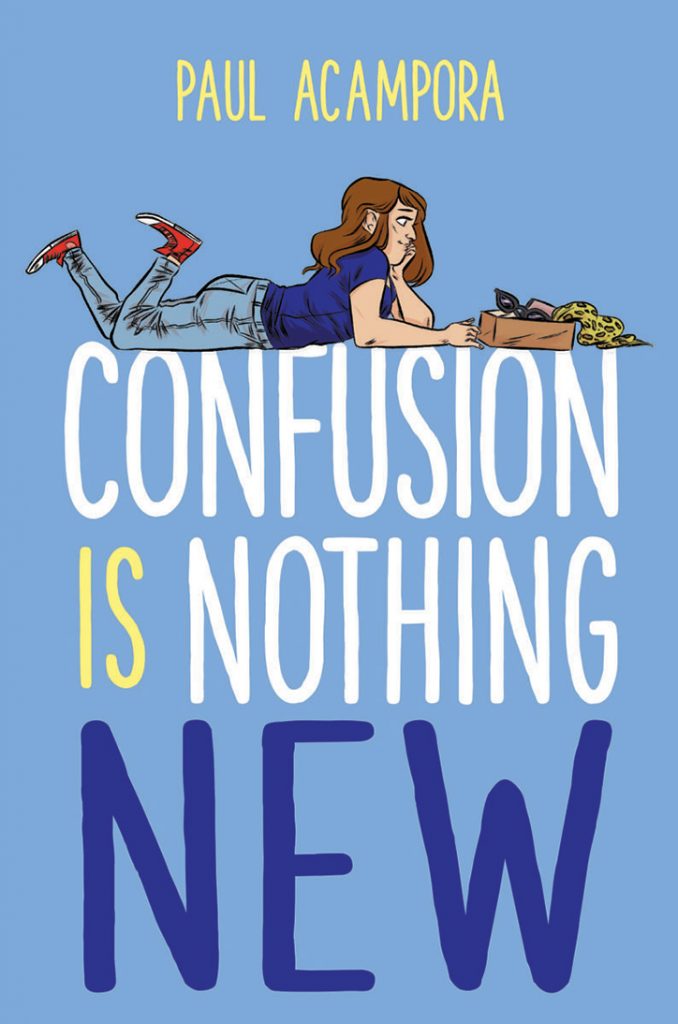 SYNOPSIS:
"Ellie Magari just learned that her mother is dead. Perhaps that would be sad if Ellie had ever met the woman. Exactly who was Ellie's mom? Does it even matter that she's gone? Perhaps a dead mom can still help Ellie figure out what it means to be a girl in the world today. Either way, Ellie wouldn't mind a role model beyond her master chef Dad.
Fueled by the bighearted sounds of '80s rock and roll, plus large doses of Cyndi Lauper's girl-power joy, Confusion Is Nothing New is about friendship, family mysteries, and the perfect pizza. It's also about fathers and daughters and girls who understand that it's good to make things, but breaking things is okay too."
Confusion is Nothing New is an emotional, funny, and quick, yet deep read about loss, change, and discovering who you are. We're so excited to feature author Paul Acampora as he shares 7 Mostly Musical Facts about the book and the musicians and experiences that inspired it.
7 Mostly Musical Facts About Confusion is Nothing New with Author Paul Acampora: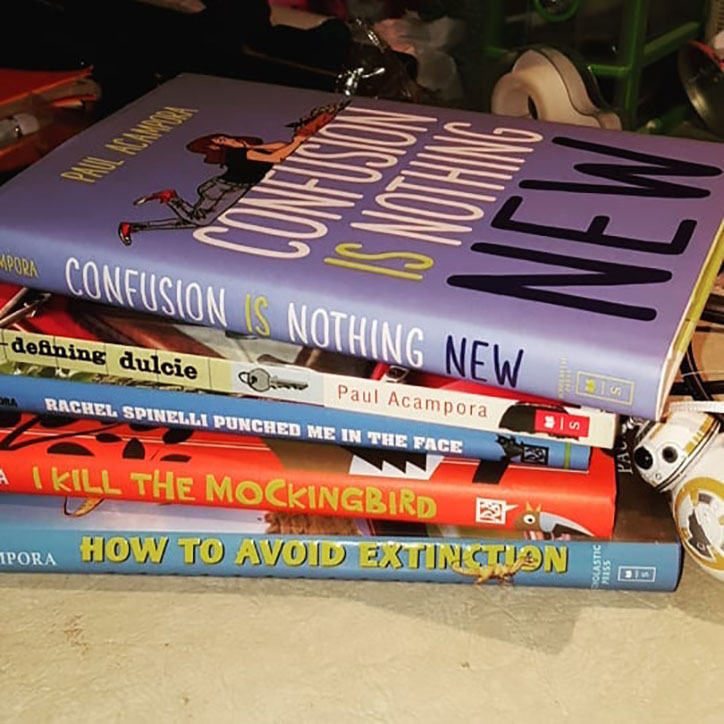 FACT #1:
Confusion is Nothing New opens with Ellie Magari tossing the glockenspiel she plays in marching band down the bleachers at a high school football game. The scene was inspired by my own daughter who accidentally dropped her own marching band glockenspiel down the stands during a game. Even though it was an accident in real life, it was still a very dramatic moment!
FACT #2:
Music plays a huge role in Confusion is Nothing New. In fact, most of the musical notes (see what I did there) come from songs and musicians I love. For example, Ellie's new music teacher, Mr. Leary, is roughly inspired by the late, great Tom Petty, who I always thought would be an excellent teacher. I modeled Mr. Leary's piano collection on singer/songwriter Neko Case who keeps an old Vermont barn filled with castoff pianos that she finds on Craigslist.
Recently I attended a show by a band called Gang of Youths, and the lead singer hopped off the stage to share hugs with a whole bunch of people in the audience. Including me! It was such a wonderful moment. I wish I had thought of that for the concert scene near the end of the book.
FACT #3:
The title of Confusion is Nothing New was one of the very last decisions I made about the book. It was suggested by my editor, Nancy Mercado, and it comes from a line in the song Time After Time by Cyndi Lauper, who is an inspiration for me and for my characters. In the song, Cyndi Lauper talks about a "suitcase of memories," similar to the one Ellie receives from her dead mom. Interestingly, the video from Time After Time addresses the relationship between a girl and her mother. Not only that, the girl in the video really doesn't get everything she was hoping for so the whole thing was kind of a perfect fit for Ellie's story.
FACT #4:
My characters' names come from all kinds of people, places, and things. A teacher, Mr. DeGroot, got his name after I watched Guardians of the Galaxy. (I love Groot!) One boy, Sinbad, gets his name from a character in the wonderful novel Paddy Clark Ha Ha Ha by Roddy Doyle. Ellie's last name, Magari, is an Italian word that means "maybe" because Ellie has to make a lot of choices in this story. Maybe they're the right choices. Maybe they're not.
FACT #5:
One of the characters in the book, Anya Flowers, aspires to be a movie director when she grows up. Anya is adopted and is Chinese by birth so all the movie posters in her room show work directed by Chinese, Taiwanese, and Chinese-American filmmakers. Since this is not a story about Anya, I don't think I ever mention this fact in the book, but it's an important part of who Anya is.

FACT #6:
Ellie's Dad, Bruce Magari (named after the actor Bruce Willis because I think that the two of them look a lot alike) is a chef who dreams of running a food truck focused solely on making great pizza. I love pizza, and I love food trucks, so I thought this would be a great idea.
As it works out, it's really hard to put a pizza oven in a moving vehicle. The temperature in a commercial pizza oven can top 900 degrees. Not many people want to drive around with that kind of heat in their back seat. Luckily, I discovered a few brave pizza-obsessed chefs who have built their own pizza trucks. If they could do it, so could Ellie's Dad! If I was starting over, however, Bruce might be more interested in peanut butter and jelly. PB&J trucks definitely exist. They might not be as tasty as pizza on wheels, but they're easier to build and much less likely to explode.
FACT #7:
I love coming up with names for chapters. My second favorite chapter name in Confusion is Nothing New is ROADKILL PIZZA, DANCING FIRECRACKERS, AND A SCORPION IN YOUR POCKET. My very favorite chapter name is EVERYTHING IS BETTER WITH A SOUNDTRACK because music really does make everything better.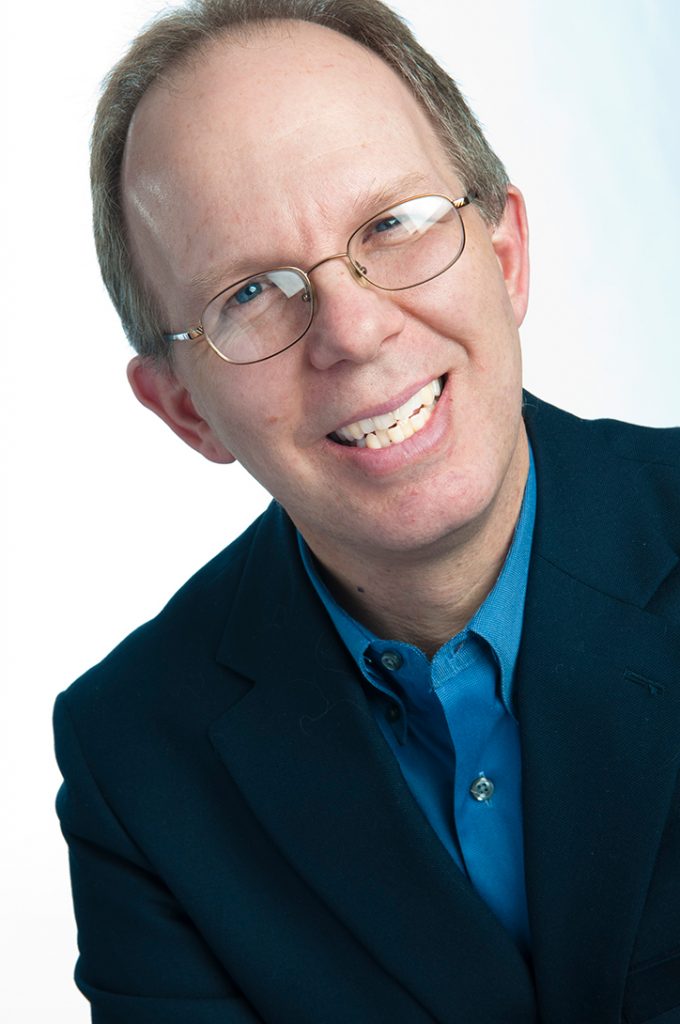 Need more books to add to your Summer reading list? Check out all the books you might have missed in May!