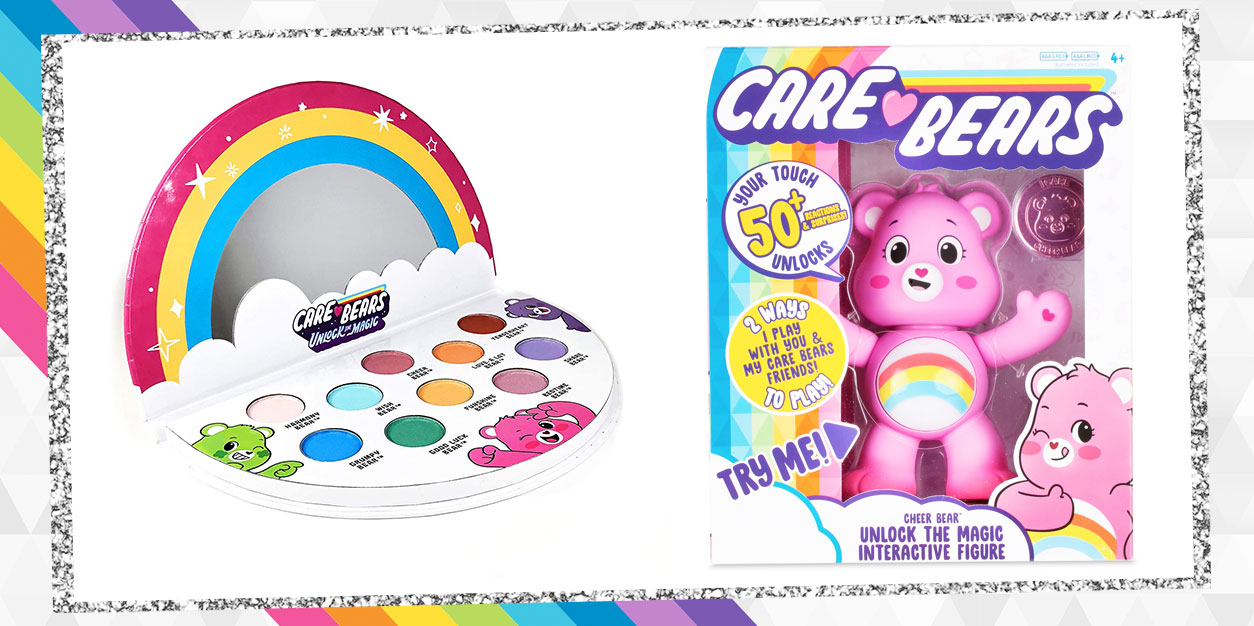 Care Out Loud With Our Care Bears Bear of the Month GIVEAWAY!
NOTE: We teamed up with Basic Fun for this Care Bears Bear of the Month Giveaway. All opinions are our own; we were under no obligation to give a positive review. Giveaway prizes provided by Skyrocket LLC.
The Care Bears are back, and this iconic squad of loveable, colorful besties are ready to spread friendship, caring, and color wherever they go!
To help spread the word and encourage people to #CareOutLoud, Basic Fun put together a special Bear of the Month campaign that they'll be sharing on social media. Each month, they'll celebrate a different bear and shine a light on their unique personality traits. The Bear of the Month for August is Cheer Bear, a positive go-getter who never backs down from a challenge. She always looks on the bright side and will be a constant source of hope and happiness!
As part of the special campaign, they sent out special Bear of the Month boxes to all their influencer friends. You may have noticed some of your fav toy unboxers sharing their care on social over the past few weeks, and now it's your turn! We teamed up with Basic Fun to give YAYOMG! readers a chance to win one of these exclusive boxes. Each box is overflowing with adorable Care Bears products and super cute swag. Want to enter? Have an adult fill out the form below!
We're kicking things off with Cheer Bear, but each month will bring a new opportunity to WIN, so be sure to keep checking back!
Care Bears Bear of the Month – Cheer Bear: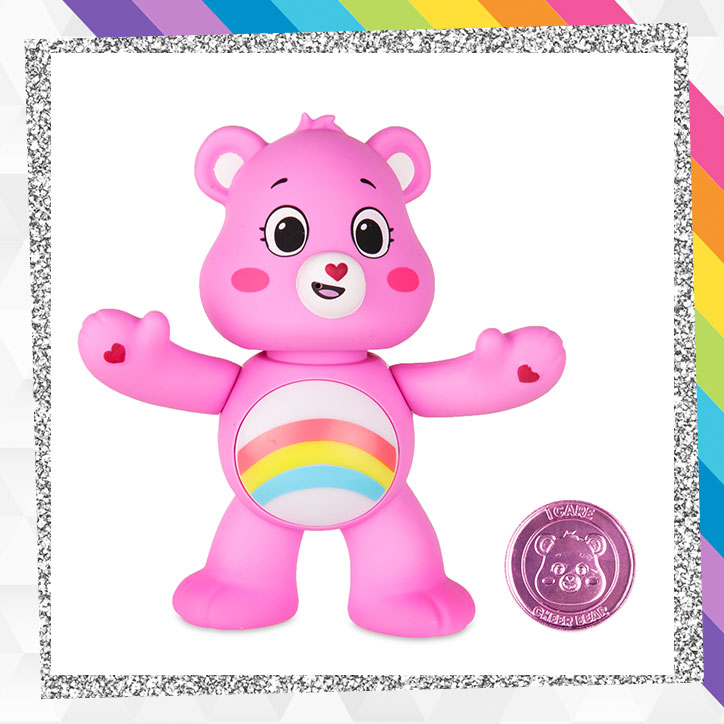 Cheer Bear Unlock the Magic Interactive Figure:
Care Bears are all about friendship, which is why these interactive figures are so much fun!
Bond with your caring new bestie by touching their noses, paws, and bellies to unlock the magic and over 50 reactions and surprises. Each Care Bears figure can sing songs, tell funny jokes, share their feelings, and even ask for high fives!
You can play together one-on-one or bring in the rest of the squad for a group hang! If you have one of the six other Care Bears figures, they can all interact with each other, making for even more fun!
Each of these vibrant toys comes with a colorful Care Coin for collecting and sharing. They're a perfect way to show a friend how much you care or keep them as a reminder to always be caring and kind wherever you go!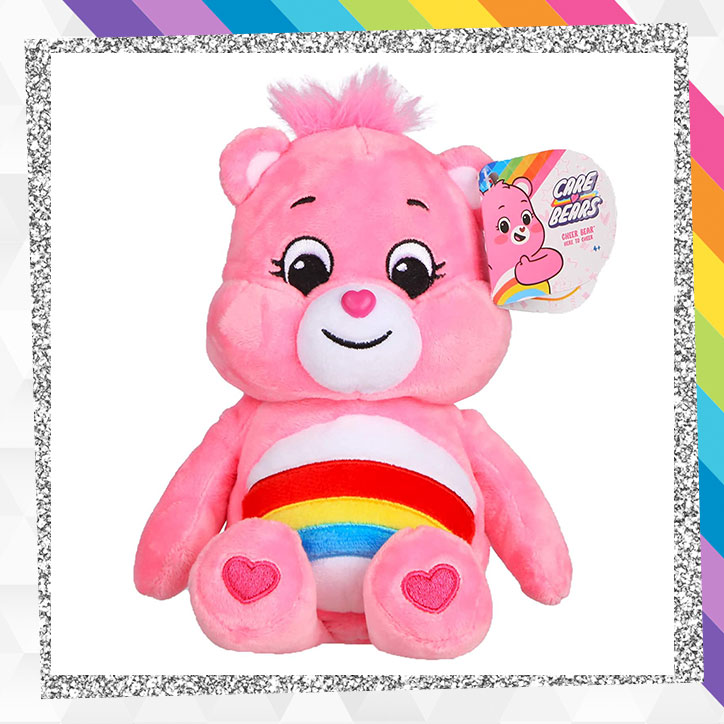 Cheer Bear Bean Plush:
These huggable plush are the perfect way to collect all your Care Bears favs!
Express yourself by collecting the ones that best represent YOU! Their positive energy and good vibes are sure to bring smiles wherever you go! Each Care Bear has a unique belly badge that represents their personality.
Cheer Bear is always looking on the bright side, while Grumpy Bear's grouchy vibes remind us that it's okay to feel our feelings – even the sad ones! Tenderheart loves helping others, Funshine Bear is all about the LOLs, and Share Bear and Good Luck Bear love to share their carefree spirit and good fortune!
Can't decide which one you like best? Collect them all for a rainbow of friendship, positivity, and caring!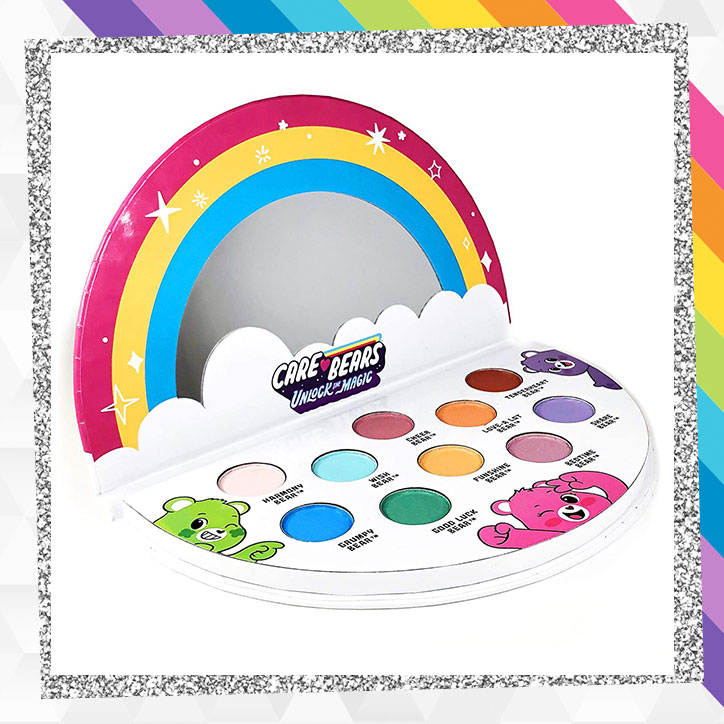 Care Bears Eyeshadow Palette:
Who needs a glam squad when you've got this amazing eyeshadow palette inspired by the Care Bears!
This rainbow shaped palette unfolds to reveal 10 Care Bears colors based on the characters from Unlock the Magic. Try out your favorite shades or switch up your style based on your mood. There's also a mirror so you can always be sure your look is on point.
Invite your friends over to share in the fun and give each other a Care Bears makeover!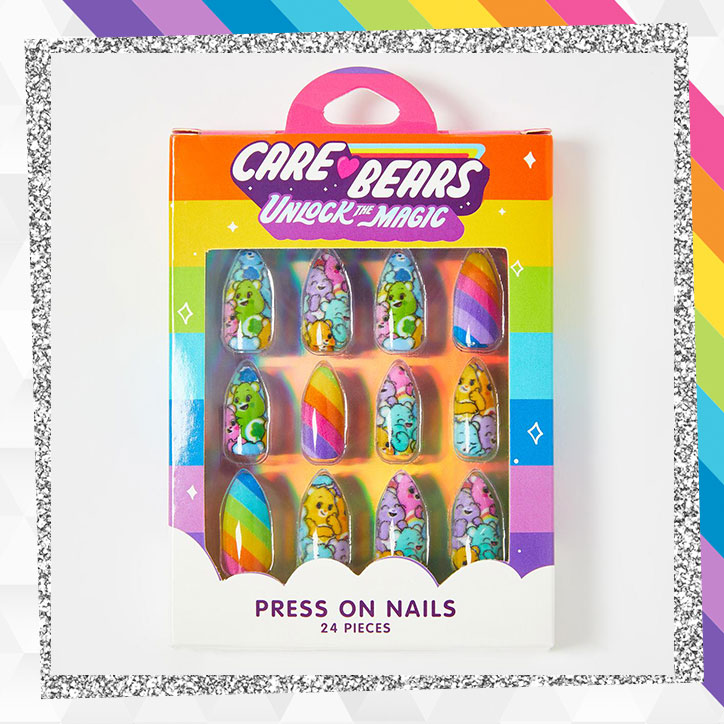 Care Bears Press-On Nails:
If you're anything like us, you've probably been doing your nails at home or skipping your mani routine entirely. This Care Bears press-on nails are a fabulous way to add a pop of color and positivity to your nail game.
There are 24 colorful pieces in different sizes that'll help you rock rainbow vibes whether you're doing online school or walking the halls. You'll feel confident and fierce knowing that the Care Bears are always by your side!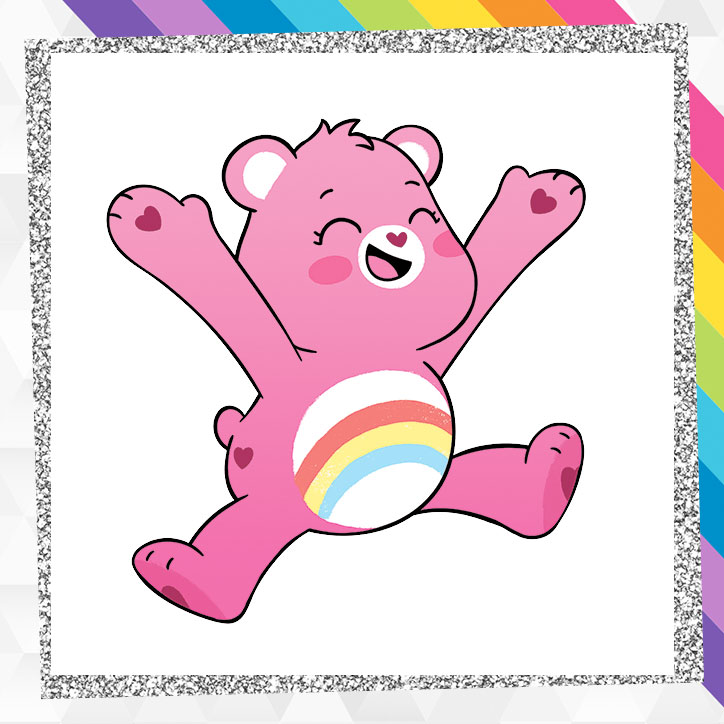 Adorable Extras:
In addition to all the awesome stuff we mentioned above, Basic Fun has included some extra adorable swag in this Bear of the Month box to help you tap into your love of all things Care Bears!
There's a Cheer Bear inspired headband, complete with soft pink fur and her signature rainbow in one of the ears. They've also included three extra Care Coins and three stamped Care Bears envelopes so that you can share your care with friends, cousins, or anyone else who could use a pick me up!
Care Bears Bear of the Month Giveaway: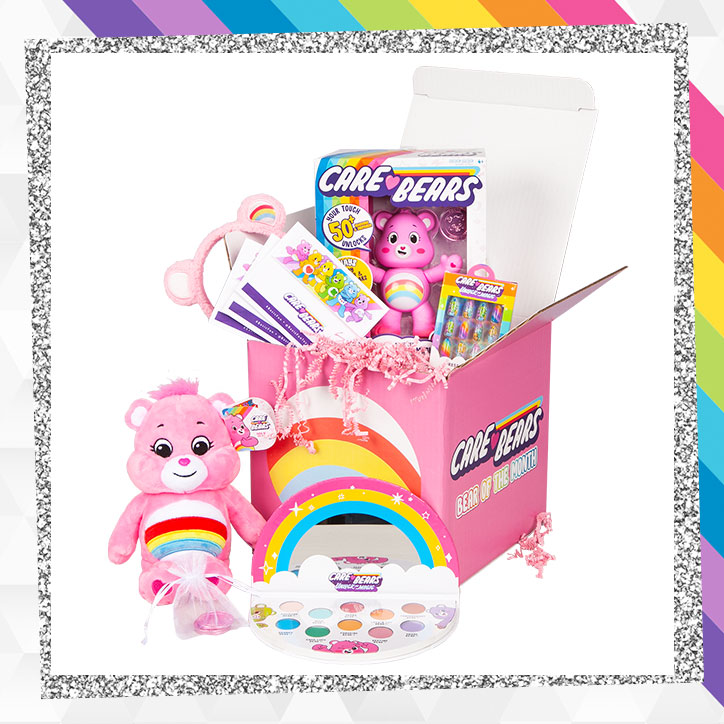 WHAT DO I WIN?:
ONE lucky winner will receive a Care Bears Bear of the Month Box that includes:
– ONE (1) Care Bears Interactive Figure (Cheer Bear)
– ONE (1) Care Bears Bean Plus (Cheer Bear)
– ONE (1) Care Bears Eye Shadow Palette
– ONE (1) Set of Care Bears Press-On Nails
– A few fun extras: A Cheer Bear headband, three (3) Care Coins, and three (3) pre-stamped envelopes
*Prizes generously provided by Basic Fun!
HOW DO I ENTER?:
Grab a parent or guardian and have them fill out the form below by September 11, 2020 at 11:59pm ET.
Giveaway runs from 08/28/20 at 01:00 pm ET through 09/11/20 at 11:59 pm. Open to US residents ONLY. Be sure to read the fully detailed rules HERE before entering.
THIS GIVEAWAY HAS ENDED AND THE WINNER HAS BEEN CONTACTED.
You must be 18 or older to enter. Please, only ONE entry per person. If selected as a winner, we will provide your parent/guardian with an affidavit to confirm that you are a valid winner who has permission to win. They will be REQUIRED to sign and return the affidavit to YAYOMG! to claim your prize. Prizes will not be mailed out without signed parental consent.
For even more cuteness and friendship, check out our Blume giveaway for your chance to win an exclusive Blume influencer box!