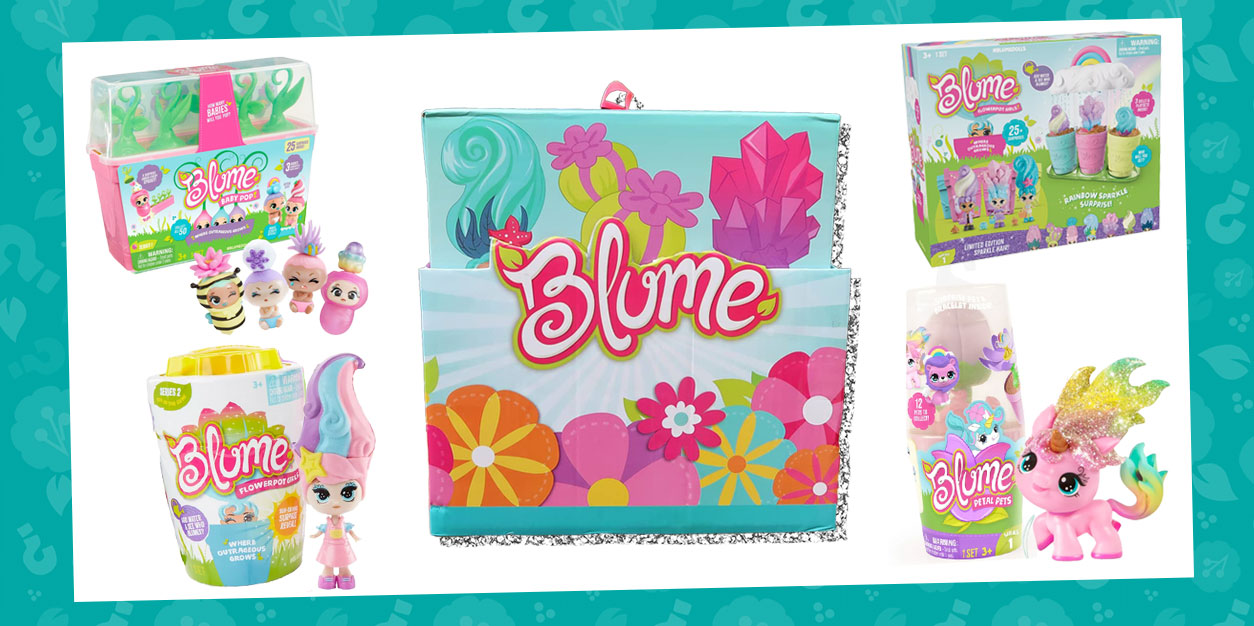 Let Outrageous Grow With Our Blume Influencer Box GIVEAWAY!
NOTE: We teamed up with Skyrocket LLC for this Blume Influencer Box Giveaway. All opinions are our own; we were under no obligation to give a positive review. Giveaway prizes provided by Skyrocket LLC.
When scrolling through your Insta and TikTok feeds, it's pretty much impossible to avoid seeing someone opening up boxes overflowing with sneak peeks and new releases. While swooning over the cutest new toys or the hottest new sneakers, you might be left dreaming of what it would be like to receive a special influencer box of your own.
We teamed up with our friends at Skyrocket LLC – to make that dream come true! We're giving ONE lucky winner give you the ultimate influencer experience – a chance to win a Blume ambassador box filled with the newest and cutest Blume products! From collectible dolls and playsets to exclusive DIYs, there's endless fun to be found when you lift the lid of this oversized box of fun. Plus, you'll get a super special sneak peek at an upcoming release that hasn't hit store shelves!
Ready to enter? Get the deets on all things Blume and then grab your favorite adult and have them fill out the form below!
Let Outrageous Bloom With These New Blume Releases: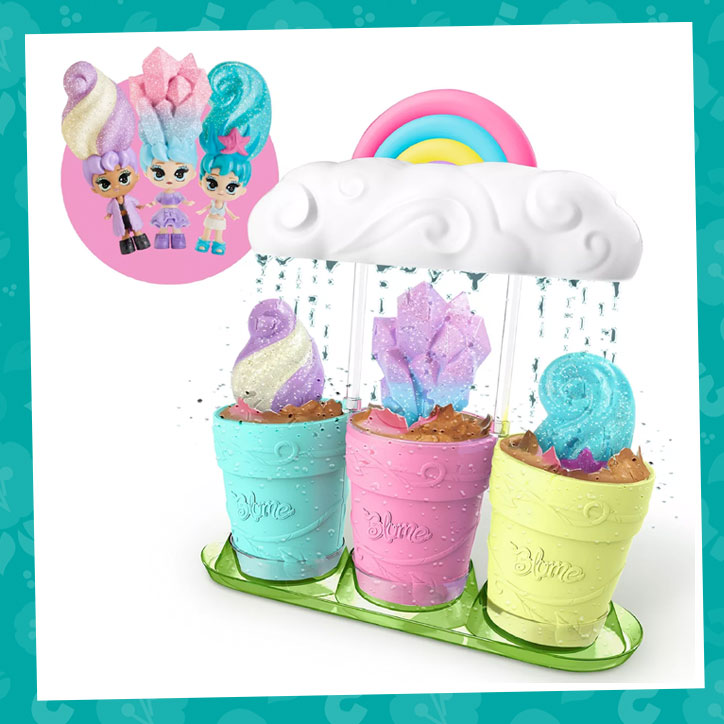 Blume Rainbow Sparkle Surprise:
Sparkle hair, don't care!
Just add water and watch in amazement as the cloud sprinkles rainbow rain down into the flowerpots, magically growing three limited edition Blume dolls before your eyes! These special dolls have hair that sparkles and are exclusive to the Rainbow Sparkle Surprise set. There are 10 in total to find, but you won't know which one you'll get until they rise from the flowerpots in shimmering style!
The best part? Once you've discovered your glittery new dolls and the 25+ surprises inside their flowerpot houses, you can use the adorable raincloud to water your IRL plants!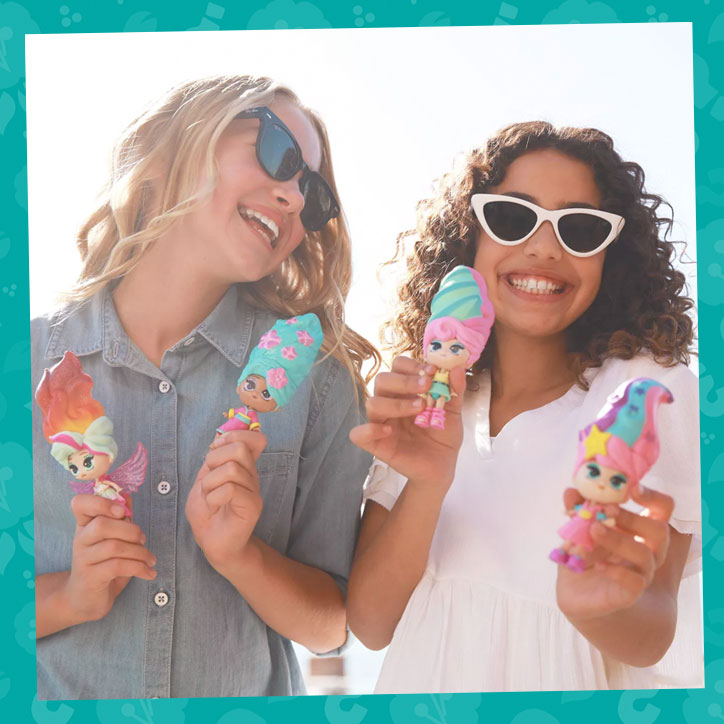 Blume Series 2 – Fun in the Sun:
Swipe on some sunblock and rock your cutest pair of sunnies, because the Blume squad is headed outdoors to soak up the summer sun!
Much like the first series, Blume Series 2 is all about super cute dolls with bold hairstyles, mix and match outfits, and lots of surprises to find. These ones are even more fabulous because they feature a sun-sational surprise reveal – squishy hair that changes color in the sun!
Since Series 2 is all about catching some rays and enjoying some fun in the sun, why not spend some time in the garden repurposing your Blume flowerpots to grow real flowers?!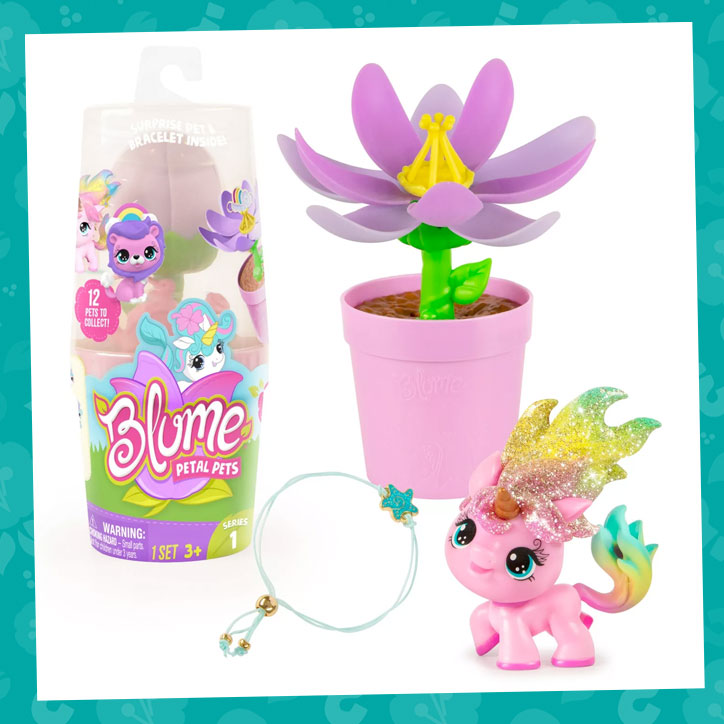 Blume Petal Pets:
The newest edition to the Blume family is about to steal your heart! Get ready to meet the enchanting Blume Petal Pets!
Each adorable animal comes packaged inside a flowerpot, similar to the OG Blume dolls, but with a twist! Sprinkle water on top and watch in awe as the flower blossoms, revealing a collectible charm and a colorful pet hiding inside. There are 12 magical pets to find, including unicorns, dragons, kitties, puppies, and more!
According to the brand, "Your Petal Pet's outrageous hairstyle and unique charm design connect to a magical place within the World of Blume: Sea, Sky, Gem, Sweet, Flower, and Fire." After you finish unboxing everything, check your collector map to find out which special power your new pet has! The charm can be worn like a charm bracelet or used as a leash for your new BFF.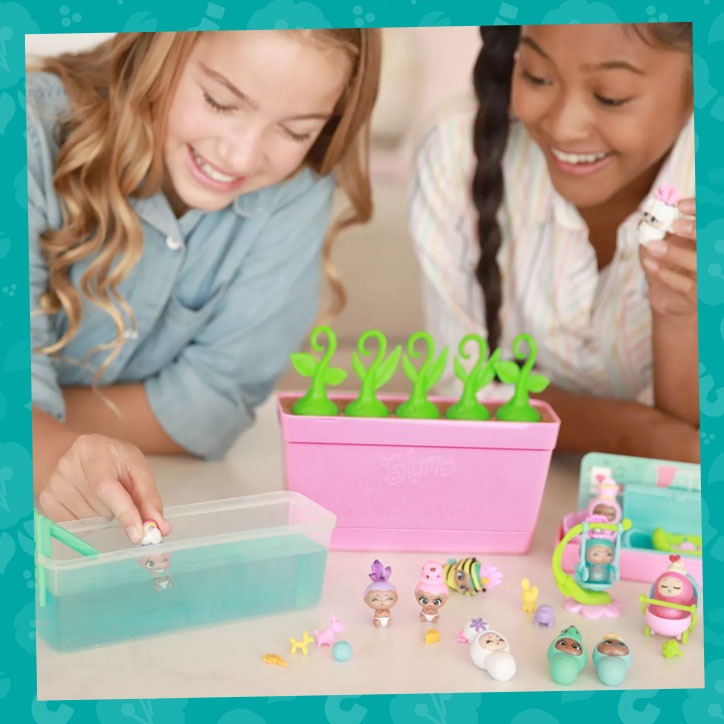 Blume Baby Pop:
It's time to get poppin'!
Blume Baby Pop has such satisfying reveal – pull the sprouts to POP and see which Blume baby or accessory is hiding underneath! Just like their older counterparts, Blume Babies have outrageous hair and amazing style. After you lay them down for a nap in the nursery, be sure to take them for a dip in the swimming pool for a gender reveal surprise!
Series 2 of Baby Pop is in the works, and Blume ambassadors were lucky enough to get a sneak peek in their exclusive Blume boxes! Each box featured a pouch filled with some of the brand new babies. Instead of a nursery theme, the Series 2 babies are headed to the spa, complete with rainbow water beads, sparkly outfits, and irresistibly sweet scents.
Blume Influencer Box Giveaway: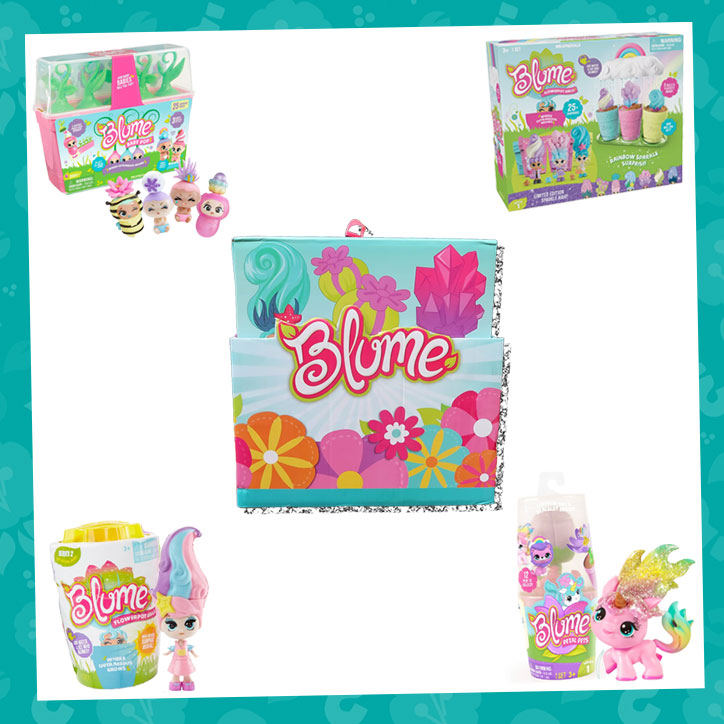 WHAT DO I WIN?:
ONE lucky winner will receive a Blume Influencer Box that includes:
– ONE (1) Blume Rainbow Sparkle Surprise Playset
– ONE (1) Blume Petal Pets Blind Pack (Series 1)
– ONE (1) Blume Baby Pop Set (Series 1)
– ONE (1) Blume Dolls Blind Pack (Series 2)
– ONE (1) Sneak Peek Pouch of Blume Baby Pop Series 2**
– ONE (1) DIY Blume Doll + Assorted Art Supplies (Markers, Glitter Glue, & Stickers)
– ONE (1) Blume Mask
– ONE (1) DIY Dream Catcher Kit
– ONE (1) DIY Bracelet Kit
*Prizes generously provided by Skyrocket LLC. Many of these products come blind-boxed, and we cannot guarantee which products you will receive.
**This is an exclusive first-look at an upcoming product that is not yet sold in stores and is subject to change.
HOW DO I ENTER?:
Grab a parent or guardian and have them fill out the form below by September 10, 2020 at 11:59pm ET.
Giveaway runs from 08/27/20 at 12:00 pm ET through 09/10/20 at 11:59 pm. Open to US residents ONLY. Be sure to read the fully detailed rules HERE before entering.
THIS GIVEAWAY HAS ENDED AND THE WINNER HAS BEEN CONTACTED.
You must be 18 or older to enter. Please, only ONE entry per person. If selected as a winner, we will provide your parent/guardian with an affidavit to confirm that you are a valid winner who has permission to win. They will be REQUIRED to sign and return the affidavit to YAYOMG! to claim your prize. Prizes will not be mailed out without signed parental consent.
In need of even more fabulous dolls to call your own? We're spilling all the tea about the new Hairdorables releases!