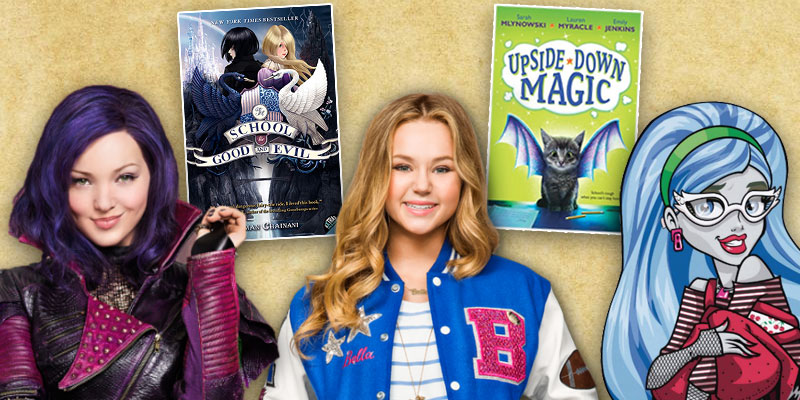 Book Recommendations Based on Your Favorite Character
With the weather getting colder, it's the perfect time to snuggle up with some hot chocolate and a good book. Books are the perfect thing to add to your holiday wishlists as well, because Santa just loves encouraging reading! (He told us. He brings double the amount of books than toys!)
We recently did a post on which Video Games You Should Play Based on Your Favorite Character, so we figured we'd continue the series with books! No matter who your favorite character is, there's an awesome book out there for you based around that characters interests or their shows themes. From fantasy to science-y and even sporty, here's our picks for you!
Book Recommendations Based on Your Favorite Character:
Mal – Disney Descendants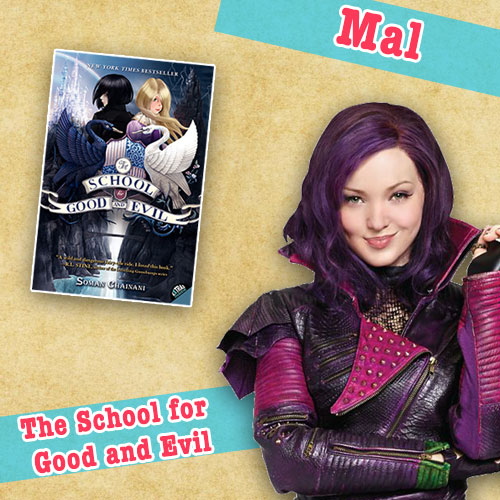 "The School for Good and Evil" by Soman Chainani
"The School for Good and Evil" is like if Descendants put on a Sorting Hat, and it's a 3 book series that even a spell couldn't get you to put down! (And there's going to be a movie!)
Sophie and Agatha are best friends, sort of. Agatha is really more of Sophie's project, someone she befriended just to show off her inner goodness. She's been dreaming of being selected for the School for Good so she can meet her perfect prince and enjoy her happily ever after. Agatha loves all things black and would rather spend time with her cats than with Sophie. Every 4 years, the School Master picks two 12 year olds to be placed into the School for Good and Evil, a school where you learn to be a hero or a villain. When Sophie and Agatha are selected and end up being placed in opposite houses, things get interesting. Sophie ends up in the School for Evil, taking classes on Uglification and Henchmen Training, while Agatha ends up at the School for Good, forced to take Princess Etiquette and be constantly surrounded by fair maidens and perfect princes. As the girls navigate their new fates, they learn quite a bit about themselves and each other.
Bella Dawson – Bella and the Bulldogs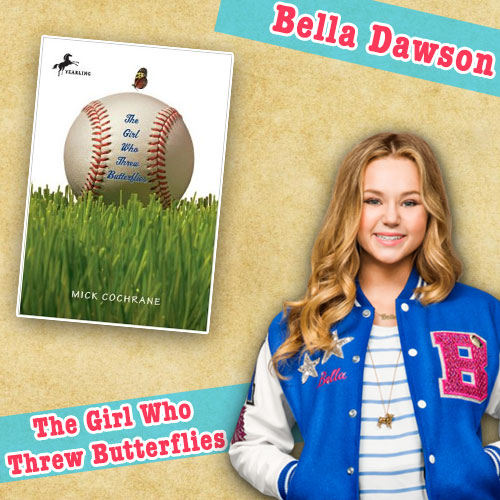 "The Girl Who Threw Butterflies" by Mick Cochrane
Molly Williams is basically the Bella Dawson of baseball, so fans of Bella and the Bulldogs should find this book to be a grand slam!
Molly Williams has her fair share of problems. Her father just passed away, her mother is having a really hard time dealing with it, and on top if it all, she has to deal with being in the 8th grade. Molly doesn't want anyone feeling sorry for her or thinking she's nothing more than the girl with a sad story, so she tries out for the boys' baseball team. She learned how to throw a knuckleball from her dad, and she hopes its enough to impress the coach and her fellow teammates. Over the course of the baseball season, Molly figures out just what her relationships with her friends and mother really mean to her and that sometimes it's okay to let go of the past the same way you can let go of an amazing pitch!
Sage – Star Darlings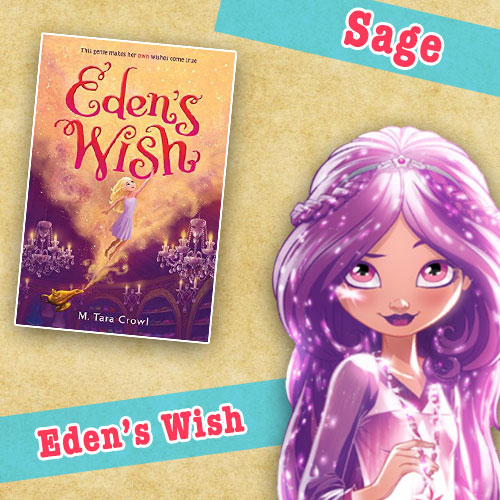 "Eden's Wish" by M. Tara Crowl
Keeping with the wish granting theme, "Eden's Wish" is an equally enchanting read for fans of Star Darlings!
Eden is a twelve year old genie who wants nothing more than to break free of her lamp. Despite being a princess and living in luxury inside the lamp, Eden absolutely hates being a genie and wishes for freedom. Unfortunately, Eden is bound to the lamp until she grants wishes to 1,000 people. One day, she finds a gateway to Earth inside the lamp and takes her chance, entering the world she's been dreaming of. Eden poses as a new kid at a middle school in California, only to realize that maybe Earth wasn't as perfect as she had originally thought it was. When an organization run by a former genie sets out on a ruthless path to acquire the lamp, Eden must decide where she truly belongs to help save her friends and the magic of the lamp.
Andi Cruz – W.I.T.S. Academy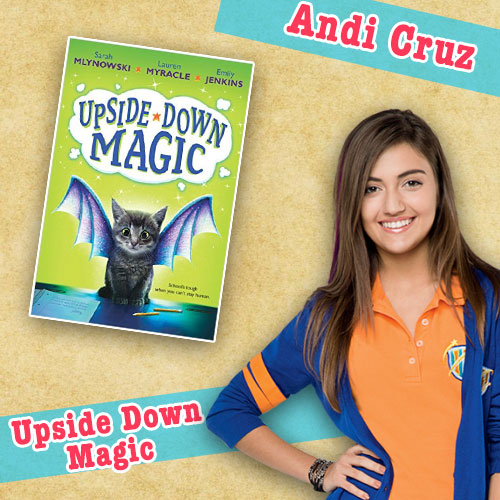 "Upside Down Magic" by Sarah Mylnowski, Lauren Myracle, and Emily Jenkins
Dunwiddle Magic School is pretty much just a quirkier version of W.I.T.S. Academy, where magic doesn't always go as planned.
Nory, Andres, Bax, and Elliot live in a world where everyone has magical powers. Unfortunately for them, and a few other kids, their magic always seems to go wonky. Nory should be able to turn into a dragon or a kitten, but often turns into a combination of the two, a Dritten. Elliot should be able to make fire from his fingertips, but always ends up with ice instead. The 8 students in Dunwiddle's Upside Down Magic Class all have problems like this, making them the misfits of the school. Will their upside down magic turn out to be the best kind of magic there is, or will they be stuck with no good magic forever?
April – Lumberjanes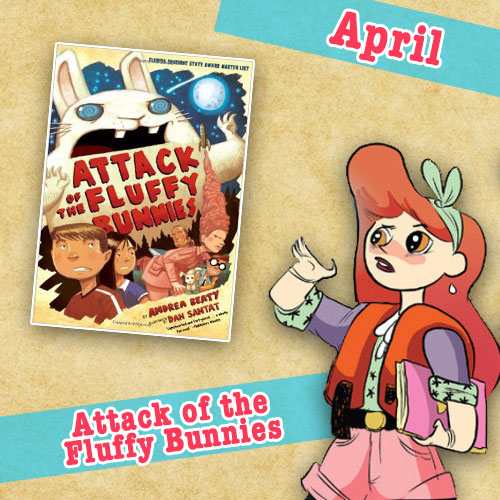 "Attack of the Fluffy Bunnies" by Andrea Beaty
A camp with weird junk going on? A hilarious read with nods to horror flicks? An occasional sprinkling of illustrations and comic strips throughout the book? We think "Attack of the Fluffy Bunnies" would absolutely be April (as well as Mal, Ripley, Jo, and Molly) approved!
Far, far away in the Starburst Galaxy, a flaming meteor smashes the Planet of the Fluffs (which is made of marshmallow) into sticky goo. Three Fluffs make it out and head out towards Earth in search of a fresh source of sugary energy. Meanwhile, horror fans and twin brothers Joules and Kevin arrive at Camp Whatsitooya, only to discover their camp is basically straight out of a horror flick. Spooky noises, weird creatures, and counselors that won't stop turning into zombies, just to name a few. When the Fluffs spaceship crash lands in the woods outside the camp, the kids soon find out that the Fluffs have taken over and have an evil plan. Joules and Kevin must find a way to defeat the killer space bunnies before their brains are turned to sweet mush!
Bryden Bandweth – Project Mc2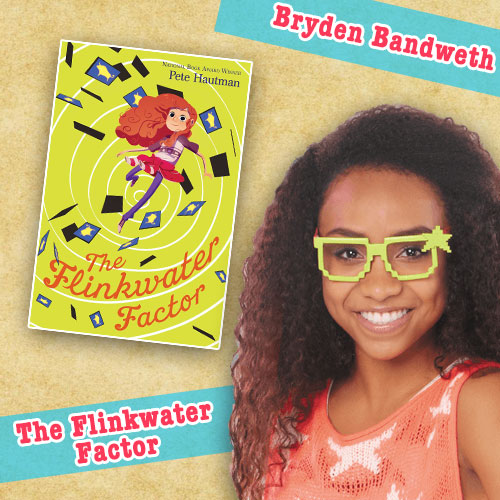 "The Flinkwater Factor" by Pete Hautman
Fans of Bryden and Project Mc2 will totally love this quirky, tech-y, sci-fi adventure!
13 year old Ginger Crump is an observant, dedicated, and sometimes sarcastic genius living Flinkwater, Iowa. The town is the home of the largest manufacturer of Articulated Computerized Peripheral Devices in the world. If you own a robot, it was probably made in Flinkwater. Aside from the robots, Flinkwater is a pretty average place, that is, until computer screensavers start turing everyone in the town into drooling vegetables (Of the mental variety, not garden.), or as Ginger calls it, getting "bonked". When her father gets bonked, Ginger recruits her crush (and self-declared future husband), Billy George, to help her figure out why the bonkings are happening and how to stop them. They're not up for an ordinary adventure, as they find themselves up against a talking dog, a sasquatch, and a zombie. Not to mention, their town has been invaded by black SUV's led by Agent Ffelps from Homeland Security. Can Ginger and Billy get to the bottom of the bonkings (and will Ginger finally be kissed?) or will the computers bonk everyone in town and take over?

Maya Hart – Girl Meets World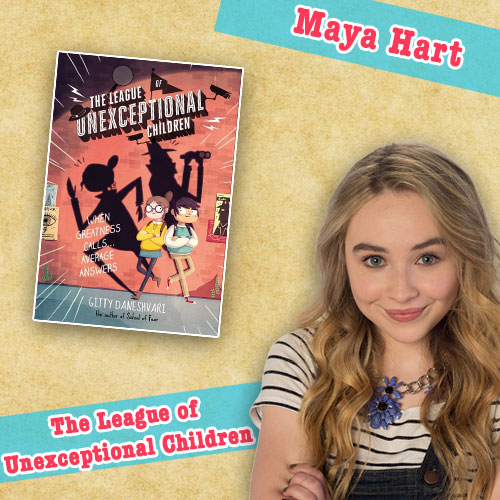 "The League of Unexceptional Children" by Gitty Daneshvari
We picked this book for fans of Maya, because despite the fact that she's actually pretty exceptional, she doesn't always feel that way. The book's tagline "When greatness calls, average answers!" even sounds like something Maya might say!
What is the League of Unexceptional Children? It's a secret spy network made up of the nation's most average, normal, and utterly unexceptional children, including 12 year old Shelley and Jonathan. Why the average kids? Because they're the forgotten ones! Being average means they can easily slip in and out of places without being noticed. People remember the pretty ones, the sporty ones, and the smart ones, but what's memorable about the unexceptional? Nothing usually, unless of course those unexceptional kids have rescued the Vice President and saved the world from a huge data breach.
Ghoulia Yelps – Monster High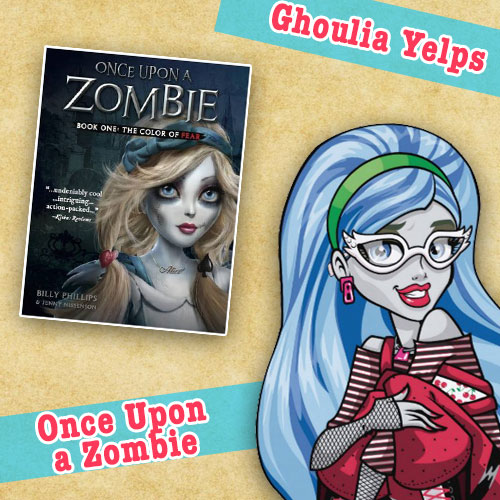 "Once Upon a Zombie" by Billy Phillips
Being a zombie herself, we think Ghoulia could totally relate to this zombified twist on a fairytale series!
Something has gone very wrong in the Fairy Tale Universe! Wonderland, Neverland, and the Enchanted Forest are decaying into uninhabitable wastelands. Alice, Cinderella, Peter Pan, Snow White, and other classic fairytale characters are turning into zombies. Unfortunately, the only person who can prevent the zombification of the entire universe is Caitlin Rose Fletcher, a 14 year old girl who suffers from major anxiety and panic attacks. Caitlin just moved to London with her dad and her brainiac sister. She's not looking forward to being the new girl in school, and has given herself anxiety about her anxieties over the whole thing. When her classmates trick her into climbing down a "rabbit hole", she ends up landing in the Fairy Tale Universe where she must help save the once wondrous land from complete and total zombie takeover.
Elsa – Frozen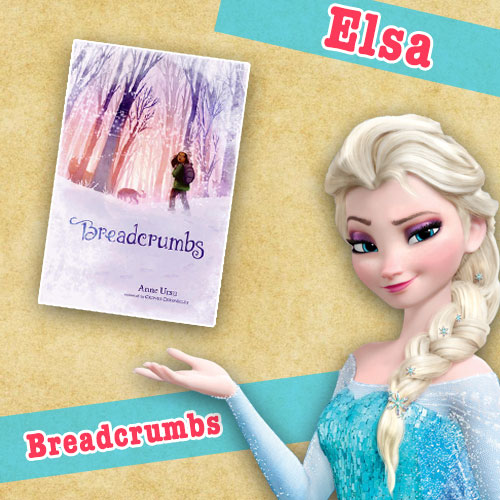 "Breadcrumbs" by Anne Ursu
We picked this book for Elsa fans, because "Breadcrumbs" and Frozen are both based on the same classic story, "The Snow Queen", by Hans Christian Andersen.Hazel and Jack used to be best friends. They met when they were six years old, and spend their summers and winters together dreaming of everything from the magical worlds of Hogwarts and Oz to regular things like superheroes and baseball. They fit perfectly together, which is good, because they didn't really fit anywhere else. One day, it was all over. Jack stopped talking to Hazel for absolutely no reason. Being 11, her mom chalked it up to Jack wanting to make more friends and spend time with other guys. But being a fan of fantasy, Hazel knew it couldn't possibly be that simple, and she was right. Jack's heart was frozen by an evil woman in white who kidnapped him into the woods to her palace of ice. Can Hazel brave the snowy woods to save Jack? And if she does, will he still be the same Jack she remembered?
We hope you liked our picks! For other awesome reads, click here!