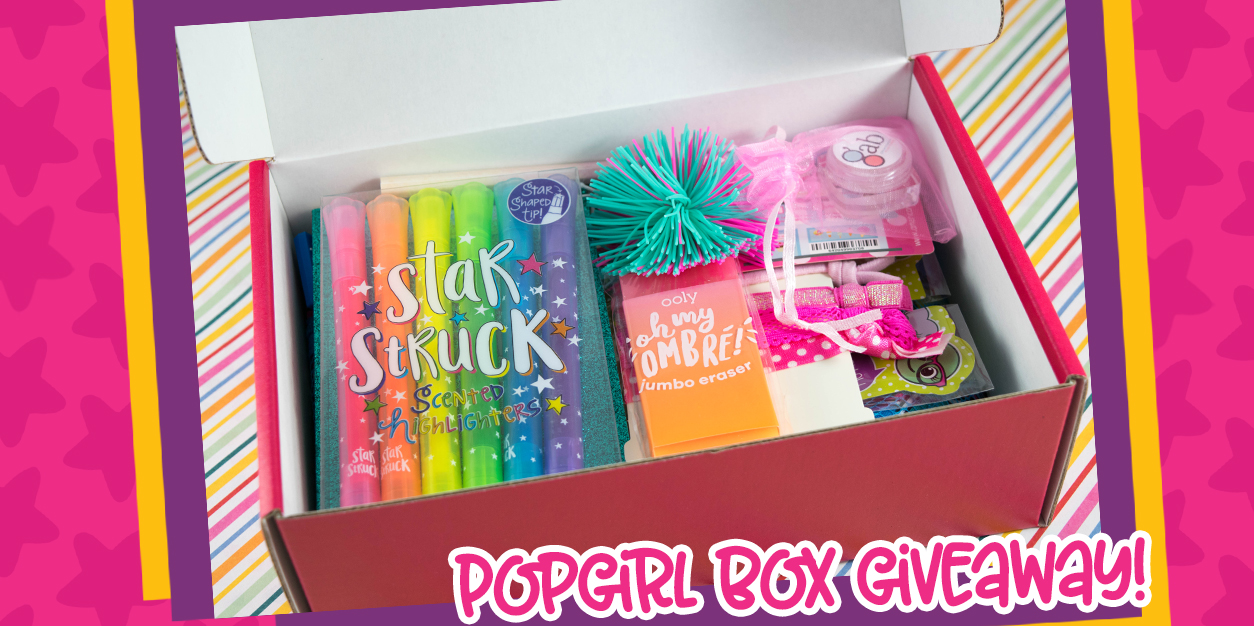 PopGirl Box Back to School Unboxing + GIVEAWAY
Note: We received this box for free from PopGirl Box in exchange for a fair and honest review and a giveaway. All opinions are our own; we were under no obligation to give a positive review.
PopGirl Box day is always exciting for us, but this month it's more exciting than ever before. Why? Because we're teaming up with the PopGirl Box team to give away this month's sold out BACK TO SCHOOL box! That's right, you're going to get a chance to win a PopGirl Box of your very own, complete with all the back to school goodies you'll see below in our unboxing.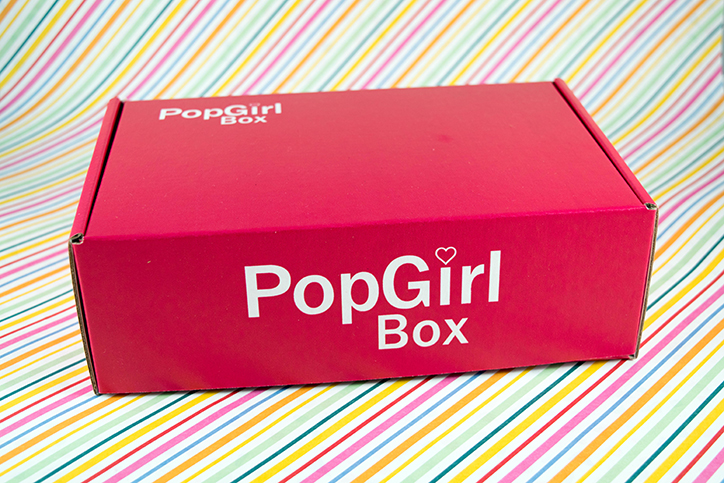 As lovers of all things school supplies and stationery, we were particularly pumped for this month's box. Whether you've already headed back to school or your first day is still a few weeks away, one thing is for sure – you're going to totally ROCK this school year with all these amazing goodies by your side!
PopGirl Box Unboxing – August 2018 – Back to School: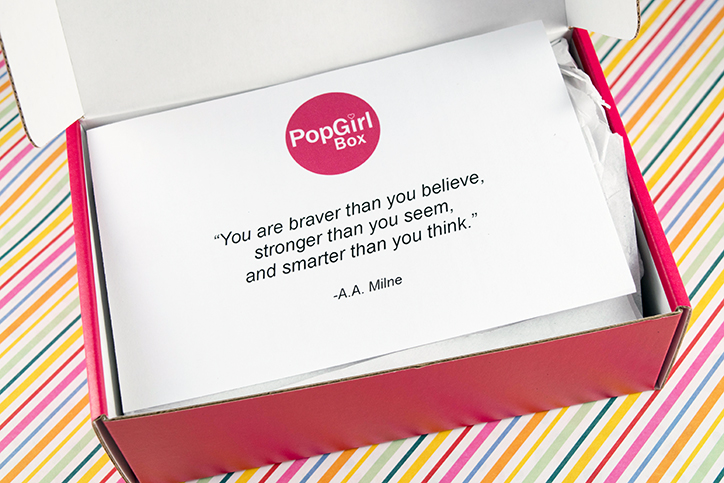 When you open up your PopGirl Box, you'll be greeted with an inspiring quote. This time, the quote is by A.A. Milne, the creator of Winnie the Pooh. It's a great mantra and mindset for heading back to school and starting the year off right. "You are braver than you believe, stronger than you seem, and smarter than you think."

Doodle Pencil Case by Yoobi:
This adorable, sturdy pencil case with last the entire school year. Decked out in fun emoji and colorful rainbows, this cute pencil case will put a smile on your face even through the hardest school day!

Glamtastic Glitter Notebook by Ooly:
Our picture barely does this glittery notebook justice. It's just SO sparkly! It's a mini notebook, so it's perfect for stashing in your backpack to organize to-do lists, project brainstorming, or to keep your mindless doodles out of your class notes for more focused study sessions.

Star Struck Scented Highlighters by Ooly:
Let's take a moment to fully appreciate these highlighters. These aren't just ordinary highlighters, they're on another level entirely. For one, they're fruit scented and smell deliciously sweet, but most importantly, they have star-shaped tips! This means that you can use them to stamp a star next to important notes as well as highlight passages you want to remember. They're absolutely essential for this school year and will fit perfectly inside your brand new doodle pencil case.
Each of the PopGirl boxes were split this time around. Some PopGirls got emoji pins, and other got emoji patches. Whichever one you ended up with, you'll surely have a blast attaching them to your backpack, sneakers, and denim jackets so you can take on this school year in colorful style. Our favorite pin of the bunch is definitely the smiley with braces! So cute!

Oh My Ombré! Jumbo Eraser by Ooly:
If you've ever wondered if an eraser could be described as "pretty," the answer is a definite YES in this case. This pink and orange jumbo eraser from Ooly looks amazing and will help you erase mistakes all year long.

Organic Clear Lip Gloss by Girls Are Beautiful:
Perfect for those last minute locker touchups, this lip gloss from Girls Are Beautiful is a must have item in your backpack this year. It's a basic gloss made from organic ingredients that'll give your lips a nice shine without being over the top.

PopGirl Pink Hair Tie Set:
These super cute pink hair ties are adorable, but they'll also come in handy when you least expect them. Toss a few in your backpack, your gym locker, and by your mirror at home, so you always have a spare hair tie when you need one. They also look adorable when worn as bracelets!

Yummy Gummy Scented Pom Pom Keychain by American Jewel:
This pom pom keychain isn't just fun to play with, it smells great! There are a variety of different possible scents, the one we got was bubblegum. Clip it onto your backpack or purse for a pop of PopGirl flair this school year!

PopGirl Rainbow Ombré Pencil:
Rock your PopGirl pencil to take notes during class and see if you spot any other girls around your school who have one too. Then you'll know who to sit next to at lunch. PopGirls always stick together!
HOW DO I SUBSCRIBE?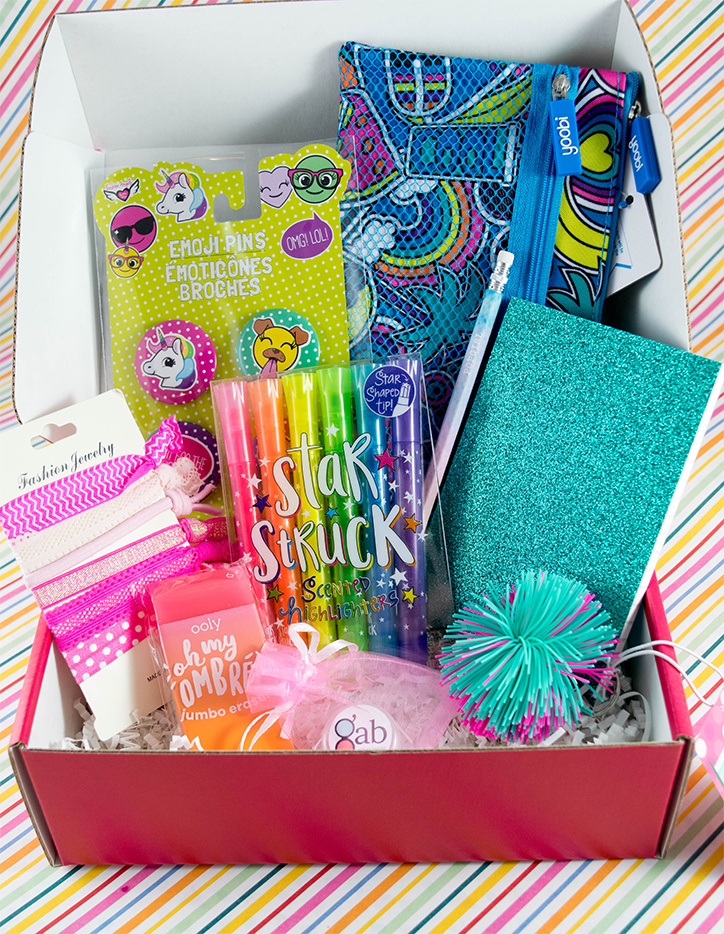 – Grab an adult and head to the PopGirl Box website, POPGIRLBOX.COM.
– Use our code YAYOMG when you check out for $5 off your first box!
Cost Per Box: $29.00 + S/H. The boxes ship out monthly, and you can cancel at any time.
What Do You Get?: Each month you'll receive a new box with a new theme. Each box contains 6-8 surprise items worth over $50 in value! According to the website, items can be anything including: "jewelry, hair accessories, beauty products, school supplies, sweet treats, and the latest swag for young girls!"
This August BACK TO SCHOOL box has already sold out, but the September box is on sale now. Be sure to make your purchase before August 25th to lock in your spot for the FAB FALL box. We can't wait to see what's next! Dying to get your hands on THIS awesome back to school box? Enter below for your chance to win!
PopGirl Box Giveaway: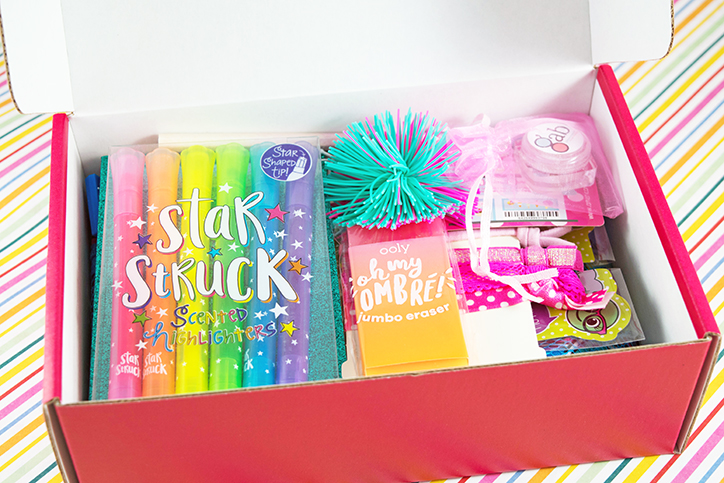 WHAT DO I WIN?:
One lucky winner will receive:
– ONE (1) August BACK TO SCHOOL PopGirl Box which includes everything detailed in the post above.
*Prize generously provided to us by PopGirl
HOW DO I ENTER?:
You must be 18 or older to enter. If you are under 18, please have a parent or guardian enter on your behalf by filling out the form below by August 13th! Giveaway begins on August 06, 2018 at 04:30 pm ET and ends on August 13, 2018 at 11:59pm ET. Open to US residents ONLY. Please, only ONE entry per person.

THIS GIVEAWAY HAS ENDED AND THE PRIZE HAS BEEN CLAIMED!
*If selected as a winner, we will provide your parent/guardian with an affidavit to confirm that you are a valid winner who has permission to win. They will need to sign and return this affidavit in order to claim your prize. This step is non-negotiable and required to claim your prize. Be sure to read the fully detailed rules HERE before entering.
Want to see what came inside all the previous PopGirl boxes? Click here for all our unboxings!