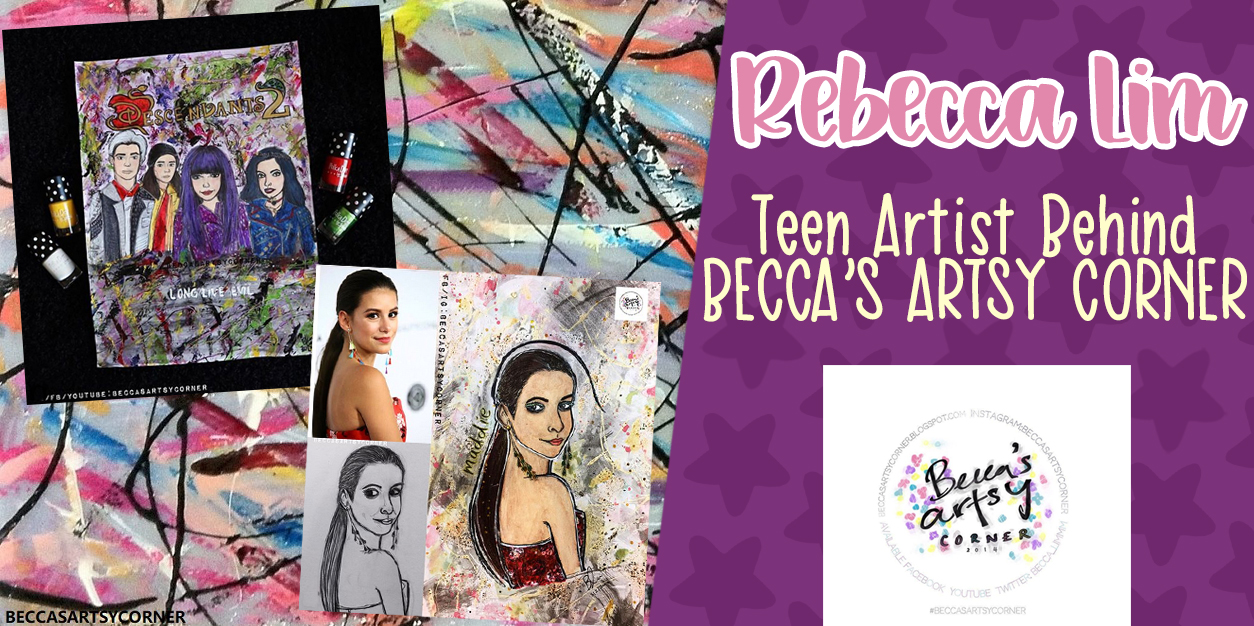 Meet Rebecca Lim, the Teen Artist Behind Becca's Artsy Corner
We've been following Becca's Artsy Corner for a while now, and we're always so impressed by her gorgeous fan art and other abstract creations and just knew we had to celebrate her here on YAYOMG! While many have seen the creative artwork that she posts on her Becca's Artsy Corner social channels, not too many know about Rebecca Lim, the passionate 19-year-old artist behind the account. Becca grew up in Malaysia but has also spent time in the US and UK and is multilingual – she speaks English, Chinese, and Malay.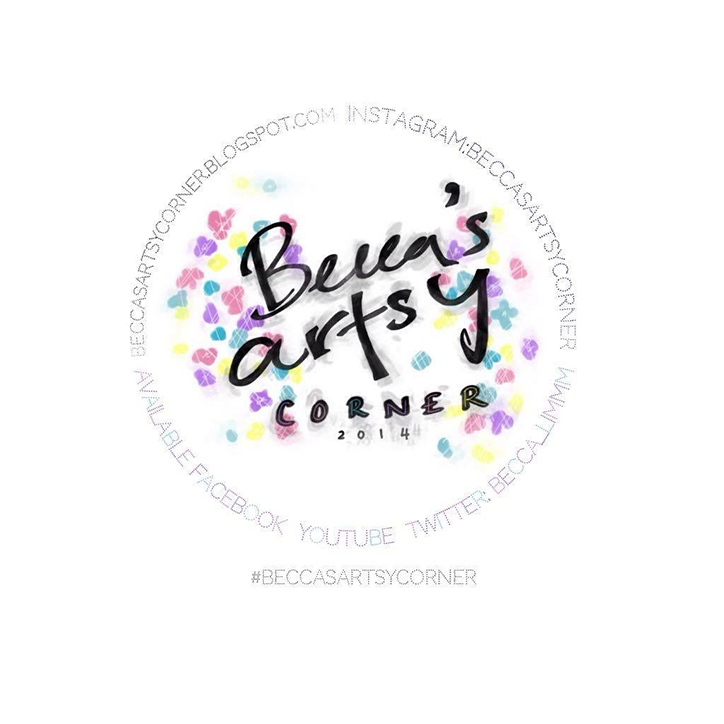 Like a lot of our readers, Becca loves all things Disney Channel and Nickelodeon, which is why she often gives the nail polish treatment to her favorite stars from those channels. She's a huge fan of Taylor Swift, Selena Gomez, and Shawn Mendes and loves Hello Kitty! Becca is also a fan of all things sparkly, shimmery, glittery, and colorful which we think definitely shines through in her artwork. When she's not sharing her fabulous artistic talents with the world, Becca attends the University of Liverpool where she is a first-year law student. She plans to continue her studies and get her degree but also dreams of continuing her love of art and hopes to turn it into a career one day!

We were SO excited to chat with Becca about Becca's Artsy Corner and learn all about her process, her inspirations, and her advice for other young artists out there! Get to know her in our interview below.
Meet Rebecca Lim, the Teen Artist Behind Becca's Artsy Corner:
How did you first discover your interest in art?
REBECCA LIM: I first discovered my interest in art when I was younger because I really enjoyed making handmade cards and gifts for my friends and family. I actually grew more interested in art during my senior year in high school after I was elected as the Head of Art for my school's Sports Day – Blue House team. I was really happy and excited when I saw how my designs that I drew on paper were being transformed into actual House t-shirts and badges that were being worn and used by students who were in the Blue House team during Sports Day.
You're known for creating artwork of some of your favorite celebrities using nail polish. What first drew you to using nail polish on your creations?
BECCA: I was first inspired to use nail polish to paint because of my mother who actually owns a nail polish company in Malaysia. I used to love painting my nails with different colors when I was younger and that was what inspired me to start using nail polishes to paint on my phone case because I didn't like how plain my phone case was. After that, I decided to move on to using nail polishes to paint on canvases, and then to bags, cups, shoes, fan art, etc. As for my fan arts, my sister actually gave me the idea to draw my favorite celebrities and I decided to combine my fan art drawings together with nail polish to create my own abstract version of nail polish fan art.
What is your process for bringing one of your paintings to life?
BECCA: The process of bringing my paintings to life varies and it takes patience and dedication to complete an artwork. Besides that, it also depends on the size of the paper that I use. The bigger the size of the artwork, the longer it takes for me to complete the piece. And sometimes, I am only able to complete an artwork when I feel the inspiration required to finish it. For my fan arts, I usually start by drawing a rough free-hand sketch of the celebrity. After that, I will outline it with a black marker pen before painting the sketch. After giving the portrait some colors, I will then finish off by giving the painting an abstract background finish, but sometimes I do it the other way around.
Since you create a lot of fanart, you've received a lot of recognition from the celebrities who have inspired your paintings. Recently Kira Kosarin shared your "Spy" inspired piece on her Instagram story. What does it feel like when someone you admire shares/appreciates your hard work?
BECCA: For me, it always feels very exciting whenever someone shares/appreciates my artwork. Even though it wasn't my first time getting recognized by Kira Kosarin, I still felt very excited and happy when she saw and shared my artwork of her on her Instagram story. I am very thankful and glad that she appreciated all of my artworks that I created for her. I love that I can make someone happy by painting them and featuring them on my artworks.
What are some of your favorite nail polish brands, pens, and other mediums to use?
BECCA: I've never tried using any other nail polish brands besides Polka Dot Nail Polish, so I guess Polka Dot Nail Polish would be my favorite nail polish brand to use. As for pens and other mediums such as marker pens, I usually use these brands: Staedtler, Pentel, Faber Castell, Uni-ball, Artline, and Stabilo. I would really recommend using any of these brands! But I am also open to and would also love to try any other brands and mediums for my artworks in the future. My all-time favorite medium would be using watercolors, nail polishes, marker pens, and soft pastels to create my artworks.
Are there any other artists or creators whose work you admire?
BECCA: I definitely admire artists such as Leonardo Da Vinci, Van Gogh, and Claude Monet. I am also a huge fan of Taylor Swift as an artist and really admire her amazing talent in writing songs. It's really cool how each of her songs has a different story to tell.
Do you have any upcoming pieces in the works that your fans can look forward to?
BECCA: I actually do. I paint almost every day, so I have tons of paintings that are still hidden in my camera that are yet to be shared with my fans. But one upcoming piece that my fans can look forward to would definitely be my fan art of Justin Bieber and Selena Gomez, and more additions to my Scrapbook Collection, and more Nail Polish Phone Cover Arts and Abstract art pieces. I am also currently working on a new DIY Art Project which I am very excited about and would be sharing with you guys soon! Do stay tuned to @beccasartycorner for updates! ?
Outside of art, what are some of your other hobbies/interests?
BECCA: Besides art, I really love watching Disney and Nickelodeon shows, and writing stories of my own. I also really love reading story books, comics books, and baking during my free time.

What is a goal or dream you have for the future? Where do you see yourself in 5 years?
BECCA: I actually have a few goals for the future. My first goal is to open an art exhibition featuring some of my favorite artworks and my second goal is to turn my artworks and designs into products that people can wear and use. My third goal is to publish a book featuring stories behind my abstract artworks. In 5 years, I would hopefully see myself doing what I love, which is art, and finishing my degree as a Law graduate. I also hope to be able to inspire more people through my artworks.
Do you have any tips or advice for other young aspiring artists?
BECCA: My one tip to all the young aspiring artists out there is to never give up, be positive, and believe in yourself!
You can follow Becca's Artsy Corner on social media. She's @beccasartsycorner on Instagram and Facebook, @becca_limmm on Twitter. She also has a YouTube channel and a RedBubble shop where you can purchase items she's designed!
Feeling empowered by Becca's story? Read about other inspiring girls here!