Create Amazing Liquid Art with Artsplash
If you watched The Toy Box on ABC back in April, you know exactly what Artsplash is – though you may remember it as 3D Liquid Art. In case you're not familiar, The Toy Box was a reality competition series where adults competed to create super fun new ideas for toys and let KIDS be the judge. In the end, the winning product was Artsplash, created by Ryan Stewart.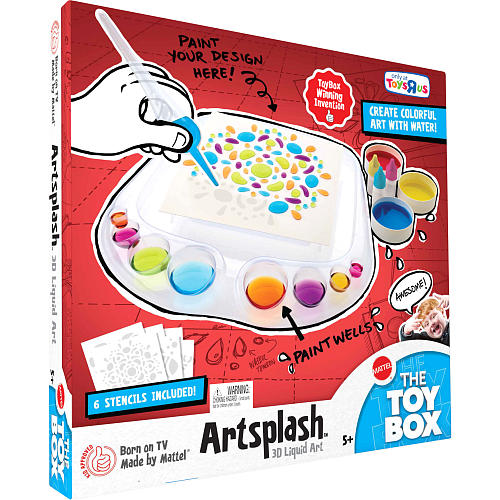 It's unlike any other art set you've ever used. It allows you to "paint" a 3D water based creation with total ease. Even terrible artists like us were able to make an incredibly cool design that looked like it took much more talent and effort than it really did. Artsplash has pretty much been sold out at Toys R Us stores around the country since it hit shelves on May 19th because it's in such high demand. Since kids all over are going totally nuts for it, we knew we had to try it out for ourselves and let you guys know what to expect once you can finally get your hands on one. Let's get to it.
Artsplash Hands On Review: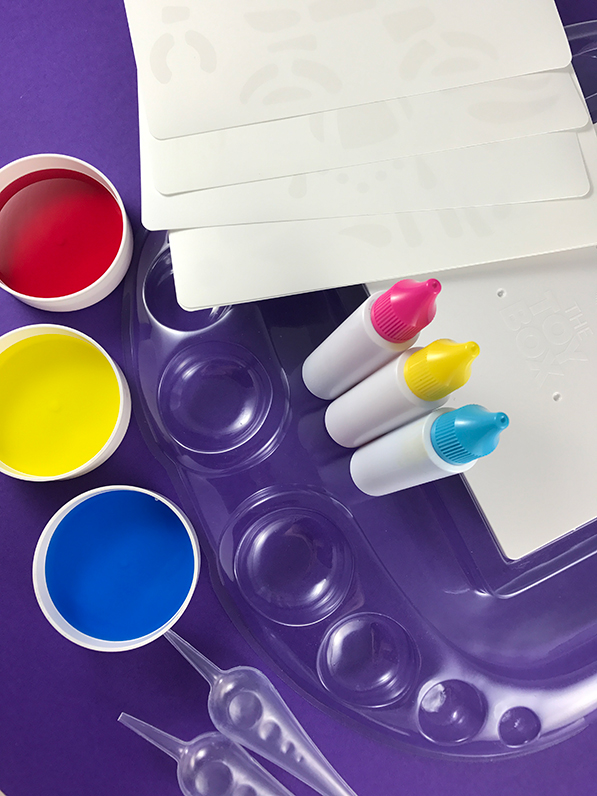 First, here's what you'll find inside the box:
– 6 Artsheet Design Stencils
– 3 Color Dyes (Red, Yellow, Blue)
– 2 Artpens
– 3 Diluting Containers
– Storage Base/Art Palette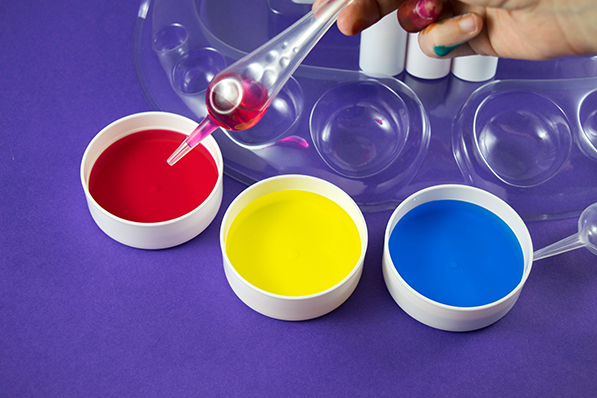 Getting started is REALLY easy, but it can definitely get a little messy. Since this is basically like painting, you'll want to protect the surface you're working on as well as your clothes so that they don't get stained. We dripped the dye all over our hands, but thankfully it came off pretty easily. (About 2-3 washes.) We recommend prepping everything you need in advance so that once you get started you can just focus on your amazing creation and have fun.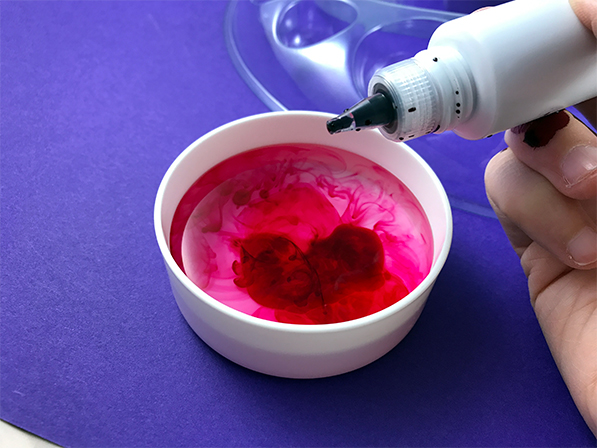 Lay out the base on a flat surface and lay the storage lid into place. Then, fill each diluting cup to the line, add 3-4 drops of colored dye to each, and stir it up. We used the bottom of the Aquapen to stir, but you can use a spoon or a coffee stirrer, whatever you'd like, really. Watching the dye swirl into the water was one of our favorite parts. It's so pretty and science-y!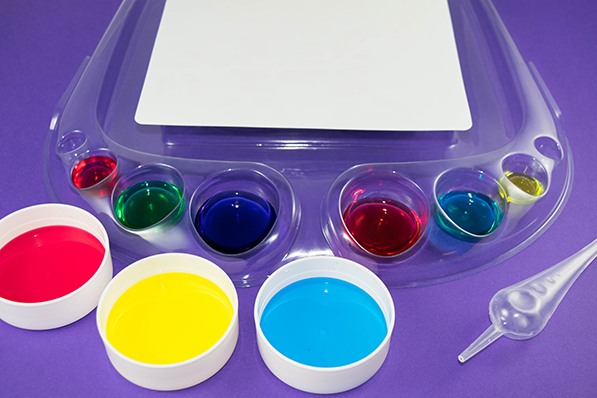 Once you have your base colors set up, it's time to get mixing! Decide which color you'd like to create and use the Aquapen to grab the colors you'll need. For example: If you want to make purple, grab a little red and place it into one of the paint wells on the art base. Let ALL the color out. Then, grab blue and add it to the red you just placed. Voila – purple! You can make a lighter or darker shade by adding more or less red or blue. Play around with it and experiment!
Once you've got all your colors set up, you're ready to make some art! Select the design you want to create and place it on top of the base. We picked the robot, he's so cute! Using the Artpen, pull up the color you'd like to start with and slowly squeeze and drop it on to the area you'd like to color. It's like coloring and painting combined but with colored water. And it's 3D! And you basically can't screw up because the water automatically knows exactly where to go! It's pretty magical, TBH.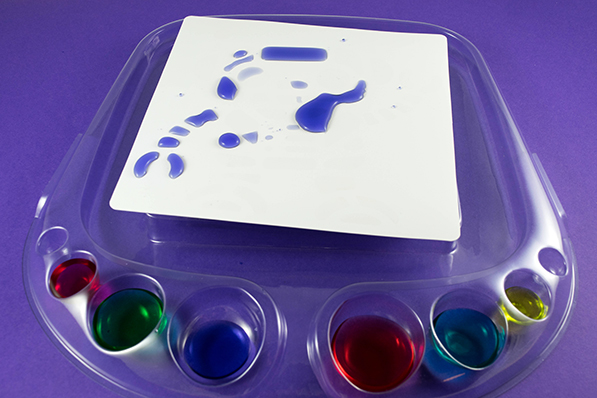 It's super cool how the water seems to "magnet" to the area you're working on. As you can see above, we messed up a few times on our first couple tries as we got used to how much pressure to squeeze with, but after a few sections it was pretty smooth sailing.
Tip: If you use too much pressure, you'll blow water all over the place and drops will scatter to places you might not want to use that color. Thankfully, your creation isn't ruined if this happens. Just suck water back up into the Artpen, and keep going!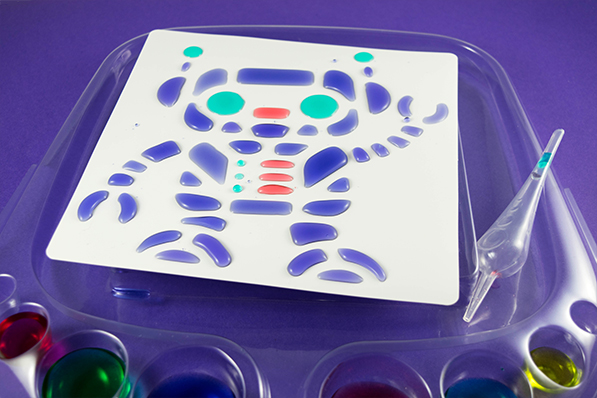 Here's how our robot turned out, what do you guys think? Pretty amazing, right? We loved how cool it was to see our design come to life in 3D form right before our eyes.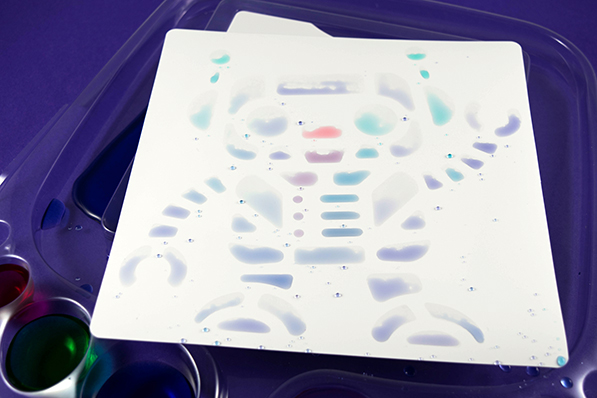 When you're done, just tilt the sheet up slowly and the water will run down and catch in the base. Then you can get started on another project. We thought the aftermath looked just as pretty as our actual creation, look how cool it looks when the water drops all run into each other! It's like a pretty watercolor painting!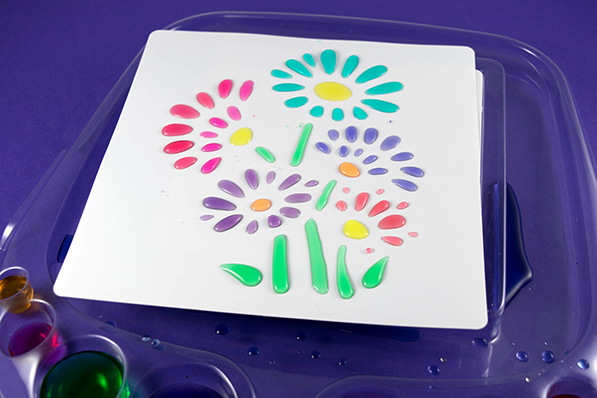 We also did the flowers, because we were having so much fun. Since the set comes with just 6 designs to create, you might be like "but what if I want to make something else?!" That's where the additional art packs come in.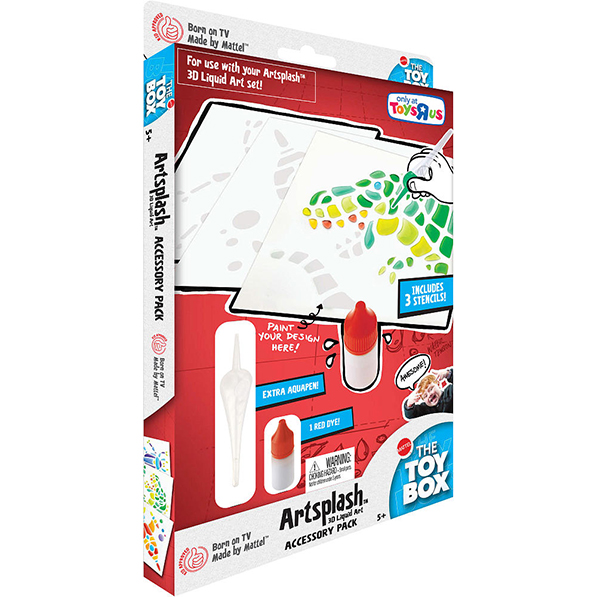 For $10.99 you can get a set that comes with 3 new designs, an extra Aquapen, and an extra dye. The sets include dinosaurs, castles, peacocks, and even Geoffrey, the Toys R Us mascot. It would be super cool if they released additional dye multi-packs in the future or a way to create your OWN design, but all in all, we've gotta say, Artsplash totally lives up to the hype. We can't see what amazing creations Season 2 of The Toy Box brings to life!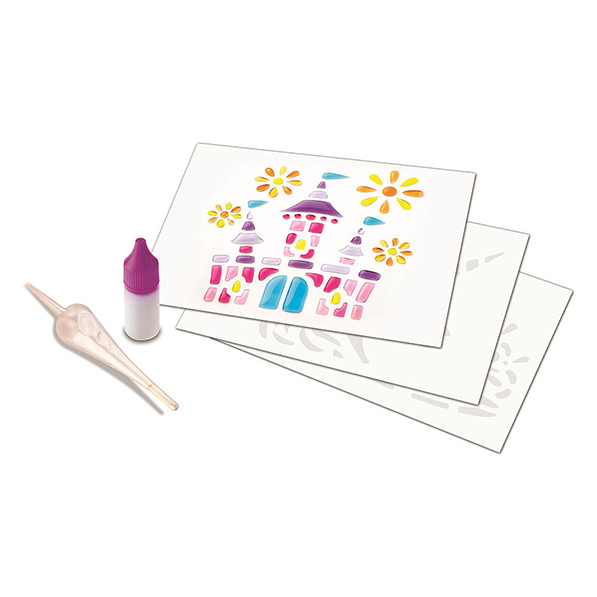 Was Artsplash not your favorite toy invention from the show? You're in luck – Mattel and Toys R Us teamed up to create the Sweet Shaper (aka – The Candy Crusher) and the Noisy Persons game from The Toy Box series. Want an Artsplash of your own? They cost $24.99 and are sold exclusively at Toys R Us stores and on their website.
Since they've been sold out for weeks, why not try one of these other awesome DIYs to hold you over?