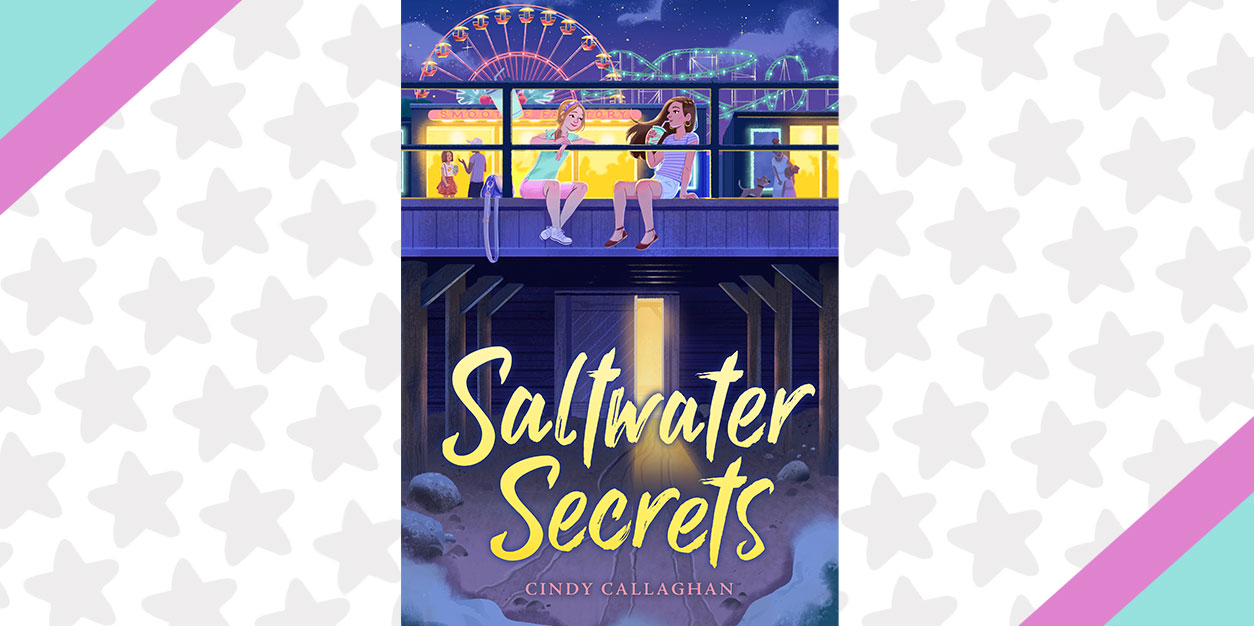 Author Cindy Callaghan Shares 5 Fun Facts About Saltwater Secrets
Saltwater Secrets is the perfect book for cozying up in your favorite spot in the yard and getting lost for hours in this story of two sisters sharing a summer adventure they'll never forget! It'll have you dreaming of your own summer vacations, those hazy, hot days making memories that last forever.
For Stella and Josie, those memories are set at the Jersey Shore, filled with beach days, summertime snacks, and working on their sister scrapbook in their secret place under the boardwalk. Josie lives in Australia, so the girls look forward to reuniting during their magical summers at the shore each year with their dad. Unfortunately, this summer, things are off to a rocky start.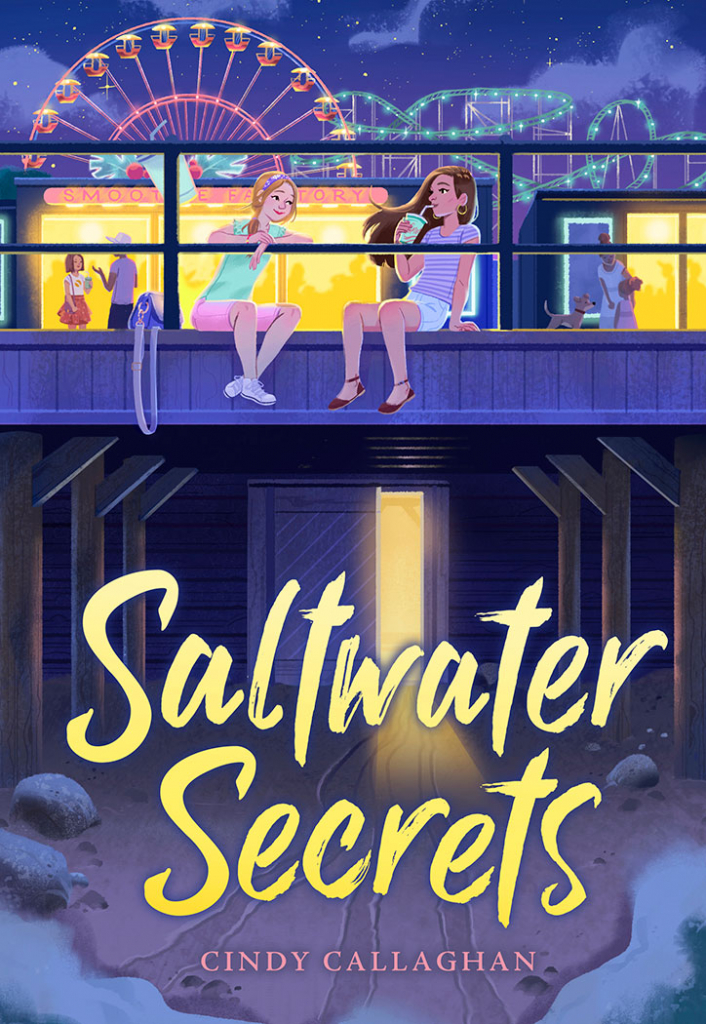 From the acclaimed author of Just Add Magic—now a hit streaming original series—comes a story of two sisters, one summer vacation, and one big mystery for them to solve.
Stella and Josie live for their summers at the boardwalk—each one a carbon copy of the last. Josie lives in Australia most of the year; her half-sister, Stella, lives in New Jersey. But every year, they come together for a beach vacation with their dad, and to make more memories. The real excitement for them is their secret special place under the boardwalk, where they hide their sister scrapbook, adding memories from each summer.
But this summer feels different. Josie isn't the same—she's turned into one of the popular girls that Stella can't stand. Despite the rocky start to their vacation, they still go to their secret, special place under the boardwalk, adding memories to their sister scrapbook once again.
That is, until their place is discovered by the owners of the newest store—the Smoothie Factory, which replaced Josie's favorite sweet spot. Not only have the owners of the Smoothie Factory discovered the cove, they are exploiting the natural habitat, and endangering marine life and everyone at the beach! It's up to Josie and Stella to figure out how to stop their beloved boardwalk from disappearing for good.
Saltwater Secrets
AUTHOR: Cindy Callaghan
PUBLISHER: Aladdin
DATE: April 28, 2020
Josie seems different to Stella this year, acting more grown-up and more interested in cute boys than reliving their usual vacation rituals. They quickly discover that a trendy new smoothie shop has replaced their favorite water-ice place, and the dark secret the Smoothie Factory seems to be hiding. Can the girls come together for some sneaky sleuthing to uncover the truth and fight to save their beloved summertime hangout?
You'll have to read the book to find out what happens, but we're excited to share that author Cindy Callaghan is here, dishing out some secrets about the book like they're saltwater taffy! Take a peek beyond the pages of Saltwater Secrets before it hits bookstores on April 28th, just in time for spring and summer reading.
5 Fun Facts About Saltwater Secrets: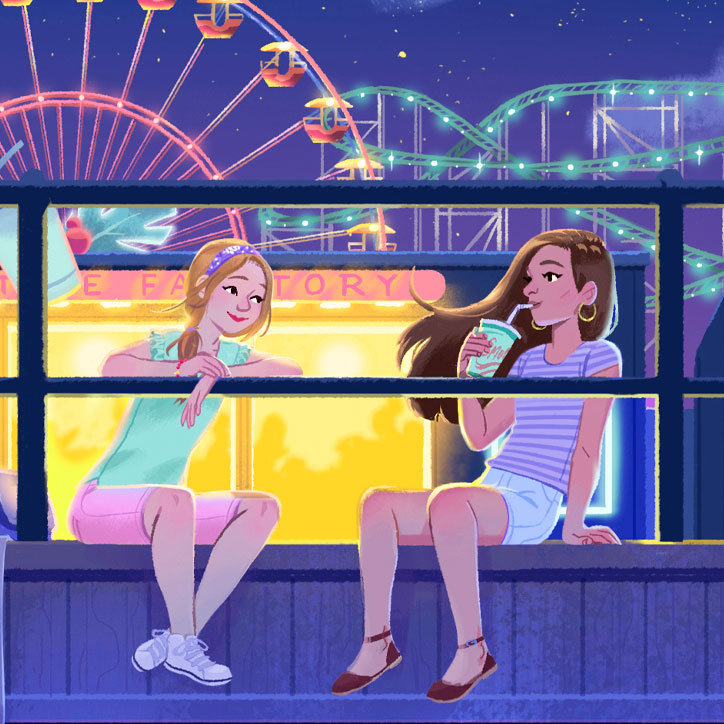 Mysterious Storytelling

Fun Fact Numero Uno is about the way this story is told. Have you heard of the hit book and series Big Little Lies? Well, the structure of Saltwater Secrets is modeled after that book with detective interview scenes mixed into the mystery, but it didn't start out that way. The first several chapters were originally written chronologically, only to be rewritten later with the introduction of Detective Santoro and the interview scenes. And guess what? Those additions are my favorite part of the book!
Location, Location, Location…

The setting for Saltwater Secrets is on a fictional New Jersey boardwalk in a made-up town called Whalehead, New Jersey. Whalehead is a composite of the NJ shore I remember from my childhood: Asbury Park, Long Branch (with the famous haunted mansion in the 1980s), Wildwood, Stone Harbor, Avalon etc… plus modern-day Rehoboth Beach, Delaware. The name Whalehead is from a favorite beach in the Outerbanks, North Carolina.
What's in a Name?

I always borrow character names from real life. Here are a few highlights from Saltwater Secrets:

The three members of the Flying Fish (Evan, Lucian and Austin) are named after my son and his buddies. They think it's funny when I show them their names in writing.

Detective Santoro is named after my hernia surgeon who I spent too much time with while writing Saltwater Secrets.

Murphy's Pier, WLEO and Karleigh Park are all named after my dogs (Murphy (RIP), Leo and Karleigh). My pets' names are in all of my books.

Kevin's Fun House is named after my hubby.

The Higleys are dear family friends…as are the Stellas. And there's so many more…
Tricky Title

The working title of this book was Under the Boardwalk…like the song. Then it was titled Saltwater Summers and then Saltwater Sisters for a while and then evolved to Saltwater Summer Secrets before its final landing place of Saltwater Secrets. I still slip sometimes and call it Saltwater Summers.
Setting Up the Future for More Saltwater Secrets

There are several Easter Eggs hidden in Saltwater Secrets Book 1 that are ready to be hatched in its sequel, which is not yet contracted.

Saltwater Secrets is set up at a major studio for a potential original series.
In need of even more perfect summer reads? We think you'll love Fly Back Agnes!