Zootopia Crime Files: Hidden Object
"Zootopia Crime Files: Hidden Object" is a brand new hidden object adventure game from Disney that lets you join the ZPD alongside Judy Hopps and Nick Wilde as they solve a string of crimes and restore order to Zootopia! Check out the trailer here!
As this exciting mystery unfolds, you'll team up with Judy and Nick and put your crime solving skills to work as you find clues hidden in crime scenes, analyze evidence, interrogate suspects, and close individual cases that all seem to be tied to an even bigger criminal mastermind. Each level is broken up into a few different pieces and you'll have to complete each task (and use your expert intuition) in order to have enough evidence to accuse a suspect and close the cases. Unlock and explore locations all around Zootopia as you find hidden objects and piece together the clues!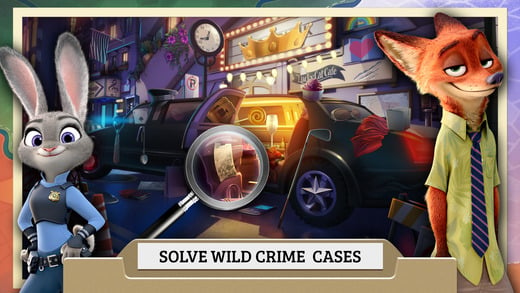 When you find suspicious evidence, send it off to Hurriet the sloth to get it analyzed. While you're waiting for Hurriet to get you the info you need, head back in to re-investigate crime scenes for things you may have missed or talk to all the different animals around Zootopia to see what they know to help you get closer to solving the mystery. Clawhouser, Rhinowhitz, Grizzoli, Fangmeyer, and Chief Bogo can be called upon as backup if you need a hint, and there's boosters you can buy with coins before jumping into each crime scene that help slow down the timer, give you extra hints, or give you score multipliers.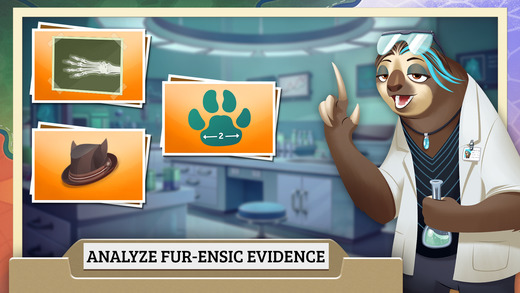 Each level can be completed without earning all the stars and medals, allowing you to progress through the game at your own pace, which we really like. You'll need to go back into past levels to try and get a better score, earning you extra stars in order to complete some of the longer missions. Most of these scenes are hidden objects based, which means you'll need to scour a crime scene in order to find a list of items as quickly as you can. Other times there are drag and drop puzzles, spot the difference, and other small mini games, which adds variety and always keeps you entertained. The other cool thing? Once you've completed a level, you'll get the opportunity to unlock an additional mission!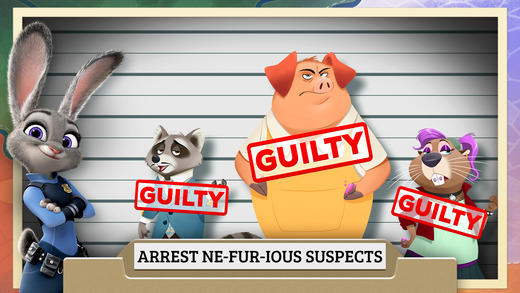 You can earn up to 5 stars in each level and using the boosters will help you hit that 5 star mark much easier. The only downside is that you'll have to wait for your energy to re-charge if you run out (or buy some via in-app purchase), but the waiting isn't too bad. As far as we've seen so far, you can get through a TON of this game without spending any money, which is nice. "Zootopia Crime Files" has 36 scenes and 18 bonus stages to explore, with more to come in future updates, meaning that you'll be able to keep on hanging out with Nick and Judy for a long time to come! By downloading this game, you're basically becoming a full-time member of the ZPD squad!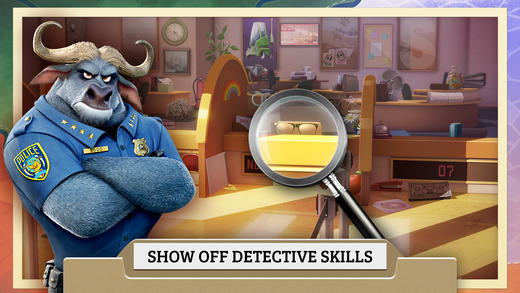 "Zootopia Crime Files" is now available on iOS, Android, Microsoft, and Amazon devices, so get to work, gumshoe!