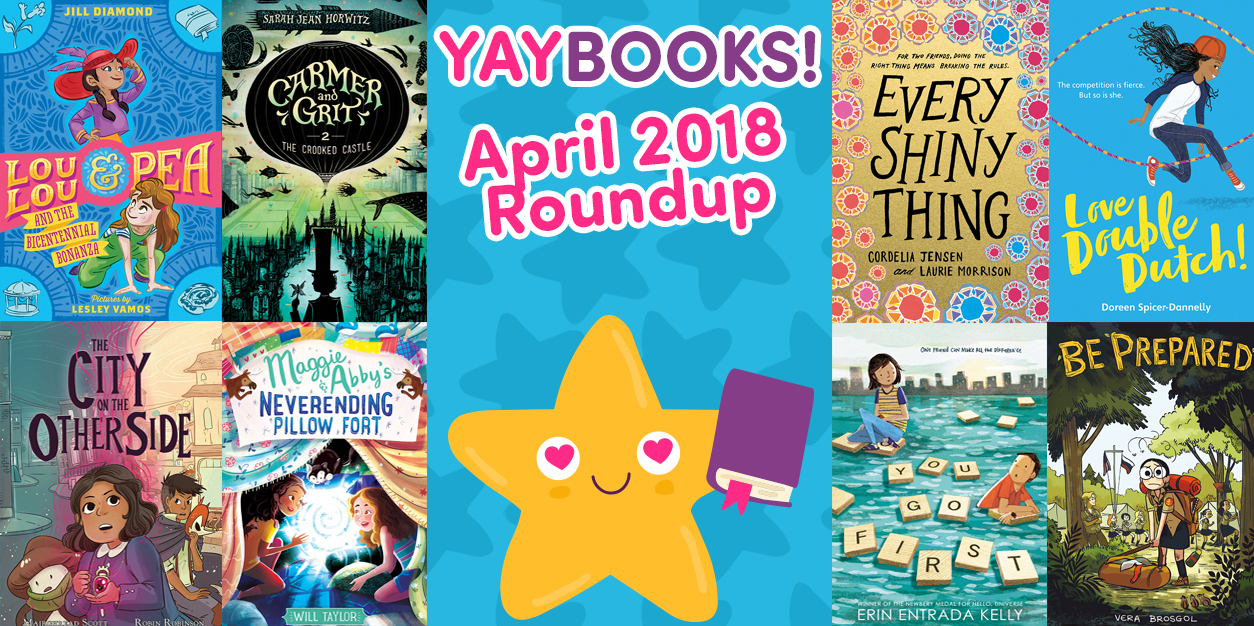 YAYBOOKS! April 2018 Roundup
Is there anything more lovely and relaxing than sitting in the crisp Spring air and the warm sunshine while falling in love with a brand new book? If you ask us, that pretty much takes the cake. Sadly, the sun hasn't really gotten the message here in Philadelphia, and we've still got lots of snow in the forecast. No matter what type of wild weather you're dealing with, we know you're going to love all of the amazing books releasing this month. Our YAYBOOKS! April 2018 Roundup features over 25 brand new books and graphic novels, some of which we'll be sharing special author features for throughout the month! We made notes for the titles we'll be highlighting, so be sure to check back each week to go beyond the pages and learn more about the stories straight from the authors themselves.
This month's list includes everything from sports themed reads that'll get you fired up and ready to go outside, lots of heart-stopping fantasy adventures, and even a few books that take place here in Philly! Get ready to get your read on!
YAYBOOKS! April 2018 Roundup: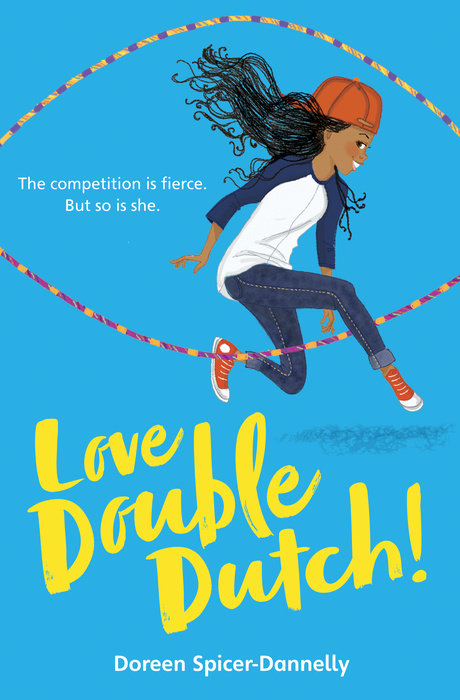 Love Double Dutch!
Author: Doreen Spicer-Dannelly
Publisher: Random House Books for Young Readers
Date: April 3
YAYBOOKS!:
Double Dutch competitions, friendship, and following your dreams? Sounds like an amazing read to us! We'll be sharing more about this one and the author will be sharing 10 Fun Facts about the book, so be sure to check back. Want a fun fact to get the hype started? Author Doreen Spicer-Dannelly is the creator of the classic Disney Channel cartoon, The Proud Family, as well as Jump In!, a DCOM all about Double Dutch.
SYNOPSIS:
From the creator of the popular Disney Channel original movie, Jump In! comes a double Dutch novel perfect for fans of stories about sports, summer, and friendship.
Brooklyn middle-schooler MaKayla can only think about one thing–taking her double Dutch team all the way to the National Jump-off at Madison Square Garden. That is, until her mother breaks the news. Kayla has to spend the summer at her aunt's house in North Carolina while her parents work out their problems . . . or decide to call it quits.
Kayla does not feel at home in the South, and she certainly doesn't get along with her snooty cousin Sally. It looks like her Jump-off dreams are over.
Hold the phone! Turns out, double Dutch is huge in the South. She and Sally just need to find two more kids for a team. And a routine. And the confidence to stand up to the double Dutch divas who used to be Sally's BFFs. Time to show those Southern belles some Brooklyn attitude!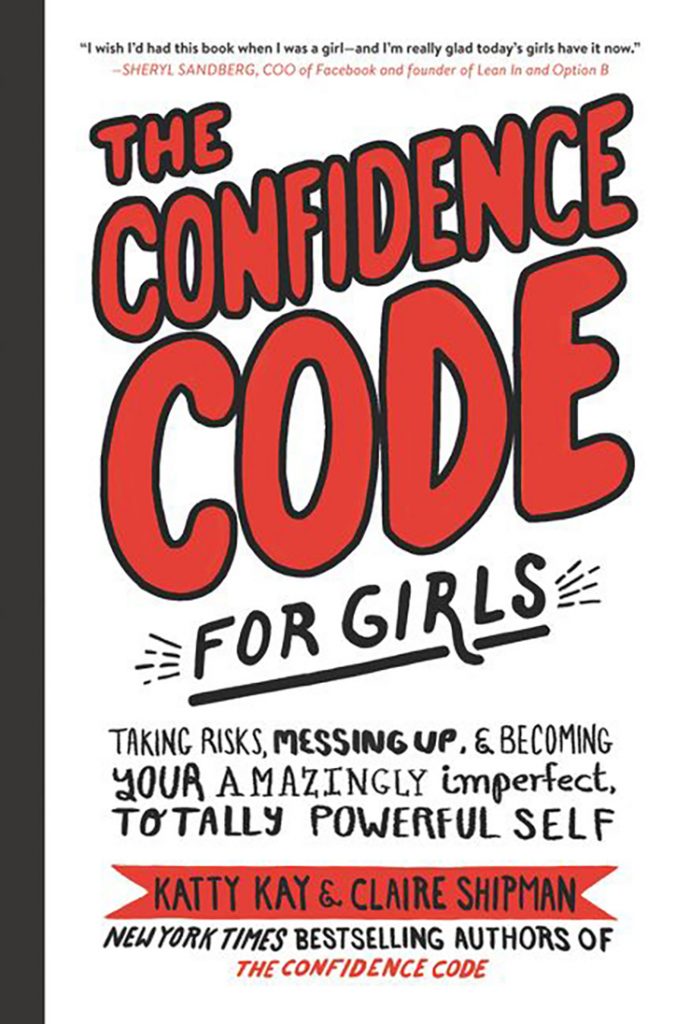 The Confidence Code for Girls: Taking Risks, Messing Up, and Becoming Your Amazingly Imperfect, Totally Powerful Self
Author: Katty Kay and Claire Shipman
Publisher: HarperCollins Children's Books
Date: April 3
SYNOPSIS:
Girls can rule the world—all they need is confidence. This empowering, entertaining guide from the bestselling authors of The Confidence Code gives girls the essential yet elusive code to becoming bold, brave, and fearless.
It's a paradox familiar to parents everywhere: girls are achieving like never before, yet they're consumed with doubt on the inside. Girls worry constantly about how they look, what people think, whether to try out for a sports team or school play, why they aren't getting "perfect" grades, and how many likes and followers they have online.
Katty Kay and Claire Shipman use cutting-edge science and research, as well as proven methods of behavioral change, to reach girls just when they need it the most—the tween and teen years.
Packed with graphic novel strips; appealing illustrations; fun lists, quizzes, and challenges; and true stories from tons of real girls, The Confidence Code for Girls teaches girls to embrace risk, deal with failure, and be their most authentic selves.
If you or the girl in your life loved The Gutsy Girl or Rad American Women A-Z, you'll love this.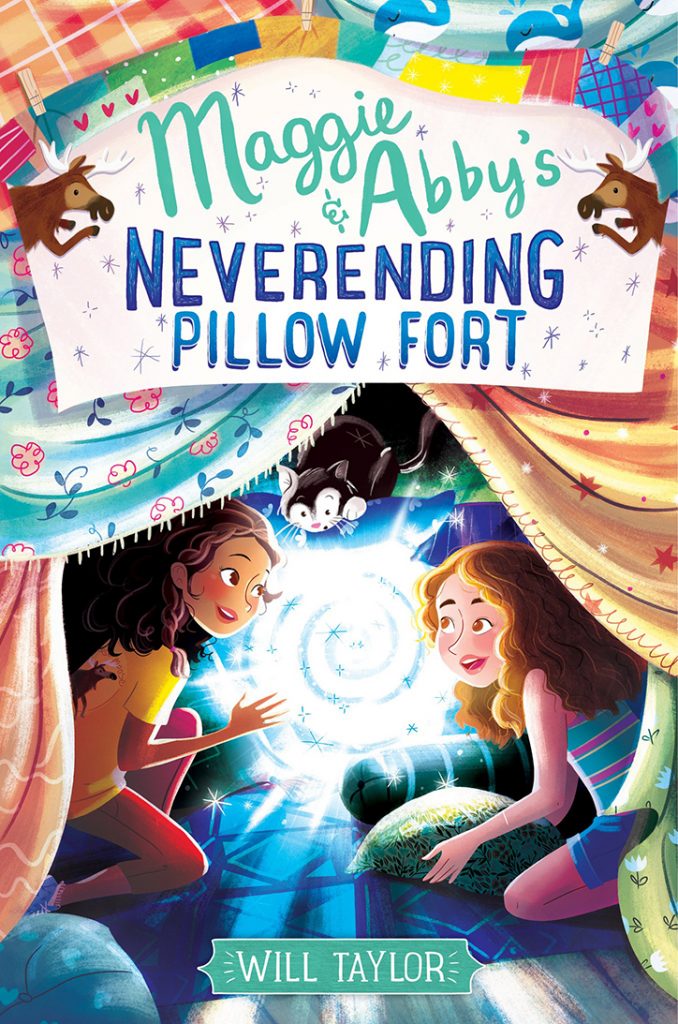 Maggie & Abby's Neverending Pillow Fort
Author: Will Taylor
Publisher: HarperCollins Children's Books
Date: April 3
YAYOMG!:
We're super excited for this read, it just sounds like so much fun! We'll be bringing you more on this one soon, including an interview with the author, but for now, build yourself a pillow fort and get to reading!
SYNOPSIS:
Six. Weeks. That's how long Maggie's been waiting for her best friend and partner in crime, Abby, to come home from Camp Cantaloupe. Half of summer break may have been lost, but Abby is finally heading back!
Only when Abby arrives, she's. . . different. She doesn't want to play any of their usual epic spy games. All New Abby wants to do is talk about camp things and plan campy activities—she even has the nerve to call Maggie's massive, award-worthy pillow fort a "cabin."
But at least Abby's excited to build a "cabin" of her own. And when Maggie discovers that a pillow in the back of her fort mysteriously leads right into Abby's new one, the two friends are suddenly just an arm's length away. Soon they're adding links and building more forts, until Maggie looks behind one pillow too many and finders herself face-to-face with. . . the authorities.
Turns out their little pillow fort network isn't the first to exist. It's not even the second, or third, or hundredth. A massive network of linked-up pillow and sofa forts already spans the globe, and the kids who run it are not happy with Maggie and Abby. And they are not fooling around.
With just three days to pass the North American Founding and Allied Forts Alliance's outrageous entrance tests or lose the links forever, Maggie and Abby pull out all the stops to try to save their network. But the kids on NAFAFA's Council have their own agenda, and it just so happens Maggie's fort might actually hold the key to a mystery that's gone unanswered for generations.
There's only a little bit of summer left to burn, and Maggie and Abby are determined to win back their pillow fort freedom. But can their mission—and their scrappy homemade network—survive the mission?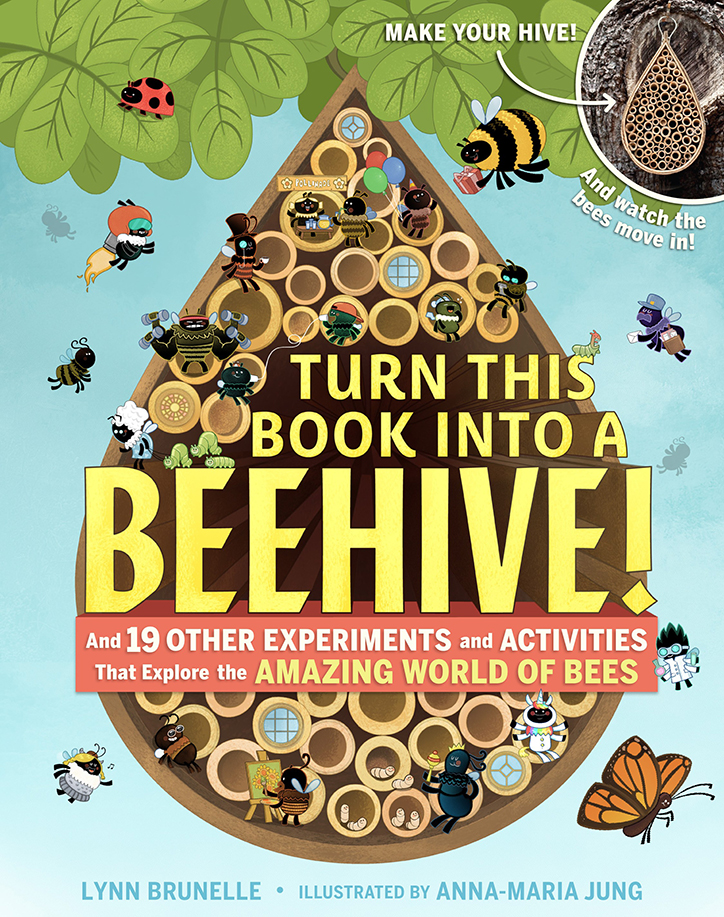 Turn This Book Into a Beehive!: Start a Living Colony in Your Own Backyard, Plus 19 Other Experiments and Activities to Make You a Bee Master
Author: Lynn Brunelle
Illustrator: Anna-Maria Jung
Publisher: Workman Publishing
Date: April 3
SYNOPSIS:
What a promise! Actually, promises. First, here's a book that teaches kids all about the fascinating world of bees. Second, fun exercises, activities, and illustrations engage the imagination and offer a deeper understanding of bee life and bee behavior. Third, by following a few simple steps including removing the book's cover and taping it together, readers can transform the book into an actual living home for backyard bees. Fourth, added all together, Turn This Book Into a Beehive! lets kids make a difference in the world—building a home where bees can thrive is one small but critical step in reversing the alarming trend of dwindling bee populations.
Written by Lynn Brunelle, author of Pop Bottle Science, whose gift for making science fun earned her four Emmy Awards as a writer for Bill Nye the Science Guy, Turn This Book Into a Beehive! introduces kids to the amazing mason bee, a non-aggressive, non-stinging super-pollinator that does the work of over 100 honeybees. Mason bees usually live in hollow reeds or holes in wood, but here's how to make a home just for them: Tear out the perforated paper—each illustrated as a different room in a house—roll the sheets into tubes, enclose the tubes using the book's cover, and hang the structure outside.
The bees will arrive, pack mud into the tubes, and begin pollinating all the plants in your backyard.
Twenty experiments and activities reveal even more about bees—how to smell like a bee, understand the role of flowers and pollen, learn how bees communicate with each other through "dance," and more. It's the real buzz on bees, delivered in the most ingenious and interactive way.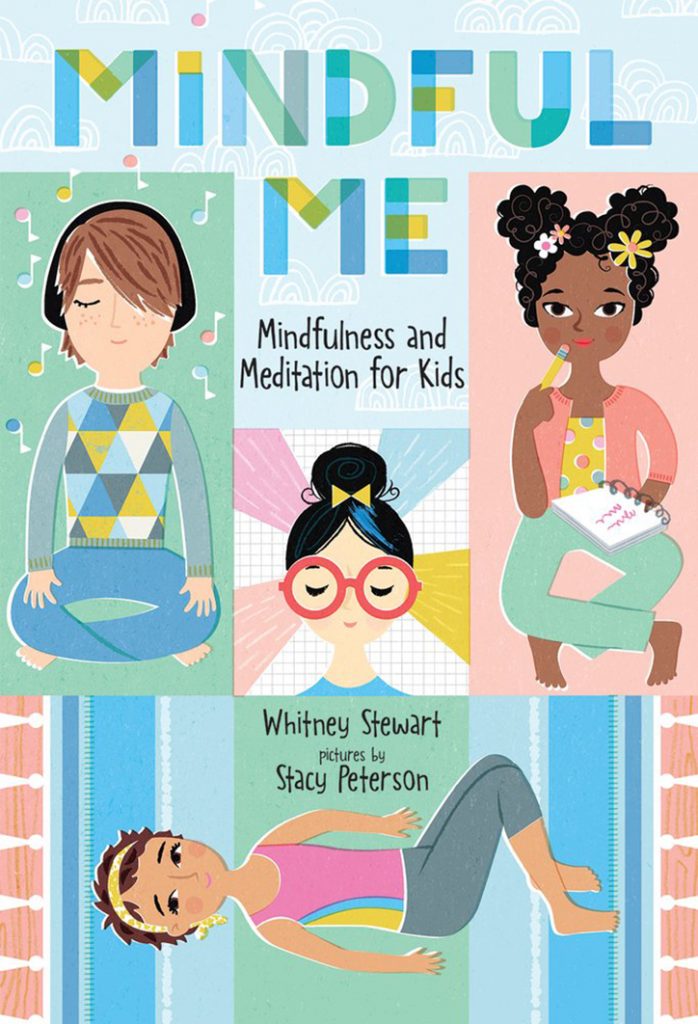 Mindful Me: Mindfulness and Meditation For Kids
Author: Whitney Stewart
Illustrator: Stacy Peterson
Publisher: Albert Whitman & Co.
Date: April 3
SYNOPSIS:
Sometimes kids' lives can get busy and out of control, and worries can take over. When that happens, knowing how to pause and regain composure with mindfulness can help! This easily digestible guide introduces kids to mindfulness as a way to find clarity, manage stress, handle difficult emotions, and navigate personal challenges. With step-by-step instructions to over thirty breathing, relaxation, and guided meditation exercises, readers will have an entire toolkit at their disposal and writing prompts will help them process their discoveries. Clearly written and incredibly relatable, this invaluable resource provides a positive introduction to the world of self-care and mindfulness.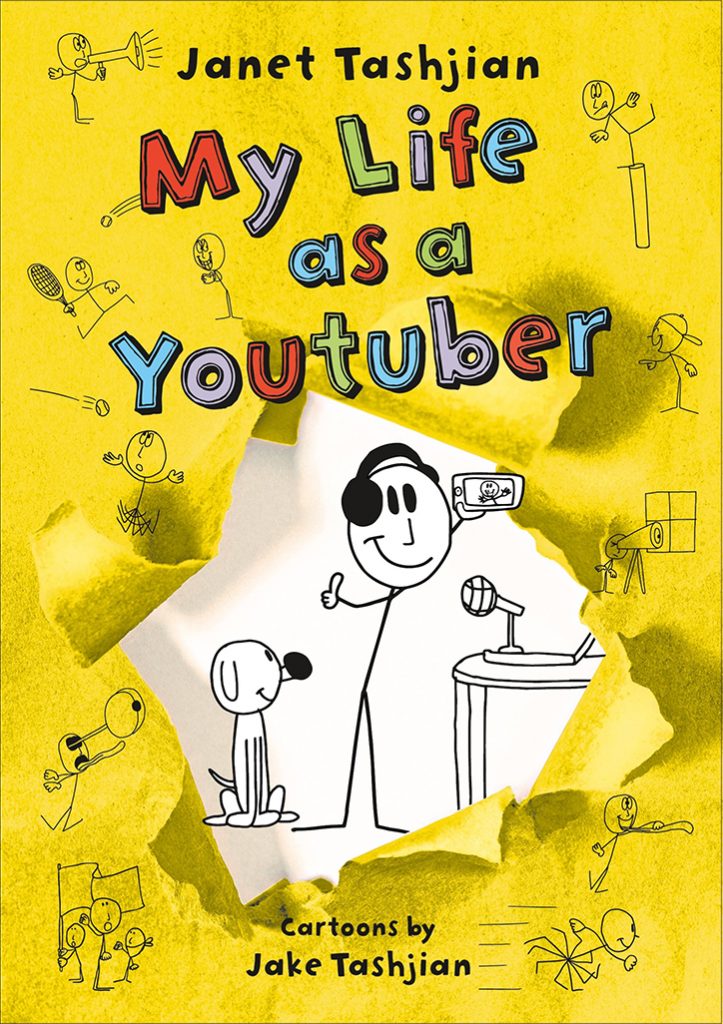 My Life as a Youtuber
Author: Janet Tashjian
Illustrator: Jake Tashjian
Publisher: Henry Holt and Co Books for Young Readers
Date: April 3
SYNOPSIS:
Book 7 of the much-loved My Life series that has the irrepressible Derek Fallon starting his own Youtube web series!
Derek Fallon finally found something to get excited about at school—an extracurricular class on making videos! Together with his friends Carly, Matt, and Umberto, Derek can't wait to create his own Youtube web series. But he soon realizes Youtube stardom is a lot of work. On top of that, it's time for his foster monkey Frank to go to monkey college so Derek must scramble to find a reason for Frank to stay with his family—if only a little while longer. Can Derek solve both problems at once? What if Frank became a part of Derek's Youtube videos?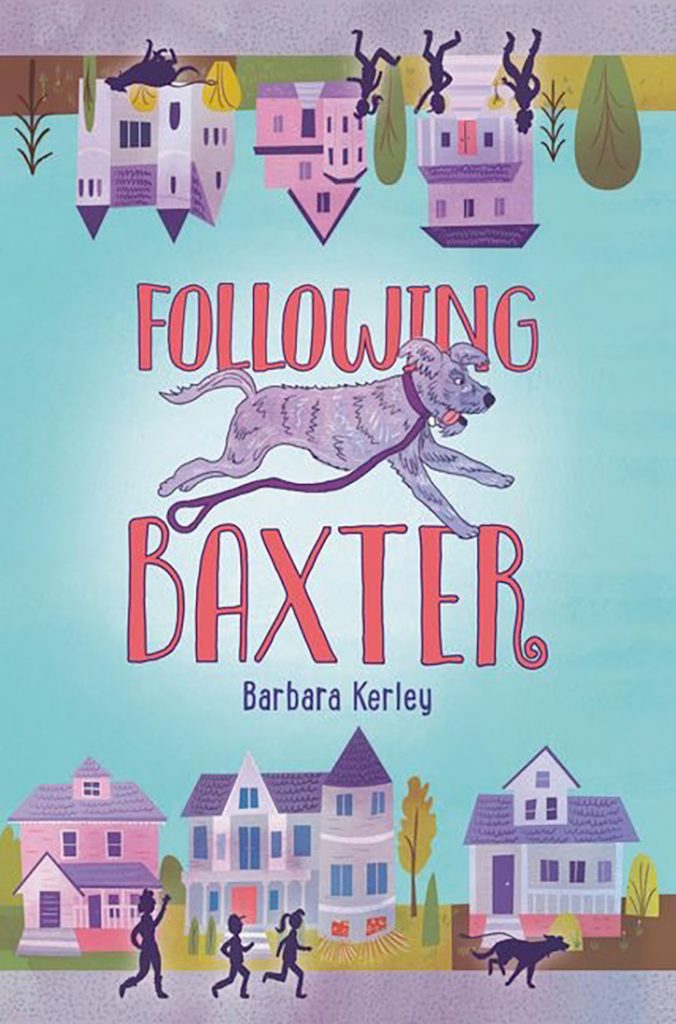 Following Baxter
Author: Barbara Kerley
Publisher: HarperCollins Children's Books
Date: April 3
SYNOPSIS:
For fans of The Fourteenth Goldfish comes a heartwarming adventure starring eleven-year-old Jordie, a quirky professor, and a magical dog.
Eleven-year-old Jordie Marie Wallace has been waiting forever for someone to move in next door, so she is thrilled when Professor Reese arrives. Professor Reese has a laboratory in her basement and an extraordinary dog named Baxter—who seems to understand everything Jordie says. Jordie and her younger brother, TJ, begin walking Baxter and helping Professor Reese in the lab. But being lab assistants ends up being more than Jordie and TJ bargained for and leads them to a secret neither of them expected: a teleporter in Professor Reese's lab! When the professor goes missing, it's up to Jordie and TJ to use their smarts and Baxter's magical powers to find her. Will they be able to save Professor Reese before it's too late?
From Barbara Kerley comes a mysterious and heartwarming story filled with friendship, humor, and the wonders of science.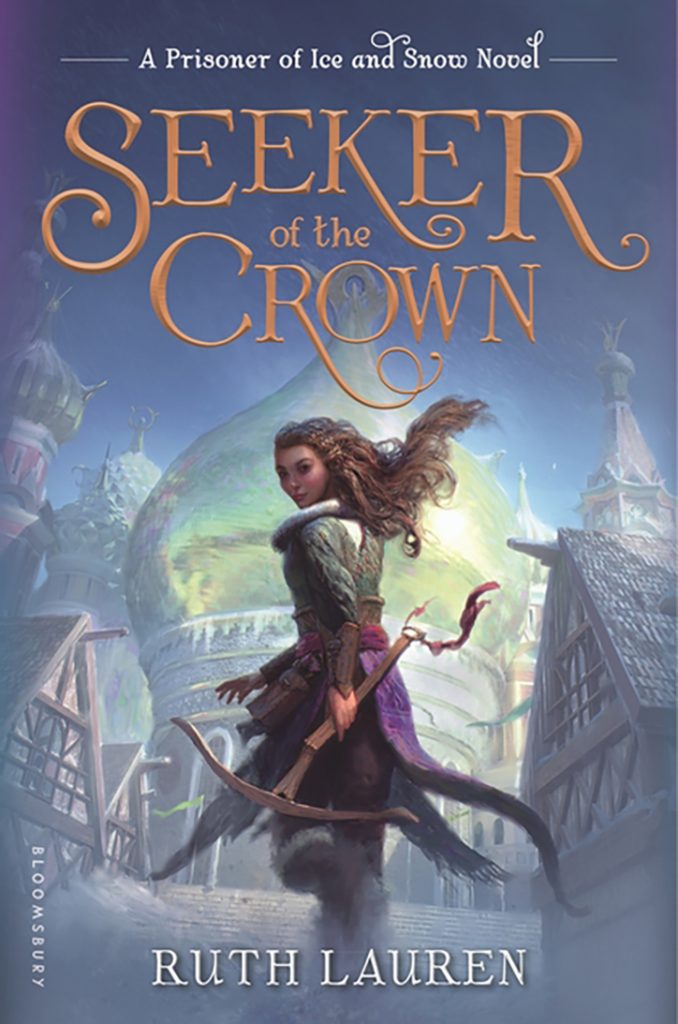 Seeker of the Crown: A Prisoner of Ice and Snow Novel
Author: Ruth Lauren
Publisher: Bloomsbury Childrens Books
Date: April 3
SYNOPSIS:
Valor risks everything to protect her friends in this second book in a thrilling fantasy series that's Percy Jackson meets Frozen.
One month has passed since Valor broke her twin sister Sasha out of jail. But the girl who imprisoned her to begin with—Princess Anastasia—has gone missing. The queen, desperate to find her daughter, asks Valor and Sasha to track Anastasia down and bring her home.
But just as the girls and their friends embark on the search, the queen also vanishes, throwing the realm into utter chaos. If Valor can't restore order, she risks getting sent back to prison . . . and tearing her newly reunited family apart once again. She must rely on people she can't quite trust, as well as her own instincts, to protect the people she holds dear.
This thrilling sequel to the buzzy Prisoner of Ice and Snow is just as unputdownable, sweeping readers back into Valor's vivid world, the icy—and dangerous—Demidova.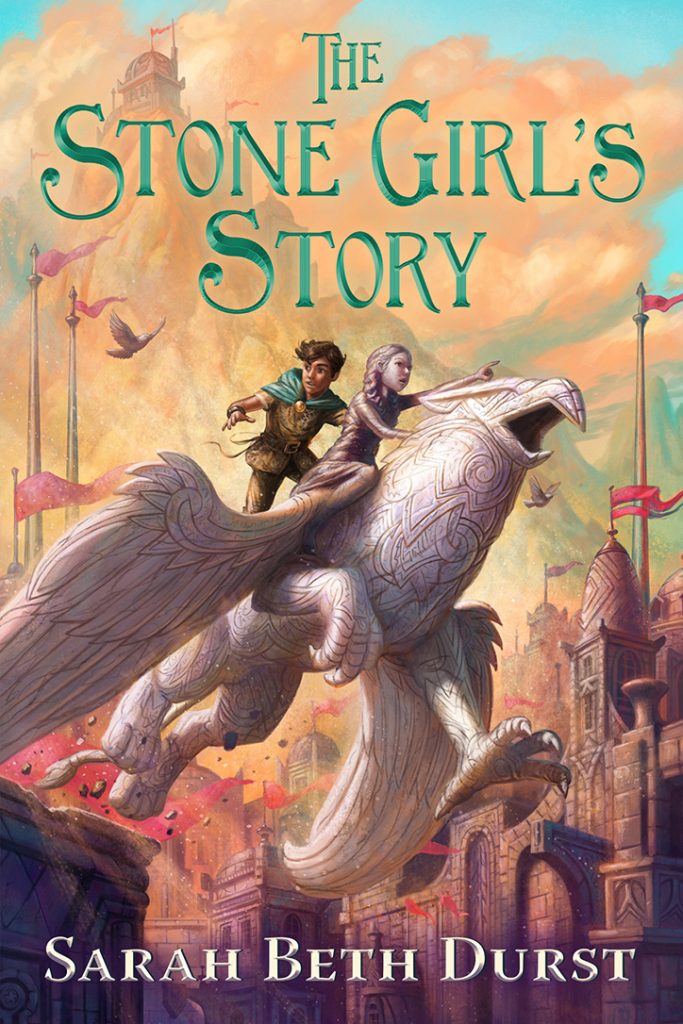 The Stone Girl's Story
Author: Sarah Beth Durst
Publisher: Clarion Books
Date: April 3
SYNOPSIS:
Exploring the power of stories and storytelling, Sarah Beth Durst presents the mesmerizing adventure of a girl made of living stone who braves unforeseen dangers and magical consequences on a crucial quest to save her family.
Mayka and her stone family were brought to life by the stories etched into their bodies. Now time is eroding these vital marks, and Mayka must find a stonemason to re-carve them. But the search is more complex than she had imagined, and Mayka uncovers a scheme endangering all stone creatures. Only someone who casts stories into stone can help—but whom can Mayka trust? Where is the stonemason who will save them?
Action and insight combine in this magical coming-of-age novel as the young heroine realizes the savior she's been searching for is herself.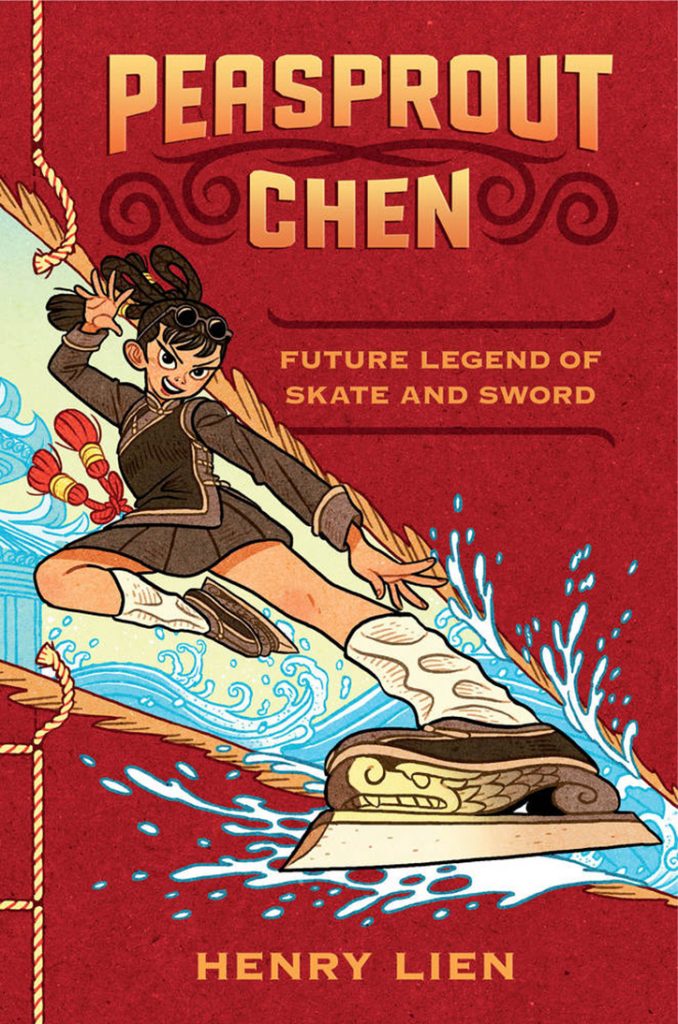 Peasprout Chen, Future Legend of Skate and Sword
Author: Henry Lien
Publisher: Henry Holt & Co Books for Young Readers
Date: April 3
SYNOPSIS:
Welcome to Pearl Famous Academy of Skate and Sword, where the blades are sharp and the competition is fierce.
Peasprout Chen dreams of becoming a legend of wu liu, the deadly and beautiful art of martial arts figure skating.
As the first students from the rural country of Shin to attend Pearl Famous Academy of Skate and Sword, Peasprout and her little brother Cricket have some pretty big skates to fill. They soon find themselves in a heated competition for top ranking.
Tensions rise when the dazzling pearl buildings of the Academy are vandalized and outsider Peasprout is blamed for the attacks by her rivals … and even some friends.
Now, she must uncover the true vandal to ensure peace between Shin and Pearl – all while becoming a champion.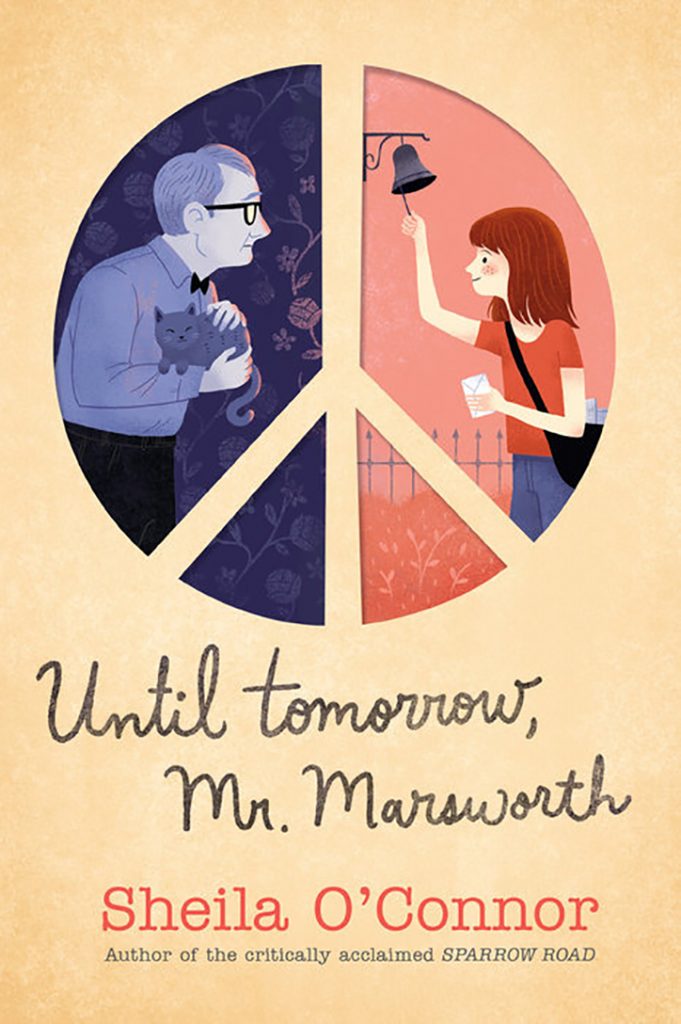 Until Tomorrow, Mr. Marsworth
Author: Sheila O'Connor
Publisher: G.P. Putnam's Sons Books for Young Readers
Date: April 3
SYNOPSIS:
Set against the backdrop of the Vietnam War, one young girl is determined to save her brother from the draft–and gets help from an unlikely source–in this middle-grade tale, perfect for fans of The Wednesday Wars
When eleven-year-old Reenie Kelly's mother passes away, she and her brothers are shipped off to live with their grandmother. Adjusting to life in her parents' Midwestern hometown isn't easy, but once Reenie takes up a paper route with her older brother Dare, she has something she can look forward to. As they introduce themselves to every home on their route, Reenie's stumped by just one–the house belonging to Mr. Marsworth, the town recluse. When he doesn't answer his doorbell, Reenie begins to leave him letters. Slowly, the two become pen pals, striking up the most unlikely of friendships.
Through their letters, Reenie tells of her older brother Billy, who might enlist to fight in the Vietnam War. Reenie is desperate to stop him, and when Mr. Marsworth hears this, he knows he can't stand idly by. As a staunch pacifist, Mr. Marsworth offers to help Reenie. Together, they concoct a plan to keep Billy home, though Reenie doesn't know Mr. Marsworth's dedication to her cause goes far beyond his antiwar beliefs.
In this heartwarming piece of historical fiction, critically acclaimed author Sheila O'Connor delivers a tale of devotion, sacrifice, and family.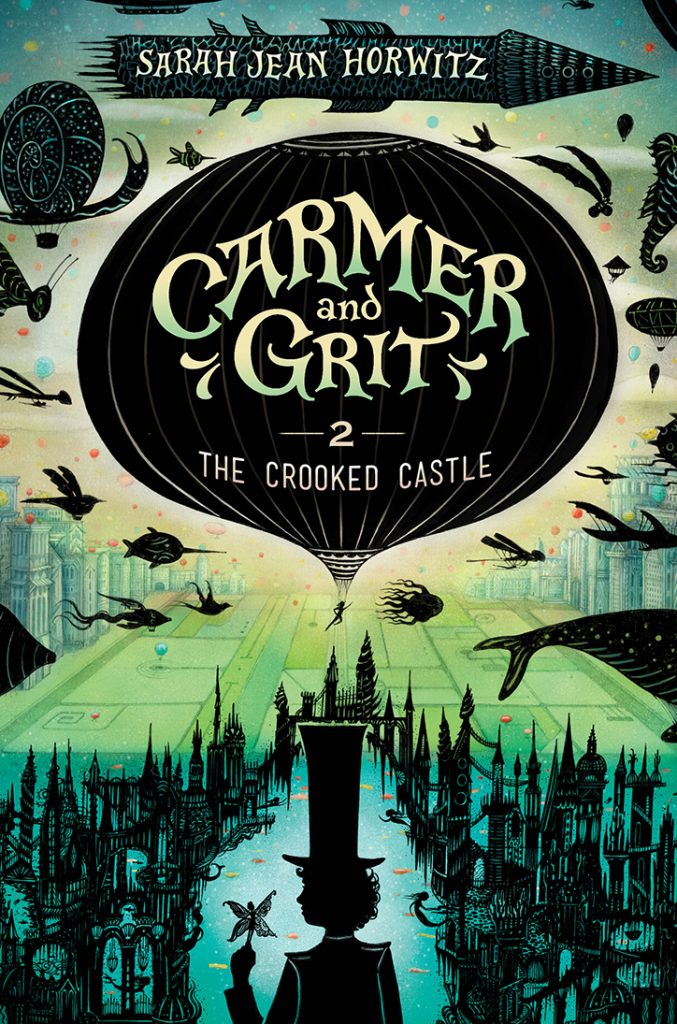 Carmer and Grit: The Crooked Castle
Author: Sarah Jean Horwitz
Publisher: Algonquin Young Readers
Date: April 10
YAYOMG!:
The Crooked Castle is the second in the Carmer and Grit series. The first book, The Wingsnatchers, came out last year and it's a seriously enchanting story that's perfect for fantasy readers. We teamed up with author Sarah Jean Horowitz to bring YAYOMG! readers an extra special in-depth look at the characters and settings within the book that's sure to delight fans of the series and new readers alike. Be sure to check back on April 10th!
SYNOPSIS:
Magician's apprentice Carmer and one-winged faerie princess Grit investigate a mysteriously magical flying circus in the follow-up to "a fun and frolicking middle grade adventure full of enough fantasy, humor, and heart to make giddy even the most finicky reader." (BookPage)
Shortly after saving the faeries of Skemantis, magician's apprentice Felix Carmer III and his faerie companion, Grit, head out to see the world. They soon come across a mysteriously magical flying circus. As they get to know the outlandish world of Rinka Tinka's Roving Wonder Show, it becomes clear there's something not quite normal about this circus or its inventor—and that recent airship disasters plaguing nearby Driftside City may have a sinister explanation.
Fans of the Wildwood trilogy and Lockwood & Co. series will love the thrills and chills of The Crooked Castle as it takes readers up in the air with a flying circus, under the sea to the evil Unseelie kingdom, through a terrifying magical snowstorm, and on a chase with the menacing Wild Hunt.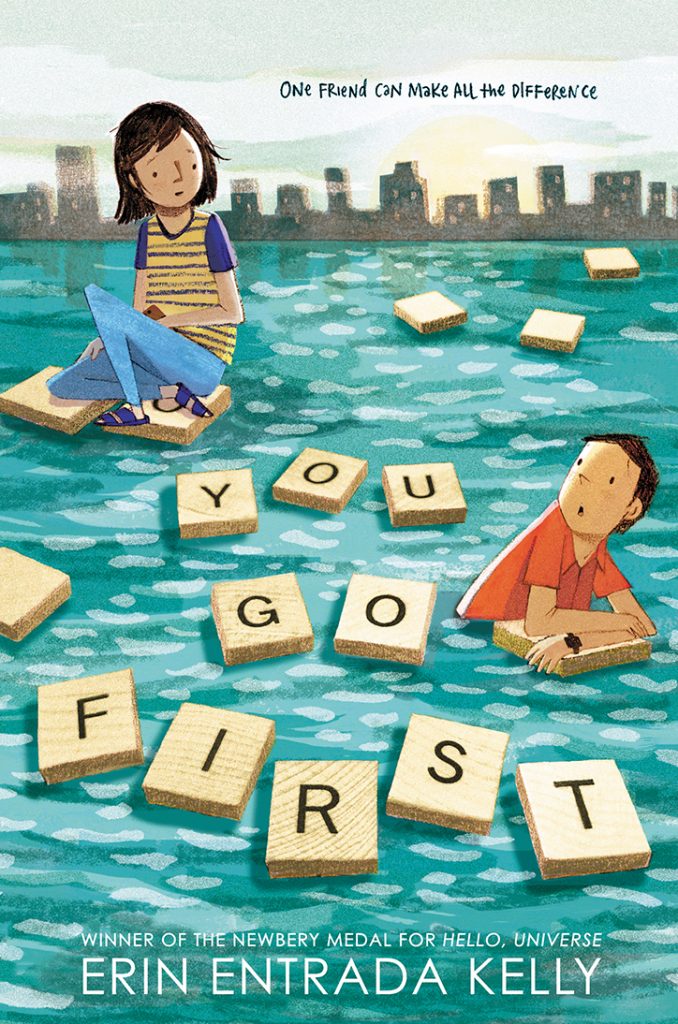 You Go First
Author: Erin Entrada Kelly
Publisher: Greenwillow Books
Date: April 10
YAYOMG!:
We can't even express how excited we are about this sweet, funny, and totally relatable read about two kids who bond over an online Scrabble game. We have an interview with author Erin Entrada Kelly headed your way on April 9th, so head on back to YAYOMG! for a triple word score!
SYNOPSIS:
Funny and poignant, You Go First by 2018 Newbery Medalist Erin Entrada Kelly is an engaging exploration of family, spelling, art, bullying, and the ever-complicated world of middle school friendships. Erin Entrada Kelly's perfectly pitched tween voice will resonate with fans of Kate DiCamillo's Raymie Nightingale and Thanhha Lai's Inside Out and Back Again.
Twelve-year-old Charlotte Lockard and eleven-year-old Ben Boxer are separated by more than a thousand miles. On the surface, their lives seem vastly different—Charlotte lives near Philadelphia, Pennsylvania, while Ben is in the small town of Lanester, Louisiana. Charlotte wants to be a geologist and keeps a rock collection in her room. Ben is obsessed with Harry Potter, presidential history, and recycling. But the two have more in common than they think. They're both highly gifted. They're both experiencing family turmoil. And they both sit alone at lunch.
Over the course of a week, Charlotte and Ben—online friends connected only by a Scrabble game—will intersect in unexpected ways as they struggle to navigate the turmoil of middle school. You Go First reminds us that no matter how hard it is to keep our heads above troubled water, we never struggle alone.
The acclaimed author of Blackbird Fly, The Land of Forgotten Girls, and Hello, Universe writes with an authentic, humorous, and irresistible voice. This engaging and character-driven story about growing up and finding your place in the world will appeal to fans of Rebecca Stead and Rita Williams-Garcia.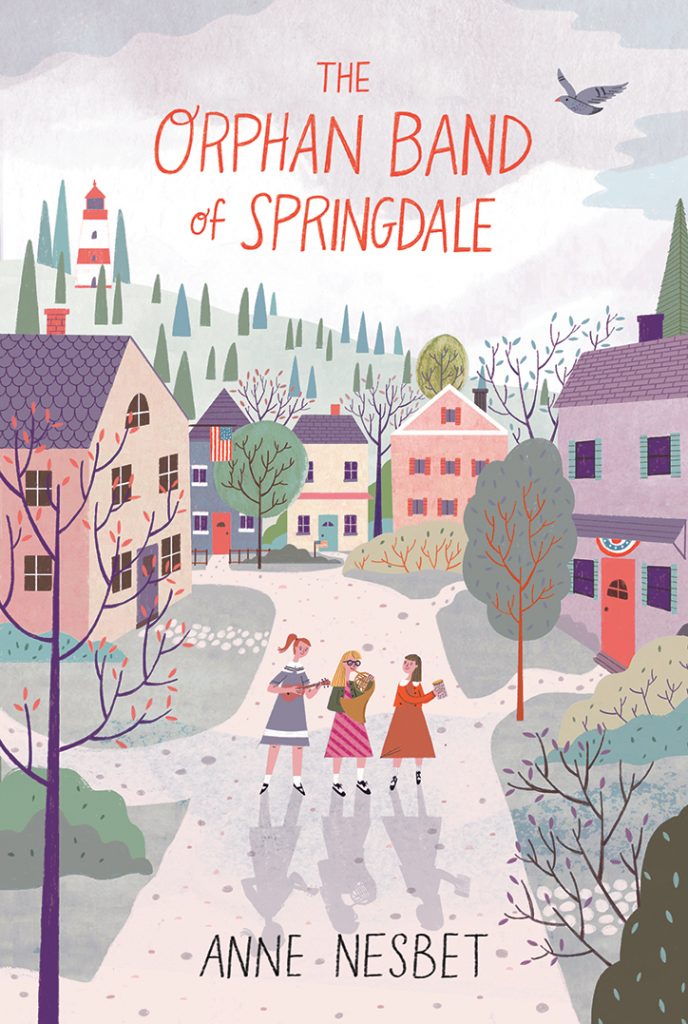 The Oprhan Band of Springdale
Author: Anne Nesbet
Publisher: Candlewick Press
Date: April 10
SYNOPSIS:
With the United States on the verge of World War II, eleven-year-old Gusta is sent from New York City to Maine, where she discovers small-town prejudices — and a huge family secret.
It's 1941, and tensions are rising in the United States as the Second World War rages in Europe. Eleven-year-old Gusta's life, like the world around her, is about to change. Her father, a foreign-born labor organizer, has had to flee the country, and Gusta has been sent to live in an orphanage run by her grandmother. Nearsighted, snaggletoothed Gusta arrives in Springdale, Maine, lugging her one precious possession: a beloved old French horn, her sole memento of her father. But in a family that's long on troubles and short on money, how can a girl hang on to something so valuable and yet so useless when Gusta's mill-worker uncle needs surgery to fix his mangled hand, with no union to help him pay? Inspired by her mother's fanciful stories, Gusta secretly hopes to find the coin-like "Wish" that her sea-captain grandfather supposedly left hidden somewhere. Meanwhile, even as Gusta gets to know the rambunctious orphans at the home, she feels like an outsider at her new school — and finds herself facing patriotism turned to prejudice, alien registration drives, and a family secret likely to turn the small town upside down.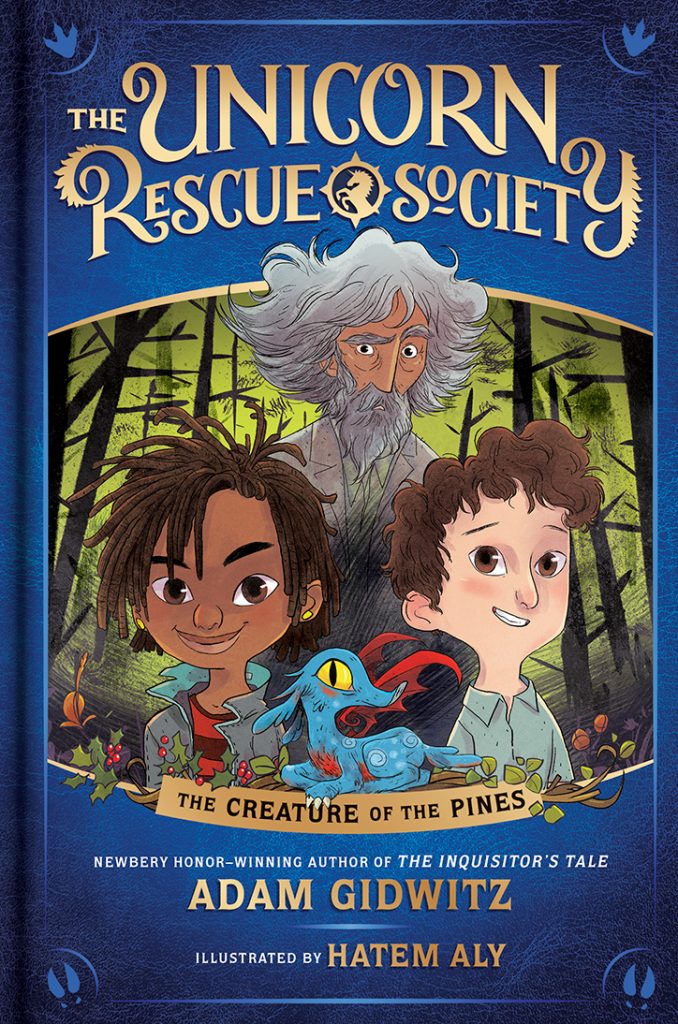 The Unicorn Rescue Society: The Creature of the Pines
Author: Adam Gidwitz
Illustrator: Hatem Aly
Publisher: Dutton Books for Young Readers
Date: April 10
SYNOPSIS:
A fully illustrated, globe-trotting new middle grade fantasy-adventure series about mythical creatures and their cultures of origin, from the Newbery Honor-winning author of The Inquisitor's Tale.
Elliot Eisner isn't exactly excited about starting at a brand-new school in a brand-new town; he'd much rather stay at home and read a book. But things take an unexpected turn when he finds out his weird new teacher, Professor Fauna, has planned a field trip for Elliot's very first day. Along with a new friend–brave, outspoken Uchenna Devereaux–Elliot gets caught up in a secret group of adventurers, The Unicorn Rescue Society, whose goal is to protect and defend the world's mythical creatures. Together with Professor Fauna, Elliot and Uchenna must help rescue a Jersey Devil from a duo of conniving, greedy billionaires, the Schmoke Brothers.
Unicorn Rescue Society is an exciting and hilarious new series about friendship, adventure, and mythical creatures from around the world by Newbery Honor-winning author Adam Gidwitz teamed up with Mixtape Club founders Jesse Casey and Chris Smith, and Hatem Aly, illustrator of The Inquisitor's Tale.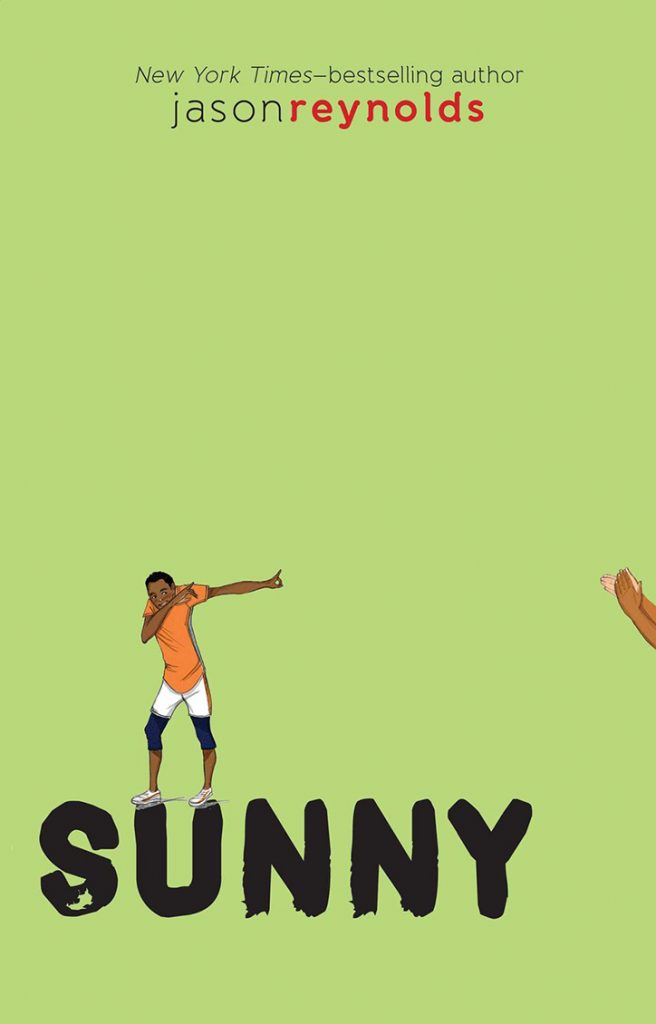 Sunny
Author: Jason Reynolds
Publisher: Atheneum / Caitlyn Dlouhy Books
Date: April 10
SYNOPSIS:
Sunny tries to shine despite his troubled past in this third novel in the critically acclaimed Track series from National Book Award finalist Jason Reynolds.
Ghost. Patina. Sunny. Lu. Four kids from wildly different backgrounds, with personalities that are explosive when they clash. But they are also four kids chosen for an elite middle school track team—a team that could qualify them for the Junior Olympics. They all have a lot of lose, but they all have a lot to prove, not only to each other, but to themselves. Sunny is the main character in this novel, the third of four books in Jason Reynold's electrifying middle grade series.
Sunny is just that—sunny. Always ready with a goofy smile and something nice to say, Sunny is the chillest dude on the Defenders team. But Sunny's life hasn't always been sun beamy-bright. You see, Sunny is a murderer. Or at least he thinks of himself that way. His mother died giving birth to him, and based on how Sunny's dad treats him—ignoring him, making Sunny call him Darryl, never "Dad"—it's no wonder Sunny thinks he's to blame. It seems the only thing Sunny can do right in his dad's eyes is win first place ribbons running the mile, just like his mom did. But Sunny doesn't like running, never has. So he stops. Right in the middle of a race.
With his relationship with his dad now worse than ever, the last thing Sunny wants to do is leave the other newbies—his only friends—behind. But you can't be on a track team and not run. So Coach asks Sunny what he wants to do. Sunny's answer? Dance. Yes, dance. But you also can't be on a track team and dance. Then, in a stroke of genius only Jason Reynolds can conceive, Sunny discovers a track event that encompasses the hard hits of hip-hop, the precision of ballet, and the showmanship of dance as a whole: the discus throw. As Sunny practices the discus, learning when to let go at just the right time, he'll let go of everything that's been eating him up inside, perhaps just in time.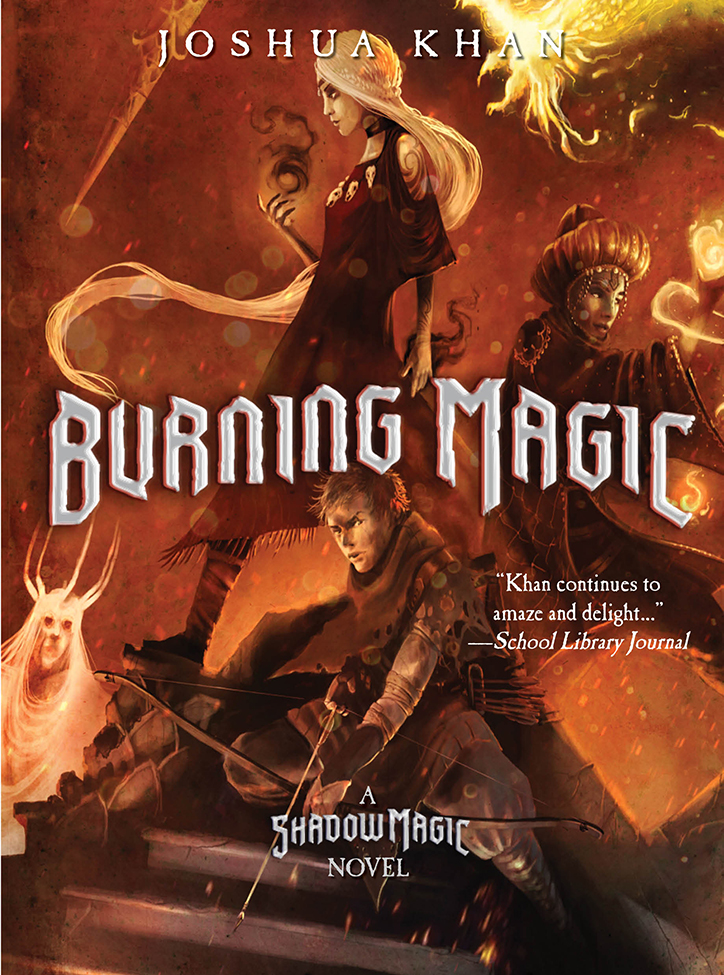 Burning Magic: A Shadow Magic Novel
Author: Joshua Khan
Publisher: Disney-Hyperion
Date: April 10
SYNOPSIS:
In Book 3 of a three-book series, when Lily, aka the "witch queen" and bat-rider extraordinaire Thorn travel to Sultanate of Fire, things go terribly wrong. Instead of celebrating a reunion with their old friend K'leef, they are thrust into royal murder, an epic quest, and a deadly battle for the throne.
While investigating the murder, Lily learns shocking truths about her life that could destroy all she has achieved. Yet, among the ruins of her old life, she has the opportunity to become someone greater . . . and more terrifying.
Thorn and the magnificent bat, Hades, join the timid K'leef and the idiotic Gabriel Solar in a quest to find a phoenix. These fire birds are the key to saving the sultanate, but they nest within the Shardlands. The boys must defeat not only the monsters of that magical wilderness, but also rivals eager to claim the throne for themselves. Rivals that include a renegade from House Shadow . . .
Chilling surprises, ghostly encounters, and belly laughs are just some of the treats in store for readers of this burning-hot desert adventure.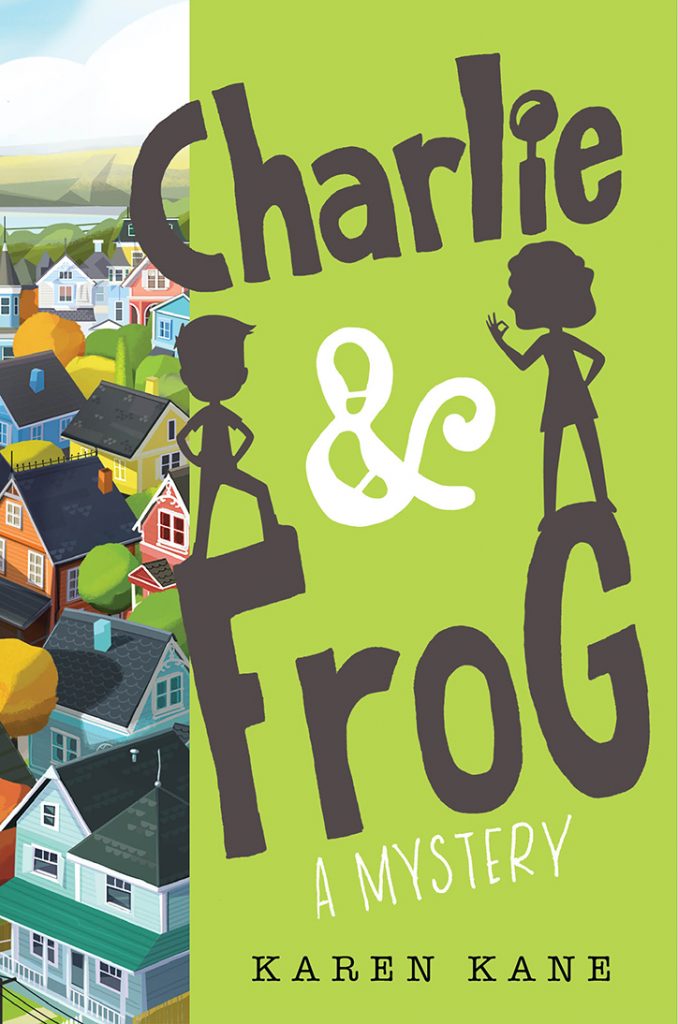 Charlie and Frog: A Mystery
Author: Karen Kane
Publisher: Disney-Hyperion
Date: April 10
SYNOPSIS:
All Charlie Tickler wants is for his parents to listen.
Charlie's parents have left him (again). This time they are off to South Africa to help giant golden moles. And Charlie? He's been dumped with his TV-obsessed grandparents. Lonely and curious, Charlie heads into the village of Castle-on-the-Hudson, where a frightened old woman gives him a desperate message in sign language. When she suddenly disappears, Charlie is determined to find answers.
All Francine (aka Frog) Castle wants is to be the world's greatest detective.
Frog, who is Deaf, would rather be solving crimes than working at the Flying Hands Cafe. When Charlie Tickler walks into the caf looking for help, Frog jumps at the chance to tackle a real-life case.
Together, Charlie and Frog set out to decipher a series of clues and uncover the truth behind the missing woman's mysterious message. Charlie needs to learn American Sign Language (fast) to keep up with quick-witted Frog. And Frog needs to gather her detective know-how (now) to break the case before it's too late.
Discover the surprising ways people listen in debut author Karen Kane's page-turning mystery filled with humor, intrigue, and heartwarming friendships.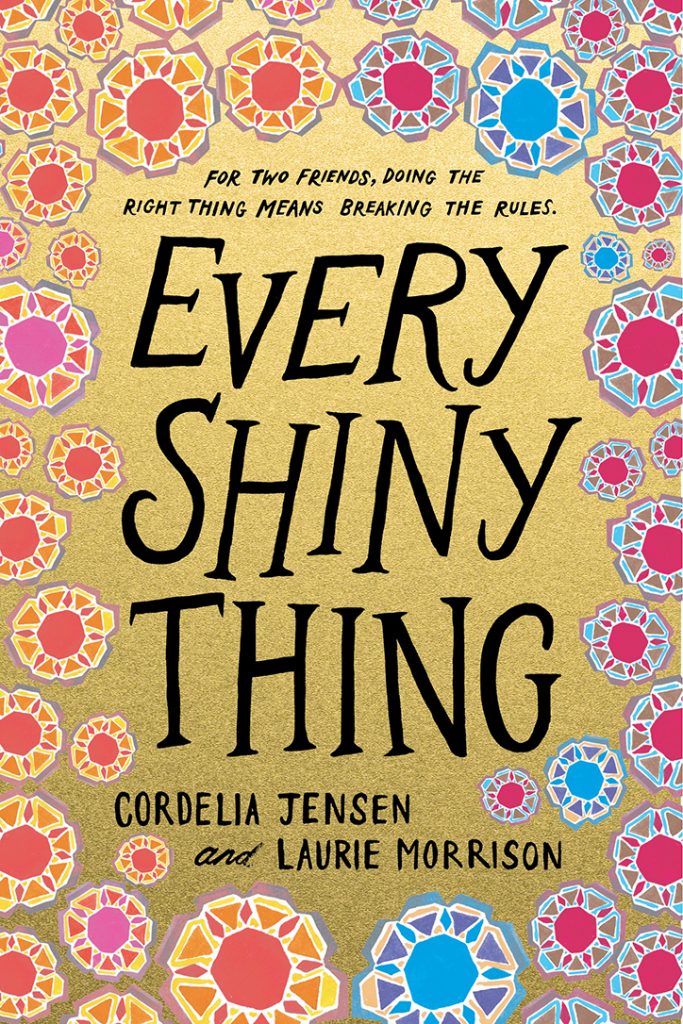 Every Shiny Thing
Authors: Cordelia Jensen and Laurie Morrison
Publisher: Amulet Books
Date: April 17
YAYOMG!:
This book is truly something special. Told in a mix of prose and verse this gorgeous story about two friends is simply a work of art. We'll be featuring this one on April 18th with some intriguing facts from the authors. You definitely don't want to miss it, this is one of our favorite books of the year so far!
SYNOPSIS:
In this beautifully constructed middle-grade novel, told half in prose and half in verse, Lauren prides herself on being a good sister, and Sierra is used to taking care of her mom. When Lauren's parents send her brother to a therapeutic boarding school for teens on the autism spectrum and Sierra moves to a foster home in Lauren's wealthy neighborhood, both girls are lost until they find a deep bond with each other. But when Lauren recruits Sierra to help with a Robin Hood scheme to raise money for autistic kids who don't have her family's resources, Sierra has a lot to lose if the plan goes wrong. Lauren must learn that having good intentions isn't all that matters when you battle injustice, and Sierra needs to realize that sometimes, the person you need to take care of is yourself.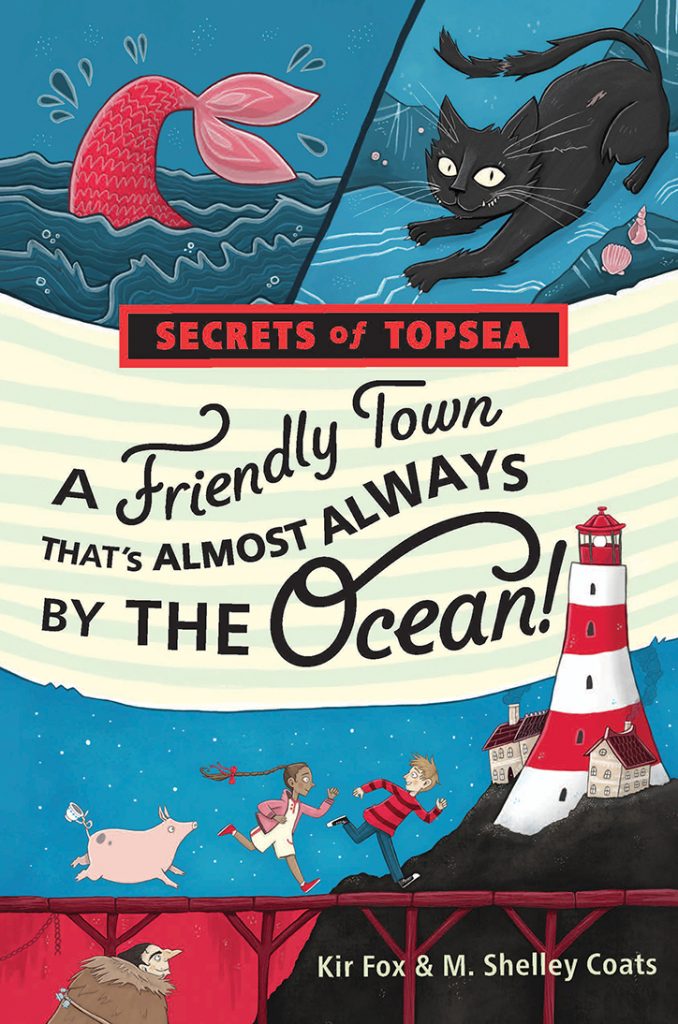 Secrets of Topsea: A Friendly Town That's Almost Always by the Ocean!
Authors: Kir Fox and M. Shelley Coats
Publisher: Disney-Hyperion
Date: April 17
SYNOPSIS:
Welcome to Topsea, the strangest place you'll ever visit. In this town, the coves are bottomless and the pier has no end in sight. There's a high tide and a low tide… and a vanishing tide. Dogs are a myth, but mermaids are totally real. And seaweed is the main ingredient in every meal-watch out, it might just start chewing you back!
New kid Davy definitely thinks Topsea is strange. His mom keeps saying they'll get used to life in their new town-it's just the way things are on the coast! But after his first day at Topsea School, Davy finds himself wondering: Why is his locker all the way at the bottom of the school swimming pool? Why can't anyone remember his name? (It's Davy!) And why does everyone act like all of this is normal?!
Through newspaper articles, stories, surveys, notifications, and more, follow Davy and the rest of Ms. Grimalkin's fifth grade class through the weird world of Topsea. (Whatever you do, don't make eye contact with the rubber ducks.)

The Battle of Junk Mountain
Author: Lauren Abby Greenberg
Publisher: Running Press Kids
Date: April 17
SYNOPSIS:
For fans of Rebecca Stead and Jennifer L. Holm, this is an atmospheric summer beach read for middle school readers.
Twelve-year-old Shayne Whittaker has always spent summers on the Maine coast, visiting her grandmother Bea and playing with her BFF Poppy. Both Shayne and Bea are collectors, in their own ways: Shayne revels in golden memories of searching for sea glass and weaving friendship bracelets with Poppy, while Bea scours flea markets for valuable finds, much of which she adds to a growing pile in her house that Shayne jokingly calls Junk Mountain.
This summer, though, everything has changed. Poppy would rather talk about boys than bracelets, and Bea's collecting mania has morphed into hoarding. Only Linc, the weird Civil War-obsessed kid next door, pays attention to her. Turns out Linc's collected a secret of his own, one that could enrage the meanest lobsterman on the planet, his grandpa. What begins as the worst summer of Shayne's life becomes the most meaningful, as she wages an all-out battle to save her friendships, rescue her grandmother, and protect the memories she loves the most.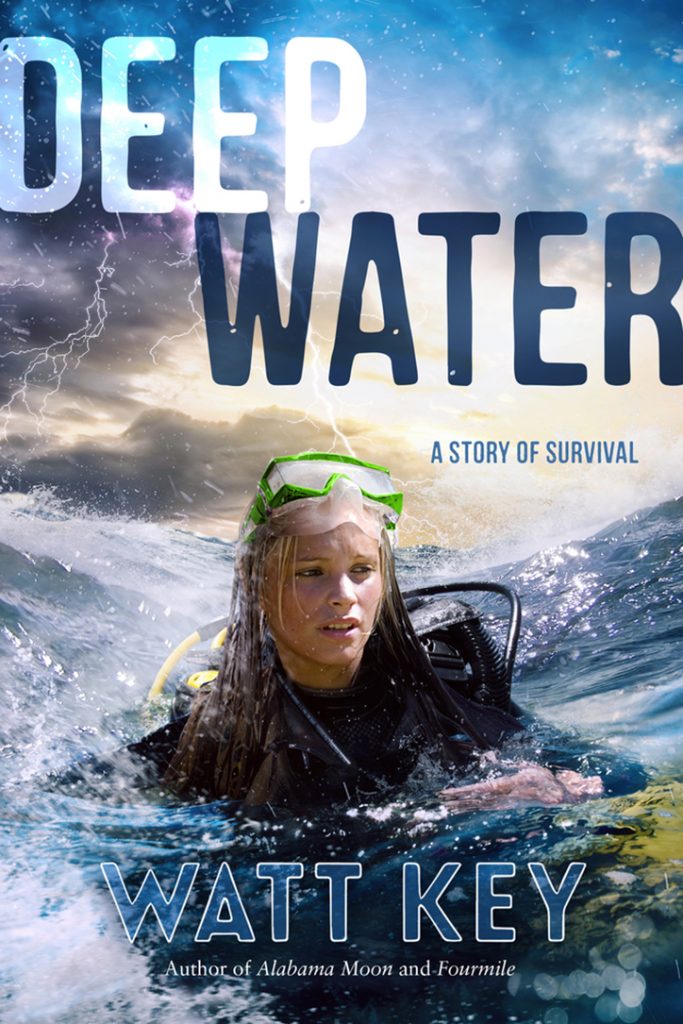 Deep Water
Author: Watt Key
Publisher: Farrar, Straus, and Giroux
Date: April 17
SYNOPSIS:
A middle grade survival story about a scuba dive gone wrong and two enemies who must unite to survive.
It's the most important rule of scuba diving: If you don't feel right, don't go down.
So after her father falls ill, twelve-year-old Julie Sims must take over and lead two of his clients on a dive miles off the coast of Alabama while her father stays behind in the boat. When the clients, a reckless boy Julie's age and his equally foolhardy father, disregard Julie's instructions during the dive, she quickly realizes she's in over her head.
And once she surfaces, things only get worse: One of the clients is in serious condition, and their dive boat has vanished–along with Julie's father, the only person who knows their whereabouts. It's only a matter of time before they die of hypothermia, unless they become shark bait first. Though Julie may not like her clients, it's up to her to save them all.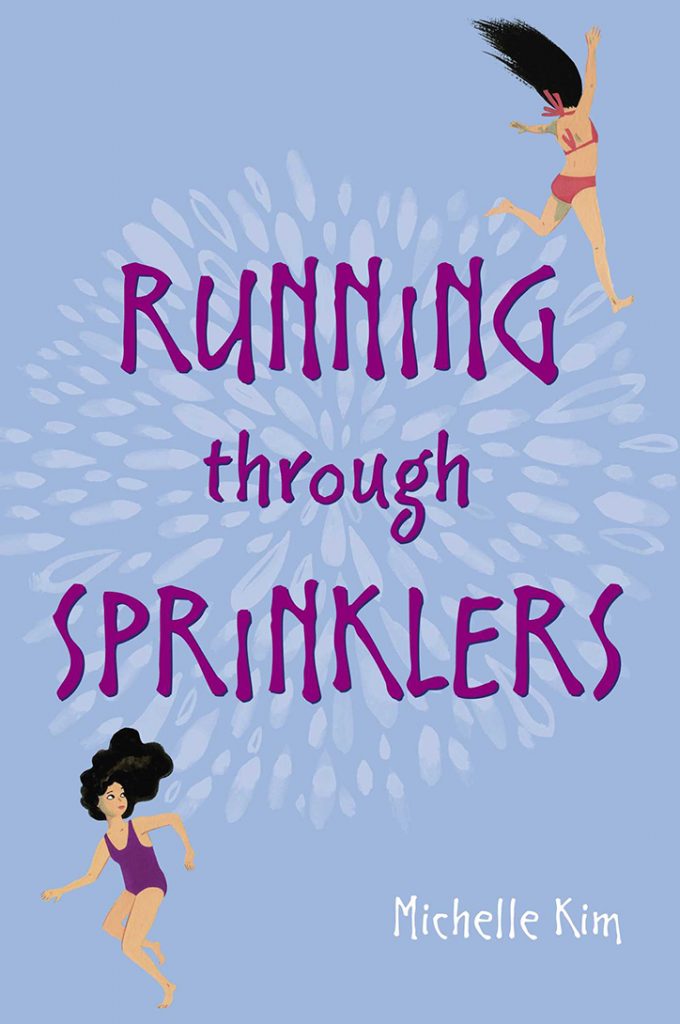 Running Through Sprinklers
Author: Michelle Kim
Publisher: Atheneum Books for Young Readers
Date: April 17
SYNOPSIS:
Two life-long best friends grow up and begin to grow apart in this honest, deeply felt middle grade debut.
Sara and Nadine.
Nadine and Sara.
It's only ever been the two of them. Two halves of the same person. Best friends forever—until they aren't.
Everything has changed this year. Nadine has suddenly skipped a grade and gone to high school without Sara. No matter how hard she fights to save their friendship, Sara can feel it slipping away.
But change can happen from the inside, too. The forever-friend days of running through sprinklers and slurping up ice cream cones may be over. Yet in their place, Sara just might discover something new and wonderful: herself.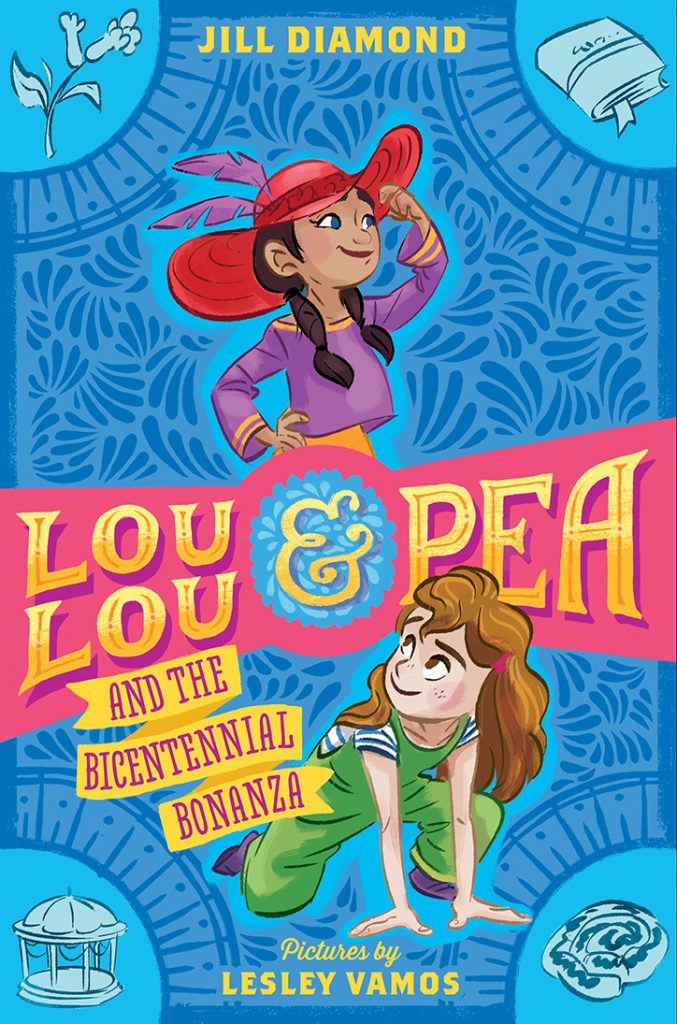 Lou Lou and Pea and the Bicentennial Bonanza
Author: Jill Diamond
Illustrator: Lesley Vamos
Publisher: Farrar, Straus, and Giroux
Date: April 24
YAYOMG!:
BFFs Lou Lou and Pea are back and this time they've got to get to the bottom of a strange happening in their beloved neighboorhood. We'll be sharing more on their story, their amazing friendship, and some fun facts from author Jill Diamond later this month when the book releases. Missed the first book, The Mural Mystery? There's still plenty of time to catch up and get to know Lou Lou Bombay and Peacock Pearl before The Bicentennial Bonanza hits bookstore shelves on April 24!
SYNOPSIS:
BFFs Lou Lou Bombay and Peacock Pearl are busy preparing for the Bicentennial Bonanza, their city's two-hundredth birthday bash! And this year, the party will take place in their beloved neighborhood of El Corazón. With a baking contest, talent show, and a new gazebo planned, the community can't wait to celebrate the founders (and historical BFFs), Diego Soto and Giles Wonderwood. But when Vice-Mayor Andy Argyle claims the festivities belong to Verde Valley, using a mysterious diary as evidence, Lou Lou and Pea smell trouble. Will the friends be able to uncover the secrets of their city's founding, and bring the Bonanza back to El Corazón?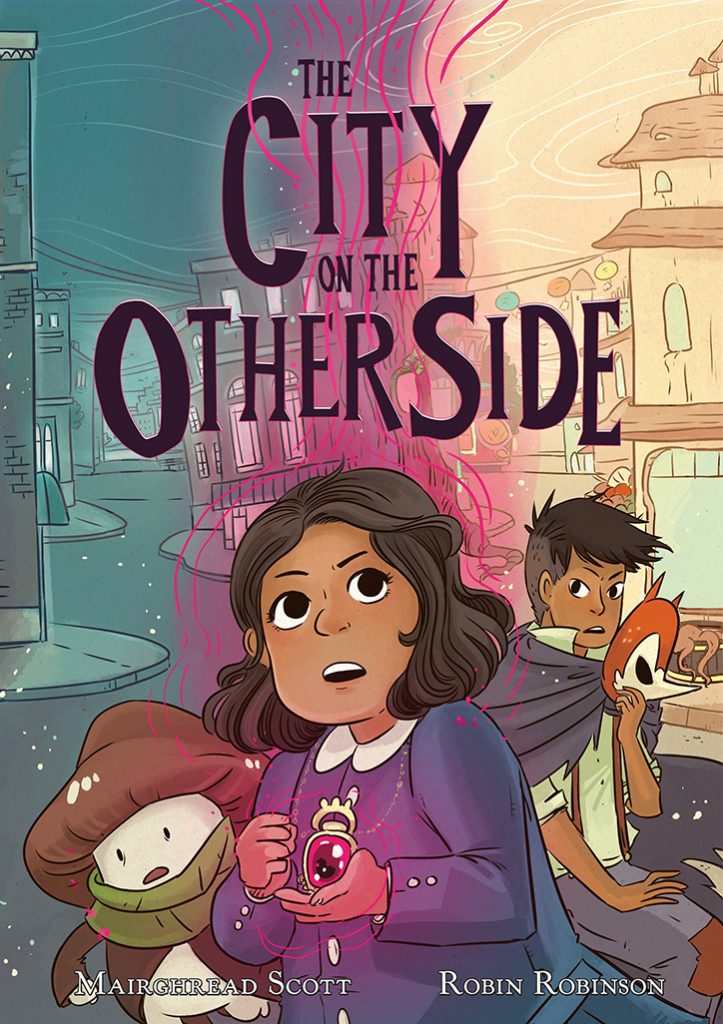 The City on the Other Side
Author: Mairghread Scott
Illustrator: Robin Robinson
Publisher: First Second
Date: April 24
SYNOPSIS:
When a wealthy and sheltered young girl stumbles into a pitched war between two fairy kingdoms, the fate of San Francisco itself hangs in the balance!
The first decade of the twentieth century is coming to a close, and San Francisco is still recovering from the great earthquake of 1906. Isabel watched the destruction safely from her window, sheltered within her high-society world.
Isabel isn't the kind of girl who goes on adventures. But that all changes when she stumbles through the invisible barrier that separates the human world from the fairy world. She quickly finds herself caught up in an age-old war and fighting on the side of the Seelie—the good fairies.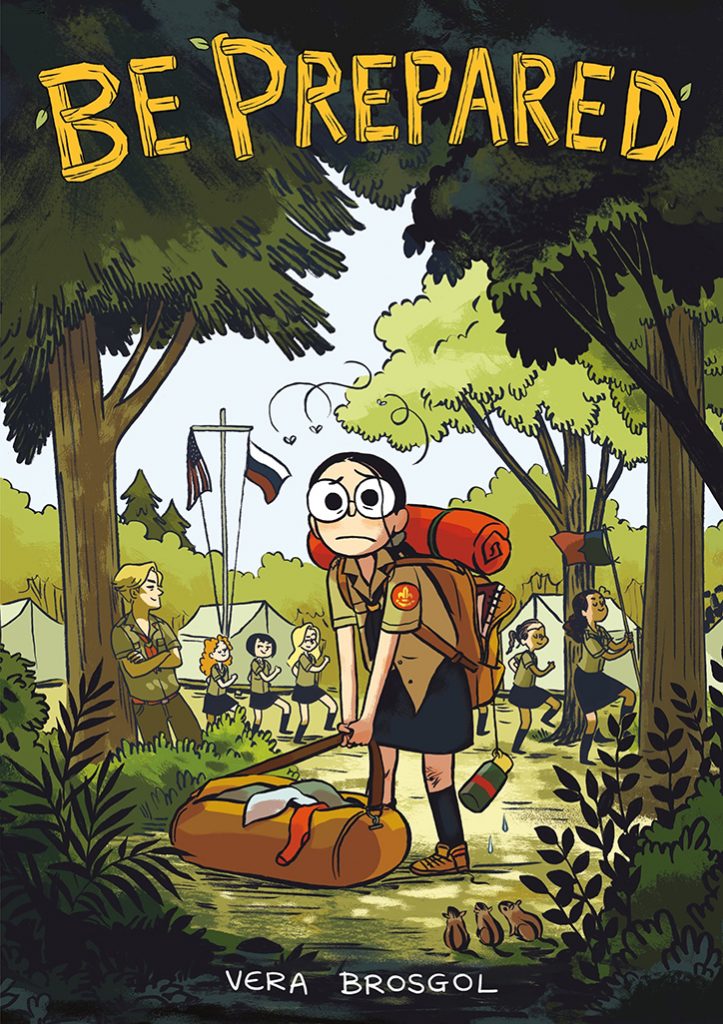 Be Prepared
Creator: Vera Brosgol
Publisher: First Second
Date: April 24
SYNOPSIS:
A gripping and hilarious middle-grade summer camp memoir from the author of Anya's Ghost.
All Vera wants to do is fit in—but that's not easy for a Russian girl in the suburbs. Her friends live in fancy houses and their parents can afford to send them to the best summer camps. Vera's single mother can't afford that sort of luxury, but there's one summer camp in her price range—Russian summer camp.
Vera is sure she's found the one place she can fit in, but camp is far from what she imagined. And nothing could prepare her for all the "cool girl" drama, endless Russian history lessons, and outhouses straight out of nightmares!
Perfect for fans of Raina Telgemeier, Cece Bell, and Victoria Jamieson, Vera Brosgol's Be Prepared is a funny and relatable middle-grade graphic novel about navigating your own culture, struggling to belong, and the value of true friendship.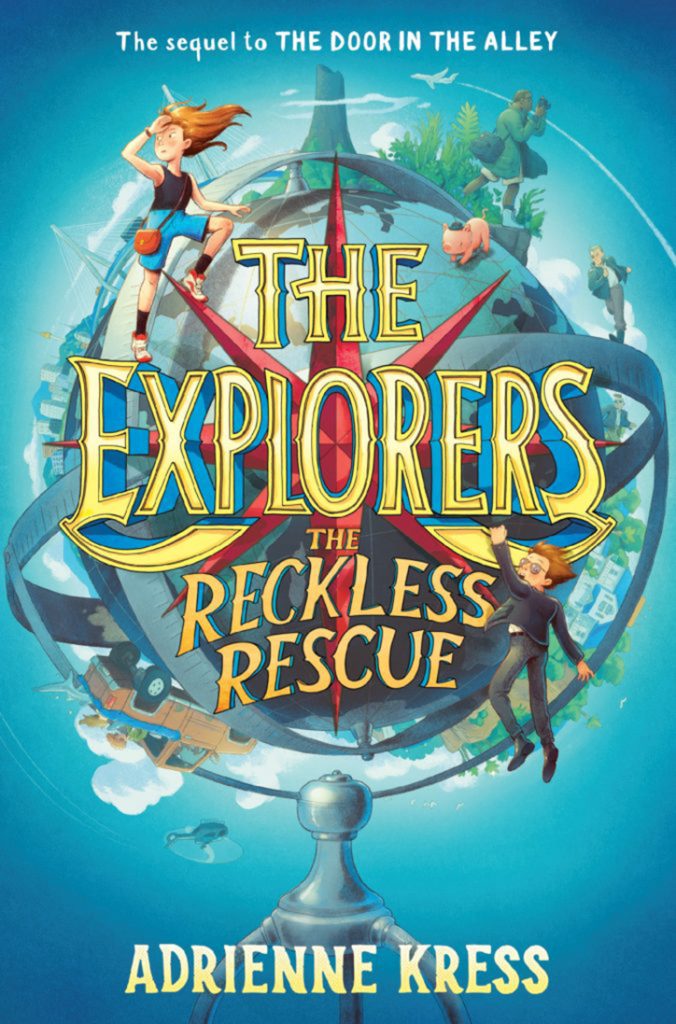 The Explorers: The Reckless Rescue
Author: Adrienne Kress
Publisher: Delacorte Books for Young Readers
Date: April 24
SYNOPSIS:
More mystery, more bravery, more danger, and one amazingly reckless rescue await in the second book in the Explorers series! The perfect read for fans of The Name of This Book Is a Secret and The Mysterious Benedict Society!
Reader! Your attention is greatly needed. We have left things unresolved! What began as your average story of a boy stumbling upon a pig in a teeny hat and a secret international explorers society has turned into an adventure of epic proportions.
* The bad news: The boy (Sebastian) has been kidnapped by a trio of troublesome thugs.
* The good news: His new friend Evie has promised to rescue him!
* The bad news: Sebastian has been taken halfway around the world.
* The good news: Evie has famous explorer and former Filipendulous Five member Catherine Lind at her side!
* The bad news: There's still the whole matter of Evie's grandfather (and the leader of the Filipendulous Five) somewhere out there in grave danger.
* The good news: Pursuing Sebastian will lead Evie and Catherine to another member of the Filipendulous Five, who might be able to help!
This missive is a call to action and an invitation to join in mystery, bravery, and danger. There will be new people to meet, new places to see, and some dancing along the way. And one amazingly reckless rescue.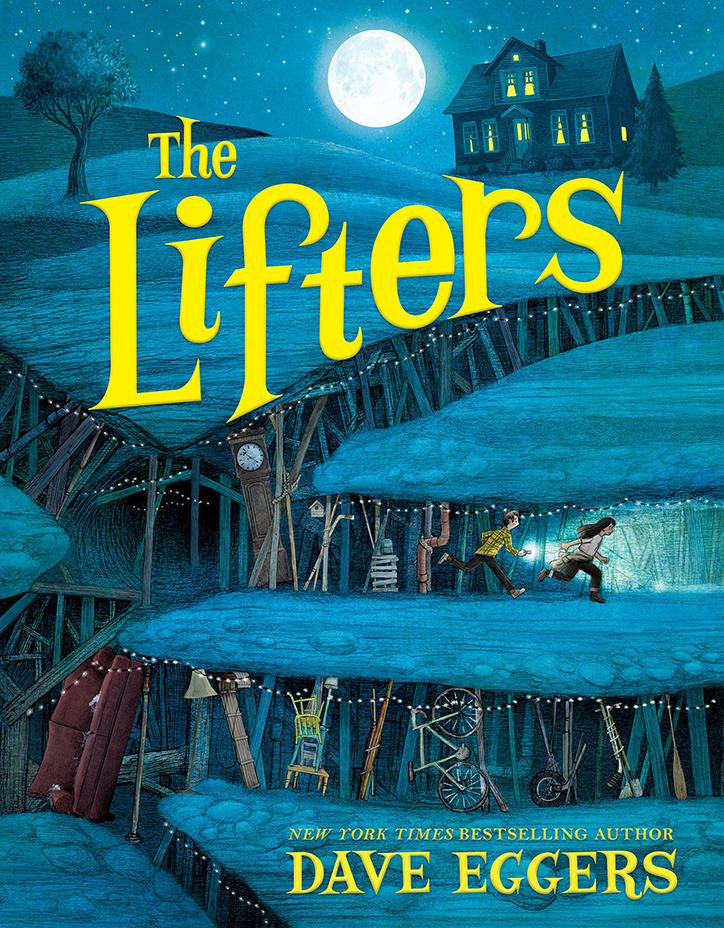 The Lifters
Author: Dave Eggers
Publisher: Alfred A. Knopf Books for Young Readers
Date: April 24
SYNOPSIS:
Journey to an underground world where adventure awaits and heroes are made in this middle grade novel from the bestselling, Pulitzer-nominated author of The Monk of Mokha and Her Right Foot.
When Gran and his family move to Carousel, he has no idea that the town is built atop a secret. Little does he suspect, as he walks his sister to school or casually eats a banana, that mysterious forces lurk mere inches beneath his feet, tearing up the earth like mini-hurricanes and causing the town to slowly but surely sink.
When Gran's friend, the difficult-to-impress Catalina Catalan, presses a silver handle into a hillside and opens a doorway to underground, he knows that she is extraordinary and brave, and that he will have no choice but to follow wherever she leads. With luck on their side, and some discarded hockey sticks for good measure, Gran and Catalina might just find a way to lift their town–and the known world–out of danger.
In The Lifters, critically acclaimed author Dave Eggers establishes himself as a storyteller who can entertain and inspire readers of any age.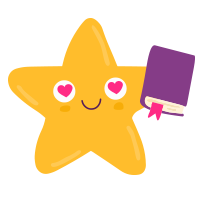 Are you a die-hard bookworm like us? Check out some of our author features from March by clicking here!