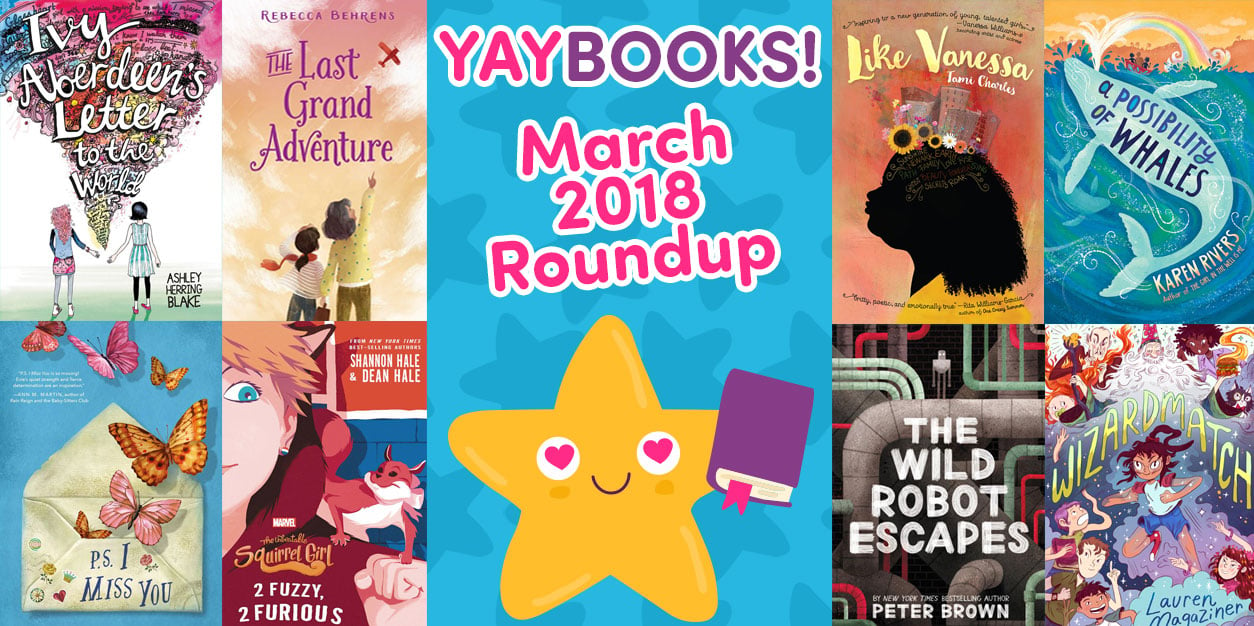 YAYBOOKS! March 2018 Roundup
March is here and you know what that means? Spring is finally headed our way! It also means that another month of amazing new books is upon us. Our YAYBOOKS! March 2018 Roundup is overflowing with books we're really excited about, some of which we'll be celebrating on the site throughout the month with author interviews, fun facts, giveaways, and more! It's going to be great, so definitely check the site and our socials to make sure you don't miss anything. Whether you're planning to add a few of these new releases to your bookshelf, your e-reader, or your birthday wishlist, we can guarantee one thing – you won't be disappointed!
This month's books and graphic novels feature everything from girl crushes to wizard competitions and everything in-between. There's tons of friendship, mystery, magic, courage, and adventure headed your way, so lets not waste another second! Here's 30+ books to get excited about this month!
YAYBOOKS! March 2018 Roundup: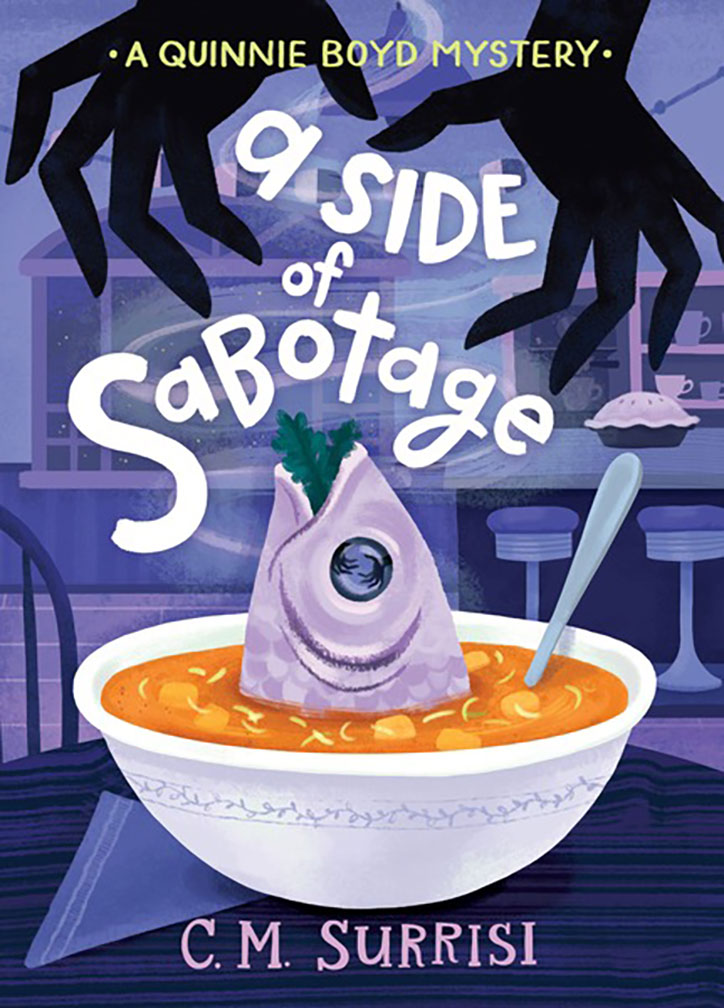 A Side of Sabatoge: A Quinnie Boyd Mystery
Author: C.M. Surrisi
Publisher: Carolrhoda Books
Date: March 1
SYNOPSIS:
For decades, Gusty's Café has been a beloved staple in Maiden Rock, Maine. Quinnie Boyd's dad runs the café, just like Quinnie's granddad before him. But the family business has new competition when a bad-boy chef from Boston opens his own place in the small vacation town.
The new restaurant takes fancy dining to the extreme. Still, that's not a crime . . . but when things start to go wrong at Gusty's, Quinnie suspects foul play. Are the people behind Restaurant Hubert trying to squash the Boyds' family café? Quinnie is about to find out if it is a coincidence—or sabotage.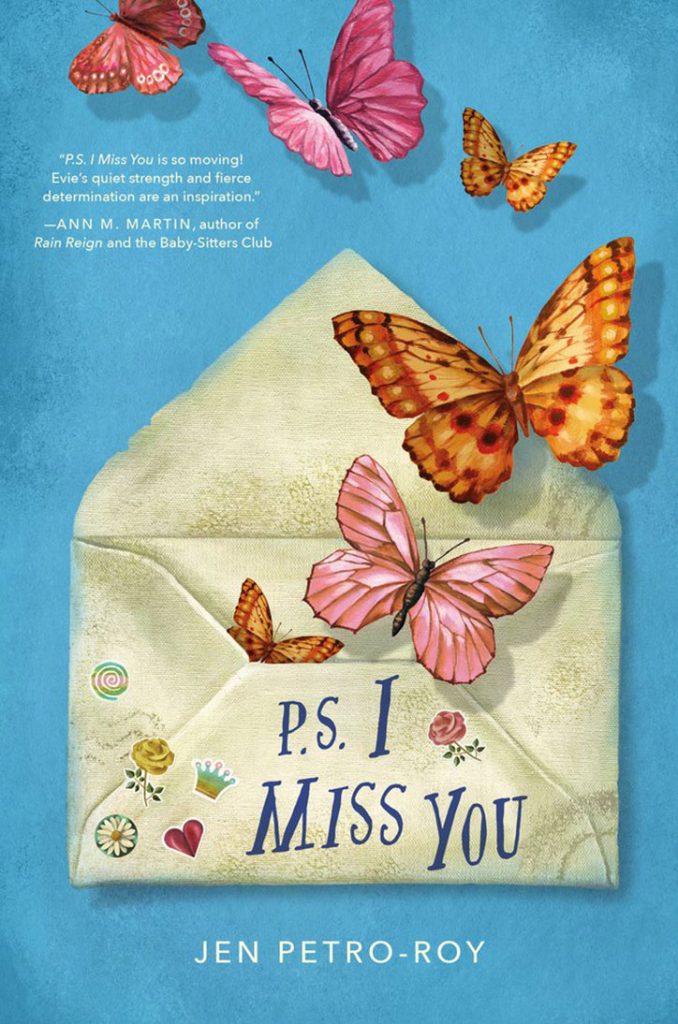 P.S. I Miss You
Author: Jen Petro-Roy
Publisher: Feiwel and Friends
Date: March 6
YAYOMG!:
We are so, so, SO excited about this beautiful, captivating book. It's the story of sisters, first crushes, middle school struggles, and so much hope. It won't just make you laugh and break your heart, you'll feel every single possible feel while reading this emotional book. Be sure to check back for our interview with Jen Petro-Roy so you can get to know even more about Evie's story.
SYNOPSIS:
In this epistolary middle-grade debut novel, a girl who's questioning her sexual orientation writes letters to her sister, who was sent away from their strict Catholic home after becoming pregnant.
Eleven-year-old Evie is heartbroken when her strict Catholic parents send her pregnant sister away to stay with a distant great-aunt. All Evie wants is for her older sister to come back. But when her parents forbid her to even speak to Cilla, she starts sending letters. Evie writes letters about her family, torn apart and hurting. She writes about her life, empty without Cilla. And she writes about the new girl in school, June, who becomes her friend, and then maybe more than a friend.
As she becomes better friends with June, Evie begins to question her sexual orientation. She can only imagine what might happen if her parents found out who she really is. She could really use some advice from Cilla. But Cilla isn't writing back.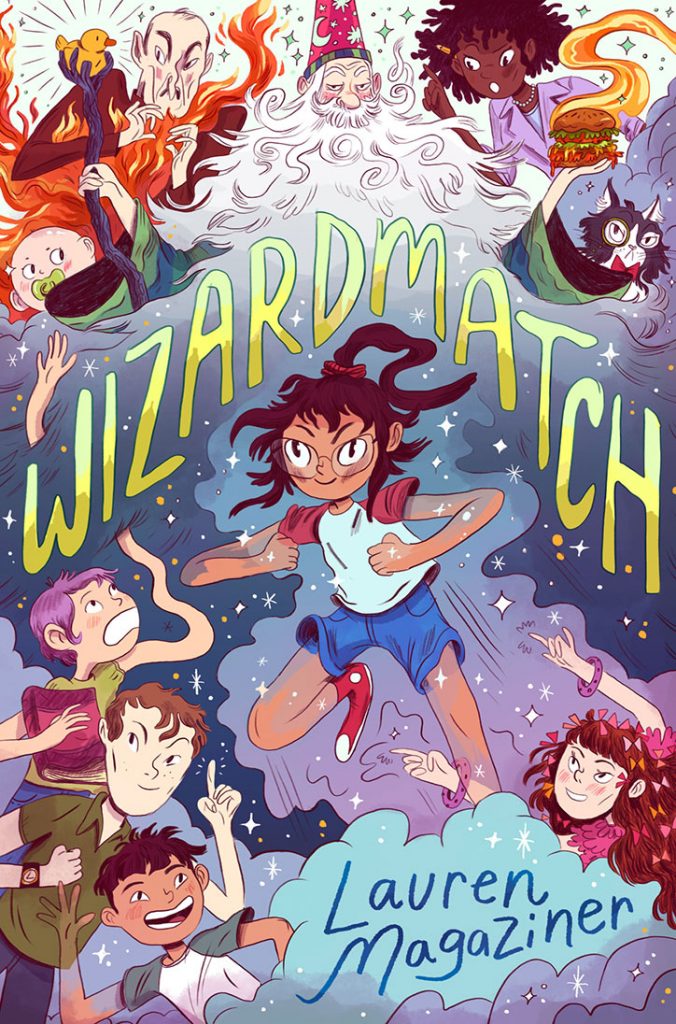 Wizardmatch
Author: Lauren Magaziner
Publisher: Dial Books for Young Readers
Date: March 6
YAYOMG!:
If you're a YAYOMG! reader, you know we're kind of Lauren Magaziner fangirls. She's one of our favorite authors in the world, and her latest book is pure magic. Lauren's unique sense of humor, clever wordsmithery, and amazing knack for coming up with hilarious names are back and better than ever in Wizardmatch. If you love wizards, rivarly, and kick-butt girls, this is the book for you. Lauren will be dropping by the site with some Wizardmatch Fun Facts soon, so be sure to come back and check those out!
SYNOPSIS:
T
ake the hilarious, magic-infused world of Eva Ibbotson's Which Witch, add the lovable feuding family from The Incredibles, and you'll get Wizardmatch–funny, fantastical, action-packed, and totally heartwarming.
Twelve-year-old Lennie Mercado loves magic. She practices her invisibility powers all the time (she can now stay invisible for fifteen seconds!), and she dreams of the day that she can visit her grandfather, the Prime Wizard de Pomporromp, at his magical estate.Now Lennie has her chance. Poppop has decided to retire, and his grandchildren are coming from all over to compete in Wizardmatch. The winner inherits his title, his castle, and every single one of his unlimited magical powers. The losers get nothing. Lennie is desperate to win, but when Poppop creates a new rule to quelch any sibling rivalry, her thoughts turn from winning Wizardmatch to sabotaging it…even if it means betraying her family.Comedic, touching, and page-turny, Wizardmatch is perfect for fans of Mr. Lemoncello's Library, The Gollywopper Games, and The Candymakers.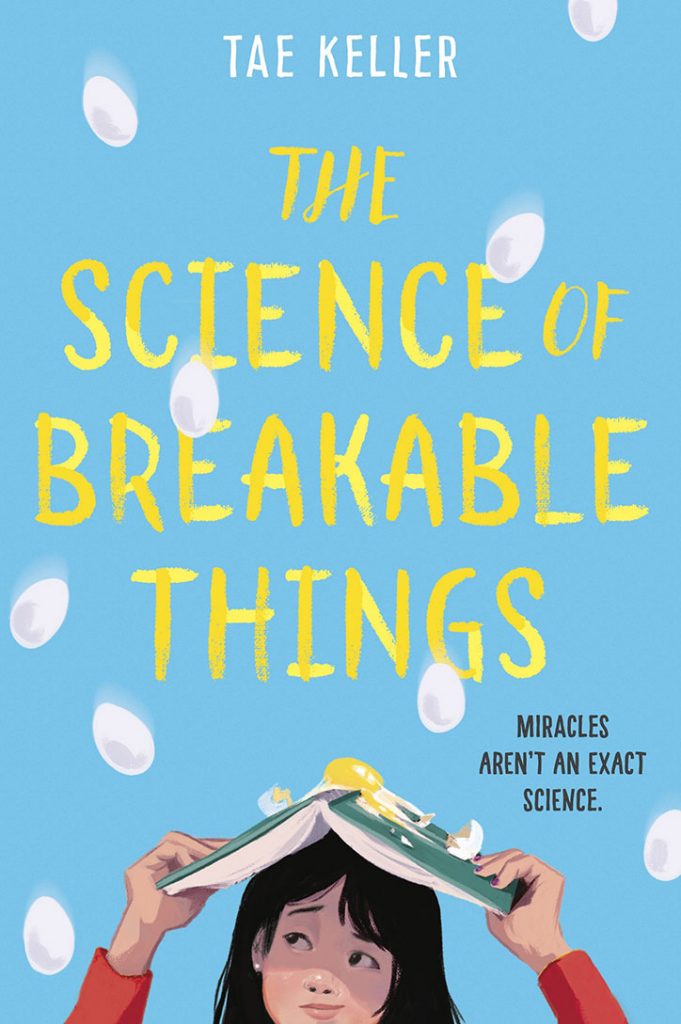 The Science of Breakable Things
Author: Tae Keller
Publisher: Random House Books for Young Readers
Date: March 6
SYNOPSIS:
An emotionally-charged new classic about the science of hope, love, and miracles! Natalie's uplifting story of using the scientific method to "save" her mother from depression is sure to take root in readers' hearts!
How do you grow a miracle?
For the record, this is not the question Mr. Neely is looking for when he says everyone in class must answer an important question using the scientific method. But Natalie's botanist mother is suffering from depression, so this is The Question that's important to Natalie. When Mr. Neely suggests that she enter an egg drop competition, Natalie has hope.
Eggs are breakable. Hope is not.
Natalie has a secret plan for the prize money. She's going to fly her mother to see the Cobalt Blue Orchids–flowers that survive against impossible odds. The magical flowers are sure to inspire her mother to love life again. Because when parents are breakable, it's up to kids to save them, right?
An extraordinary story about the coming-of-age moment when kids realize that parents are people, too, and that talking about problems is like taking a plant out of a dark cupboard and giving it light. Think THE FOURTEENTH GOLDFISH meets THE THING ABOUT JELLYFISH.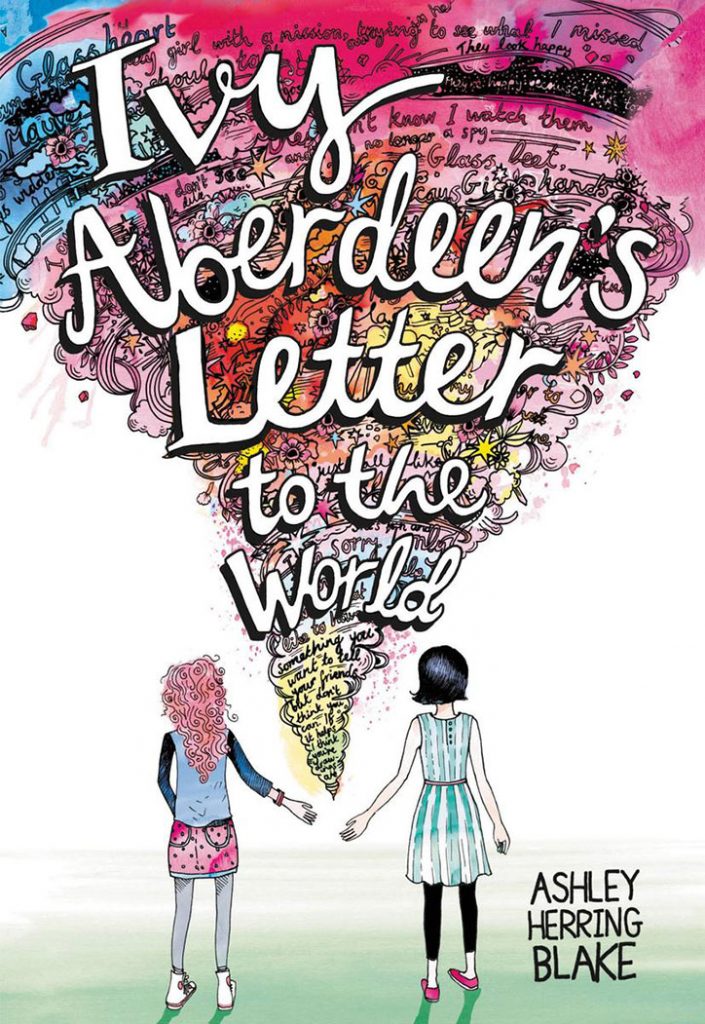 Ivy Aberdeen's Letter to the World
Author: Ashley Herring Blake
Publisher: Little, Brown Books for Young Readers
Date: March 6
YAYOMG!:
This is one of our most anticipated reads of 2018! So excited to get lost in the storm of Ivy's life, and read along as she puts it all back together.
SYNOPSIS:
When a tornado rips through town, twelve-year-old Ivy Aberdeen's house is destroyed and her family of five is displaced. Ivy feels invisible and ignored in the aftermath of the storm–and what's worse, her notebook filled with secret drawings of girls holding hands has gone missing.
Mysteriously, Ivy's drawings begin to reappear in her locker with notes from someone telling her to open up about her identity. Ivy thinks–and hopes–that this someone might be her classmate, another girl for whom Ivy has begun to develop a crush. Will Ivy find the strength and courage to follow her true feelings?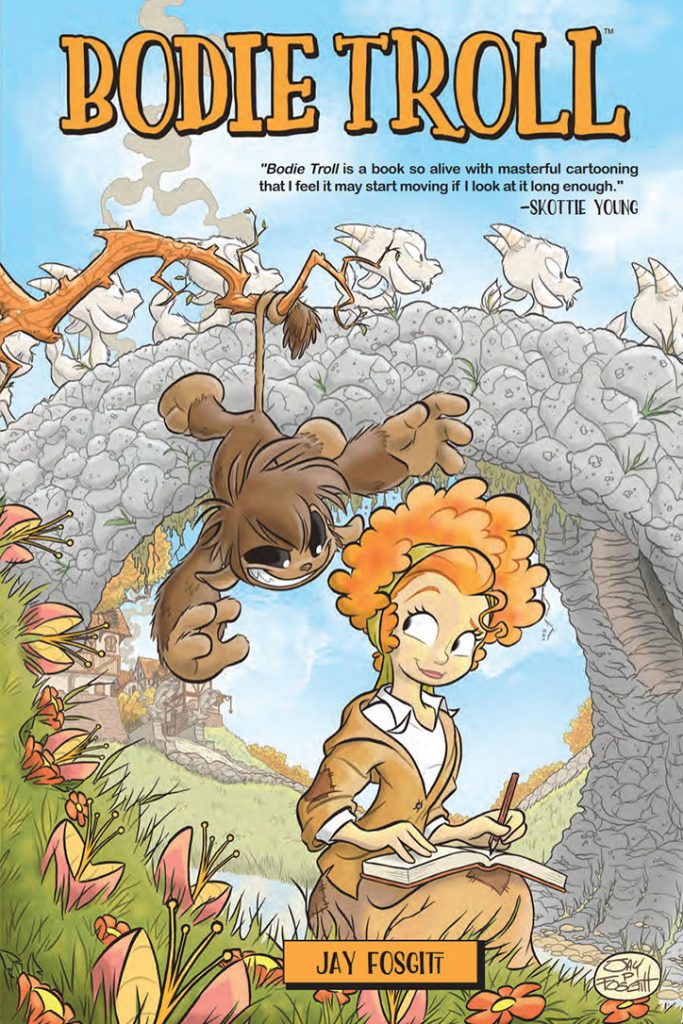 Bodie Troll
Creator: Jay Fosgitt
Publisher: BOOM! Studios
Date: March 6
SYNOPSIS:
The villagers of Hagadorn whisper tales of Bodie Troll's ferociousness and tread lightly when they cross his bridge. At least, that's what Bodie would like to think. Despite his desires to strike fear in the hearts of others, Bodie is a cute and cuddly grump of a troll. But what he might lack in ferocity, he makes up for in spirit. Alongside his best friend Cholly and her Fairy Godmother, Bodie has a habit of finding trouble and adventure. If he's lucky, he just might scare someone along the way.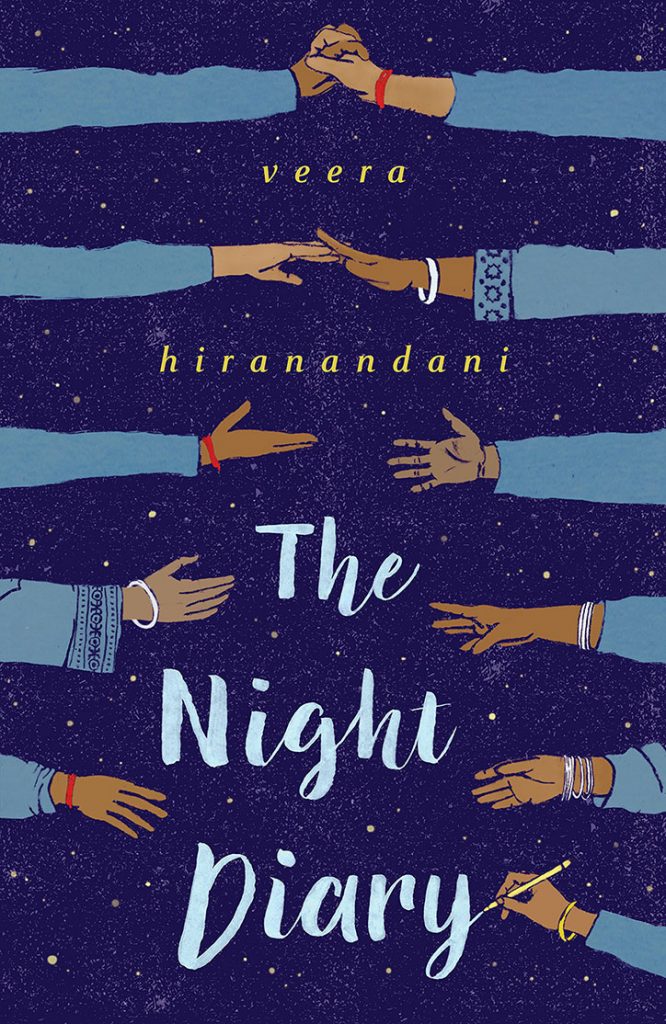 The Night Diary
Author: Veera Hiranandani
Publisher: Dial Books for Young Readers
Date: March 6
SYNOPSIS:
It's 1947, and India, newly independent of British rule, has been separated into two countries: Pakistan and India. The divide has created much tension between Hindus and Muslims, and hundreds of thousands are killed crossing borders.
Half-Muslim, half-Hindu twelve-year-old Nisha doesn't know where she belongs, or what her country is anymore. When Papa decides it's too dangerous to stay in what is now Pakistan, Nisha and her family become refugees and embark first by train but later on foot to reach her new home. The journey is long, difficult, and dangerous, and after losing her mother as a baby, Nisha can't imagine losing her homeland, too. But even if her country has been ripped apart, Nisha still believes in the possibility of putting herself back together.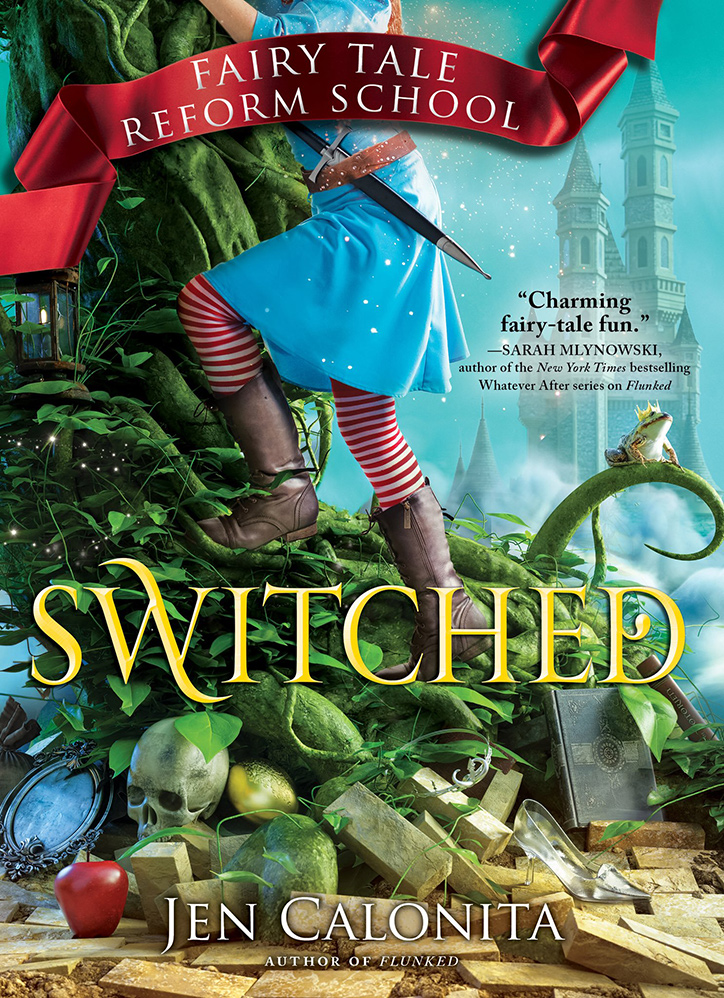 Fairy Tale Reform School: Switched
Author: Jen Calonita
Publisher: Sourcebooks Jabberwocky
Date: March 6
SYNOPSIS:

Things at Fairy Tale Reform School are great. Rumpelstiltskin has been ousted, and everyone is buzzing about the fact that Beauty and Prince Sebastian (aka the Beast) have joined the teaching staff. Everyone, that is, except Gilly, who can't seem to focus on anything but Anna. How is it that her beloved sister somehow went bad and joined up with Rump? And why doesn't anyone seem to care? Sure, the Royal Court says they're working on it, but they've got exactly nothing to show for it.
But when new-kid Jack joins FTRS with tales of his own family being snatched by Rump, Gilly knows she's in good company. Jack wants answers, just like Gilly. And if the Royal Court can't get the job done, then maybe it's time to break some rules…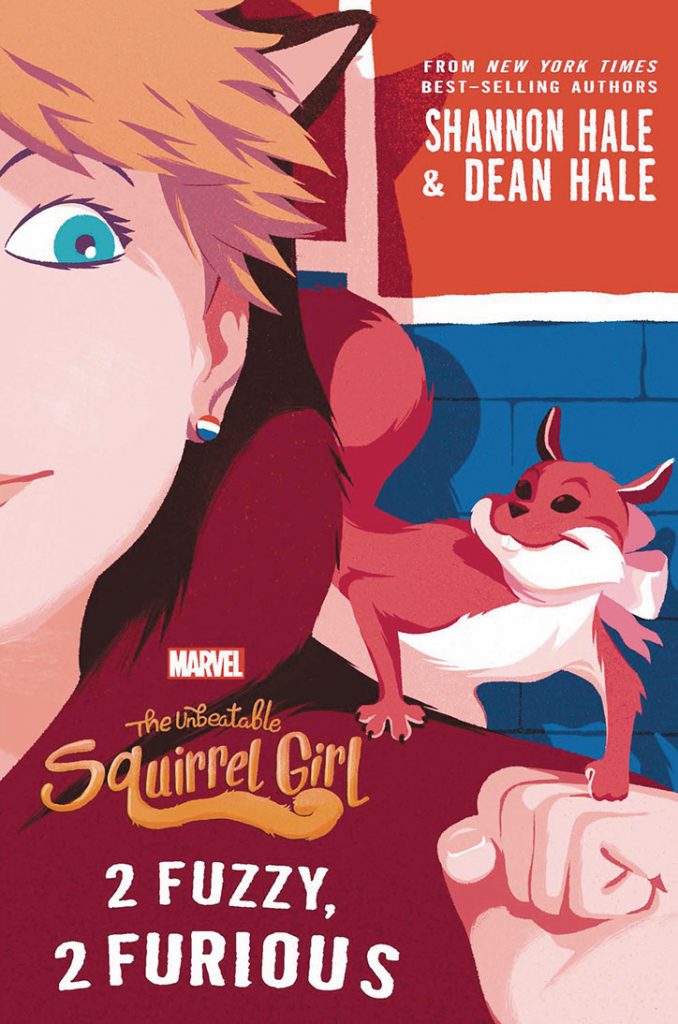 The Unbeatable Squirrel Girl #2: 2 Fuzzy, 2 Furious
Authors: Shannon Hale and Dean Hale
Publisher: Marvel Press
Date: March 6
YAYOMG!:
Squirrel Girl is back in another outrageously silly butt-kicking adventure! We teamed up with Disney Publishing for some super interesting Squirrel Facts and a book giveaway for this one, so definitely check back!
SYNOPSIS:
Squirrel Girl is BACK in an all-new adventure and things are about to get . . . hairy. Thanks to Squirrel Girl, Ana Sofia, and the Squirrel Scouts, the crime rate in New Jersey is at an all time low. It makes for safer streets but also bored-er squirrels. That's why it's super exciting when Doreen's school announces a new mall is being built right next to their town. Mmmm . . . Doreen can smell the soft pretzels now. The corporation building mall has also announced that there will be a competition to choose the mall's mascot. Because malls need mascots? Anyway, Doreen's school will be voting for a cat and the neighboring school will be voting for a dog. As the relationship starts to unravel between the two towns, Squirrel Girl and her friends suspect something more sinister is at work. With the help of old friends like Ana Sofia, Tippy Toe, and The Mighty Thor as well as some surprising new ones, Squirrel Girl will squash a villainous plot and save everyone.The unbeatable Squirrel Girl is ready for more nuts AND more butts! Are you?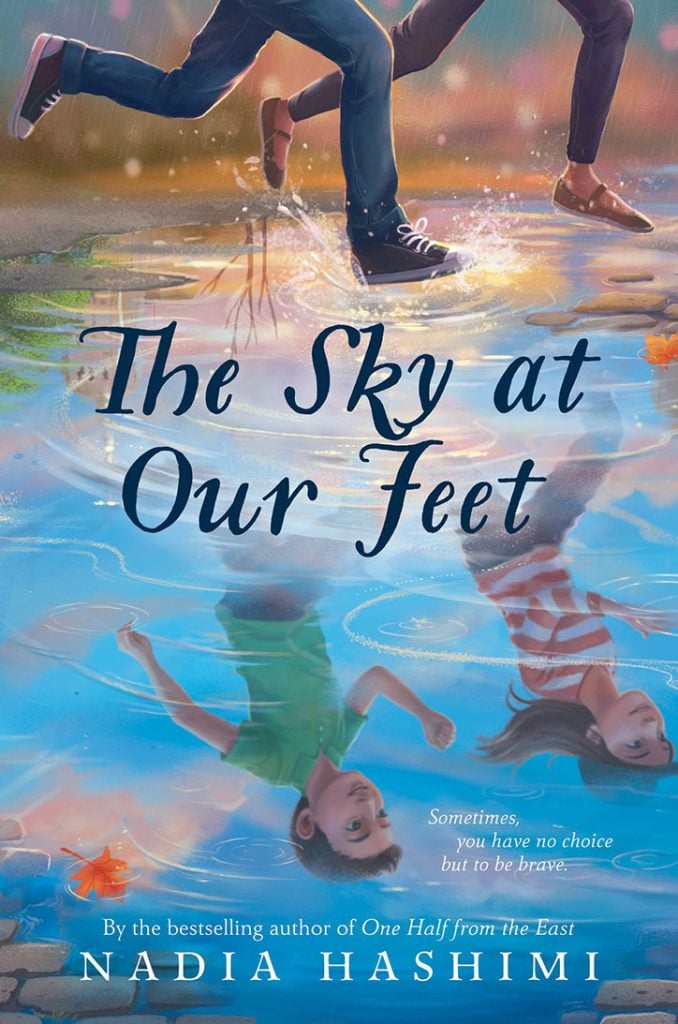 The Sky at Our Feet
Author: Nadia Hashimi
Publisher: HarperCollins Children's Books
Date: March 6
SYNOPSIS:
A young boy fears that his mother, an illegal immigrant from Afghanistan, has been deported, and he runs away to New York City to find help. A timely and poignant story about contemporary Muslims by the acclaimed author of One Half from the East.
In the tradition of Rebecca Stead and Thanhha Lai, this adventurous and emotionally charged own voices novel by New York Times bestselling author Nadia Hashimi shows the fierce love of a family determined not to be torn apart.
Jason has just learned that his Afghan mother has been living illegally in the United States since his father was killed in Afghanistan. Although Jason was born in the US, it's hard to feel American now when he's terrified that his mother will be discovered—and that they will be separated.
When he sees his mother being escorted from her workplace by two officers, Jason feels completely alone. He boards a train with the hope of finding his aunt in New York City, but as soon as he arrives in Penn Station, the bustling city makes him wonder if he's overestimated what he can do.
After an accident lands him in the hospital, Jason finds an unlikely ally in a fellow patient. Max, a whip-smart girl who wants nothing more than to explore the world on her own terms, joins Jason in planning a daring escape out of the hospital and into the skyscraper jungle—even though they both know that no matter how big New York City is, they won't be able to run forever.
From the author of One Half from the East comes a timely and affecting story about one family in an impossible situation—pulled right from today's headlines about immigration—who is willing to move mountains to stay together.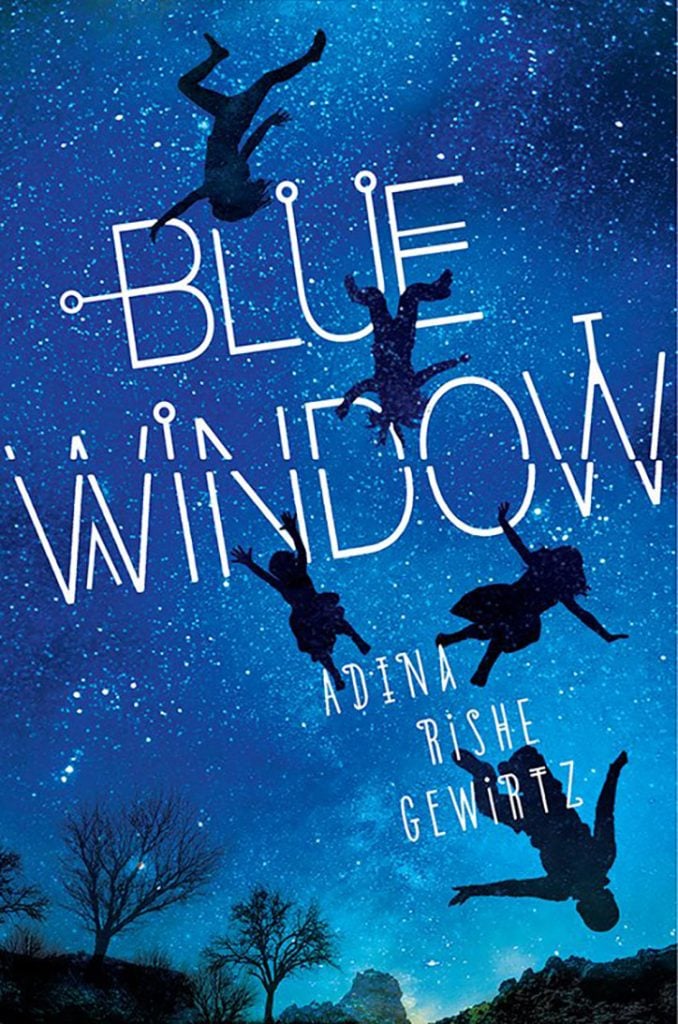 Blue Window
Author: Adina Gewirtz
Publisher: Candlewick Press
Date: March 6
SYNOPSIS:
Five siblings fall through time and space into a strange, unkind world — their arrival mysteriously foretold — and land in the center of an epic civil struggle in a country where many citizens have given themselves over to their primal fears and animal passions at the urging of a power-hungry demagogue.
When siblings Susan, Max, Nell, Kate, and Jean tumble one by one through a glowing cobalt window, they find themselves outside their cozy home — and in a completely unfamiliar world where everything looks wrong and nothing makes sense. Soon, an ancient prophecy leads them into battle with mysterious forces that threaten to break the siblings apart even as they try desperately to remain united and find their way home. Thirteen-year-old twins Max and Susan and their younger siblings take turns narrating the events of their story in unique perspectives as each of the children tries to comprehend their stunning predicament — and their extraordinary new powers — in his or her own way. From acclaimed author Adina Rishe Gewirtz comes a riveting novel in the vein of C. S. Lewis and E. Nesbit, full of nuanced questions about morality, family, and the meaning of home.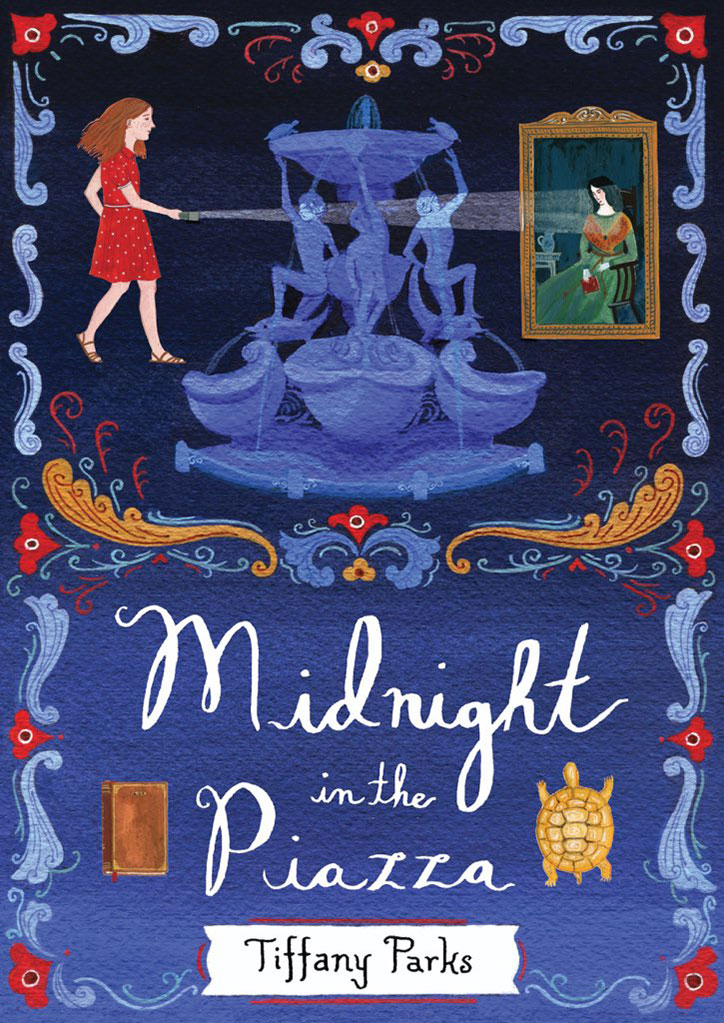 Midnight in the Piazza
Author: Tiffany Parks
Publisher: HarperCollins Children's Books
Date: March 6
SYNOPSIS:
Mysteries abound in this exciting race through Rome!
Beatrice Archer may love history, and Rome may be chock-full of it, but that doesn't mean she wants to move there!
Too bad Beatrice's father got a job as the head of the history department at the American Academy in Rome—now, Beatrice has no choice but to get used to the idea.
When she arrives in Rome she explores her new city as much as she can, but it isn't until she hears talk of a strange neighborhood legend that Beatrice perks up. A centuries-old unsolved mystery about the beautiful turtle fountain outside her window? Sounds like fun!
Before Beatrice has a chance to explore, though, she sees a dark figure emerge from the shadows of the square in the middle of the night—and steal the famous turtle sculptures that give the fountain its name.
When no one believes her story, Beatrice knows that it's up to her to solve the crime and restore the turtles to their rightful place. With the help of her new friend Marco, she navigates a world of unscrupulous ambassadors, tricky tutors, and international art thieves to unravel one of Roman history's greatest dramas—before another priceless work of art is stolen.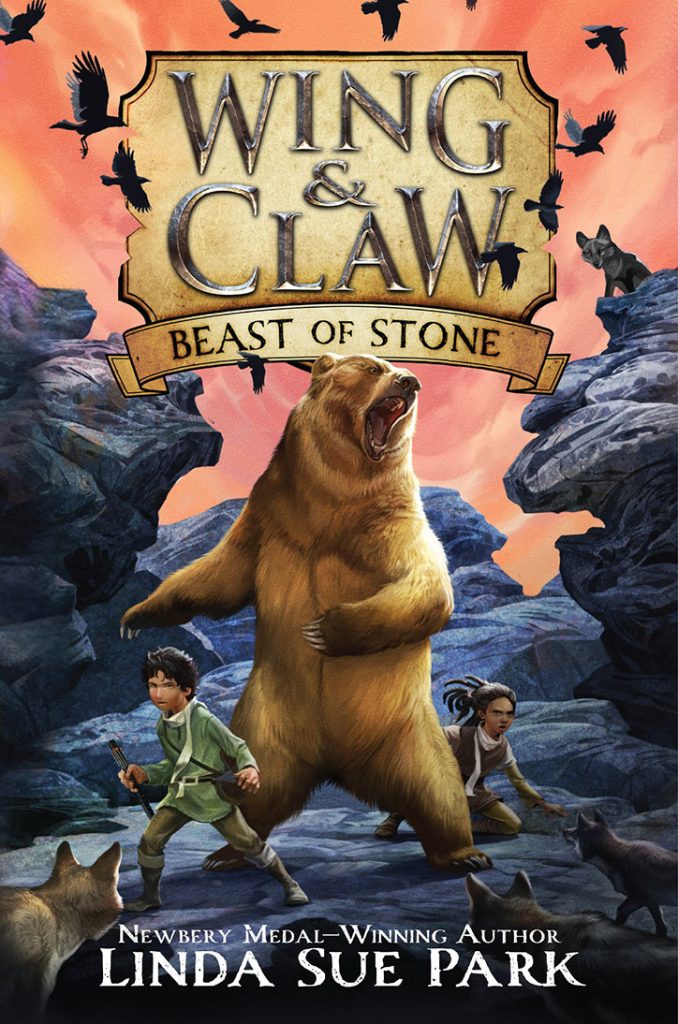 Wing & Claw: Beast of Stone
Author: Linda Sue Park
Illustrator: Jim Madsen
Publisher: HarperCollins Children's Books
Date: March 6
SYNOPSIS:
Raffa Santana is a healer, not a fighter. As a gifted apothecary, he has amazing instincts for unleashing the potential of magical-seeming plants. But his skills have failed to free the animals that the heartless Chancellor captured and turned against the people of Obsidia—directly threatening Raffa's friends and family.
Now Raffa and his ragtag group of allies are preparing to confront the Chancellor's armies in battle. Great beasts, small animals, and humans alike will be joining the fight, and Raffa's heart yearns to prevent injuries—and worse—on both sides of the battle. After all, the Chancellor's creatures will be fighting against their will. Can Raffa's instincts for apothecary arts bring a tolerable resolution to an impossibly unfair fight?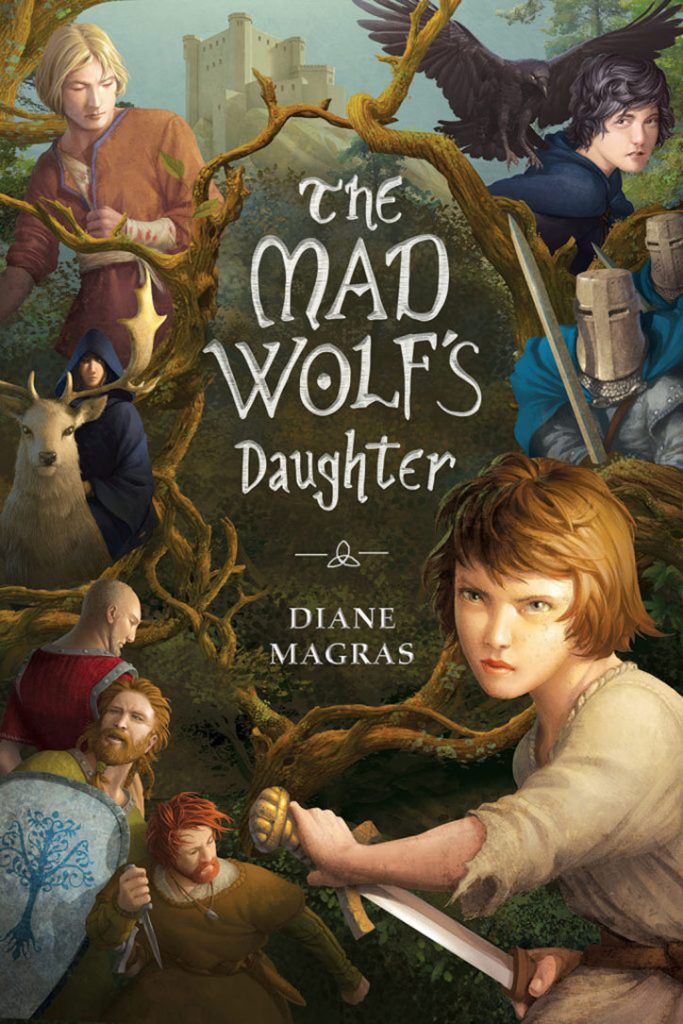 The Mad Wolf's Daughter
Author: Diane Magras
Publisher: Kathy Dawson Books
Date: March 6
SYNOPSIS:
A Scottish medieval adventure about the youngest in a war-band who must free her family from a castle prison after knights attack her home.
One dark night, Drest's sheltered life on a remote Scottish headland is shattered when invading knights capture her family, but leave Drest behind. Her father, the Mad Wolf of the North, and her beloved brothers are a fearsome war-band, but now Drest is the only one who can save them. So she starts off on a wild rescue attempt, taking a wounded invader along as a hostage.
Hunted by a bandit with a dark link to her family's past, aided by a witch whom she rescues from the stake, Drest travels through unwelcoming villages, desolate forests, and haunted towns. Every time she faces a challenge, her five brothers speak to her in her mind about courage and her role in the war-band. But on her journey, Drest learns that the war-band is legendary for terrorizing the land. If she frees them, they'll not hesitate to hurt the gentle knight who's become her friend.
Drest thought that all she wanted was her family back; now she has to wonder what their freedom would really mean. Is she her father's daughter or is it time to become her own legend?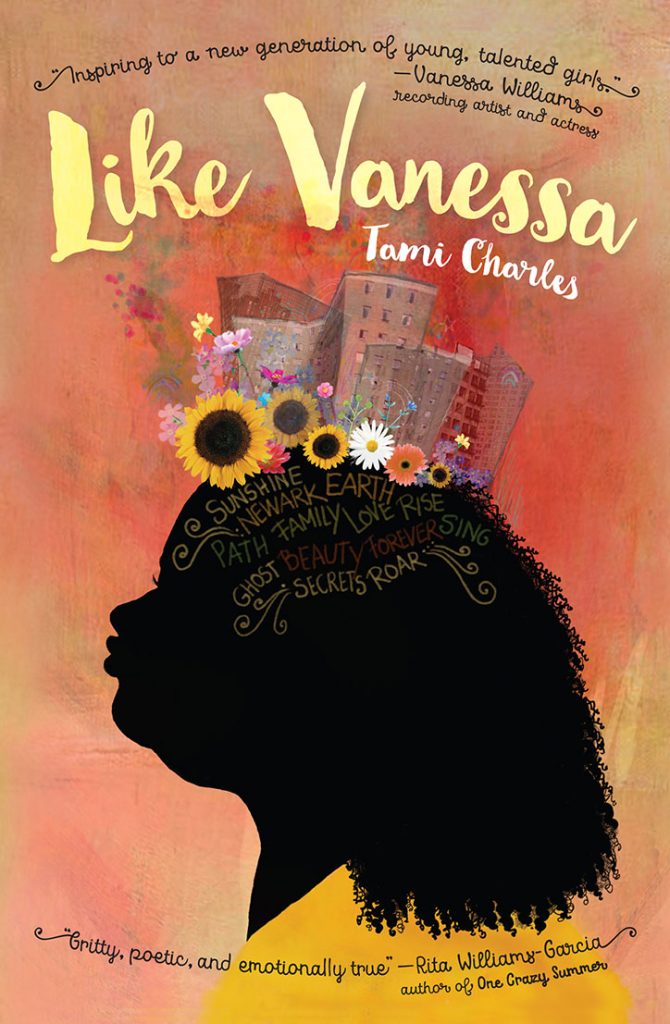 Like Vanessa
Author: Tami Charles
Publisher: Charlesbridge
Date: March 13
YAYOMG!:
We're so excited to celebrate this moving, emotional story filled with hope, courage, and the drive to follow your dreams even when they seem impossible. Author Tami Charles was kind enough to answer some of our questions, so be sure to check back when her book releases to learn more about Vanessa's story and the inspiration behind it.
SYNOPSIS:
In this semi-autobiographical debut novel set in 1983, Vanessa Martin's real-life reality of living with family in public housing in Newark, New Jersey is a far cry from the glamorous Miss America stage. She struggles with an incarcerated mother she barely remembers, a grandfather dealing with addiction and her own battle with self-confidence. But when a new teacher at school coordinates a beauty pageant and convinces Vanessa to enter, Vanessa's view of her own world begins to change. Vanessa discovers that her own self-worth is more than the scores of her talent performance and her interview answers, and that she doesn't need a crown to be comfortable in her own skin and see her own true beauty.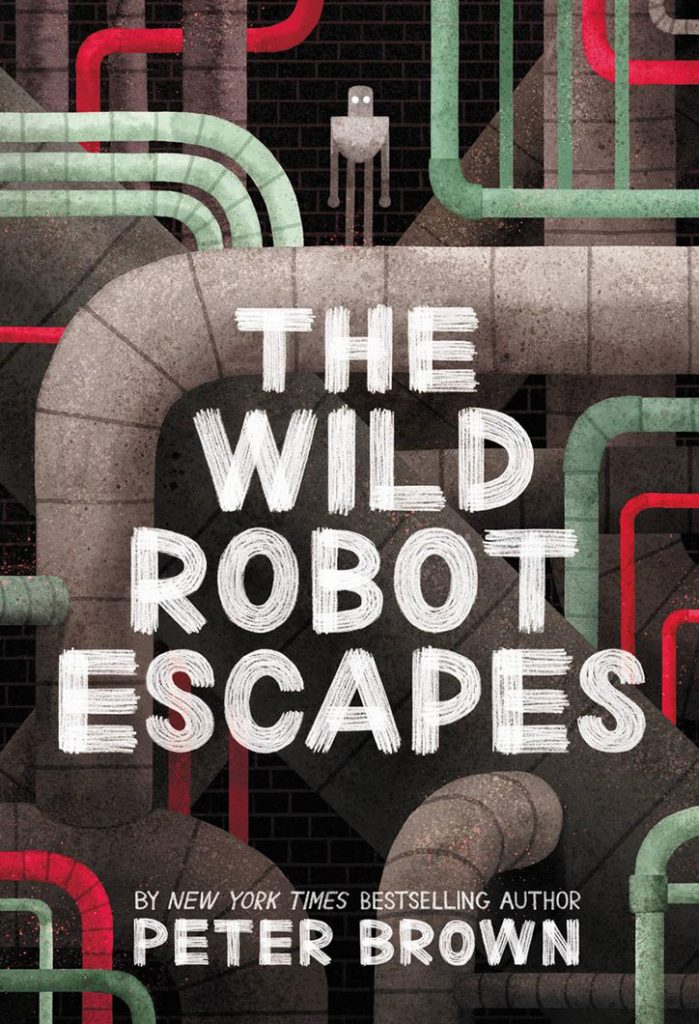 The Wild Robot Escapes
Author: Peter Brown
Publisher: Little, Brown Books for Young Readers
Date: March 13
SYNOPSIS:
The sequel to the New York Times bestselling The Wild Robot, by award-winning author Peter Brown.
Shipwrecked on a remote, wild island, Robot Roz learned from the unwelcoming animal inhabitants and adapted to her surroundings–but can she survive the challenges of the civilized world and find her way home to Brightbill and the island?
From bestselling and award-winning author and illustrator Peter Brown comes a heartwarming and action-packed sequel to his New York Times bestselling The Wild Robot, about what happens when nature and technology collide.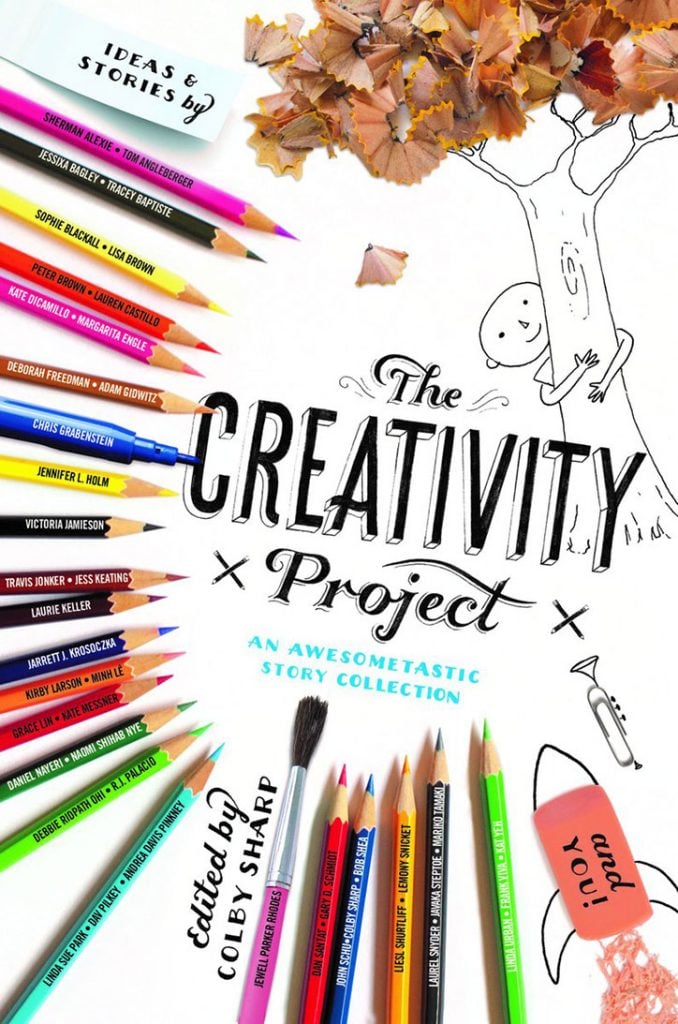 The Creativity Project: An Awesometastic Story Collection
Editor: Colby Sharp
Contributors: Sherman Alexie, Tom Angleberger, Jessixa Bagley, Tracey Baptiste, Sophie Blackall, Lisa Brown, Peter Brown, Lauren Castillo, Kate DiCamillo, Margarita Engle, Deborah Freedman, Adam Gidwitz, Chris Grabenstein, Jennifer L. Holm, Victoria Jamieson, Travis Jonker, Jess Keating, Laurie Keller, Jarret J. Krosoczka, Kirby Larson, Minh Lê, Grace Lin, Kate Messner, Daniel Nayeri, Naomi Shihab Nye, Debbie Ohi, R.J. Palacio, Linda Sue Park, Dav Pilkey, Andrea Davis Pinkney, Jewell Parker Rhodes, Dan Santat, Gary Schmidt, John Schu, Colby Sharp, Bob Shea, Liesl Shurtliff, Lemony Snicket, Laurel Snyder, Javaka Steptoe, Mariko Tamaki, Linda Urban, Frank Viva, and Kat Yeh.
Publisher: Little, Brown Books for Young Readers
Date: March 13
SYNOPSIS:
Book advocate Colby Sharp presents more than forty beloved, award-winning, diverse and bestselling authors and illustrators in a creative challenge!
Colby Sharp invited more than forty authors and illustrators to provide story starters for each other; photos, drawings, poems, prose, or anything they could dream up. When they received their prompts, they responded by transforming these seeds into any form of creative work they wanted to share.
The result is a stunning collection of words, art, poetry, and stories by some of our most celebrated children book creators. A section of extra story starters by every contributor provides fresh inspiration for readers to create works of their own. Here is an innovative book that offers something for every kind of reader and creator!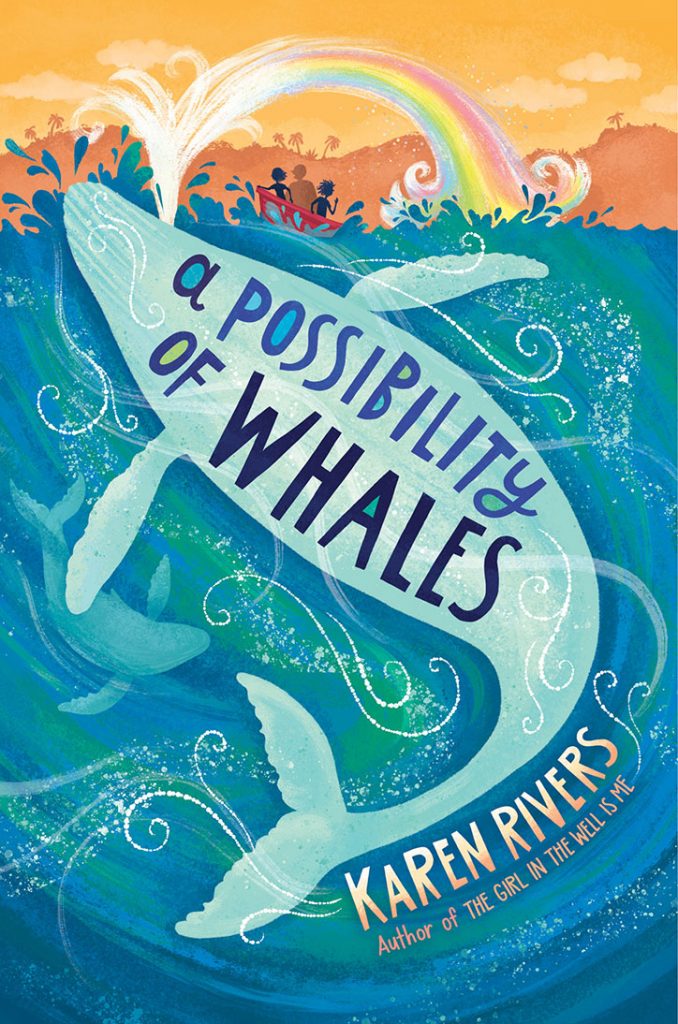 A Possibility of Whales
Author: Karen Rivers
Publisher: Algonquin Young Readers
Date: March 13
YAYOMG!:
This story is so special, and we're thrilled to say we have an interview with author Karen Rivers coming your way this month! We can't wait for you to meet Nat, Harry, and the struggles they face while trying to make their way through middle school, life, and discover their place in the world.
SYNOPSIS:
The story of a girl who—thanks to her friends, her famous single dad, and an unexpected encounter with a whale—learns the true meaning of family.

Twelve-year-old Natalia Rose Baleine Gallagher loves possibilities: the possibility that she'll see whales on the beach near her new home, the possibility that the trans­gender boy she just met will become her new best friend, the possibility that the paparazzi hounding her celebrity father won't force them to move again. Most of all, Nat dreams of the possibility that her faraway mother misses her, loves her, and is just waiting for Nat to find her.
But how can Nat find her mother if she doesn't even know who she is? She abandoned Nat as a baby, and Nat's dad refuses to talk about it. Nat knows she shouldn't need a mom, but she still feels like something is missing, and her questions lead her on a journey of self-discovery that will change her life forever.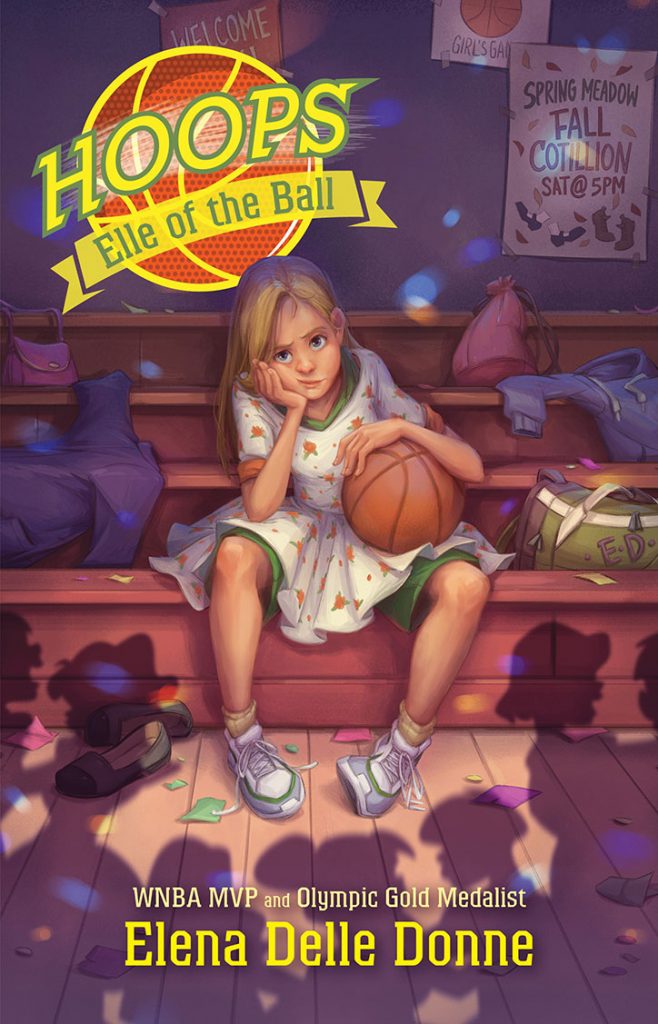 Hoops: Elle of the Ball
Author: Elena Delle Donne
Publisher: Simon and Schuster Books for Young Readers
Date: March 13
SYNOPSIS:
Elle Deluca is a seventh grader who is tall—not just sort of tall. She's six feet tall. And for a twelve-year-old girl, this means that her basketball team has high hopes for her changing positions and becoming their starting center. But a new position is not the only footwork she has to learn. Her class's dance unit in gym is coming up, and that means she has to learn ballroom dance steps with a boy much shorter than her—and perform publically for a grade.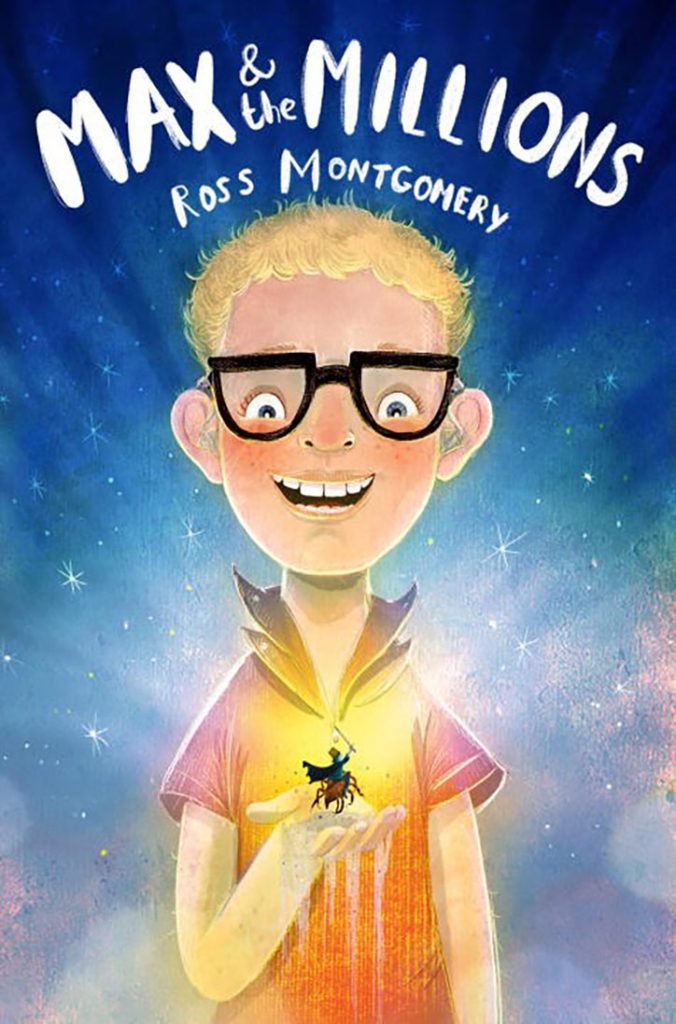 Max and the Millions
Author: Ross Montgomery
Publisher: Wendy Lamb Books
Date: March 13
SYNOPSIS:
In the vein of The Borrowers and The Indian in the Cupboard, this is an imaginative, irresistible, and incredible exploration into what happens when one boy discovers a kingdom of tiny people.
The day before summer vacation, Max's closest friend at boarding school disappears, leaving behind his amazing model collection and a handful of sand on his bedroom floor. Like Max, the eccentric janitor Mr. Darrow is a genius at building tiny models. Eight weeks later, Max finds that the sand has magically transformed into a whole desert kingdom–filled with millions of tiny people!
Max wears hearing aids, and they allow him to hear the ant-sized people. There's a boy named Luke who's about to become king. But when Max appears, he plunges their world into chaos. Luckily, Luke has two strong allies: Ivy, a fearless girl, and Luke's trusty steed–a flea.
While Max and his new friend Sasha fight to protect the Floor from their evil headmaster, Luke must fight to save it from being destroyed by all-out war.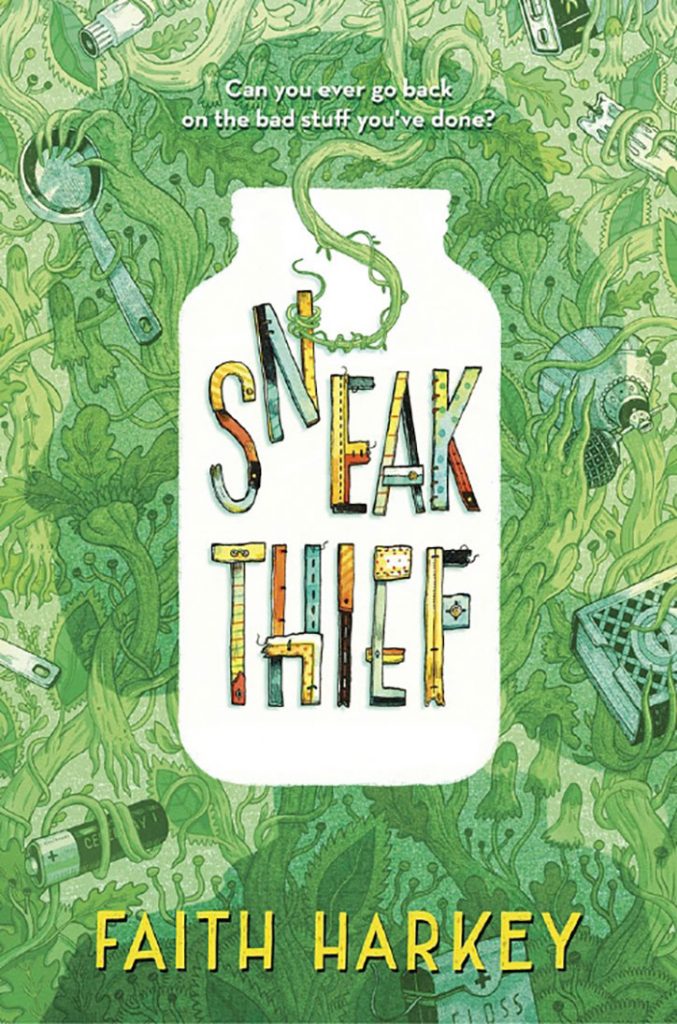 Sneak Thief
Author: Faith Harkey
Publisher: Alfred A. Knopf Books for Young Readers
Date: March 13
SYNOPSIS:
A funny, moving novel about a sneak-thieving girl with the ability to actually see people's pain–and take it away–who learns how simple acts of kindness can change the world
Thanks to her sneak-thieving skills, Hush Cantrell can fend for herself. Which is a good thing, since her mom's the last person to look out for her.
Hush's life isn't all roses, but when her new friend Desiree enters the picture, things start looking up. That is, until Hush's luck runs out and she's finally caught. Now Hush has to turn over a new leaf: her only alternative to the dreaded "juvvie" is a job at Miz Tromp's Nursery. There Hush gets more than she bargained for–she learns for the first time how to make good things grow.
But soon Hush realizes something strange is happening to her: she can actually see people's pain–and take it away. Pretty soon Hush and Desiree are on a mission to rid their town of pain. What could possibly be the downside to that?
With an appealing southern voice and a hint of magical realism, Sneak Thief is a funny and life-affirming story of one girl lost–and found.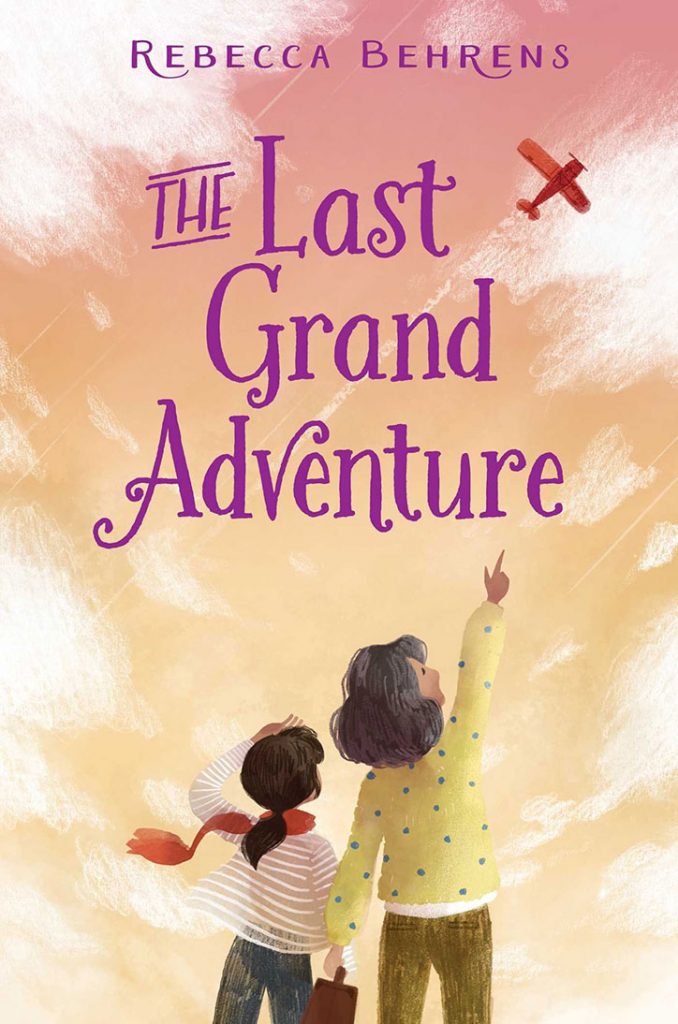 The Last Grand Adventure
Author: Rebecca Behrens
Publisher: Aladdin Books
Date: March 20
YAYOMG!:
We told you guys we'd be celebrating a lot of books this month – and the journey continues with Bea and Pidge in The Last Grand Adventure. Author Rebecca Behrens will be dropping by YAYOMG! for an interview and some fun facts about this wonderful adventure!
SYNOPSIS:
Twelve-year-old Bea finds herself on a unique road-trip with her grandmother, as they search for her grandmother's long-lost sister—the legendary Amelia Earhart—in this charming novel from the author of When Audrey Met Alice and Summer of Lost and Found.
It's 1967 and twelve-year-old Bea is in need of some adventure. Her mother is off in San Francisco, while her father has just gotten remarried in Los Angeles. Bea has gained a younger stepsister, and she's not thrilled about her blended family. So when her ailing grandmother, Pidge, moves to an Orange County senior-living community and asks if Bea would spend the summer helping her get settled, Bea is happy for any excuse to get away.
But it turns out, her grandmother isn't interested in settling in. What she really wants is to hop a train back to Atchison, Kansas—where she thinks she'll be reunited with her long-missing sister: Amelia Earhart. And she wants Bea to be her sidekick on this secret trip.
At first, Bea thinks her grandmother's plan is a little crazy. But Pidge has thirty years of letters written in "Meelie's" unmistakable voice, all promising to reunite. This might be the adventure Bea needs…
With letters in hand, Bea and Pidge set off on their quest to find Amelia. But getting halfway across the country proves to be more of an adventure than either of them bargained for. And their search for Amelia leads to some surprising truths about their family—and each other.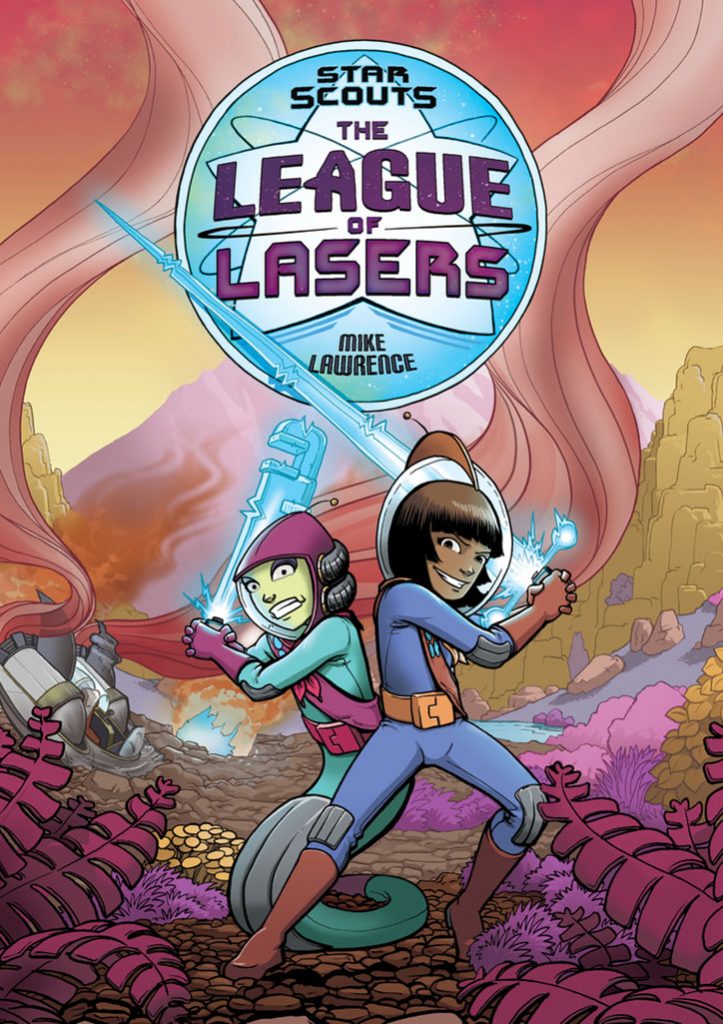 Star Scouts: The League of Lasers
Creator: Mike Lawrence
Publisher: First Second
Date: March 20
SYNOPSIS:
Avani has found the one place in the universe where she fits in: Star Scouts. The League of Lasers is the second volume of this action-packed graphic novel series by Mike Lawrence.
During a troop meeting, a robot messenger delivers Avani some exciting news: she has been invited to join a secret society of elite scouts known as the League of Lasers. She is eager to join their ranks, but first she has to survive her initiation challenge.
Stranded on an uncharted planet, Avani must contend with the methane atmosphere, hostile frog-like inhabitants, and her dwindling supplies of food and water. But even worse: her arch nemesis, Pam, is stranded there, too.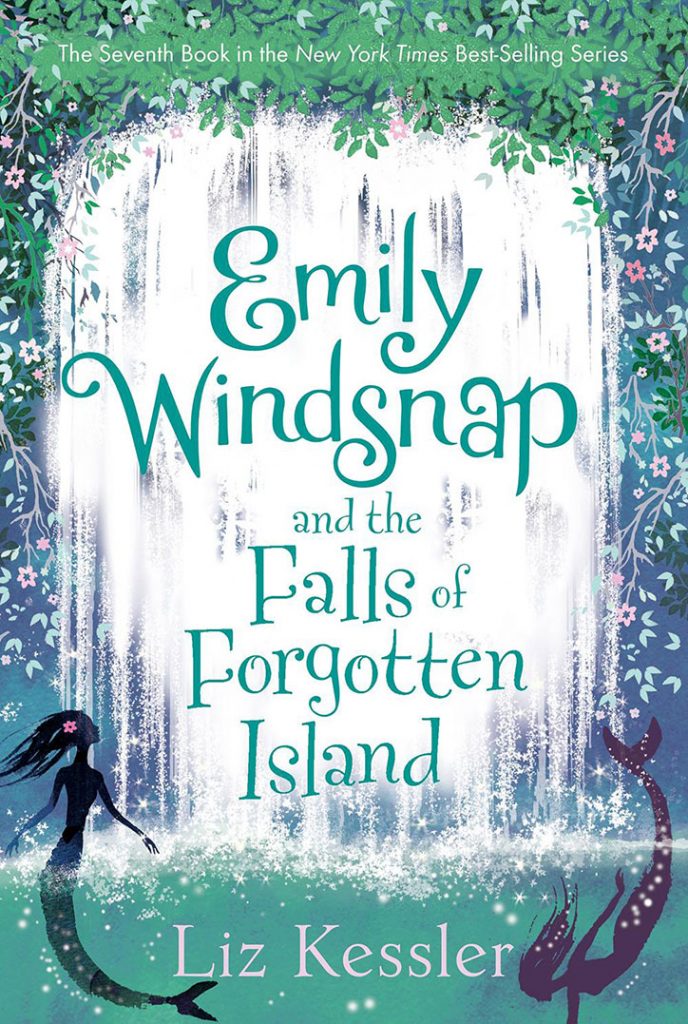 Emily Windsnap and the Falls of Forgotten Island
Author: Liz Kessler
Publisher: Candlewick Press
Date: March 20
SYNOPSIS:
While on vacation, Emily Windsnap finds herself swept up in an ancient prophecy as the New York Times best-selling series continues.
Emily is headed to a tropical island for a relaxing vacation with friends and family. And this time, Emily promises her best friend, Shona, there will be absolutely no adventure — just plenty of fun. But somehow excitement always seems to find Emily, and before she knows it, she ends up on the other side of a powerful waterfall on a forgotten island no one else can get to. Well, no one that isn't a half-mer like Emily and her boyfriend, Aaron. The people who live on the island believe in a prophecy that foretells how they can be saved from an imminent, devastating earthquake — and this prophecy seems to revolve around Emily and Aaron, as well as a mysterious, mythic giant. Will they be able to find the giant — and fulfill the prophecy — before it's too late?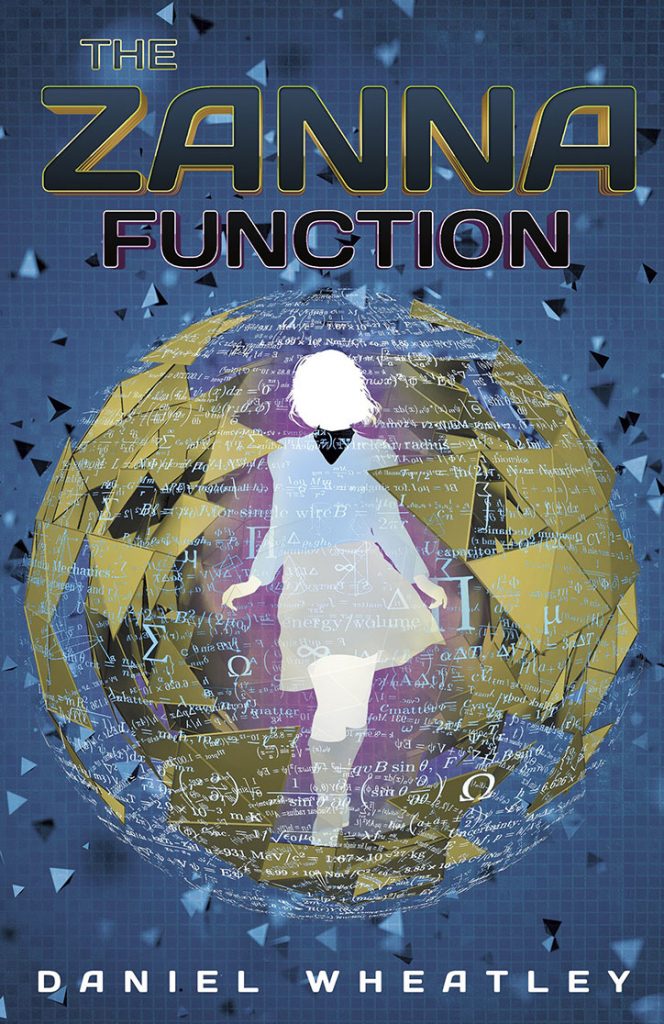 The Zanna Function
Author: Daniel Wheatley
Publisher: Jolly Fish Press
Date: March 20
SYNOPSIS:
When fourteen-year-old Zanna Mayfield gets an acceptance letter from St. Pommeroy's School for Gifted Children, she jumps at the chance to put her considerable intellect to good use. But nothing can prepare her for the first day, when she discovers that she is a Scientist —one able to see and bend the basic functions of the universe like velocity, gravity, and chemical reactions to her own purposes.
As Zanna struggles to make friends and learn how to use her abilities at her new school, her troubles multiply when a mysterious stranger begins stalking her, dead set on keeping Zanna out of St. Pommeroy's. If Zanna has any hope of finishing her first year, she'll need to master every function she can get her mind around—including the one that defines Zanna herself.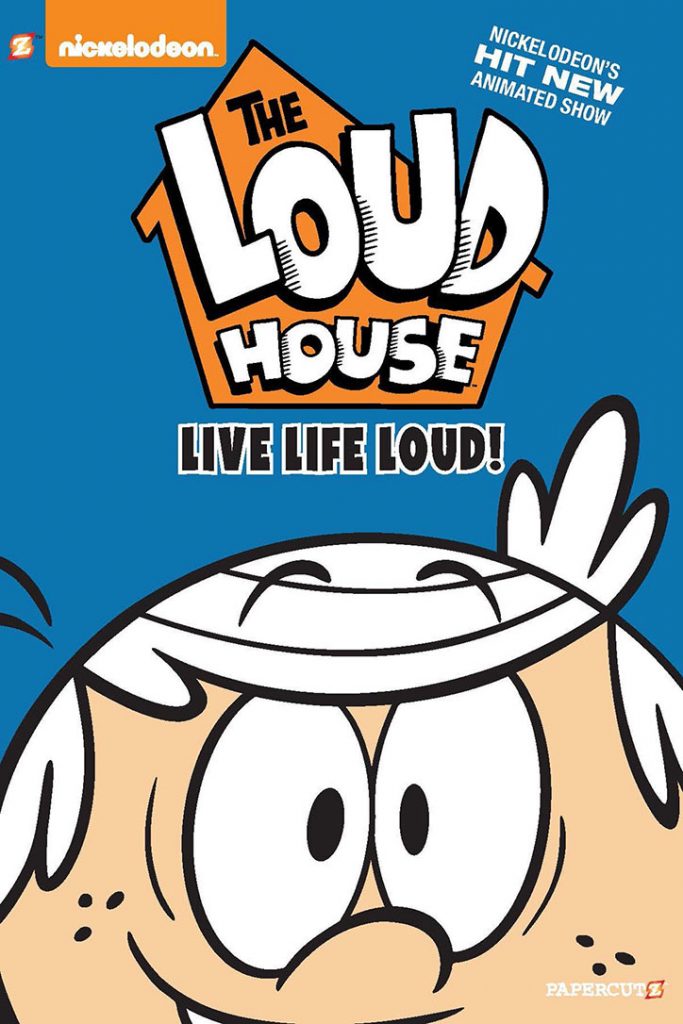 The Loud House #3: Live Life Loud
Creators: Chris Savino, Amanda Rynda, Diem Doan, Sammie Crowley, Whitney Wetta, Kyle Marshall, Jordan Rosato, Miguel Puga, Jared Morgan, Todd Oman and more
Publisher: Papercutz
Date: March 20
SYNOPSIS:
Lincoln Loud and his ten sisters, Leni, Lori, Luna, Luan, Lynn, Lucy, Lana, Lola, Lisa, and Lily, live life Loud in all-new comics created by THE LOUD HOUSE animation crew! You'll laugh as they navigate the ins and outs of life in a big family–from science experiments to baby pictures! But that's not all…
Since moving to the Big City (and away from The Louds and Royal Woods), things have changed for Bobby Santiago and Ronnie Anne. Now they're livin' la vida loca–helping out at the bodega and sharing a house with their abuelos and the whole Casagrande family! The Louds and Casagrandes-two great families in one great graphic novel!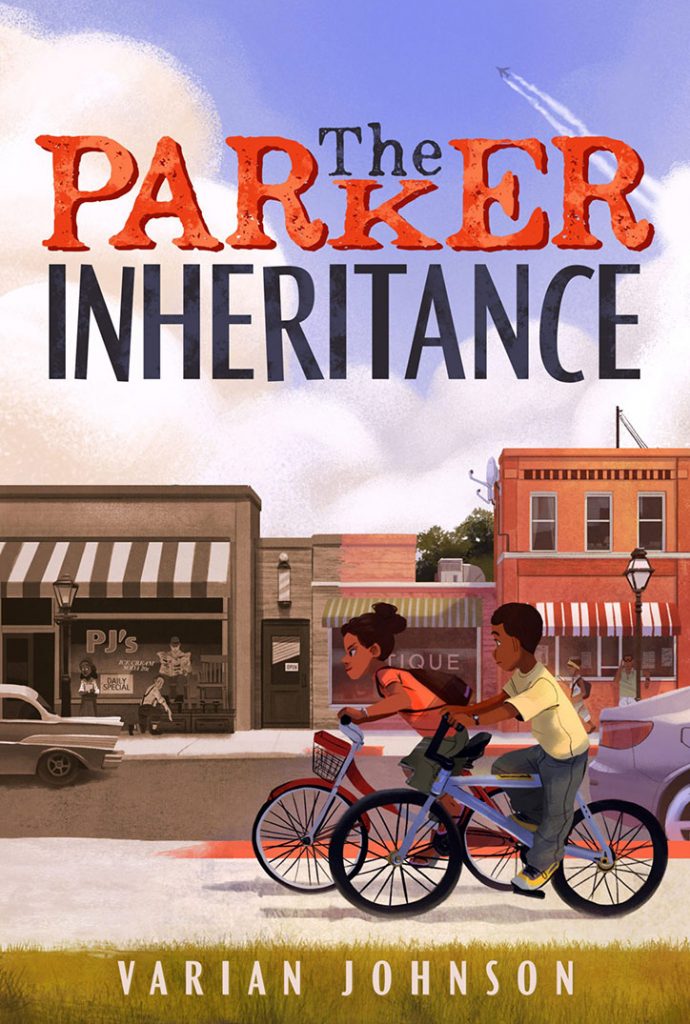 The Parker Inheritance
Author: Varian Johnson
Publisher: Arthur A. Levine Books
Date: March 27
YAYOMG!:
Did you think we were done? Not even close! Varian Johnson will be giving YAYOMGers an exciting behind the scenes look at The Parker Inheritance in the form of Fun Facts! You guys aren't prepared for this emotionally-true historical mystery that'll keep you guessing the whole way through.
SYNOPSIS:
The letter waits in a book, in a box, in an attic, in an old house in Lambert, South Carolina. It's waiting for Candice Miller.
When Candice finds the letter, she isn't sure she should read it. It's addressed to her grandmother, after all, who left Lambert in a cloud of shame. But the letter describes a young woman named Siobhan Washington. An injustice that happened decades ago. A mystery enfolding the letter-writer. And the fortune that awaits the person who solves the puzzle. Grandma tried and failed. But now Candice has another chance.
So with the help of Brandon Jones, the quiet boy across the street, she begins to decipher the clues in the letter. The challenge will lead them deep into Lambert's history, full of ugly deeds, forgotten heroes, and one great love; and deeper into their own families, with their own unspoken secrets. Can they find the fortune and fulfill the letter's promise before the summer ends?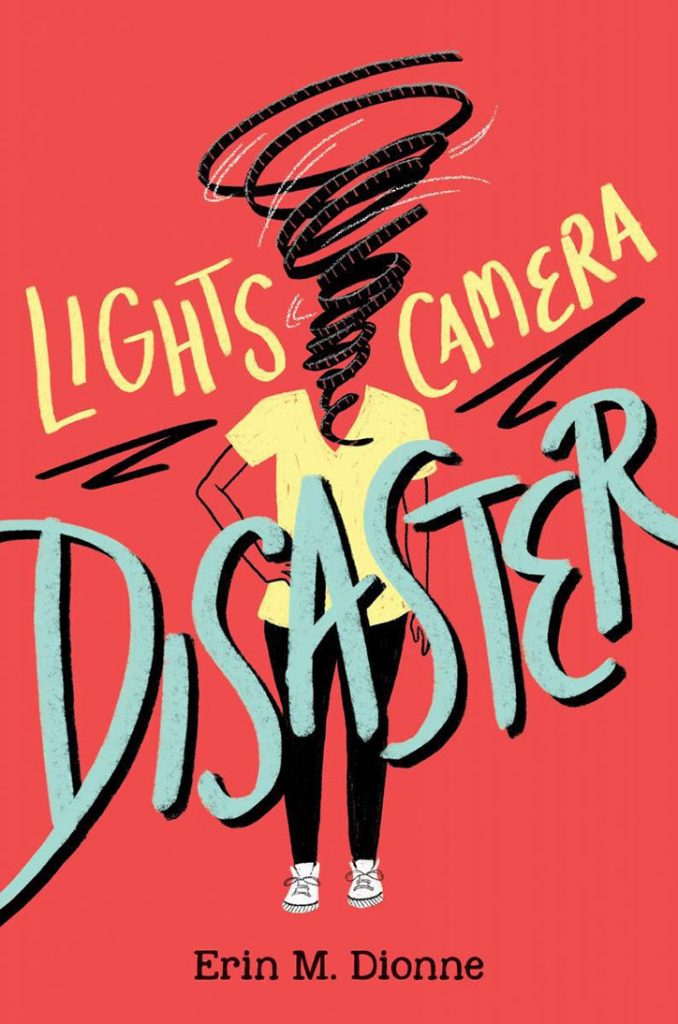 Lights, Camera, Disaster
Author: Erin Dionne
Publisher: Arthur A. Levine Books
Date: March 27
SYNOPSIS:
Hester Greene loves making movies. With her camera in hand, she can focus, make decisions, and have the control she lacks in life, where her executive function disorder (think extreme ADHD plus anxiety) sabotages her every move.
But middle school is not a movie, and if her last-ditch attempt to save her language-arts grade–and her chance to pass eighth grade, period–doesn't work, Hess could lose her friends, her year, even her camera. It will take more than a cool training montage to get her life together, but by thinking outside the frame, she just might craft a whole new ending.
Written partially in script form, with STOP/PAUSE/PLAY/REWIND moments throughout, this laugh-out-loud story will speak to any budding filmmaker, or unintentional troublemaker, in every act of their lives.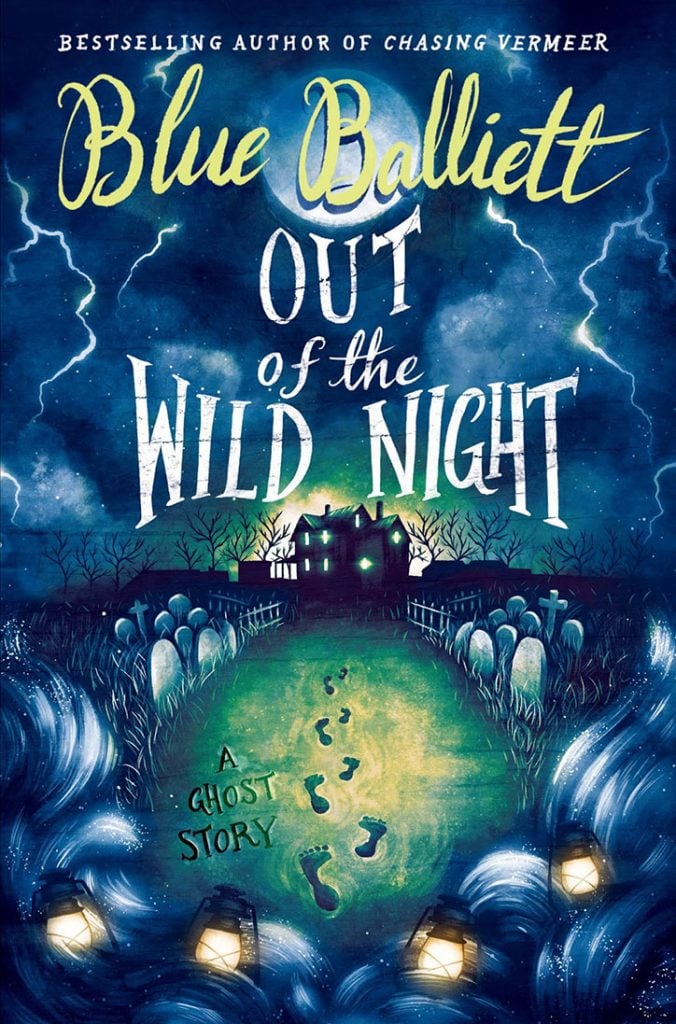 Out of the Wild Night
Author: Blue Balliett
Publisher: Scholastic
Date: March 27
SYNOPSIS:
From the New York Times bestselling author of Chasing Vermeer an unforgettable story about an island haunted by the past . . . and the ghosts who must help with the present.
Ghosts are alive on the island of Nantucket. You can hear them in the wind, and in the creaks of the old homes. They want to be remembered. And, even more, they want to protect what was once theirs.
The ghosts seem to have chosen a few local kids to be their messengers — and to help save the island. But in this mystery, the line between those who haunt and those who are haunted is a thin one — and the past and the present must come to terms with one another in order to secure the future.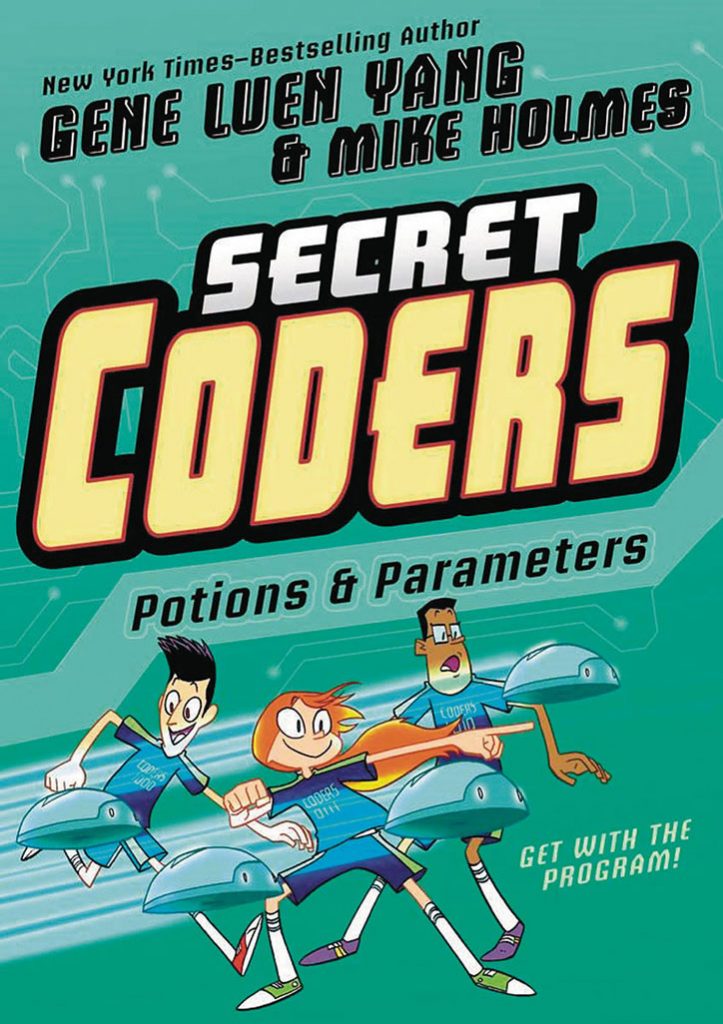 Secret Coders: Potions & Parameters
Writer: Gene Luen Yang
Artist: Mike Holmes
Publisher: First Second
Date: March 27
SYNOPSIS:
From graphic novel superstar (and former computer programming teacher) Gene Luen Yang, Secret Coders: Potions & Parameters is the fifth volume in a wildly entertaining series that combines logic puzzles and basic coding instruction with a page-turning mystery plot!
Professor One-Zero won't stop until the whole town—no, the whole world—embraces the "true happiness" found in his poisonous potion, Green Pop. And now that he has the Turtle of Light, he's virtually unstoppable.
There's one weapon that can defeat him: another Turtle of Light. Unfortunately, they can only be found in another dimension! To open a portal to this new world, Hopper, Eni, and Josh's coding skills will be put to the test.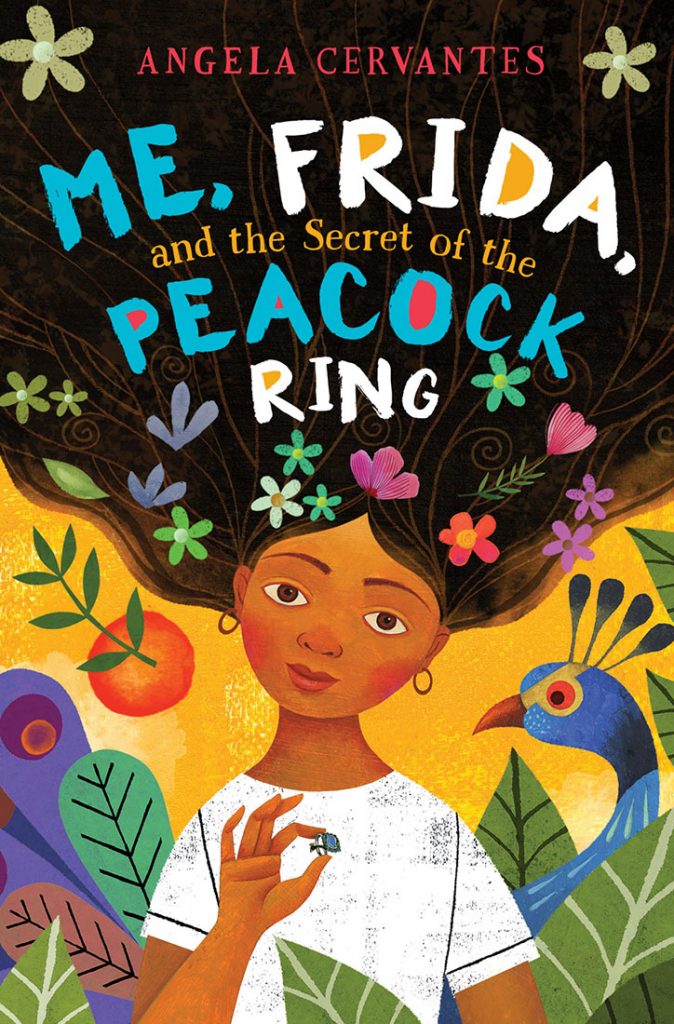 Me, Frida, and the Secret of Peacock Ring
Author: Angela Cervantes
Publisher: Scholastic
Date: March 27
SYNOPSIS:
A room locked for fifty years.
A valuable peacock ring.
A mysterious brother-sister duo.
Paloma Marquez is traveling to Mexico City, birthplace of her deceased father, for the very first time. She's hoping that spending time in Mexico will help her unlock memories of the too-brief time they spent together.
While in Mexico, Paloma meets Lizzie and Gael, who present her with an irresistible challenge: The siblings want her to help them find a valuable ring that once belonged to beloved Mexican artist Frida Kahlo. Finding the ring means a big reward — and the thanks of all Mexico. What better way to honor her father than returning a priceless piece of jewelry that once belonged to his favorite artist!
But the brother and sister have a secret. Do they really want to return the ring, or are they after something else entirely?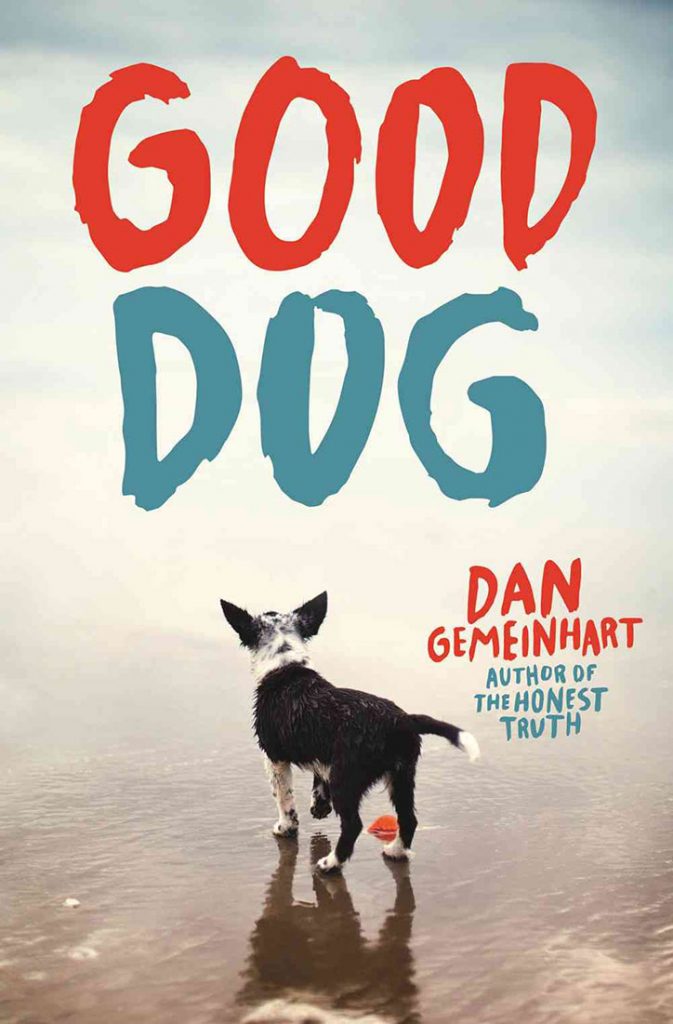 Good Dog
Author: Dan Gemeinhart
Publisher: Scholastic
Date: March 27
SYNOPSIS:
Brodie didn't remember the exact moment that he died. But he did remember the exact moment that he woke up afterward. When he woke up he was already running.
In his awe-inspiring new novel, acclaimed author Dan Gemeinhart brings his signature blend of action, heart, and beautiful, deliberate prose to the story of a good dog who can't move on to the afterlife until the boy he loves is safe.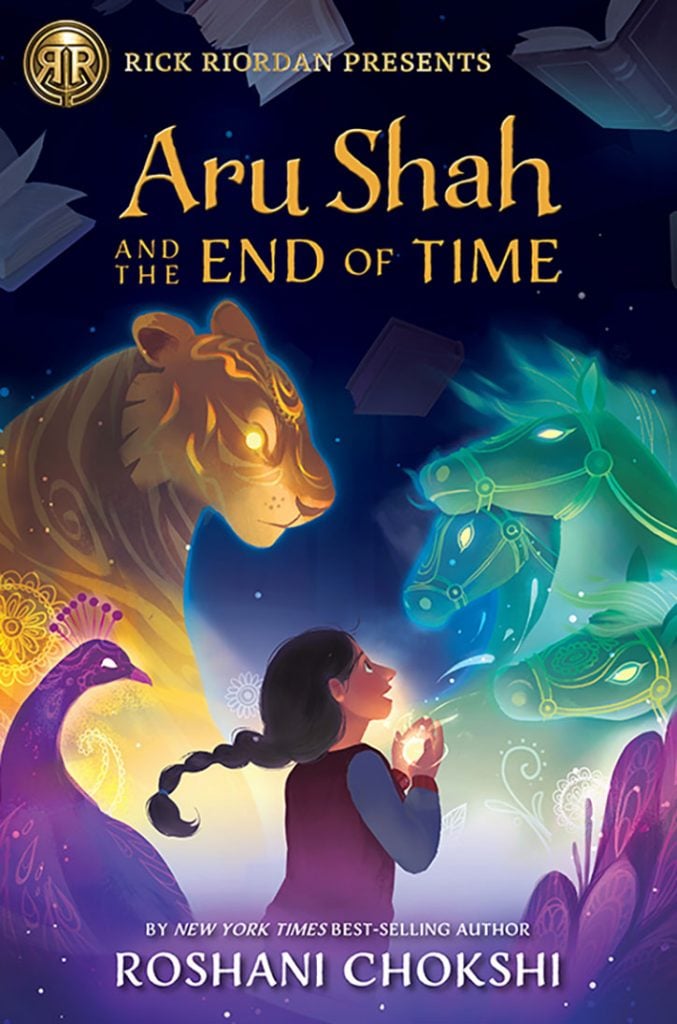 Aru Shah and the End of Time
Author: Roshani Chokshi
Publisher: Rick Riordan Presents
Date: March 27
SYNOPSIS:
Twelve-year-old Aru Shah has a tendency to stretch the truth in order to fit in at school. While her classmates are jetting off to family vacations in exotic locales, she'll be spending her autumn break at home, in the Museum of Ancient Indian Art and Culture, waiting for her mom to return from her latest archeological trip. Is it any wonder that Aru makes up stories about being royalty, traveling to Paris, and having a chauffeur?
One day, three schoolmates show up at Aru's doorstep to catch her in a lie. They don't believe her claim that the museum's Lamp of Bharata is cursed, and they dare Aru to prove it. Just a quick light, Aru thinks. Then she can get herself out of this mess and never ever fib again.
But lighting the lamp has dire consequences. She unwittingly frees the Sleeper, an ancient demon whose duty it is to awaken the God of Destruction. Her classmates and beloved mother are frozen in time, and it's up to Aru to save them.
The only way to stop the demon is to find the reincarnations of the five legendary Pandava brothers, protagonists of the Hindu epic poem, the Mahabharata, and journey through the Kingdom of Death. But how is one girl in Spider-Man pajamas supposed to do all that?

Hurricane Child
Author: Kheryn Callender
Publisher: Scholastic
Date: March 27
SYNOPSIS:
Prepare to be swept up by this exquisite novel that reminds us that grief and love can open the world in mystical ways.
Twelve-year-old Caroline is a Hurricane Child, born on Water Island during a storm. Coming into this world during a hurricane is unlucky, and Caroline has had her share of bad luck already. She's hated by everyone in her small school, she can see things that no one else can see, and — worst of all — her mother left home one day and never came back. With no friends and days filled with heartache, Caroline is determined to find her mother. When a new student, Kalinda, arrives, Caroline's luck begins to turn around. Kalinda, a solemn girl from Barbados with a special smile for everyone, seems to see the things Caroline sees, too. Joined by their common gift, Kalinda agrees to help Caroline look for her mother, starting with a mysterious lady dressed in black. Soon, they discover the healing power of a close friendship between girls. Debut author Kheryn Callender presents a cadenced work of magical realism.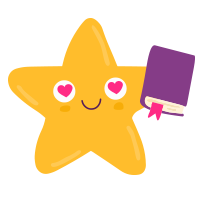 Need more books in your life? We think you'll love OwlCrate Jr., a subscription box that delivers middle-grade book magic to your doorstep each month!