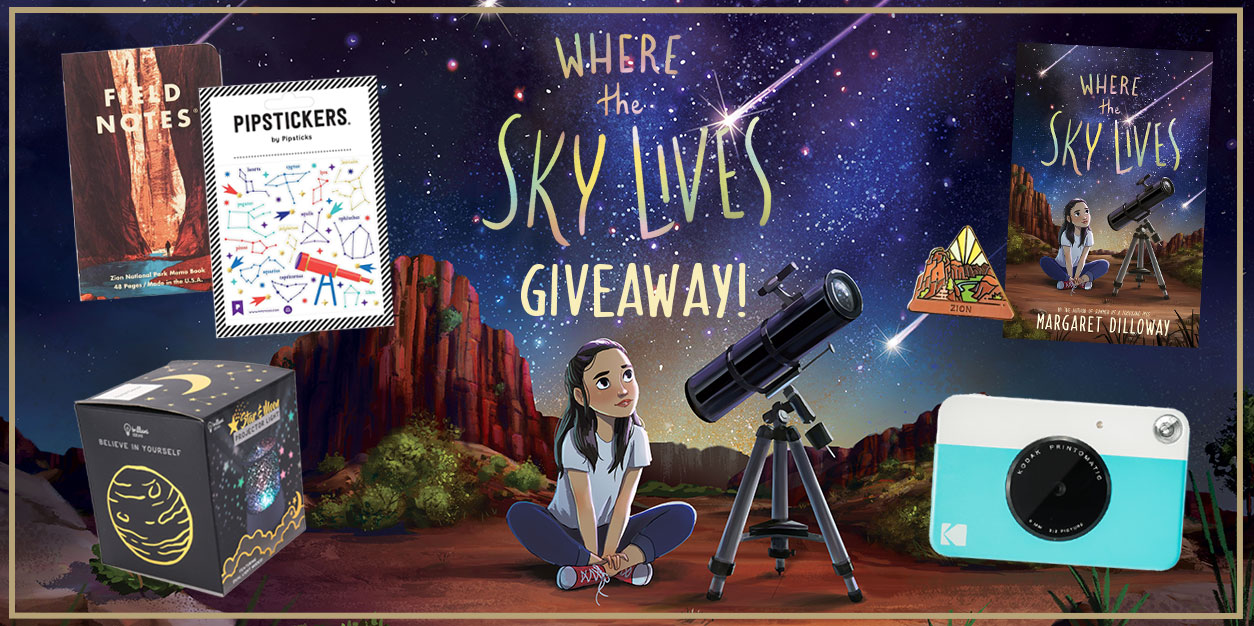 Look to the Stars in Our Where the Sky Lives GIVEAWAY!
NOTE: This post is sponsored by HarperCollins.
Twelve-year-old Tuesday Beals is going through a lot. Grieving from the loss of her Uncle Ezra, all Tuesday has left of him is her love of the night sky and a mysterious poem he left behind – a poem that might be the key to unlocking everything.
In Where the Sky Lives by Margaret Dilloway, Tuesday and her mom live in staff quarters at the breathtaking Zion National Park, where her mom works as an archeologist. Tuesday inherited a love of astrology from her uncle, and whenever life doesn't make sense, she heads to the special stargazing site at the private preserve next to the park that they used to visit together. But when Tuesday hears the news of a new housing development that threatens to ruin her view of stars and her most cherished memories, she knows she needs to find a way to stop them.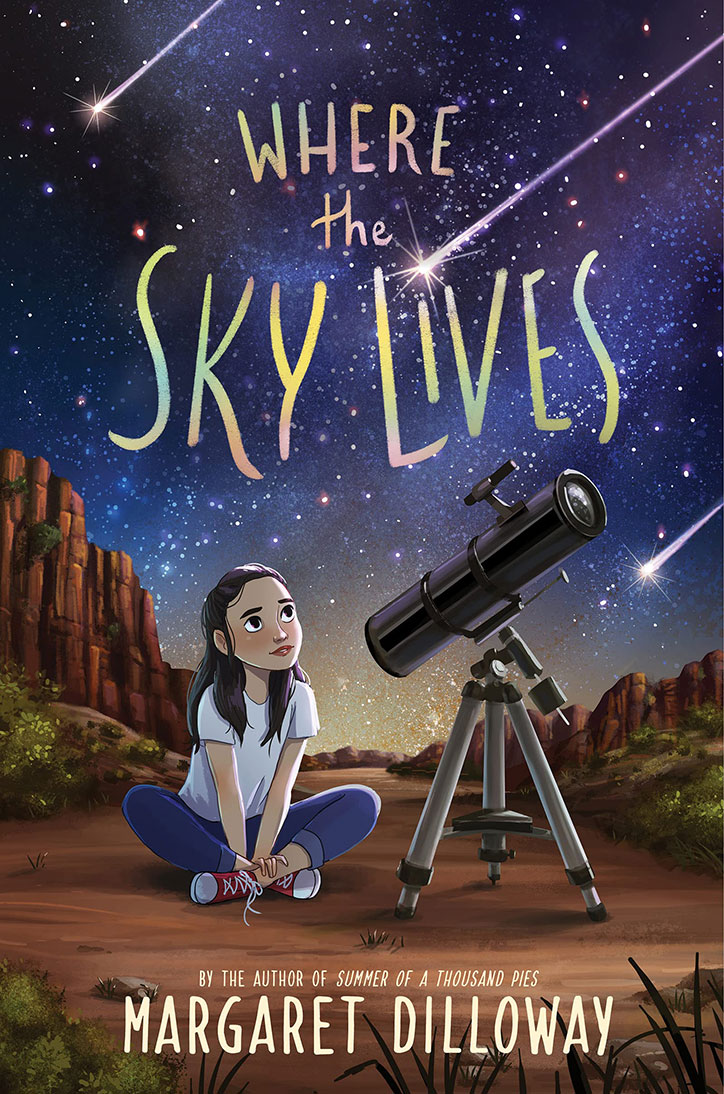 From the author of Five Things About Ava Andrews comes a new middle grade stand-alone novel with STEM and activism themes, set against the backdrop of beautiful Zion National Park. With the perfect blend of humor and heart, this poignant story about family, grief, and changes beyond our control is perfect for fans of Rebecca Stead, Meg Medina, and Lynne Kelly.
When life doesn't make sense, twelve-year-old amateur astronomer Tuesday Beals has always looked to the stars above Zion National Park, where she lives. Her beloved late uncle Ezra taught her astronomy, but now their special stargazing sites are all she has left of him, along with his ashes and a poem that may be a riddle.
Then a new housing development next door threatens to ruin the night skies and her favorite astronomy spots. Desperate to focus on something besides the growing uncle-sized chasm between her and her mother, the park archeologist, Tuesday takes up photography with her best friend, Carter, after they find an abandoned camera. With this new way of seeing the universe, she tries to solve her uncle's riddle to save the land.
But one day, a photo reveals clues about an endangered animal—one that could halt construction. Will the discovery be enough to save the park and keep the rest of her world from falling apart?
Where the Sky Lives
AUTHORS: Margaret Dilloway
PUBLISHER: Balzer + Bray
DATE: March 8, 2022
Together with her BFF Carter, they head to the preserve to search for answers and stumble upon an abandoned camera, sparking an interest in photography and an Instagram account that goes viral thanks to a visiting influencer. After a photo reveals possible evidence of an endangered species, Tuesday is determined to solve her uncle's riddle, use the endangered species to halt construction and prevent everything in her life from falling apart.
If this heartwarming read sounds like your kind of story, you're in luck, because we teamed up with our friends at HarperCollins for a giveaway! The winner will snag a copy of Where the Sky Lives and some seriously amazing stuff inspired by the story. Ready to enter? Grab your favorite adult and have them enter below for your chance to WIN!
Where the Sky Lives Giveaway: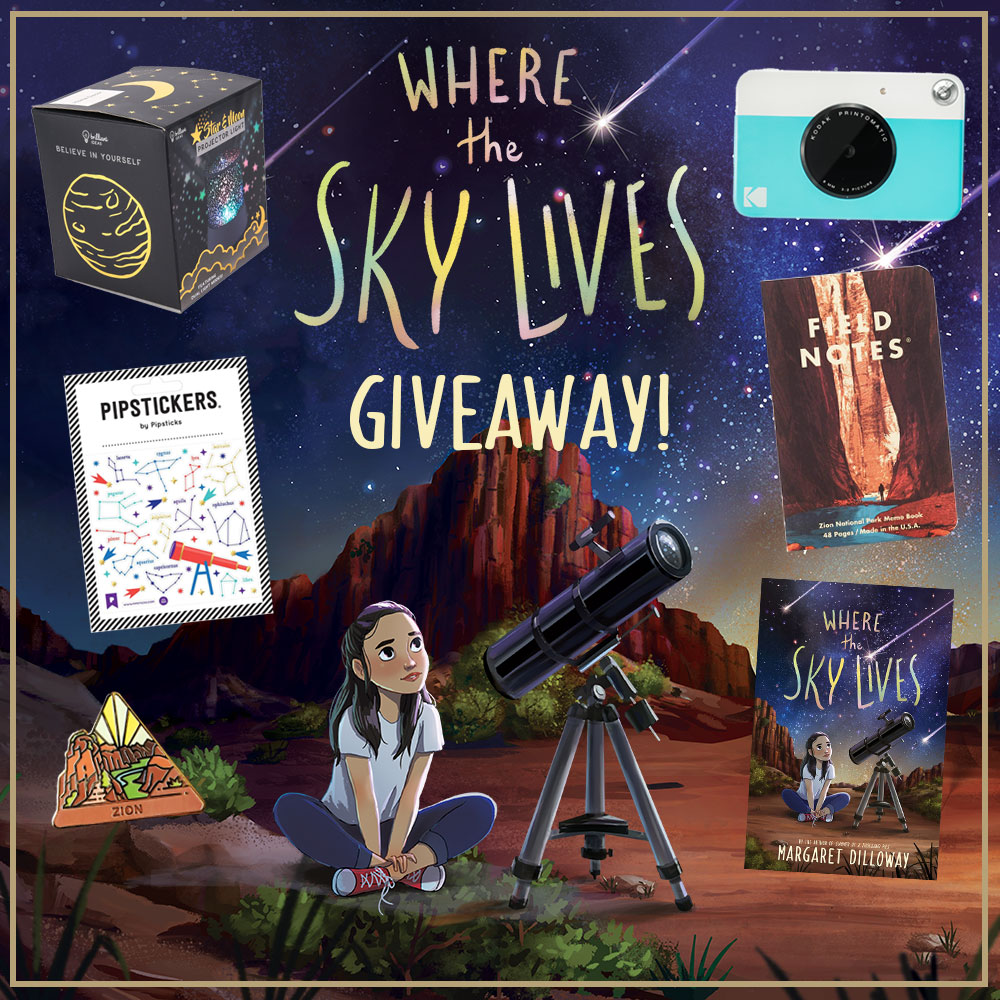 WHAT DO I WIN?:
ONE lucky winner will receive a Where the Sky Lives Prize Pack that includes:
– ONE (1) copy of Where the Sky Lives by Margaret Dilloway
– ONE (1) KODAK Printomatic Digital Instant Print Camera (Blue) from KODAK
– ONE (1) Stars And Moon Projector Light from Bright Ideas
– ONE (1) set of National Parks Series Memo Notebooks from Field Notes
– ONE (1) Stellar Viewer Constellation Sticker Sheet from Pipsticks
– ONE (1) Zion National Park Enamel Pin
*Prizes provided by HarperCollins & YAYOMG!
HOW DO I ENTER?:
Grab a parent or guardian and have them fill out the form below by April 10, 2022 at 11:59pm ET.
Giveaway runs from 03/10/22 at 10:00 am ET through 04/10/22 at 11:59 pm. Open to US residents ONLY. Be sure to read the fully detailed rules HERE before entering.
THIS GIVEAWAY HAS ENDED AND THE WINNER HAS BEEN CONTACTED.
You must be 18 or older to enter. Please, only ONE entry per person. If selected as a winner, we will provide your parent/guardian with an affidavit to confirm that you are a valid winner who has permission to win. They will be REQUIRED to sign and return the affidavit to YAYOMG! to claim your prize. Prizes will not be mailed out without signed parental consent.
Ready to look to the stars with Tuesday? Click here to start reading Where the Sky Lives, now available from HarperCollins!