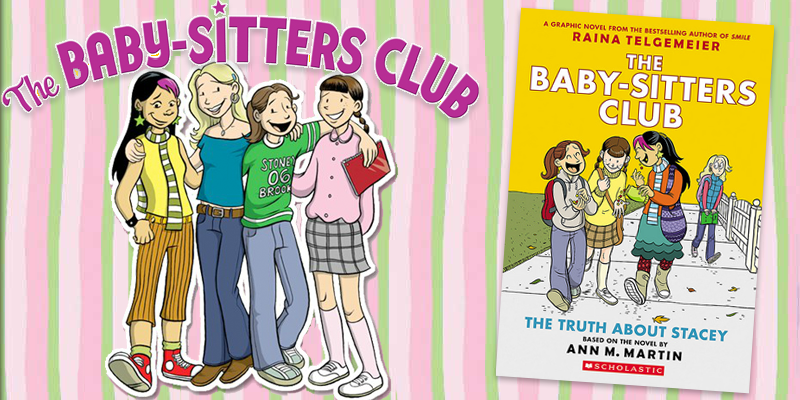 The Truth About Stacey – Baby-Sitters Club Graphix #2
The Baby-Sitters Club books are one of the most memorable books from pretty much any girl's childhood. Ask your mom, your cousins, your teachers – pretty much any lady you know has read at least one BSC book. They're the epitome of teen friendship – crushes, homework, family drama, epic hangs, and fights that almost tear the club apart. Back in 2006, Scholastic released a 4 book graphic novel series of the Baby-Sitters Club by Raina Telgemeier which were a totally awesome, modern re-telling of a few of the classic BSC stories. This year they started re-releasing the graphic novels in gloriously full color editions, and book two, The Truth About Stacey, just came out!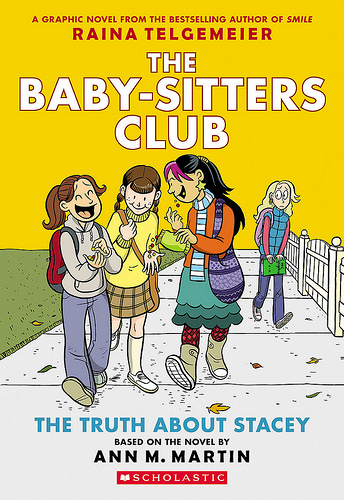 Stacey just moved to Stoneybrook from NYC and she's used to a fabulous big city life filled with lots of friends and constant fun things to do. But when she finds out that she has diabetes, things get a little rough and her family moves to the quiet town of Stoneybrook. Stacey is still adjusting to small town life, but with her new friends Kristy, Claudia, and Mary Anne by her side, what could possibly go wrong? The Baby-Sitters Club can handle anything together, even a rival baby-sitting club!
Here's a sneak peek into The Truth About Stacey – BSC Graphix #2:

Don't forget go back and read Kristy's Great Idea, which is Book #1. It's the story of how the Baby-Sitters Club was formed which is kinda important to the story (gotta have that backstory!). It's based on the very first Baby-Sitters Club novel EVER! If you're totally loving the graphic novels, the full color version of Mary Anne Saves the Day (Book 3) will be released on September 29th and Claudia and Mean Janine (Book 4) will be released January 26th. If you can't possibly wait that long, you can pick up the uncolored versions that are already out!