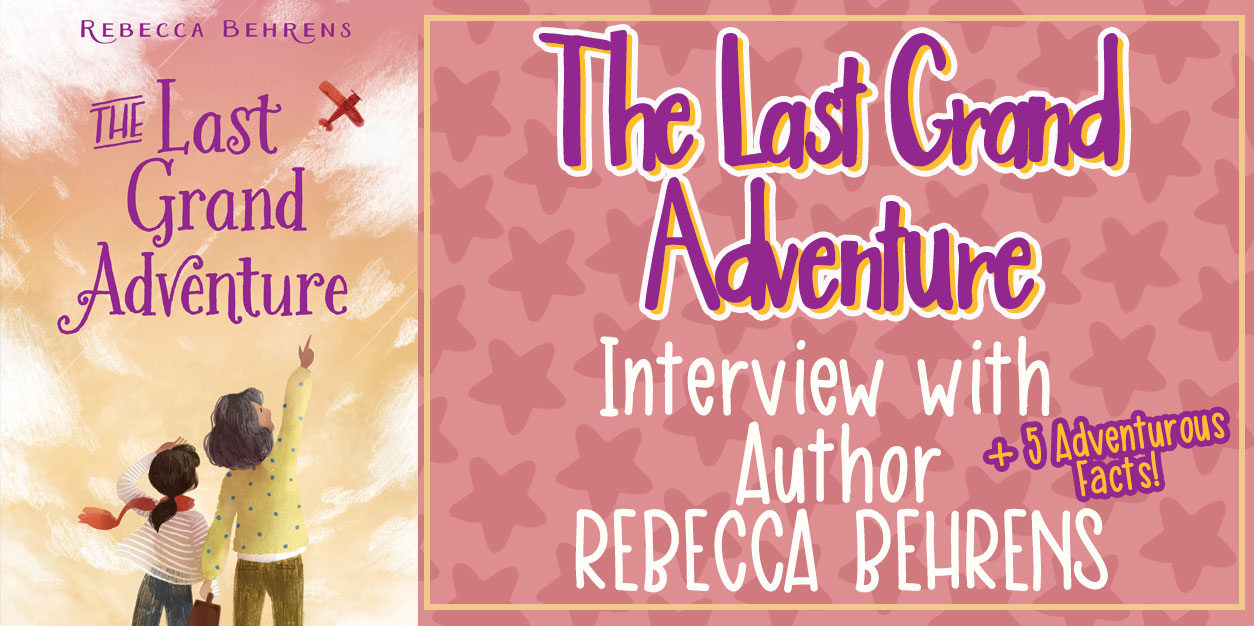 The Last Grand Adventure – Interview with Author Rebecca Behrens
Rebecca Behrens has a knack for writing stories that drum up Summer nostalgia for us. The endless possibilities of being on summer break from school, spending time with your friends and family and filling your time with spontaneous adventures – whether they are riding bikes around town with your neighbors or taking a road trip with your family. She also likes to dabble in eras long gone and blend history with fact to make for a genuinely page-turning read. We loved her last book, The Summer of Lost and Found, and so when The Last Grand Adventure was announced, we knew we absolutely had to read it.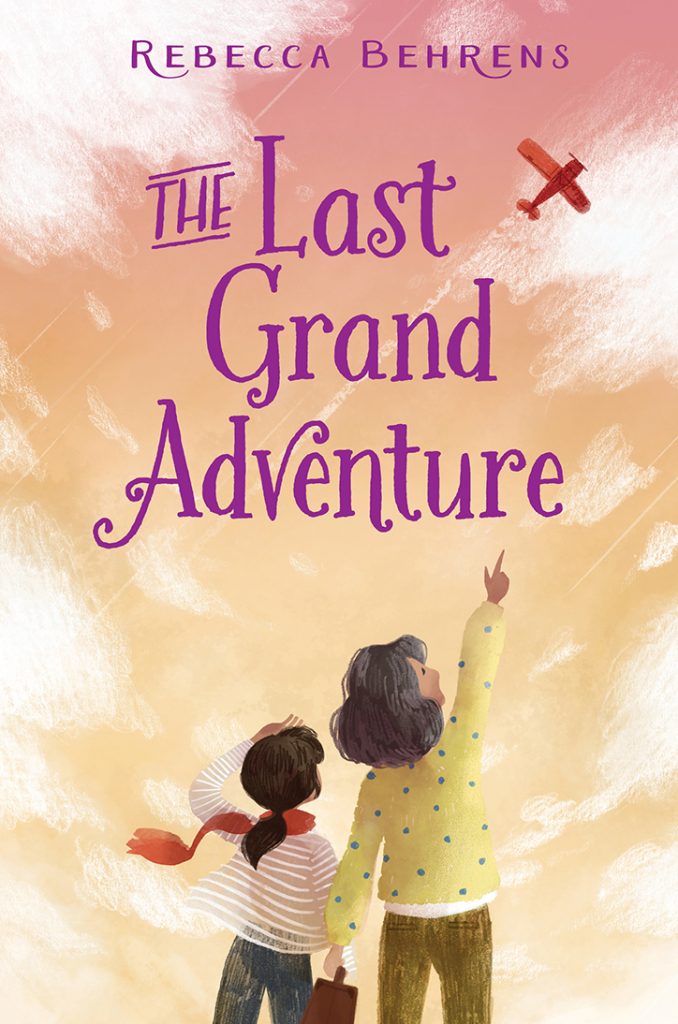 The Last Grand Adventure takes place in 1967. Twelve-year-old Bea is about to be on summer vacation. Bea is more of a worrier than a risk-taking adventurer, but at this particular moment in time, she'd rather be anywhere else. Her mom is a journalist who'll go anywhere or do anything to follow a lead and is currently in San Francisco for a hot story. Bea has been living in Los Angeles with her dad, his new wife, and her new step-sister Sally. She's not exactly loving her new family and all that it means for her and is feeling a little lost and unsure. Thankfully, Bea is offered an escape from Summer boredom by her eccentric grandmother, Pidge, who asks her to come help her get settled in the senior-living community she recently moved into. While not the most exciting way to spend a Summer, Bea is looking forward to getting away.
What she didn't know is that she was about to embark on the adventure of a lifetime. Pidge isn't actually interested in settling into her life at the senior community. She wants to take a secret trip to Kansas where she thinks she'll be reunited with her long-lost sister, Amelia Earhart. Like anyone might be, Bea thinks this all a little crazy and unbelievable. Amelia Earhart has been missing for nearly 30 years, and there's no way she could really be Pidge's sister – right? Thirty years worth of handwritten letters say otherwise, and the two set off on a journey to find Amelia.
Bea isn't much of a risk-taker, as we learn from her worry journal, but this adventure turns out to be exactly what she needs. Bea and Pidge are definitely in for some obstacles along the way, but their trip is an exciting read and charming story that teaches them both a lot about life, family, and breaking out of your comfort zone.
Author Rebecca Behrens was kind enough to chat with us about her love of Amelia Earhart, her real grandmothers who helped inspire this story, and more. She also shares 5 adventurous fun facts about the book.
The Last Grand Adventure – Interview with Author Rebecca Behrens: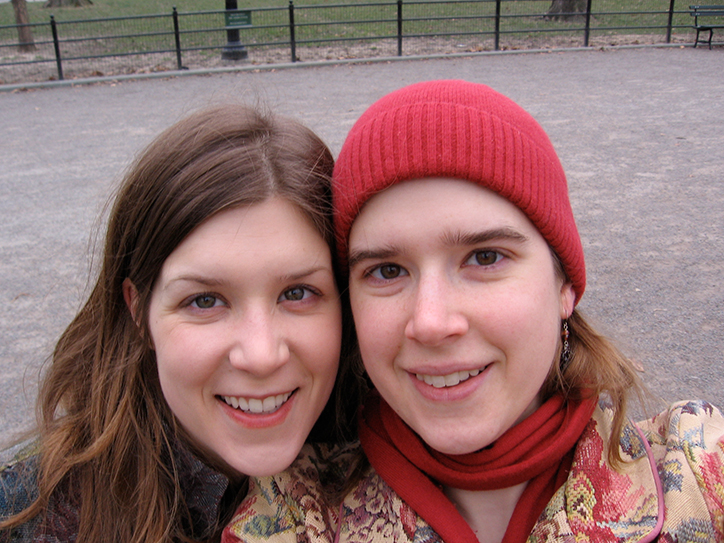 According to Bea, "every adventure has to start somewhere". Tell us a little about how Bea and Pidge's adventure came to life.
REBECCA BEHRENS: Like all the middle-grade stories I write, The Last Grand Adventure started with the things that fascinated me as a kid. I watched a lot of old movies and '60s-set TV shows—that was what aired on "Nick at Nite" back in the '90s!—and I always wished I could experience that era. Bea's story gave me a chance to transport myself to 1967 through writing and research.
Growing up, I also went on a lot of family road trips. There is something special about discovering new places with the people you know and love (and backseat-squabble with) best. One of my favorite car trips was from the Midwest to the Southwest, kind of the reverse of Bea and Pidge's journey—although I didn't have nearly such an adventurous experience. (Aside from one unexpected late snowstorm in the mountains, and a tornado warning in, yes, Kansas.)
I was also inspired by my two amazing grandmothers: Bette and Margaret. Both are vivacious, independent, super-fun ladies who have taught me a lot about living a bold and full life. I've always valued my special relationships with them, and I wanted to capture that in this story.
Bea and her grandmother's adventure centers around them trying to track down Pidge's long-lost sister, the amazing Amelia Earhart. What drew you to Amelia?
REBECCA: The story of Amelia Earhart's mysterious last flight has also intrigued me since I was a kid. I pounce on any news story about new possible clues to her and Fred Noonan's disappearance. So I've always wanted to work the mystery of her fate into a book. But while researching for The Last Grand Adventure, I remembered that she's not only famous for that fateful last flight, but for all the groundbreaking things she accomplished beforehand: from wearing "bloomers" as a child in Victorian Kansas to being the first woman to fly solo across the Atlantic. Amelia was a very confident and charismatic person, with a sharp sense of humor, too. It was great fun to imagine her as a character and write from her point of view.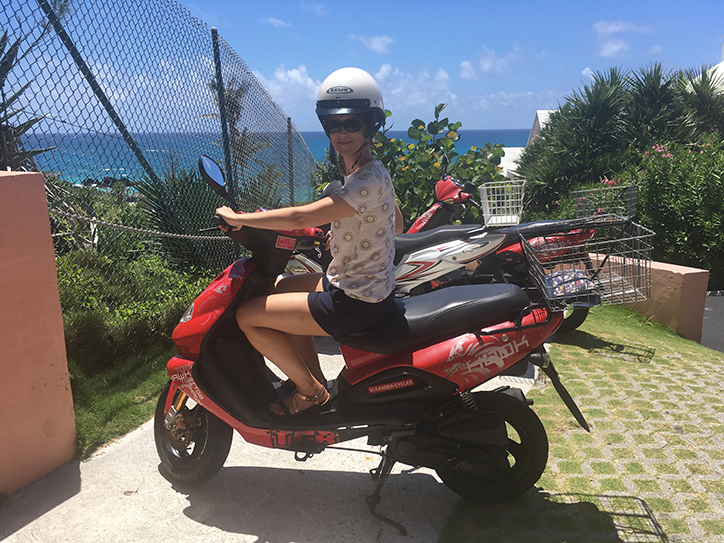 Since the book is about a road trip adventure between Bea and her grandmother Pidge, we were curious – what is the last adventure you took?
REBECCA: Last summer I took a trip to Bermuda, and even though it's a beach destination—and I spent plenty of time relaxing with my toes in the sand and a book in my hands—I managed to get adventuring in, too: riding a moped, doing some rock climbing, and exploring some underwater caves. I also went to the town of St. George, which has all kinds of cool historical sites to explore.
As a writer, what is a risk you've taken that has paid off?
REBECCA: All of my books feature characters or settings based on real historical people or places. It's always a little scary to write "real" places and characters because I worried that I would get something wrong or fail to capture the person or setting. But after tons of research and revising, I think I've done justice to them—and hopefully kindled readers' curiosity about the facts behind my fiction.
What is the best piece of advice you've ever received?
REBECCA: "To thine own self be true"—a Shakespeare quote (that was also once called the "motto" of famous first daughter Alice Roosevelt, who is a character in one of my books). It's always a good idea to be authentic and to embrace what makes you unique!
Five Adventurous Facts About The Last Grand Adventure:
FACT #1:
Before writing the first draft, my plan was for Bea's grandmother to actually be Amelia Earhart. Then I started researching her life and found out Amelia Earhart had a little sister. Maybe because I'm a younger sister, too, I was inspired to create the character Pidge.
FACT #2:
Amelia Earhart once visited my grandmother's school when she was a child, shortly before Earhart disappeared.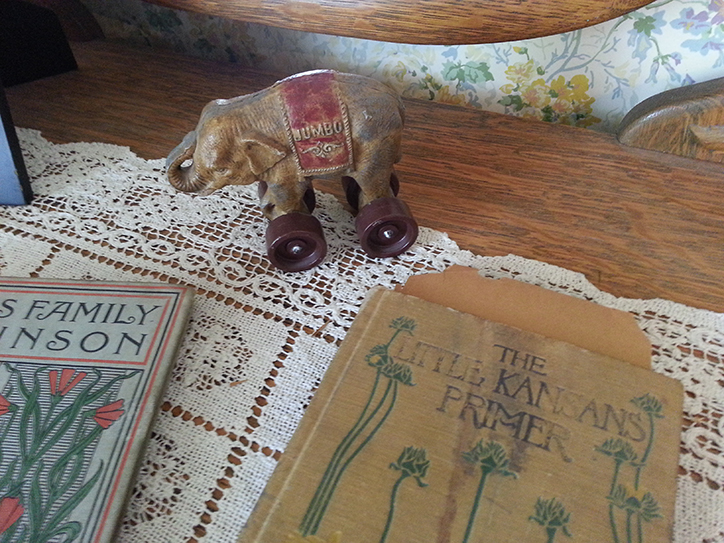 FACT #3:
Amelia and Muriel Earhart really did have a wooden toy elephant named "Ellie" and a wooden toy donkey named "Donk."
FACT #4:
One of my favorite movies when I was a kid was The Parent Trap (the original 1961 version, with Hayley Mills). When I needed a break while writing The Last Grand Adventure, I'd watch it on Netflix. So of course in the book, Bea is a fan, too!
FACT #5:
I fly frequently and often work on my books while I'm on a plane. But there is one scene in this book that I always skipped if I was writing up in the air. No spoilers—but if you read it, I bet you can guess which!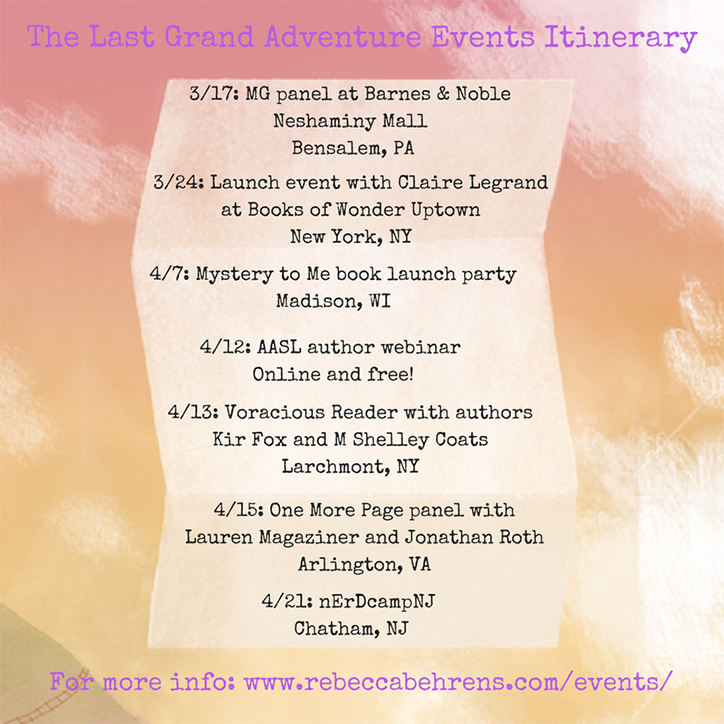 Ready to adventure along with Bea and Pidge? Your journey begins now – The Last Grand Adventure is out today from Aladdin Books. Rebecca is also heading out on an adventure of her own, a book tour! Here's where she's headed – if you're in the area, be sure to stop by, meet her, and tell her about your favorite adventure! If you love reading The Last Grand Adventure, be sure to check out her other books, The Summer of Lost and Found and When Audrey Met Alice. Plus, news just broke last week that she has two new books in the works, so there's lots more amazing reads on the way!
Want to find your next favorite read? Check out our interview with Karen Rivers, author of A Possibility of Whales.