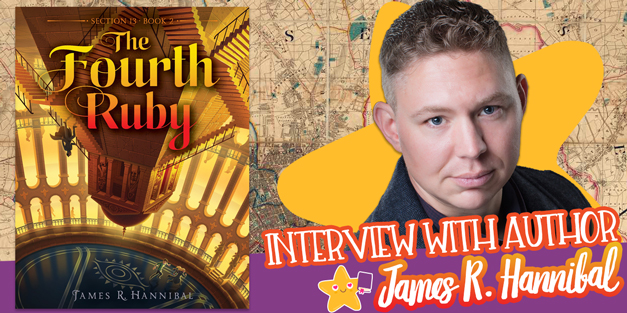 The Fourth Ruby: Interview with Author James R. Hannibal
Mystery, puzzles, wizardry, secret underground societies, and fast-paced adventure. That's what James R. Hannibal's "Section 13" series is made of. That's why we're so excited for the second book in the series, "The Fourth Ruby." Out today, readers can follow Jack and Gwen on another thrilling mission inspired by the historic streets of London and the author's deep love of Sherlock Holmes.
The Fourth Ruby takes place a year after the first book. Jack's father is still in a coma, he hasn't really been talking to Gwen, and his tracker abilities are a bit wonky. That all changes when Jack and Gwen are framed for stealing one of the iconic crown jewels and thrust into a new mission where they'll have to find the uncover the real thief and prove themselves innocent. These cursed rubies are said to bring knowledge, loyalty, and command of nations to whoever possesses them, so Jack and Gwen must race to find the three cursed rubies before they fall into the wrong hands.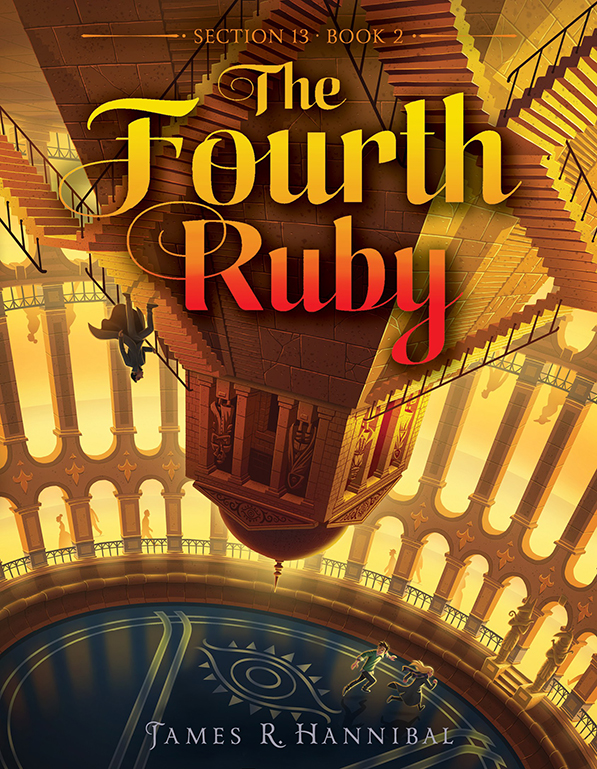 If you love getting lost in fictional worlds and unraveling puzzles, mysteries, and riddles, then this is the series for you. We were already delighted by this story, but after chatting with the author and hearing about how his real-world experiences influenced the book, we love it even more, and we know that all the readers out there will too. You'll never travel anywhere again without wondering if there's a secret society or something magical happening beneath the floorboards of a seemingly ordinary place. That's what makes The Fourth Ruby and The Lost Property Office really come to life – it feels as if you could really head to London and find a secret underground world hidden in the shadows.
Whether you're already a fan of the series or this is the first you're hearing of it, you'll love reading this interview with author James R. Hannibal. He went above and beyond to share brilliant, detailed insight into The Fourth Ruby, his inspiration behind the series, and Jack's extraordinary abilities.
The Fourth Ruby – Interview with Author James R. Hannibal: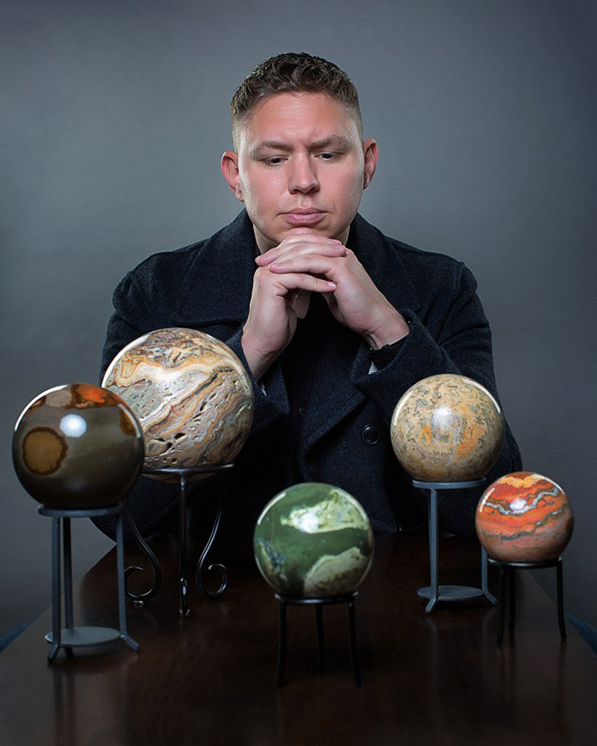 YAYOMG!:

Can you share a little about what inspired you to write the fantastic Section 13 series and what readers can expect from The Fourth Ruby?
JAMES R. HANNIBAL: If you ask any die-hard mystery fan for their favorite mystery address, they will likely answer with "221B Baker Street." I would. So when my day job as a pilot took me to London, I struck out from my hotel to find the famous address of Sherlock Holmes to discover what strange reality might lie in wait there. I was not disappointed.
The Jubilee line of the Tube brought me to a station decorated with life-size sketches of the great detective's most famous cases, and this got me into a mystery-ish mood. Then, as I climbed the stairs to Baker Street, I saw a sign. "The Lost Property Office," it read. "This way." The sound of those words in my head was so exquisitely British that I could not pass up the invitation. Content to delay my appointment with Mr. Holmes, I followed more signs and arrows until I came to 200 Baker Street, only a few doors down from 221B itself. And there I saw a marvel.
A window display case held a gray top hat with its rim slightly frayed, an iron that might have come off the set of Downton Abbey, some faded record covers, and other antiques. Putting my forehead to the glass, I saw desks inside labeled Enquiries and Submissions. This was a big lost and found—a lost and found for all of London. The wheels began to turn. Actually, I tried to go in and take some pictures, whereupon a surly woman with a Jamaican accent chased me out. And then the wheels began to turn.
An office so close to the address of Sherlock Holmes focused on finding what is lost and equally focused on strict enforcement of regulations like "No Pictures!" must be a front for a secret society of detectives that serves the British Crown.
After paying homage at the Sherlock Holmes Museum, which is what I found at 221B, I wandered the city. I don't remember precisely where I went, or to whom I spoke, only that during that walk the Ministry of Trackers, the Ministry of Dragons, the Ministry of Secrets, and the Ministry of Guilds were all born. And, I think, since work had taken me away from my children for several weeks by then, the story that surrounded these ministries became that of a boy searching for his father.
As to The Fourth Ruby, each story in the Section 13 series will require Jack and Gwen to solve a historical mystery in order to stop a present-day villain or catastrophe. In The Lost Property Office, they tackled the real who-dun-it of the Great Fire of London. In The Fourth Ruby, they must uncover a great secret that joins three cursed (and very real) rubies from the crown jewel collections of multiple empires.
Jack and Gwen will use clues from the past and present to track a thief and stop him from uniting the gems and unleashing a long dormant power that once wiped out more than ten percent of the Earth's population. The journey will take them deep into London's underground Thieves' Guild, through enclaves of the Ministry of Secrets and the Ministry of Dragons, and into Jack's own psyche, revealing hidden abilities he might rather have left untapped. Also, Sadie gets a bigger role to play, and she's kind of my favorite, so yay!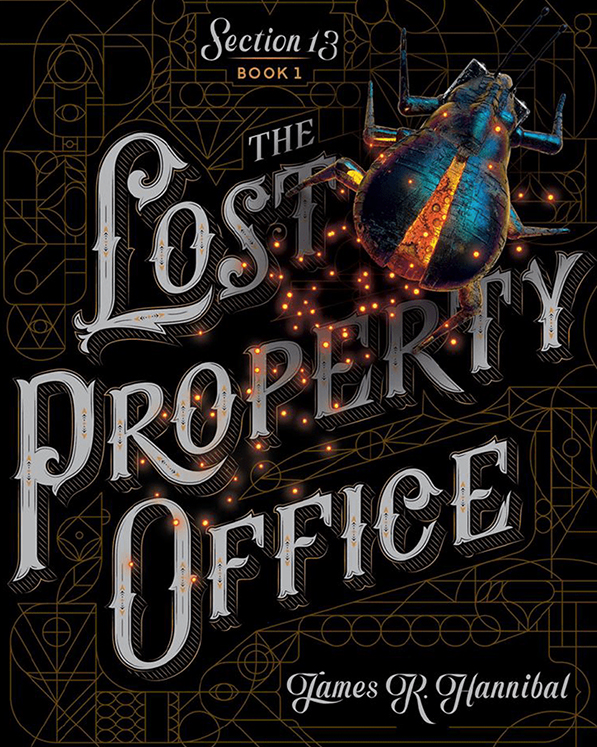 YAYOMG!:

So much of The Lost Property Office and The Fourth Ruby takes inspiration from real places and historical happenings in London. What is it about London that makes for such a great story?
JAMES: London is my favorite place on Earth, especially when my family is there with me. It is a meeting place of all kinds of magic: Kings and Queens, Arthur and Merlin, Holmes and Watson, and the incredible scientific discoveries of the Royal Society. In London you will find dragons and guilds and a memorial to a dictionary-loving cat. And when you look beneath those ancient streets where so much of humanity has walked, you find a whole new world to explore. I cannot imagine another place so rich with stories.
YAYOMG!:

In the book, Jack has a unique ability to see, feel, and sense the world differently than most, which helps him become a great and observant tracker. What inspired these abilities?
JAMES: Believe it or not, Jack and I have a lot in common. I wanted to re-invent the hyper-observant detective. With so many out there—Sherlock Holmes, Nancy Drew, Encyclopedia Brown, and so on—I did not want to make my detective redundant. In this search for originality, my wife suggested I look to my own experience.
At that time, I was working for the military and using a secret part of my own life to help my unit catch bad guys. I have Synesthesia, an intersection of the senses. Like Jack, I see and feel sounds, I hear movement and flashes of light, and walking through a bad smell can look and feel to me like walking through a swamp or a sandstorm.
That sounds bad, but sometimes synesthesia helps me notice things others can't, and without getting into classified details, it has helped me save lives. Pouring my own way of experiencing the world into Jack became a sort of catharsis. Of course, I added a few embellishments, including the ability to sense the sights and sounds trapped in the vibrations of stone and steel, but you get the picture.
YAYOMG!:

The world you've built in this series is incredibly detailed, massive, and despite being fantasy, feels so real. Do you have a particular way you go about designing a world for your books, and can you share a little advice on world building for aspiring young writers?
JAMES: This is my favorite part. Thank you for asking. In fantasy, discovering the world is always half the fun, so world-building ("developing the milieu" if you want to impress your friends) is super-important. It is not only about the places, but the people in them, where the shadows lie, and the mist hanging in the air. Most of all, each setting is about the mood you want to convey to your readers and to your characters.
When I created the Archive, I wanted to give Jack a sense of wonder, so I hit him hard with a bottomless well of books, a mysterious creature in the deep, and a blind woman in a gilded hot air balloon. I wanted the Chamber to convey a cozy, Holmesian feel, so I included warm carved wood and Victorian highlights. If you go back and look at the movement from the Lost Property Office to the Chamber, you'll catch Gwen emphasizing the cold to warm transition for you.
Your world is a character in your story, so your world needs to take part in your message. For example, the Ministry Express does more than move my characters around. It helps me demonstrate the magic of science. What is more amazing than a floating cylindrical train or a bioluminescent submarine, yet these things are possible, if not entirely practical. Never think of world-building as purely creating window-dressing for the story. It has to be so much more.
YAYOMG!:

Do you have any favorite middle-grade books that you'd like to suggest to our readers?
JAMES: For pure fantasy, I am a fan of Brandon Mull and Shannon Messenger. For Brandon, start with Sky Raiders. For Shannon, start with Keeper of the Lost Cities. If you want a deeper historical bent (and if you love codes and apothecaries as much as I do) then definitely go with Kevin Sands. Start with The Blackthorn Key.
YAYOMG!:

Can we expect to see more of Jack's exciting adventures in the future?
JAMES: Oh yes. The Fourth Ruby hits shelves on Halloween, and The Clockwork Dragon is almost complete. In the third book, Jack and Gwen will be taking on the mysteries of the First Emperor of China, who (strangely enough) came to power at the age of 13.
Of course, you, the readers, are the ones who keep a story alive. So if you want to see more of Jack, the best thing you can do is share him with your friends. You can also keep up with all Section 13 happenings by visiting the series blog at theministryexpress.com.
YAYOMG!:

What do you hope that readers take away from reading your books?
JAMES: With this series, I wanted to bring out a sense of family. The best stories isolate the hero, but the answer to that puzzle is too often mean parents, dead parents, or both (dead parents and a mean adopted family). I didn't want that for Jack. I want my readers to know that even when they are separated, or fighting, or suffering, families of every kind can be restored. They can love one another. Treasures, secrets, and powers are nice, but love is priceless.
Intrigued? The Fourth Ruby hits bookstores today to be sure to pick up a copy! James was kind enough to share even more insight into the series in the form of Fun Facts, which we'll be posting later this week! Want to get to know another amazing detective? Author Casey Lyall revealed 10 Fun Facts about Howard Wallace, P.I.: Shadow of a Pug.