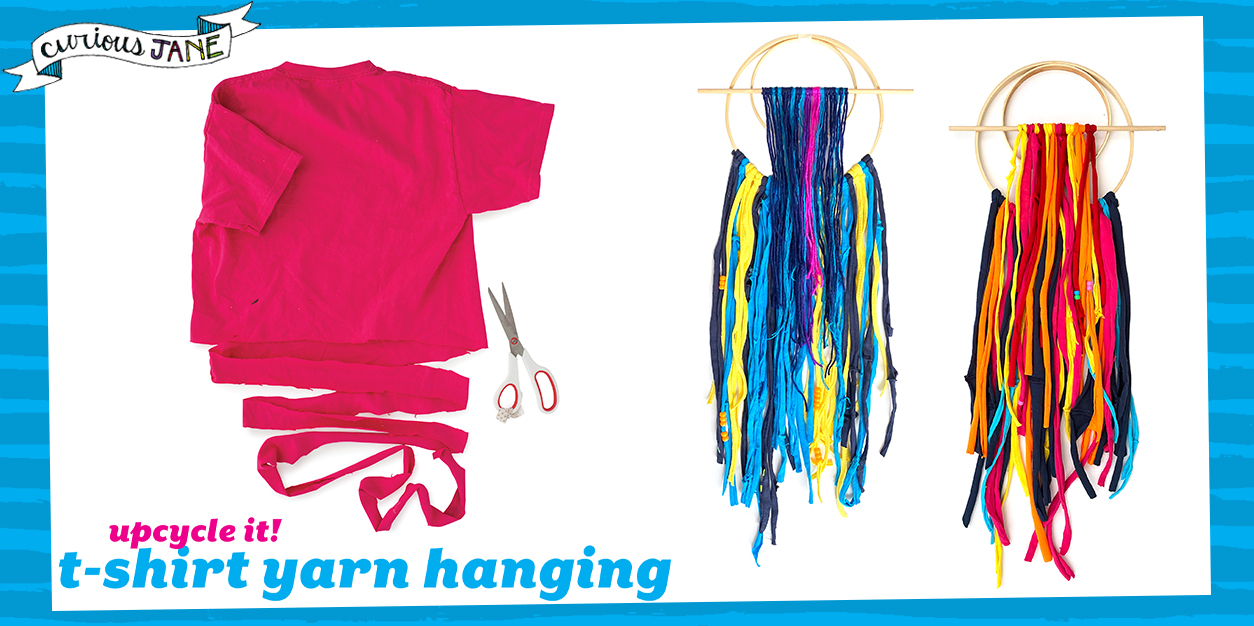 Upcycle Your Way to a Cute Room with This T-Shirt Yarn Wall Hanging DIY
NOTE: This Upcycled T-Shirt Yarn Wall Hanging project was originally featured in Curious Jane Magazine. It has been republished on our website with permission.
You're spending more time at home than ever and after hours of online schoolwork and re-watching your favorite movies, your room is probably starting to feel a little dull. Since we're all stuck inside, why not use some of that free time to kickstart a room makeover and give your space some amazing creative energy?
As you switch over your closet from winter to spring, you're likely to find some old tees you don't really wear anymore. Rather than toss them, you can cut them up and create t-shirt yarn that can be used to make everything from dangly tassels to super cute totes. (You can find those projects on the CJ website!)
We partnered with our friends at Curious Jane to share a simple DIY to help you transform those old shirts into a wall hanging worthy of your bedroom sanctuary. Here's how you can create your own upcycled t-shirt yarn wall hanging!
Make the Yarn: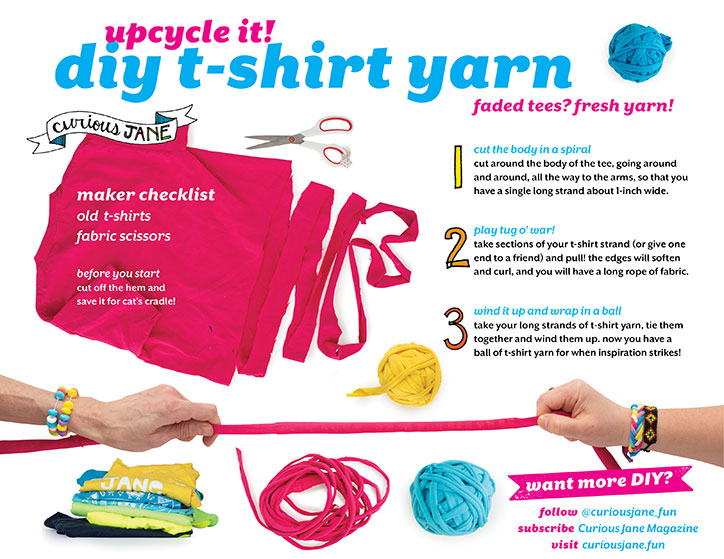 What You'll Need:
Old t-shirts
Fabric Scissors
*Before you start – cut off the hem and save it for a game of cat's cradle!
How-To:
Cut the Body in a Spiral: Cut around the body of the tee, going around and around, all the way to the arms, so that you have a single long strand – about 1-inch wide.
Play Tug o' War: Take sections of your t-shirt strand (or give one end to a friend) and pull! The edges will soften and curl, and you will have a long rope of fabric.
Wind it Up and Wrap in a Ball: Take your long strands of t-shirt yarn, tie them together, and wind them up. Now you have a ball of t-shirt yarn for when inspiration strikes!
Create Your Wall Hanging: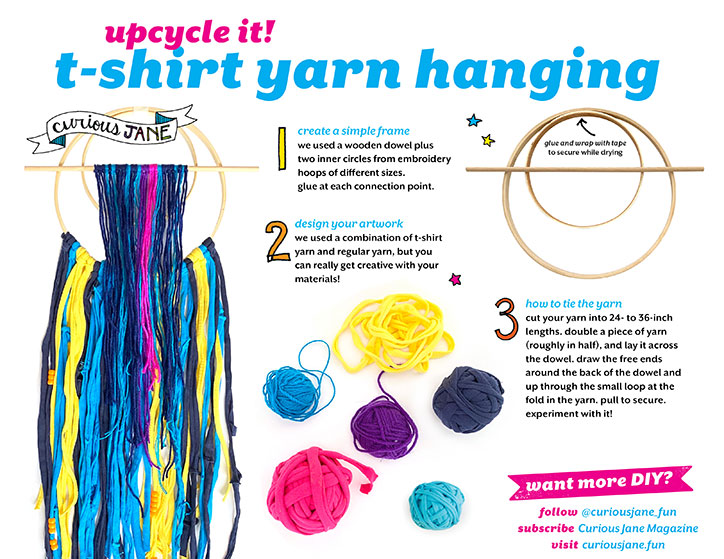 What You'll Need:
T-shirt Yarn (As many colors as you want!)
A sturdy base to tie your yarn to*
Optional: Regular yarn, beads, or other decorations

*Curious Jane used a wooden dowel and wooden embroidery hoops, but you can use anything you have on-hand. Try a branch from your yard for a rustic look!
How-To:
Create a Simple Frame: We used a wooden dowel plus two inner circles from embroidery hoops of different sizes. Glue at each connection point.
Design Your Artwork: We used a combination of t-shirt yarn and regular yarn, but you can really get creative with your materials!
How to Tie the Yarn: Cut your yarn into 24 to 36-inch lengths. Double a piece of yarn (roughly in half), and lay it across the dowel. Draw the free ends around the back of the dowel and up through the small loop at the fold in the yarn. Pull to secure. Experiment with it!
In need of even more instructions? Check out the helpful video tutorial on the CJ website!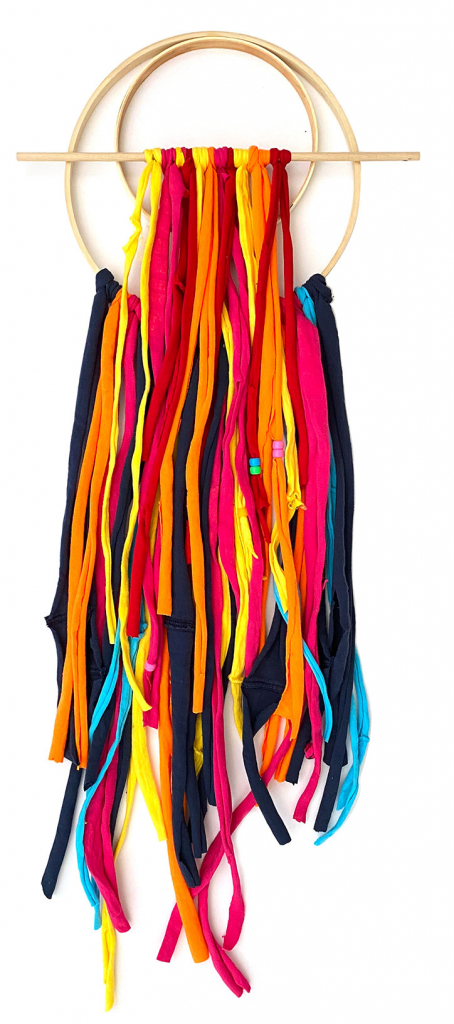 If you're looking for new ways to get crafty while practicing social distancing, Curious Jane has your back! They're leading a live crafting sesh every Tuesday and Thursday at 3pm ET on their Instagram.
We're also helping you stay curious and creative by giving away a year-long subscription to Curious Jane magazine – click here to enter!