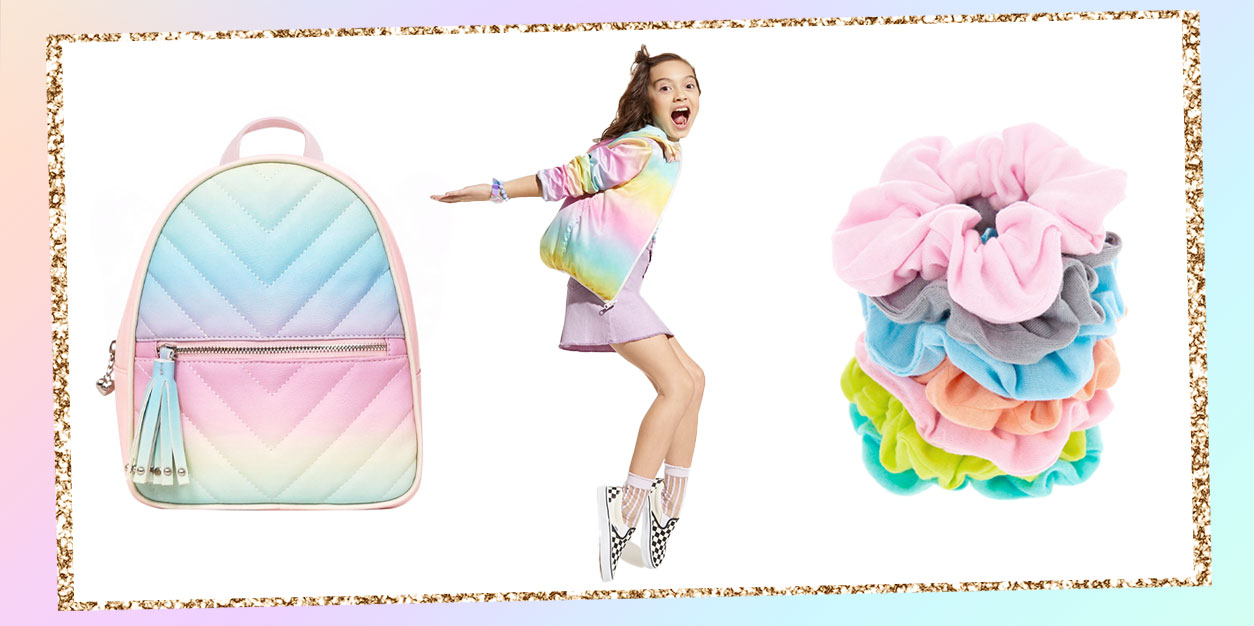 Chasing Rainbows: Radiate Spring Vibes with These Colorful Styles
Springtime is a bit different this year, but that doesn't mean your style has to suffer. Even though we're all doing our part to stay at home, getting dressed and picking out a cute look each day can be a great mood booster. Plus, it's an important way to show your brain the difference between day and night as all the days start to blend together.
You're likely still spending plenty of time out in the yard, biking around the neighborhood, and video chatting with friends and family – all great reasons to let your style shine.
Since we could all use a burst of colorful energy right now, we curated this Chasing Rainbows lookbook filled with pastel vibes and vibrant ways to add big rainbow energy to your closet this season.
Chasing Rainbows – Our Picks for Rocking Rainbow Style this Spring:
Spring weather is unpredictable, but your style doesn't have to be! This super-soft windbreaker is perfect for those warm, yet breezy days.
The best part? This lightweight jacket is actually reversible, so you can swap from bold rainbows to iridescent shimmer to match your look and your mood.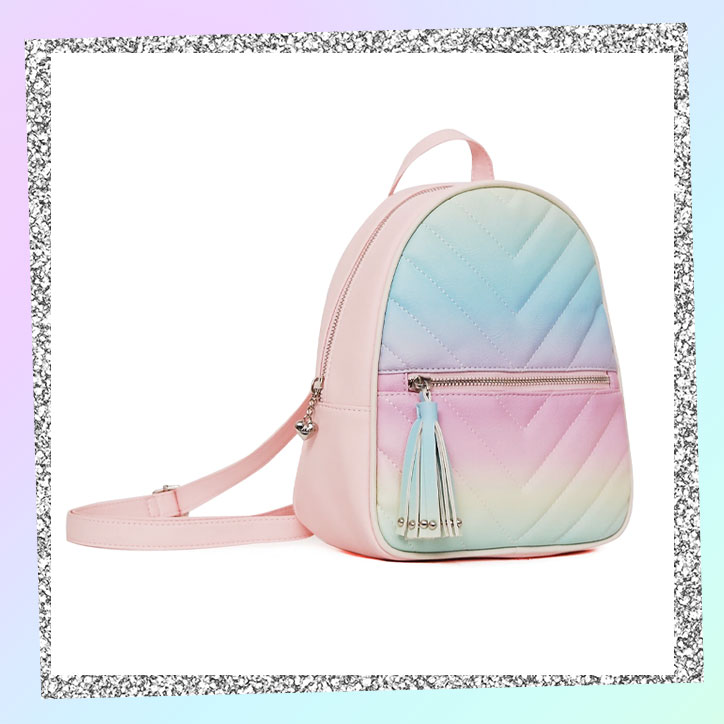 Chevron Ombre Mini Backpack from OMG Accessories
You might not have anywhere to go right now, but that doesn't mean you can't snag this chic mini-backpack for those impromptu backyard photoshoots!
Plus, once you're able to hit the mall or walk the school hallways again, you'll have the perfect bag for stashing your stuff in style.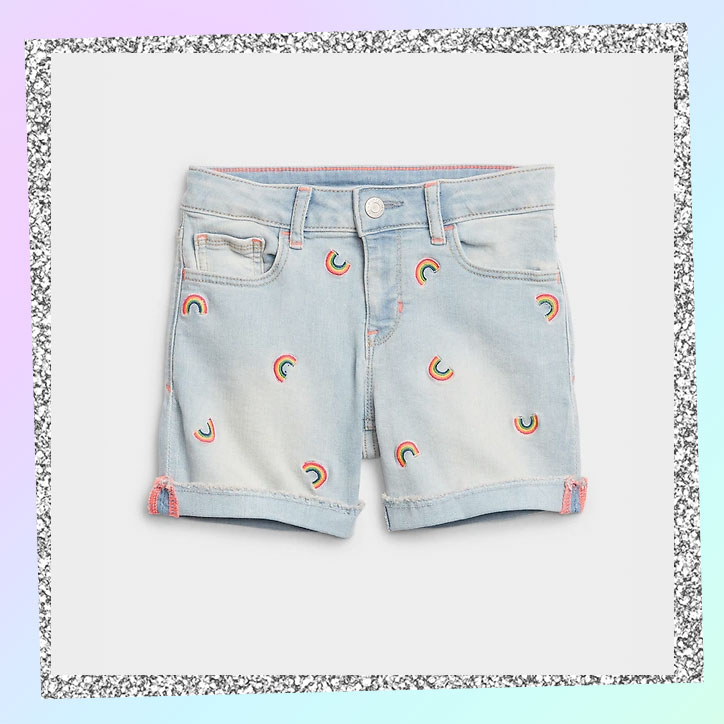 Rainbow Denim Midi Shorts from Gap
We're honestly obsessed with these rainbow shorts! They radiate Spring vibes and will keep you cool all Summer long.
Pair them with your favorite soft tee, an armful of scrunchies, and some fabulously colorful accessories to really bring this look home.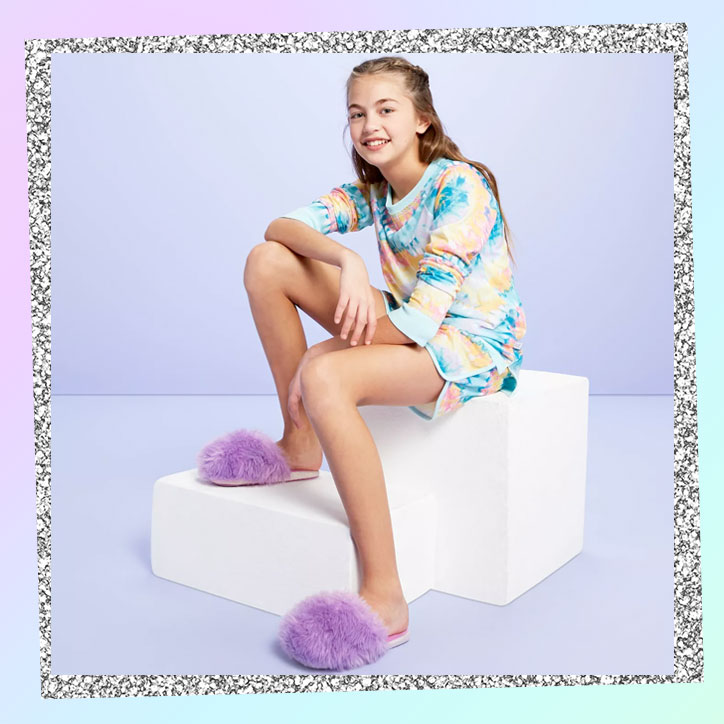 Tye-Dye Pajama Set from Target
Since you're likely spending a ton of time in your comfy clothes, we think these tie-dye pajamas are a perfect pick for lounging around the house.
These soft, yet stylish pjs are great for cozying up with a good book or your next couch-date with your fav streaming service.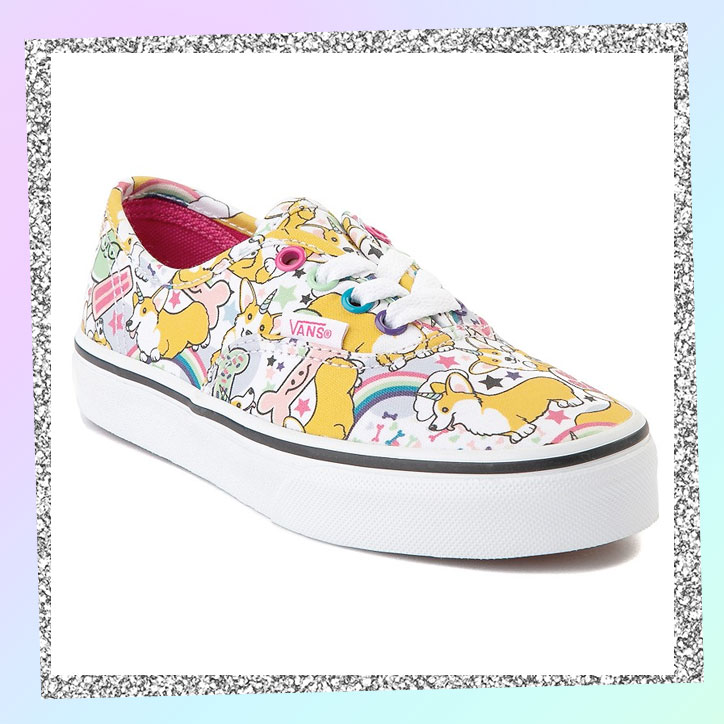 Vans Uni-Corgi Skate Shoes from Journeys:
Is anything cuter than a corgi in a unicorn horn? Complete with chunky corgi butts, rainbows, stars, and bones, this cheerful print will keep you smiling all season.
Vans skate shoes are a wardrobe staple, especially in the warmer weather. They pair great with everything from shorts and skirts to pants and overalls, and these ones are simply too adorable to pass up!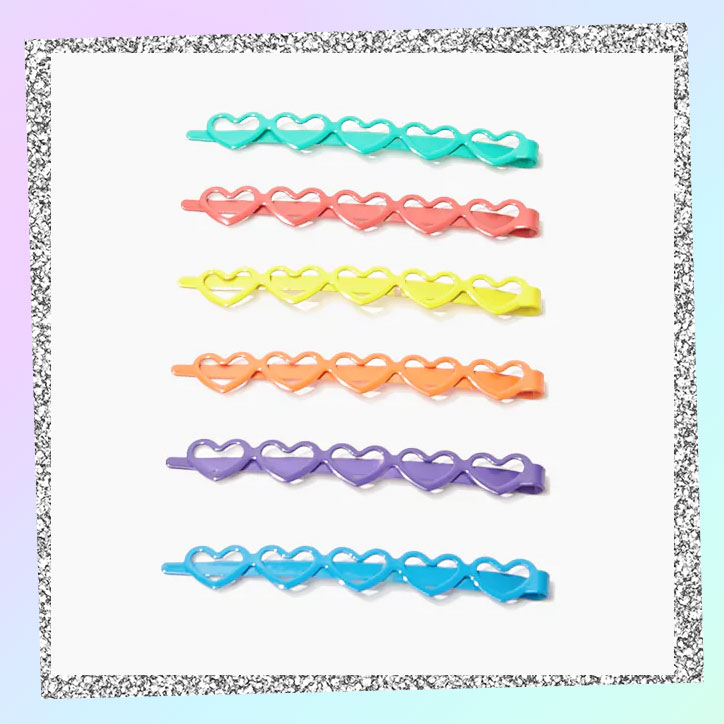 Heart Cutout Bobby Pin Set from Forever 21
We totally heart this colorful bobby pin set from Forever 21!
Slide one off to the side for a simple pop of color or wear a few in a vibrant rainbow stack. Subtler than a chunky statement clip, but still a surefire way to make your selfies shine!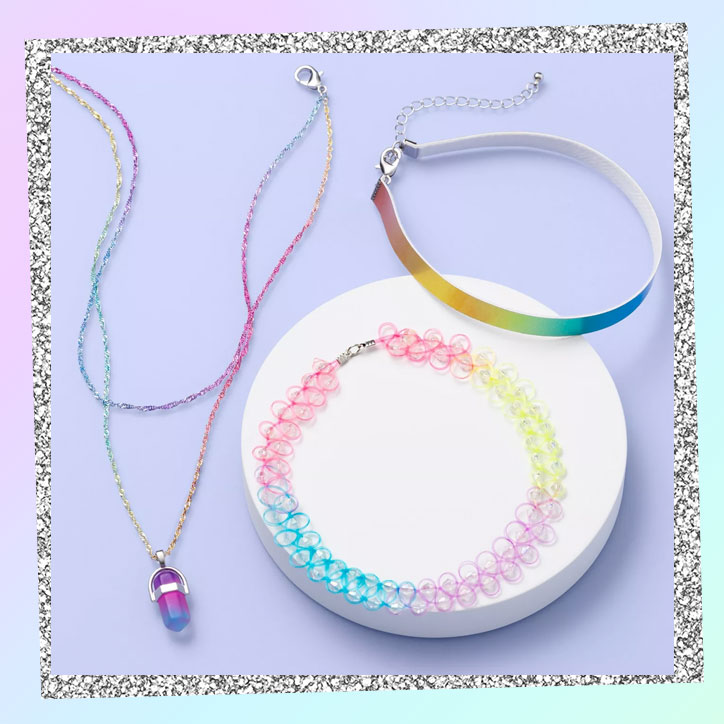 3-Piece Choker Set from Target
Who said rainbow can't be glam? These colorful chokers will bring vibrant flair to any look.
This 3-piece set boasts a tattoo choker, a chunky holographic choker, and a whimsical crystal necklace, all in striking rainbow colors. Mix and match to make any outfit instantly more awesome.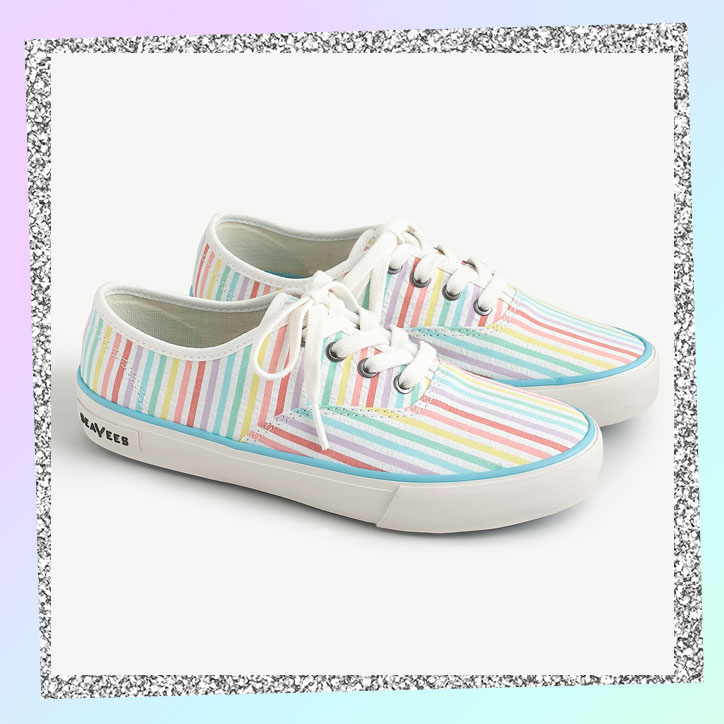 Rainbow Seersucker Lace-Up Sneakers from JCrew:
If your favorite color is rainbow, you NEED these amazing sneaks in your collection. They're great for everyday wear and the softly colored stripes add color to your look without overwhelming your thoughtfully curated look.
Whether you're having a springtime picnic or capturing the perfect jump pic for your feed, you can feel confident in your colorful style.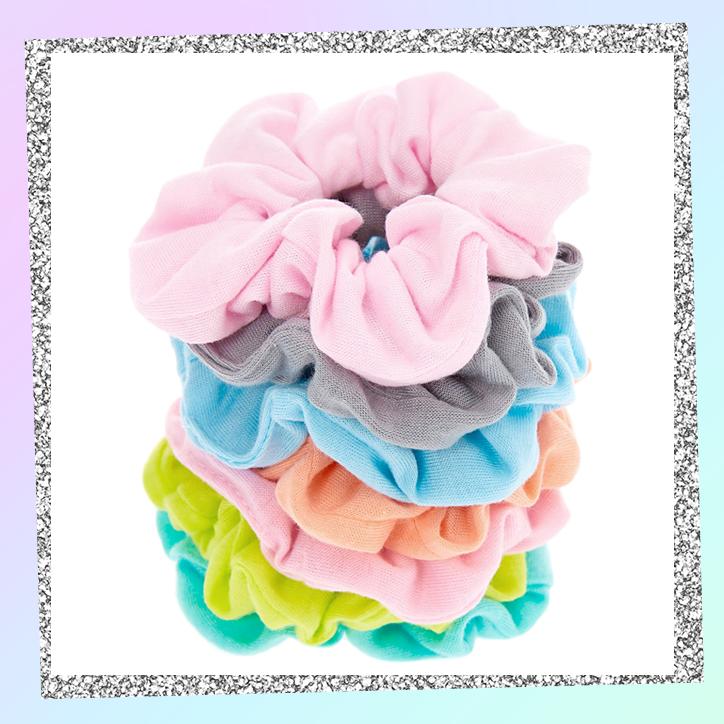 Small Pastel Rainbow Scrunchies from Claire's
"I have too many scrunchies!", said no one ever!
These mini-scrunchies will look fab in your hair or on your arm. This 7-pack comes with all the soft shades you see above so you can easily switch them up to match all your best looks.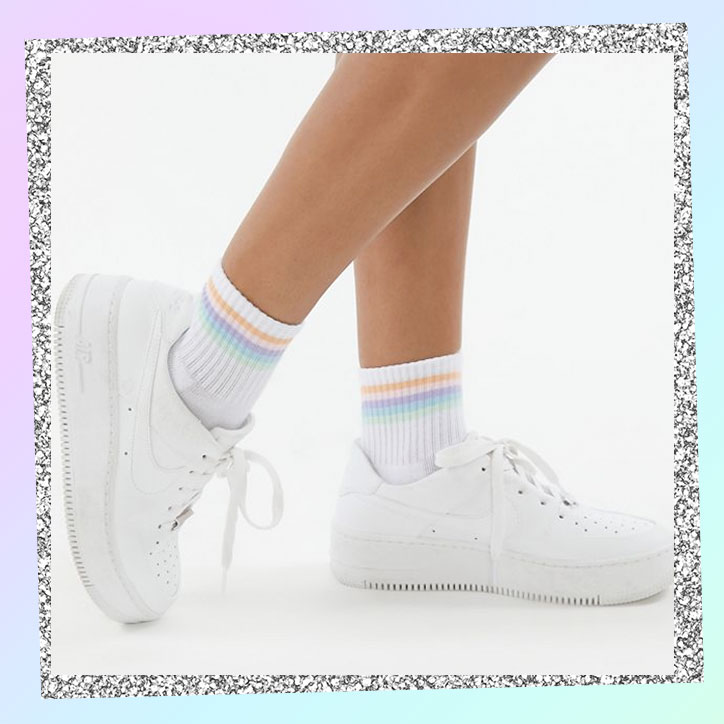 Rainbow Striped Quarter Socks from Urban Outfitters
These short tube socks have subtle rainbow vibes galore!
Perfect for adding a simple pop of color to your look, these socks are a great way to accessorize your already fierce #OOTD. They're sure to put you in the mood for chasing rainbows, picking flowers, and catching butterflies.
Updating your wardrobe this Spring? Upcycle your old tees into fabulous room decor with this T-Shirt Yarn Wall Hanging DIY!