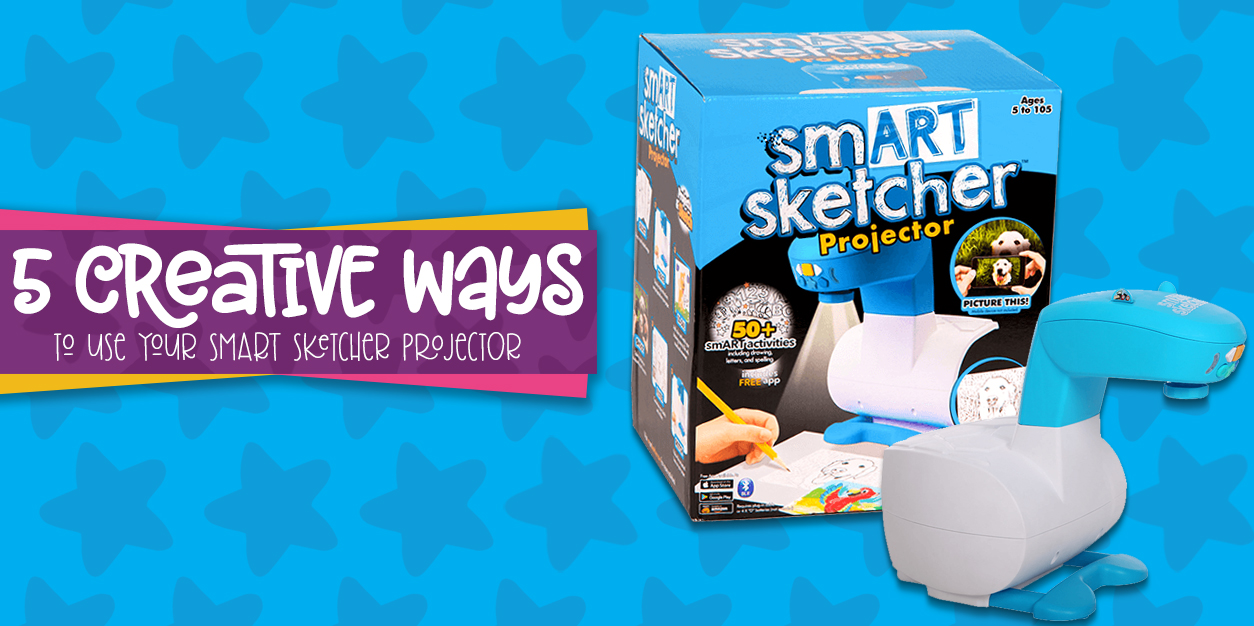 5 Creative Ways to Use Your smART Sketcher Projector
Note: We received a smART Sketcher Projector for free from FlyCatcher in exchange for a fair and honest review. All opinions are our own; we were under no obligation to give a positive review.
The smART Sketcher Projector from FlyCatcher is a super cool new way to take your drawing and art skills to the next level. The smART Sketcher allows you to channel your inner artist and sketch literally anything, as long as you have a picture of it! You can use the themed pre-loaded SD card packs to learn drawing basics or connect your smartphone to draw pretty much any image in your phone's library. This means you can sketch your favorite selfies, the endless pet photos cluttering up your phone, or even an image of your favorite celebrity or video game character.
It's a really fun tool for budding artists of all ages and artistic abilities, which means that you can use it on your own or as a way to bond with your younger siblings. There are packs for the younger crowd that teach letters, numbers, and spelling as well as packs for aspiring artists that help you draw dinosaurs, sea creatures, princesses, and more! The best part though is being able to download the smART Sketcher app and turn literally any photo into a sketchable piece!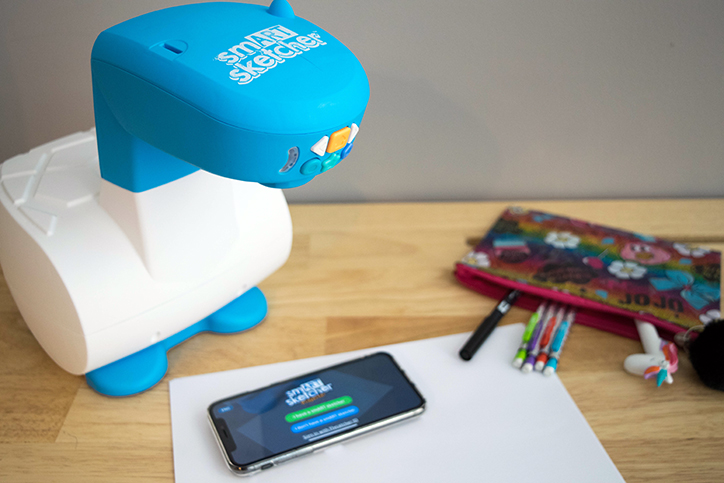 Flycatcher kindly sent us a smART Sketcher to review, and we just HAD to try out being able to draw some of the stuff we had on our phone. We started with a picture of Star Butterfly from Star vs. the Forces of Evil, one of our favorite shows. We aren't exactly what you'd call artists, it's a masterpiece when we can draw a stick figure. After downloading the app and some super quick set-up, we were able to bring Star Butterfly super easily, by tracing the lines projected onto the paper in front of us, which we immediately hung up on our office walls for the world to see. While working on our sketch, we realized there were a TON of really fun ways to use the smART Sketcher Projector to really step up your art game, so we put together a list!
5 Creative Ways to Use Your smART Sketcher:
Make a Customized Card:
How many times have you gone to a birthday party only to realize that like 3 other people gave them the same birthday card that you did? Using your smART Sketcher, you can create a custom card with an extra special drawing your friends and family are sure to love. If the card is for your mom who has a soft spot for sunflowers, use the projector to help you draw a gorgeous sunflower that will put a smile on her face and definitely land your creation a spot on the fridge. Headed to a birthday party for your bestie who's obsessed with JoJo Siwa? Instead of giving them the same JoJo card as everyone else, you can draw them one that will really stand out!
Create Faux Polaroids:
Snapping selfies with your Polaroid Snap or Instax Mini is a great way to make memories with your friends, but what if you took it one step further? Using the smART Sketcher Projector, you can transform any image on your phone into a beautiful drawing – including all those photos of you and your besties hanging out together. Sketch a few to clip up on a photo string in your room, make a unique photo collage wall, or just give them out to your friends to hang in their locker to capture all your best moments in a seriously unique way. Take your photo drawings to the next level by mounting them on cardboard to keep them sturdy, using craft paper to create colorful paper frames, and add glitter and washi for extra flair.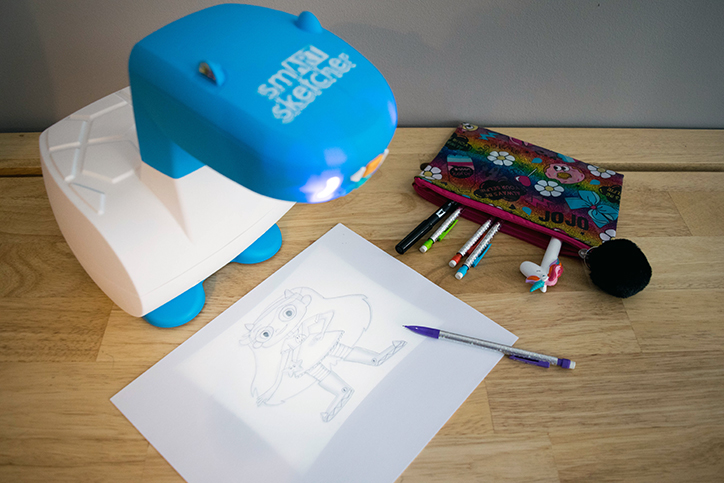 Practice Your Fan Art:
One of the best ways to get familiar with drawing your favorite characters is to trace them. This helps you understand the shapes, lines, and styles that make up the characters you love. The smART Sketcher is excellent for tracing, and being able to transfer any image from your phone to the projector makes it a breeze. This is how we drew Star Butterfly!
Just find a clear image of the character you want to draw, send it to the projector, and get sketching! Once you're done, bring the character to life in a whole new way by changing up some of their features, giving them a different outfit, or coloring them in with a whole new color palette. As you get to know the things that make the character who they are, you'll find it much easier to draw them on your own without tracing and even find your own style.
Bring Your School Projects to Life:
Why slap a super boring title page on your next book report when you can draw the cover of the book instead? Working on a science project about dinosaurs? How about sketching a few triceratops and velociraptors to bring your poster board to life? Next time you're working on a project for school, think about how you can use your smART Sketcher to add drawings. We think there are a ton of ways to transform ordinary projects into eye-catching presentations that are sure to land you an A!
Bring it When You Babysit:
Heading out on Friday night to watch your neighbor's kids and make a few bucks? Bring your smART Sketcher and some crayons along to make the night full of creative fun. The included SD card comes with 50+ different drawings to create as well as themed packs like Under the Sea and Space Odyssey that you can buy in stores.
Want to get your hands on a smART Sketcher Projector? You can buy them from Amazon, Target, Walmart, and Barnes and Noble as well as other retailers for $59.99. The Activity Packs and Creativity Sets are sold separately, and you can check them out on the smART Sketcher website, here! If you create any amazing drawings with your smART Sketcher Projector, be sure to tag it with #smartsketcher!
Feeling creative? Hannah Grace from BeYOUtiful shared some of her best bath bomb DIY tips so you can create amazing bath bombs at home!