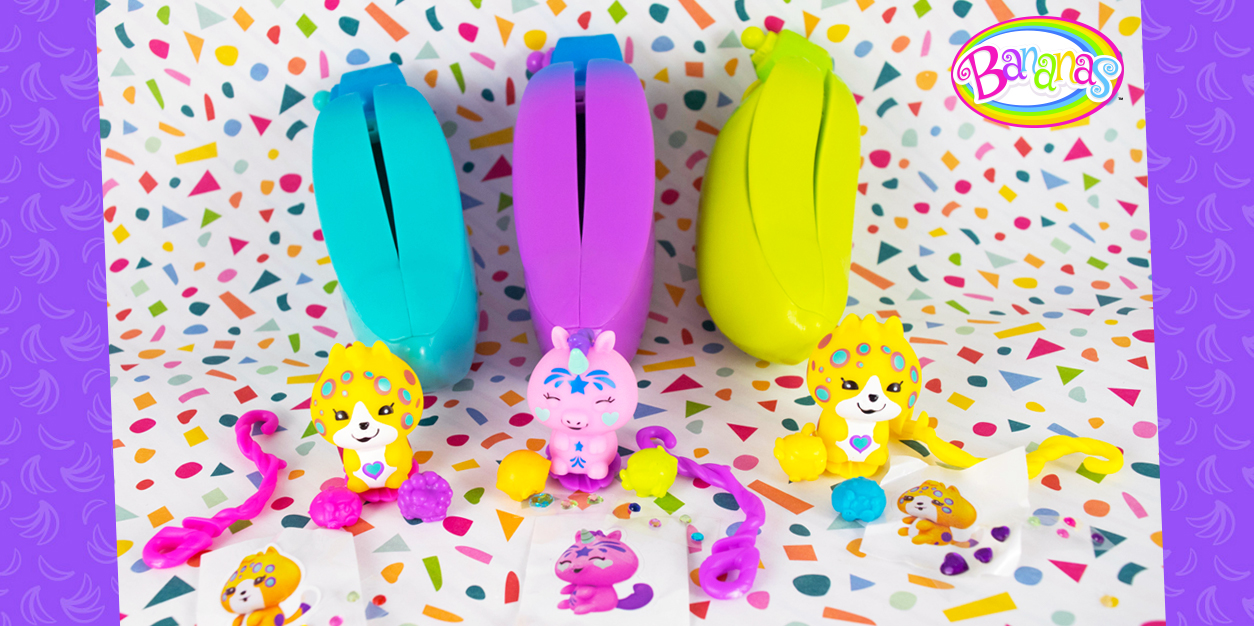 Peel Back the Fun with Bananas
Note: We received a complimentary sample of Bananas from Cepia LLC in exchange for a fair and honest review. All opinions are our own; we were under no obligation to give a positive review.
You're going to go completely BANANAS for these adorable new collectibles! Bananas are a new series of blind reveal collectible toys that are smell-able, peel-able, and squeeze-able.
Keep on reading to find out why we're obsessed with these adorable new toys!
Everything You Need to Know About Bananas: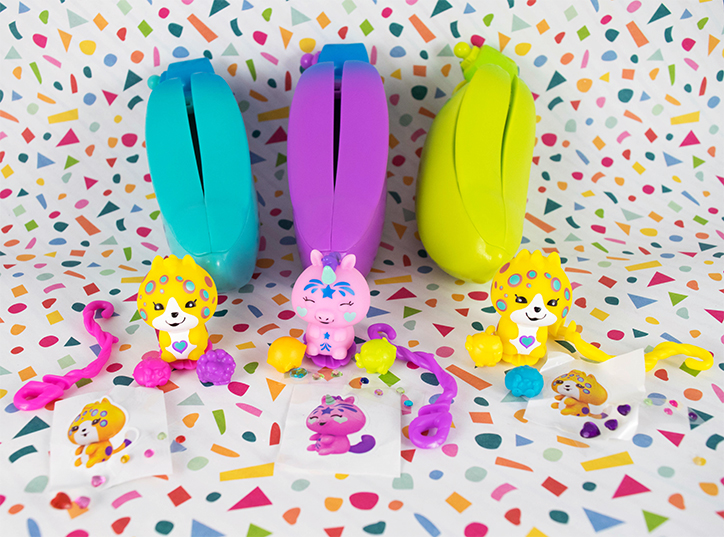 Meet the Crushies:
As you peel back each banana, the first thing you'll discover is the fruity smell – they smell just like real bananas! Peel them open to reveal the colorful creature waiting inside. These cuties are called Crushies. At the moment there are 24 Crushies to find, with even more on the way! The full Season 1 set of Bananas will have 96 Crushies for you to discover, collect, and trade with your friends. Like many other collectible series, Crushies can be common, rare, and ultra rare.
Our favorite thing about Crushies? The wide variety of adorable animals! They aren't just your typical mix of creatures – there's everything from jellyfish to spiders to roosters and sloths! Ariana Spider is our absolute favorite because she's so unique and colorful, but Jamie Jellyfish at a close second. In our 3-pack we got Pop Unicorn and two Lucy Leopards. You'll notice that even though we received a duplicate, the gems and vine color are still different, giving us a little variety! Can you collect all the Crushies?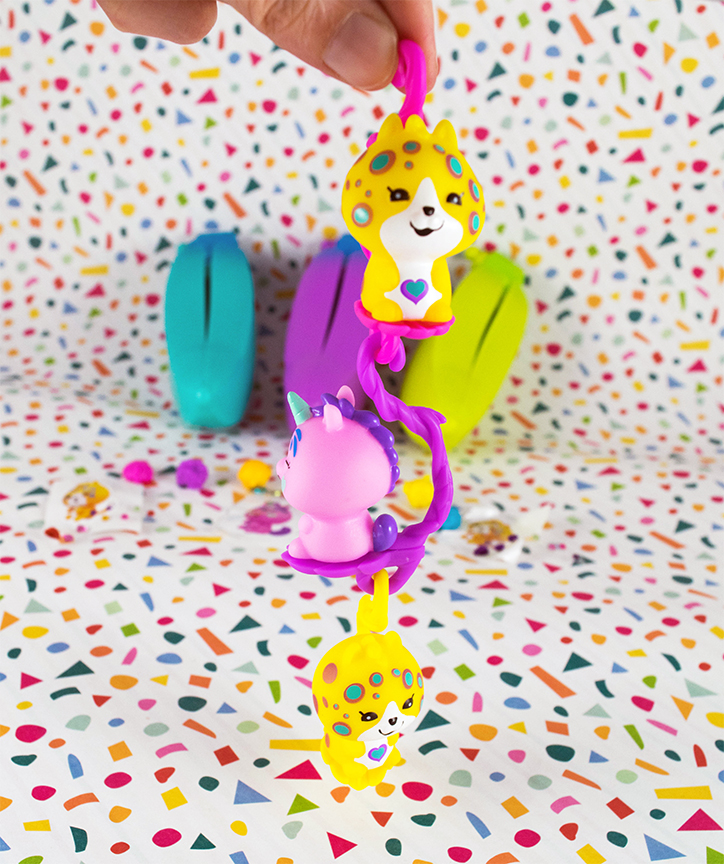 Decorate and Connect:
Every Banana you peel comes with a variety of different ways to get your play on. Each one comes with sparkly gemstones and stickers so you can customize your Crushies and bling out your Bananas in style. Show off your personality, your love of sparkle, and make your Crushie entirely your own. Unlike a lot of other collectibles where once you tear open the bag or crack through an egg, Bananas can be resealed and used as a super cute way to store your Crushies and take them with you – something we think really makes them stand out!
Every Banana also comes with a vine that doubles as a display stand for your Crushies and a way to connect them together in a long chain. You can also clip your Bananas onto your purse or backpack!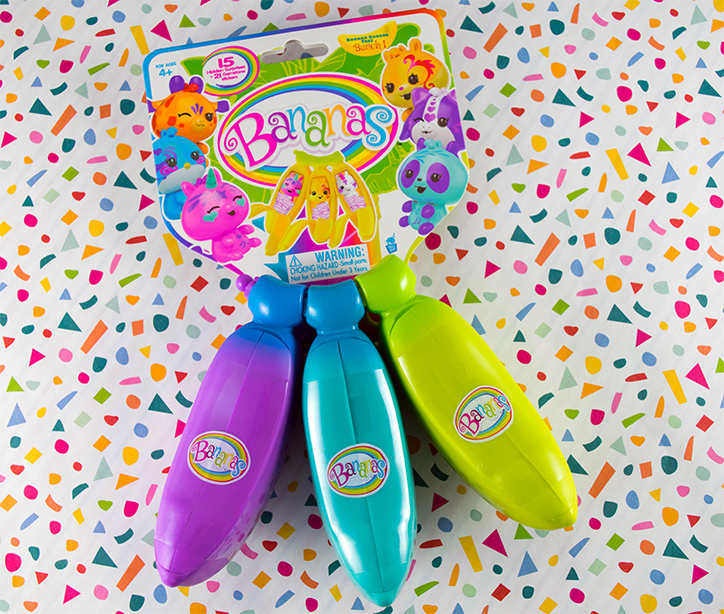 Bunches of Fun:
Bananas come as both singles and packs of three. Single Packs cost around $3.99 each and 3-Packs are about $9.99 and come with three times the fun! Here's what you'll find when you pull back the peel!
– One Crushie
– 2 Mini Squeezable Friends
– Gemstones for decorating and blinging out your Crushies
– A Collector Sheet, for keeping track of your collection
– A character sticker
– And a vine for displaying your Crushies and connecting them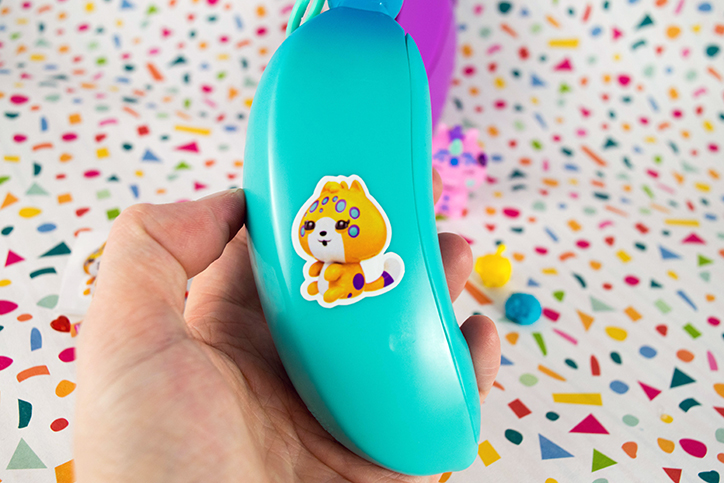 Need Bananas in your life? They're available now at Amazon, Target, and Walmart! You can find lots of downloadable wallpapers, coloring pages, and activities on the Bananas website, so be sure to check it out.
Crazy for collectibles? Click here to check out some of our other favorites!