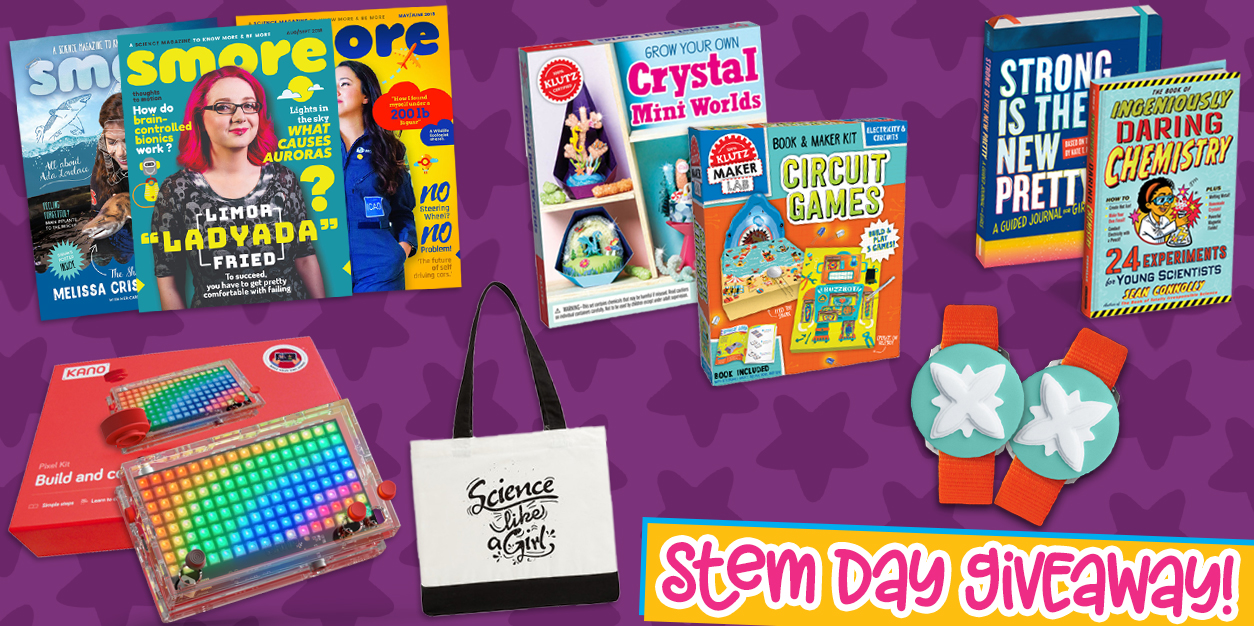 Innovate, Code, and Make with our STEM Day Giveaway
NOTE: The items in our STEM Day Giveaway Prize Pack were provided by the brands Jewelbots, Smore, Klutz, KANO, and Workman Publishing. No money was exchanged, and all opinions are our own. We reached out to these brands for the giveaway because they create products we love.
Calling all inventors, coders, builders, and experimenters! Today is National STEM/STEAM Day – a day all about supporting kids who are passionate Science, Technology, Engineering, Art, and Math. It's also a great day to spark your interest in STEM, explore more about the fields, and honor the brilliant minds who have paved the way for kids like you. Whether you're already passionate about STEM or you've barely dabbled with much outside of school, this day is for YOU!
Something we are passionate about here at YAYOMG! is connecting girls with the things they love most and helping them realize their biggest dreams. We're also all about having fun! That's why we're celebrating STEM Day in a big way! We've partnered with some of our absolute favorite brands to bring you an incredible list of must-have STEM-focused items and a massive GIVEAWAY! One lucky winner will receive a HUGE prize pack filled with products that will help you get hands-on with the basics of chemistry, coding, circuitry, and innovation.
Our Favorite STEM-Focused Products:

Jewelbots Friendship Bracelet from Jewelbots:
Jewelbots may look like ordinary friendship bracelets, but they're so much more! These smart friendship bracelets will help you learn to code through a series of coding challenges. Tap into your inner creativity and program applications that make your Jewelbots vibrate to remind you to study for an upcoming test, flash a rainbow when all your friends are together in the same room, and even send secret messages to each other. The possibilities are as infinite as your imagination, and Jewelbots has a supportive community of fellow coders you can learn from, collaborative in-person coding events, and more!
Since Jewelbots are even better when programmed to interact with each other, the lucky winner will receive TWO Jewelbots with their STEM Day prize. Share one with a friend or sibling so you can learn to code, problem solve, and tinker together in style!

Science Like a Girl Tote and 3 Issues of Smore Magazine from Smore:
Smore Magazine is one of our absolute favorite magazines out there. They're helping girls ignite their brilliance with a magazine that is cover to cover SCIENCE! Every issue features a female scientist on both the front and back cover. In between the covers, you'll find page after page of interesting articles, spotlights on young Science divas, quizzes, and a glimpse into pretty much every type of Science. Whether you dream of one day curing a disease, caring for animals, or heading to outer space, every issue of Smore Magazine will fuel your curious spirit.
The winner of our prize pack will receive THREE issues of Smore Magazine featuring everything from busting myths about sharks to how auroras are caused to a profile on Ada Lovelace and everything in between. And yes, you'll even get that amazing SCIENCE LIKE A GIRL tote bag! If you love Smore, check out our interview with Smore founder, Sarita Menon!

Grow Your Own Crystal Mini Worlds and Circut Games Kits from Klutz:
Klutz has always been at the forefront of inspiring kids to get creating. Earlier this year, they released the Klutz Maker Lab, a brand new line of STEM-focused kits that help you learn the basics of circuitry, robotics, and building with easy to understand instructions and a great sense of humor.
With the Circuit Games Kit, you'll get hands-on with real electronic components to construct 5 different playable games from scratch using electricity and circuitry. Add in working LED lights, wires, and buzzers to make your games interactive and exciting to play with your friends and family. What could be more satisfying than showing off a game you built entirely on your own?
The Grow Your Own Crystal Mini Worlds Kit contains everything you need to grow rainbow crystals. The included book teaches you everything you need to know about minerals, crystal formation, and how to use that to make beautiful creations. Make a stunning seahorse coral reef, a magical unicorn forest, or even a dragon's lair to display in your room or gift to a friend.

Pixel Kit from KANO:
Build your own games, animations, and artwork by coding dazzling lights! KANO's Pixel Kit connects with your computer to help you learn simple coding techniques that will help you bring the lightboard to life. Read through the included storybook and complete drag and drop coding tasks and challenges to unlock your love of computer science. Learn to scroll text across the screen, make the lights dance with your voice, and even program simple games. Once you've created a masterpiece, share your creations via the KANO World community and play, tinker, and hack creations by fellow coders!
KANO's mission is to create easy to understand products that teach us to understand the technology we use every single day. Computers, tablets, and phones are a crucial part of our daily lives, but only 1% of the world know how to open them up and tinker with them. KANO is hoping to change that one buildable product at a time by making things easy and fun. They recently released a codeable Harry Potter Wand and have a programmable camera in the works for next year!

Strong is the New Pretty: A Guided Journal for Girls and The Book of Ingeniously Daring Chemistry: 24 Experiments for Young Scientists from Workman Publishing:
Workman Publishing is known for their fantastic non-fiction books for kids. Their titles always empower readers to learn more about the world around them, and more importantly, themselves! From books that can be transformed into working beehives to the iconic Brain Quest series, Workman knows how to get kids thinking, crafting, experimenting, and discovering who they are.
We've already gushed a bit about the Strong is the New Pretty Journal, so we'll keep this short. This journal is all about empowering you to feel confident and encouraging you to dream big! Two essential traits for a future scientist, engineer, or coder to posses. With over 175 colorful pages and creative prompts, this journal will have you writing, doodling, listing out your favs, and dreaming your biggest dreams.
The Book of Ingeniously Daring Chemistry teaches you the basics of Chemistry in a fun, easy to understand, hands-on way. With over 24 experiments to try, you'll be a master chemist in no time! Each experiment is designed to show off a different element from the periodic table. You'll be conducting electricity, making fossils, and creating a potato clock in no time!
STEM Day Giveaway:


WHAT DO I WIN?:
One lucky winner will receive a STEM Day Prize Pack that includes:
– TWO (2) Jewelbots Friendship Bracelets, provided by Jewelbots
– ONE (1) Science Like a Girl Tote Bag containing three (3) Issues of Smore Magazine, provided by Smore
– TWO (2) Activity Kits: Grow Your Own Crystal Mini Worlds and Circuit Games, provided by Klutz
– ONE (1) Pixel Kit from KANO, provided by KANO
– TWO (2) Books: Strong is the New Pretty: A Guided Journal for Girls and The Book of Ingeniously Daring Chemistry: 24 Experiments for Young Scientists, provided by Workman Publishing
Our STEM Day Prize Pack has a retail value of over $280. All products were generously contributed by the brands to help connect kids with their love of STEM!
HOW DO I ENTER?:
You must be 18 or older to enter. If you are under 18, please have a parent or guardian enter on your behalf by filling out the form below by November 15! Giveaway begins on November 8, 2018 at 12:00 pm ET and ends on November 15, 2018 at 11:59pm ET. Open to US residents ONLY. Please, only ONE entry per person.
THIS GIVEAWAY HAS ENDED AND THE WINNER HAS BEEN SELECTED.
*If selected as a winner, we will provide your parent/guardian with an affidavit to confirm that you are a valid winner who has permission to win. They will need to sign and return this affidavit in order to claim your prize. This step is non-negotiable and REQUIRED to claim your prize. Be sure to read the fully detailed rules HERE before entering.
Now that you're inspired to get involved in STEM, we think you'll love getting to know teen inventor and maker, Allie Weber!