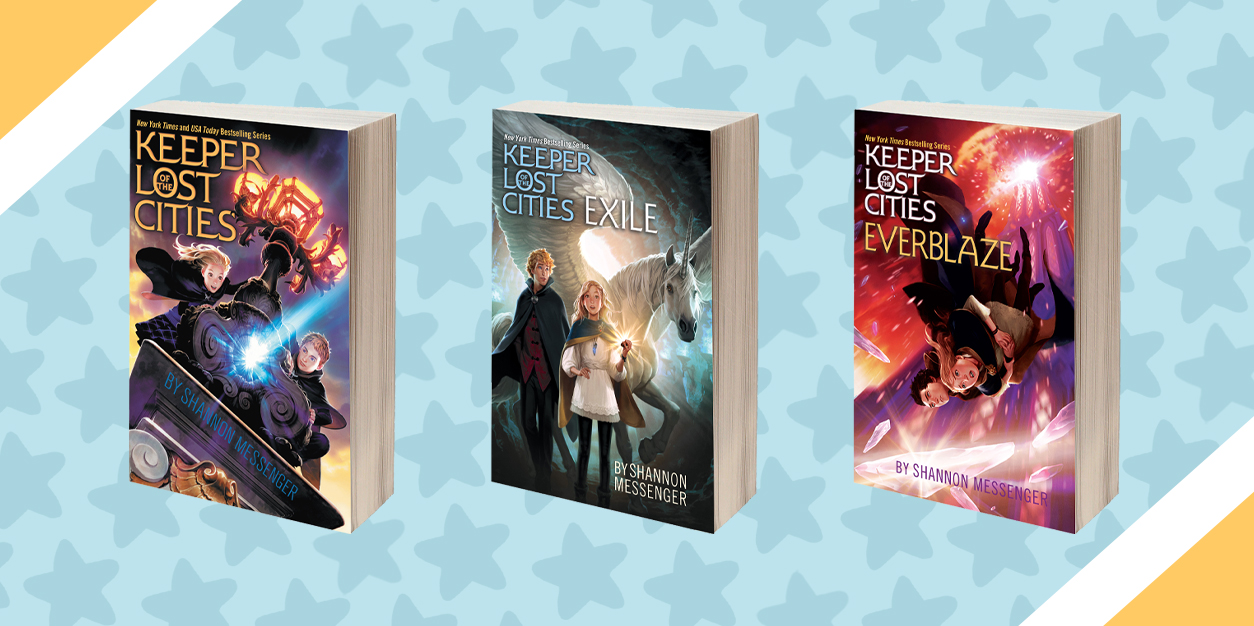 Keeper of the Lost Cities: Summer Read-a-Long and GIVEAWAY!
NOTE: Advanced copies of the Keeper of the Lost Cities series were provided to us by Simon & Schuster we have partnered with them for a giveaway. Giveaway details below.
The Keeper of the Lost Cities series is jam-packed with thrilling adventure, danger, mystery, twists, and kids with powerful abilities.
The 8th book in this bestselling fantasy series, LEGACY, comes out this November and we couldn't be more excited to follow Sophie and her friends on their most dangerous journey yet, filled with conspiracy, lies, and memories that will force them to question everything – including each other!
The worlds, creatures, and characters in the KOTLC series are filled with so much depth and detail, it's hard not to stay up all night getting lost within the pages of these immersive stories. We love rooting for Sophie! At the beginning of the series, she's a 12-year-old prodigy with a photographic memory and secret telepathic abilities living in San Diego with her family.
As the story unfolds and Sophie begins to attend the prestigious Foxfire Academy, she finds herself torn between two worlds and discovers the true power of her abilities and must come face to face with mysterious secrets, battling evil and uncovering the truth about her past.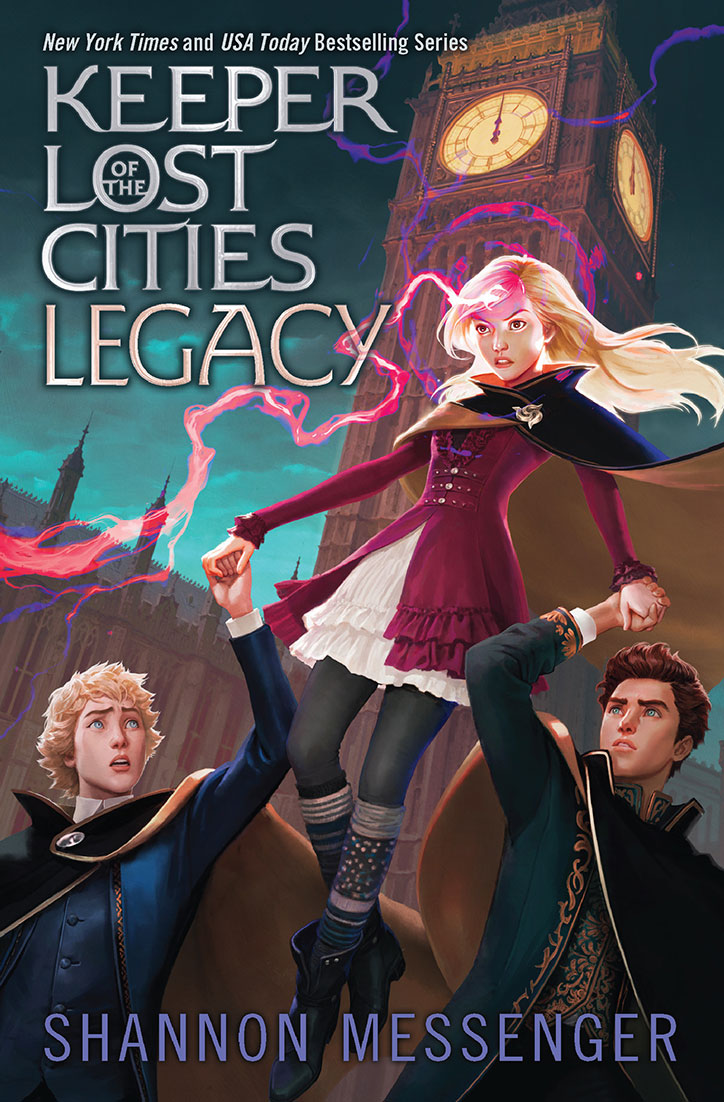 Illusions shatter-and Sophie and her friends face impossible choices-in this astonishing eighth book in the New York Times and USA TODAY bestselling Keeper of the Lost Cities series.
Sophie Foster wants answers. But after a lifetime of lies, sometimes the truth is the most dangerous discovery. Even the smallest secret comes with terrifying new responsibilities.
And Sophie's not the only one with blank spots in her past, or mysteries surrounding her family. She and her friends are part of something much bigger than they imagined-and their roles have already been chosen for them.
Every clue drags them deeper into the conspiracy. Every memory forces them to question everything-especially one another. And the harder they fight, the more the lines blur between friend and enemy.
Keeper of the Lost Cities: Legacy
AUTHOR: Shannon Messenger
PUBLISHER: Aladdin
DATE: November 5, 2019
#KeeperReadAlong:
Starting on June 10th, author Shannon Messenger will be hosting a Keeper of the Lost Cities Read-a-Long on Instagram. She'll be posting a discussion topic each week, sharing favorite quotes, and even answering YOUR questions about the books as Keeper fans read through the series together over the course of seven weeks.
Whether you're a long time fan of the series re-reading for the millionth time or this is the first time you've ever heard of the series, this read-a-long is perfect for Summer reading and catching up on the series before the eighth book is released this November! Be sure to tag your reading posts with the hashtag #KeeperReadAlong to show off your progress!
To help ignite your Summer reading, we've teamed up with Simon and Schuster for an amazing Keeper of the Lost Cities giveaway! Enter below for your chance to win!
A Little More Weird Giveaway: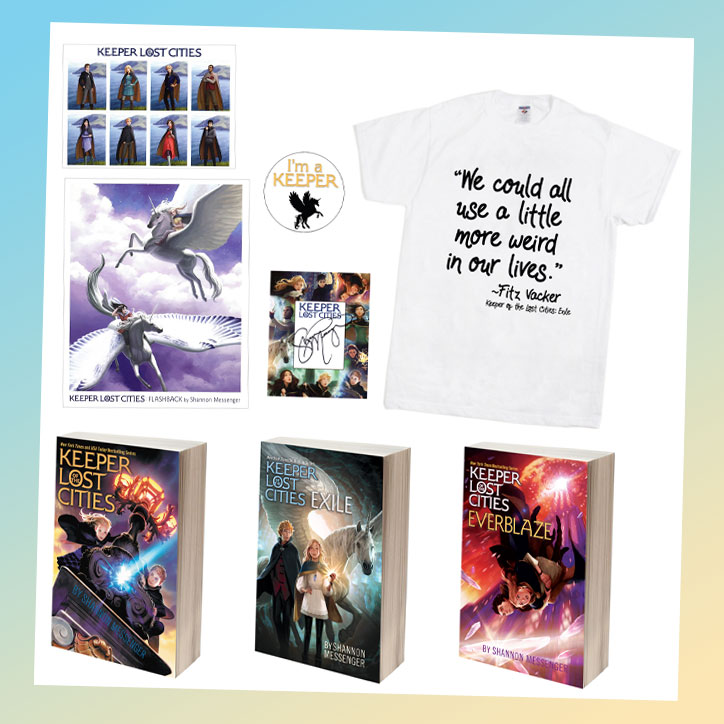 WHAT DO I WIN?:
ONE lucky winner will receive a Keeper of the Lost Cities Prize Pack, generously provided by Simon & Schuster. The prize pack includes:

– Books #1-3 of the Keeper of the Lost Cities series by Shannon Messenger
– ONE (1) I'm a Keeper Pin
– ONE (1) Set of EXCLUSIVE Keeper of the Lost Cities art prints & autographed bookplate
– ONE (1) Keeper of the Lost Cities Quote T-Shirt

HOW DO I ENTER?:
Grab a parent or guardian and have them fill out the form below by June 26, 2019 at 11:59pm ET.
Giveaway runs from 06/19/19 at 12:00 pm ET through 06/26/19 at 11:59 pm. Open to US residents ONLY. Be sure to read the fully detailed rules HERE before entering.
THIS GIVEAWAY HAS ENDED AND THE WINNER HAS BEEN CONTACTED.
You must be 18 or older to enter. Please, only ONE entry per person. If selected as a winner, we will provide your parent/guardian with an affidavit to confirm that you are a valid winner who has permission to win. They will be REQUIRED to sign and return the affidavit to YAYOMG! to claim your prize. Prizes will not be mailed out without signed parental consent.
In need of even more amazing reads? We've got you covered – click here to see which books we're obsessing over right now!