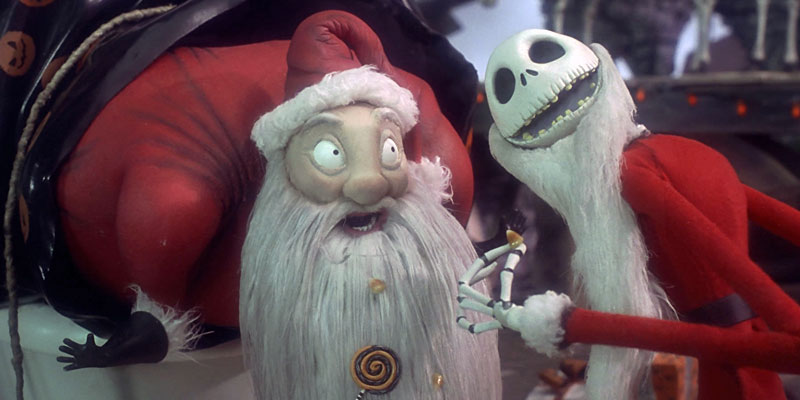 15 Ways Jack Skellington Has Even More Christmas Spirit than Santa
Okay, so you might be thinking, why on Earth are these people trying to diss Santa like that? We're not. We love Santa. Santa is a delight! We're just saying that Jack Skellington deserves a little more credit for being so full of adventure and curiosity.
He's a risk taker, a man of science, and a great role model for all the boys and girls out there. We're not saying you have to stop loving Santa, that'd basically be a crime! We're just saying that everyone should stop for a moment to appreciate Jack's obvious Christmas spirit and dedication!
15 Ways Jack Skellington is the new King of Christmas!
He discovered a brand new thing, and instead of shying away from it or immediately judging it, he jumped right in and embraced it. When's the last time Santa tried something new? It's been a few centuries, at least.

And immediately went home to share his findings with his friends…

Just look at this enthusiasm!

Being a man of science, he dove right in and started experimenting.

Which lead to him literally figuring out the Christmas formula. Has Santa ever done THAT?

He added his own flair to the holiday based on the things he knows and loves. Who wouldn't want to celebrate this spookier version of Christmas?!…

…okay, so, you might get eaten by a giant snake or attacked by your gifts, but we're sure the second time around he'll have worked out all the kinks.

He straight up kidnapped Santa to make sure his costume was accurate. Such dedication!

He knew right away that snow would taste delicious.

He had an actual scientist make him a fleet of ROBOTIC SKELETON REINDEER to fly his sleigh.

He somehow managed to convince his entire Halloween loving town to try something new. (Well, except Sally. But we can all agree that she's the worst and basically sabotaged the entire thing, right?)

Including his ghost dog! Aww, Zero. Such a loyal pup.

After stepping into the magical world of Christmas, he proceeded to sing two entire songs about it. (Followed by getting his entire town to sing about it too! MAKING CHRISTMAS! MAKING CHRISTMAS!)

He's capable of catching A SINGLE SNOWFLAKE without melting it, since he's made of bones.

And most of all, he taught us all that even if you don't succeed, you shouldn't be afraid to try new things!

Don't get us wrong, we still love the jolly ol' fat Santa, but Jack Skellington is pretty darn legit too! He can take off his head to recite Shakespeare, afterall!