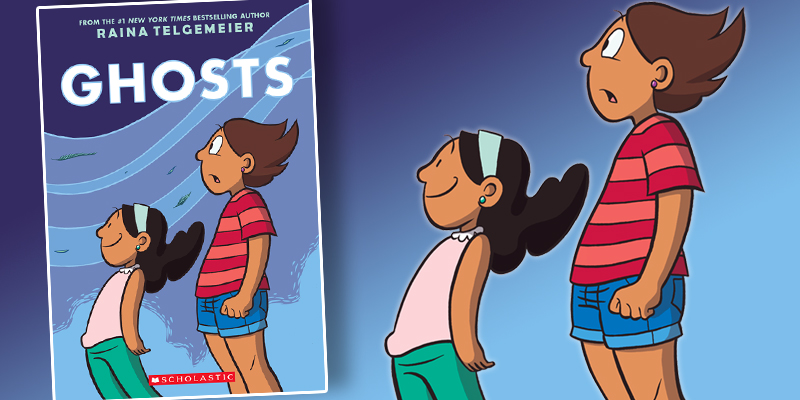 Raina Telgemeier's "Ghosts" is Super Charming and Totally Fun
If you've been alive in the human world for the past few months, you've probably been anticipating Raina Telgemeier's newest graphic novel, "Ghosts", since the very first second you heard about it. We were lucky enough to grab a short "sneak peek" of it from Scholastic's booth at the Book Expo of America back in May, and we've basically been living every day our lives since then counting down the seconds until this amazing book would finally be released.
Thankfully, it came out last Tuesday, and we devoured the entire thing so quickly we had to give it another read before writing about it so that we could accurately describe it's greatness.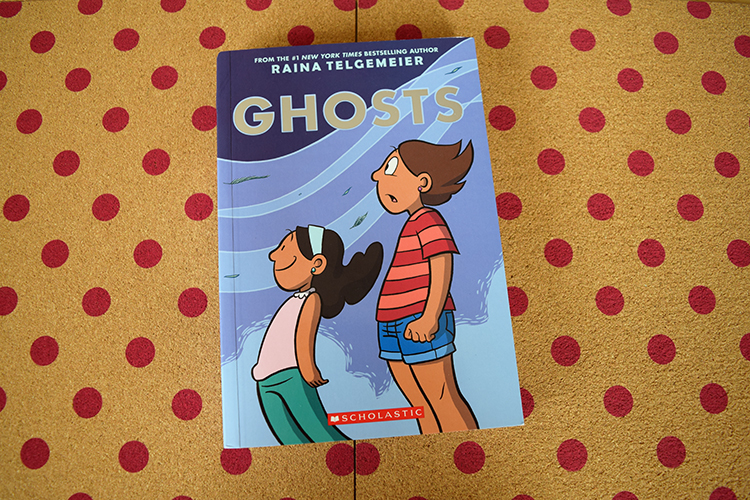 If you've read Raina's other graphic novels, "Smile" and "Drama", you know that she's got a knack for expressing even the deepest of thoughts in the most subtle of ways. Raina's charming storytelling chops and legit understanding of the minds and lives of kids like you has transformed the world of graphic novels for the better. Sure, superheroes are amazing, but seeing yourself and your life represented between the pages of a colorful OGN is pretty darn incredible.
She is constantly able to nail the ups and downs of life in the simplest of panels and her books are just EVERYTHING. The same is true in "Ghosts", her most serious (yet still exceptionally fun) book to date. It's also a perfect book for Fall, capturing the vibe of the end of Summer transition to the Autumn season so perfectly you can almost feel the chill blowing through the air as you read page after page. (Are we gushing too mush? Sorry we're getting gush everywhere. We're just like SO excited to tell you guys about this book!)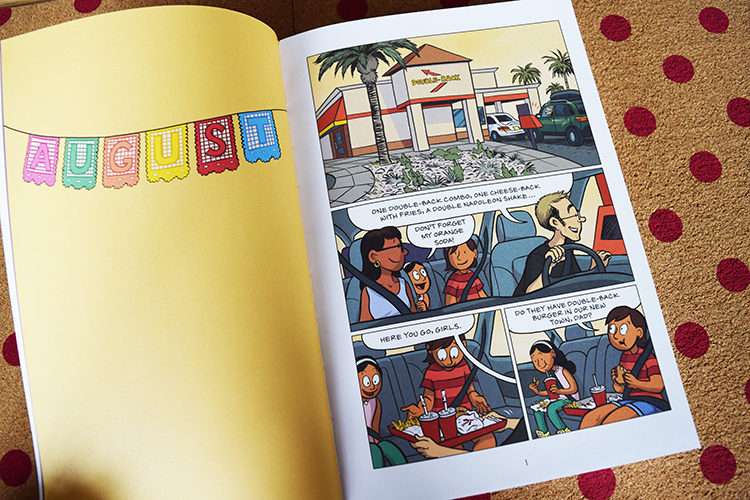 Sisters Catrina (Cat) and Maya pack up the car with their family (but not before stopping at Double-Back burger, which is basically In & Out, a burger chain that only exists on the West Coast and makes all us East Coasters jealous on the reg) and move to a brand new town in Bahía de la Luna.
The reason for the move? Maya, Cat's younger sister, suffers from Cystic Fibrosis (CF for short), a serious, but manageable disorder which causes lung infections, severe breathing troubles, and many other symptoms. Bahía de la Luna has fresher, saltier air that will help Maya's breathing, so the family made the decision to leave their familiar lives behind to try and give Maya a better life.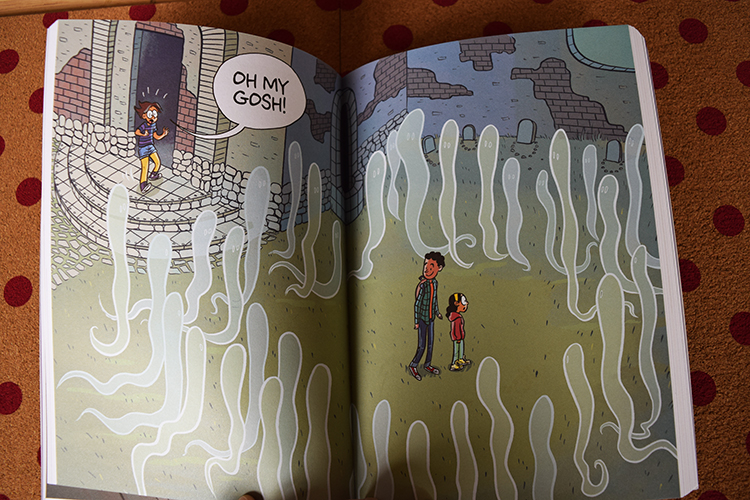 Despite being dealt this sub-par hand, Maya is a fun-loving, upbeat girl, like any other kid her age. She loves singing along to her favorite princess songs, hanging out with her sister, and has a hugely curious mind. As long as Maya properly takes her medications and does her nightly treatments, she's able to go to school, hang out with her friends, and overall live a pretty great life.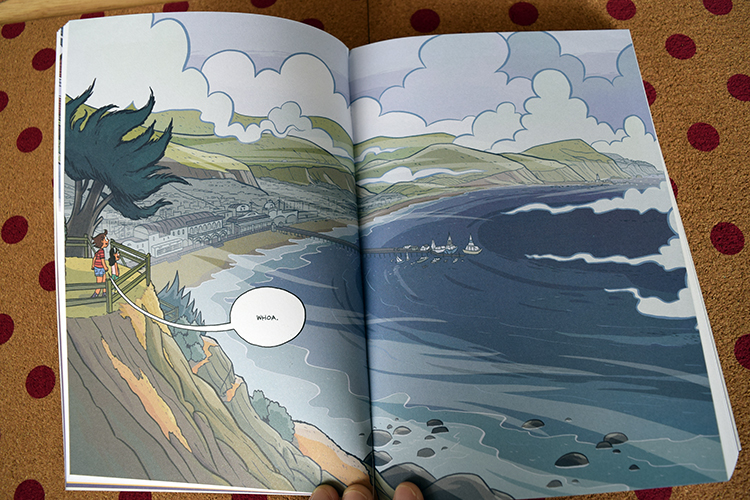 Being the curious creature that she is, the first thing Maya wants to do when they get to their new home is go out and explore the neighborhood. Along the way they meet their neighbor Carlos who is filled with knowledge about the history of the town. It turns out that the people Bahía de la Luna has a deep love and pride for Día de los Muertos (The Day of the Dead), a celebration of life from Mexican culture. Día de los Muertos takes place right after Halloween, and while the celebration has to do with death and and the afterlife – it's actually a celebration of life of those who have past and a way to honor your loved ones. Every year, the entire town gets together and has a huge festival filled with music, dancing, and food in honor of those they have lost. Since Bahía de la Luna is quite foggy and located near a lighthouse, ghosts and spirits come from near and far to join in on the celebration and visit the loved ones they were forced to leave behind.
Even on a normal day, if you head to the mission, you might be able to encounter a ghost, which is EXACTLY what Maya wants to do. Cat isn't exactly thrilled about living in a new town, let alone a new town filled with spirits, so she's hesitant to head out on a ghost hunting adventure with Maya and Carlos.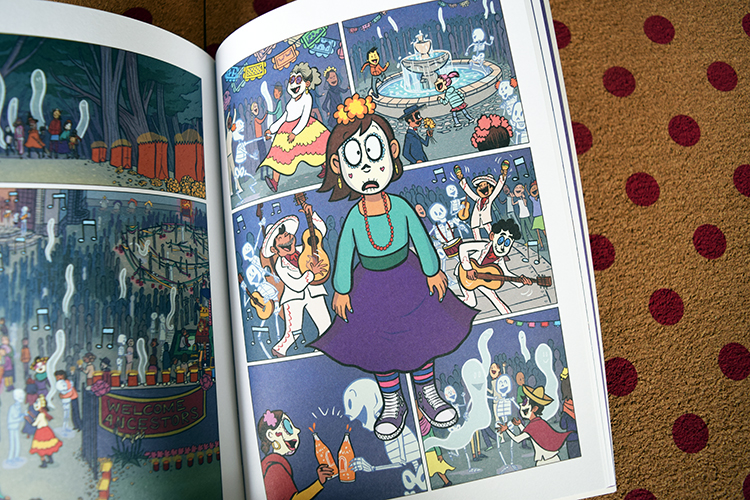 Along the way, you can imagine that there's some ups and downs including run-ins with ghosts, new crushes, medical struggles, facing your fears, and of course, the agony of being the new kids in town. On the surface, "Ghosts" is a fun sister adventure, but look a little deeper and there's so much more you'll find between the lines, making it a great read for both book lovers and casual readers. While it's technically Cat's story, Maya is such a stand out character. She takes over every scene she's in with blinding light and oozing optimism, you just find yourself instantly attached to her. Like in Raina's other books, every character is a lovable one who adds nothing but greatness to the story. Her characters are always so relatable and real, you'll feel like you're hanging out with your own sisters or BFFs as you flip through "Ghosts."
But enough of our gushing – "Ghosts" is now available, so grab it at your favorite bookstore or local comic shop and experience it for yourself! For even more great graphic novel and comic book recs, click here!