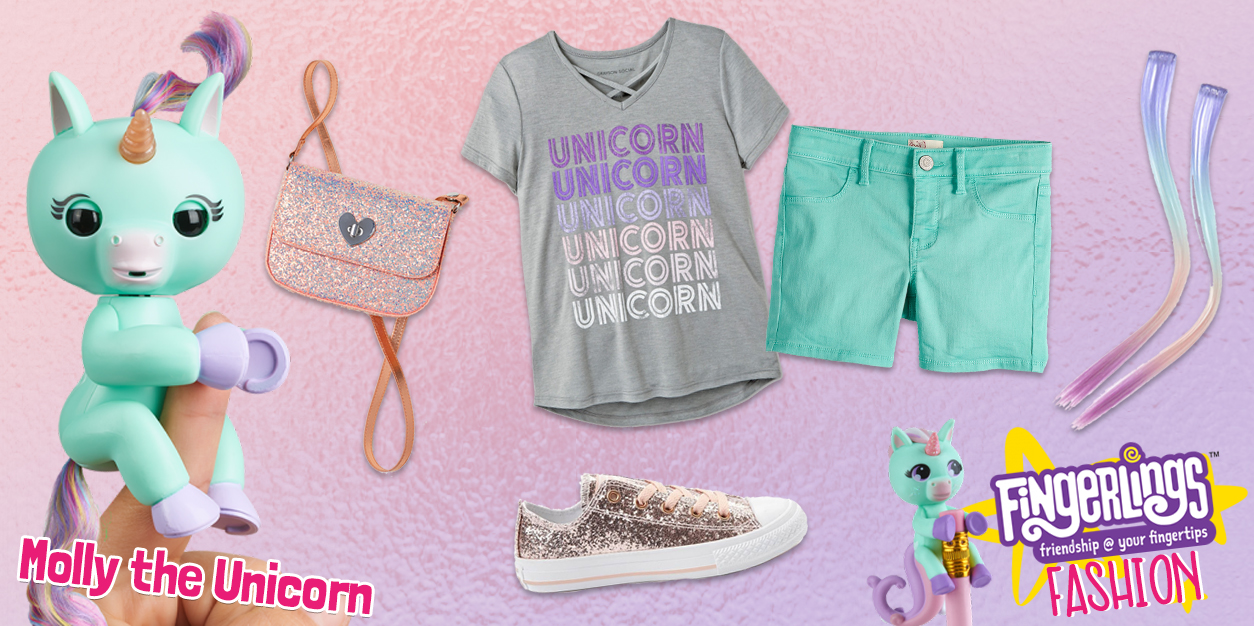 Fingerlings Fashion: Rock Molly's Rose Gold Style + GIVEAWAY!
Note: We teamed up with WowWee for this Molly the Unicorn giveaway. WowWee will be providing the prize to the winner. All opinions are our own; we were under no obligation to give a positive review.
We can all agree that Fingerlings are amazing, but WowWee just released one that's even better! Introducing the fabulous Target exclusive, Molly the Unicorn! Like lots of us, Molly is rose gold-obsessed and always ready to rock shimmery style. We love her pastel vibes, her sparkly rose gold horn, and her rainbow mane so much it inspired us to create a Fingerlings Fashion lookbook so you can all rock style as amazing as Molly! Plus, we teamed up with WowWee to give one lucky winner a chance to win a Molly of their own to twin with!
Fingerlings Fashion: Molly the Unicorn Style Guide: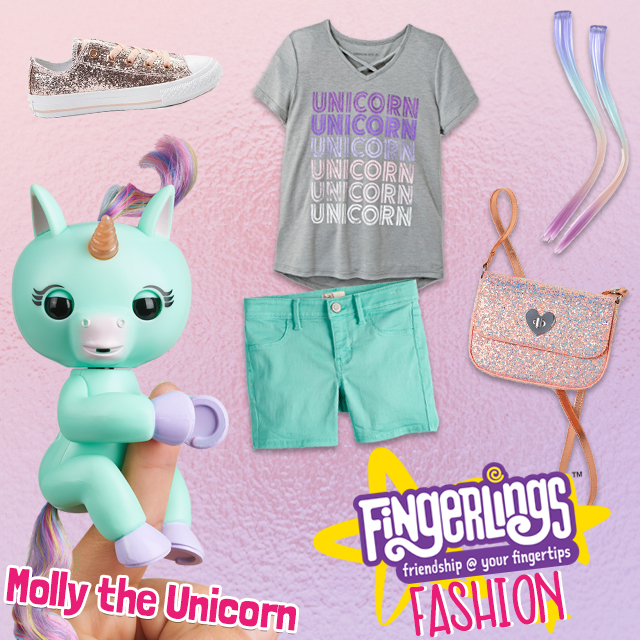 Want to up your Fingerlings Fashion game and rock unicorn style like Molly? Here's how! The first piece we chose were the shorts. Since Molly's main color is a deliciously minty green, it was important to us to select a standout piece for this outfit that shared a similar shade. We paired the shorts with a super cute unicorn graphic tee. There's definitely no shortage of unicorn swag out there these days, so you can choose any top that suits your style. We picked this one because the colors matched the rainbow strands in Molly's mane and her overall vibe perfectly.
We topped off the look with a pair of blush sequinned sneaks to match Molly's rose gold horn. Being Molly's favorite, we knew we had to incorporate the fiercely shimmery shade into our look even further, so we accentuated the look with a super cute rose gold purse! For the grand finale, we found some ombre pastel hair clip-ins that take our look from adorable to full on unicorn!
If you're looking to rock Fingerlings Fashion and put together a look inspired Molly, this style guide is a great place to start. We listed our picks below, but the most important thing about fashion is feeling comfortable, confident, and cute, so feel free to swap in pieces you already have in your closet or other great finds you pick up during your shopping adventures.
Molly the Unicorn – Target – $14.99
Rose Gold & Mint Scrunchie 2pk – Justice – $4.90
Pastel Ombre Faux Hair Clips – Claire's – $5.99
Grayson Girls' Social Unicorn Graphic Tee – Target – $9.99
SO Aqua Midi Shorts – Kohl's – $14
Blush Converse All-Stars – Journeys – $39.99
Glittery Shoulder Bag – H&M Kids – $12.99
Want to know more about Molly? "Molly the Fingerlings Baby Unicorn loves to grab onto things… especially your fingers! This unique little pet with her fabulous rose gold horn responds to you with special unicorn sounds in response to noise, motion & touch. She will let you know how she feels with her adorable blinking eyes and head turns. You'll get different reactions if you pet her, rock her to sleep, or hold her upside down. If you blow Molly a kiss, she'll kiss you right back! You can also brush her soft rainbow mane and tail. Magical friendship at your fingertips!"
Molly the Unicorn Giveaway:

WHAT DO I GET?:
One lucky winner will receive a Molly the Unicorn of their own!
– ONE (1) Molly the Unicorn Fingerlings Baby Monkey, courtesy of WowWee!
HOW DO I ENTER?:
Get permission from your parent or guardian and head to Instagram and complete the following steps by July 6th, 2018!
1. Follow @yayomgofficial on Instagram
2. Head to the post below and leave a comment tagging a friend you think would love to win!
Giveaway begins on June 29, 2018 at 02:30 pm ET and ends on July 6, 2018 at 11:59pm ET and is open to US residents only.
– You must be 18 or older to enter. If you are under 18, you'll need to get permission from your parent/guardian to enter and again if you win.
*If selected as a winner, we will provide you with an affidavit to confirm that you are a valid winner who has permission to win. You will need to sign and return this affidavit in order to claim your prize. Entrants under 18, your parents will need to sign and return this document granting permission for you to win before we can send your prize. This step is non-negotiable and required to claim your prize.
Be sure to read the fully detailed rules HERE before entering.
THIS GIVEAWAY HAS ENDED AND THE PRIZE HAS BEEN CLAIMED.
Fingerlings fanatic? Here's everything you need to know about Fingerlings UNTAMED!