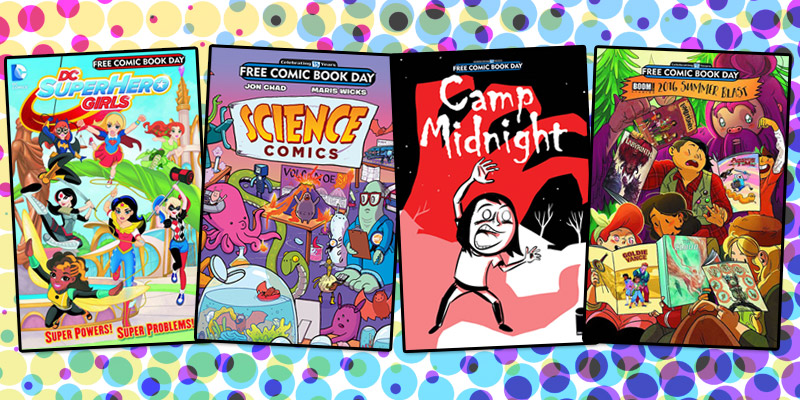 Our Free Comic Book Day 2016 Picks
Free Comic Book Day 2016 is just a few days away – Saturday, May 7th! (And it's celebrating it's 15th year of free comic-y goodness!) That means you can walk into (pretty much) any comic shop, and get your grubby paws on a bunch of TOTALLY AND COMPLETELY FREE comics! It's the perfect way to try a new comic you've never read before, or grab a collectable edition of your favorite read!
Most of the time these free comics are a shortened version (like a first chapter) of the comic, just to give you a taste of what you can expect. Some are also released as collections, with bite sized tidbits of a few different comics rolled up into one. There's a ton of free comics and collections being released, so here's a few we recommend picking up.
Our Free Comic Book Day 2016 Picks: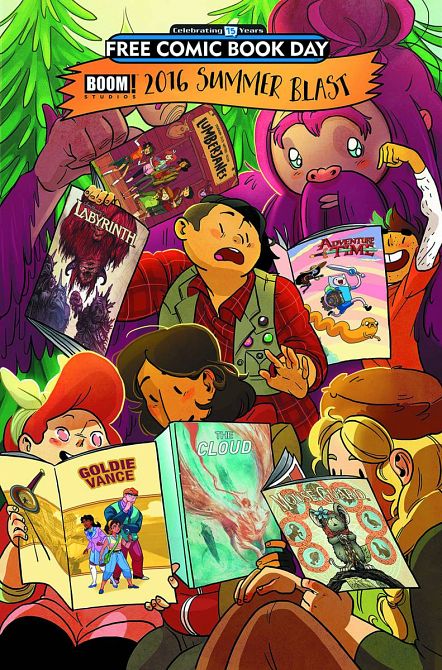 BOOM! Studios 2016 Summer Blast – BOOM! Studios
BOOM! Studios are basically the kings of great comic compilations, and this year is no exception! The "2016 Summer Blast" will contain a sneak peek of the new Adventure Time: Comics series, a super special Lumberjanes story called "Don't Axe, Don't Tale", a preview of the already-amazing-even-though-it's-only-one-issue-in Goldie Vance, as well as new short stories from Mouse Guard and Labyrinth.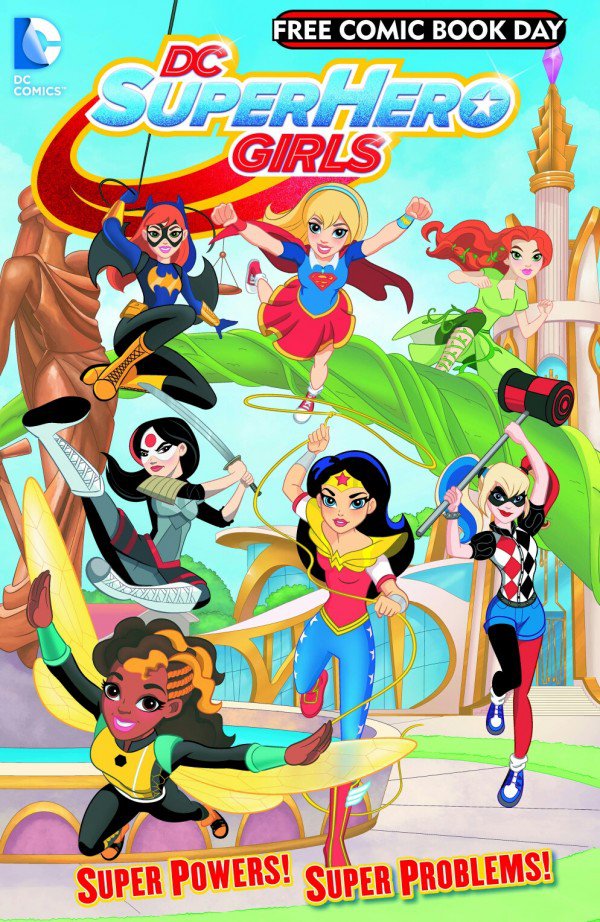 DC Super Hero Girls – DC Comics:
Good news, DC Super Hero Girls fans! Free Comic Book Day means that you can get your hands on the first look at the DC Super Hero Girls very first graphic novel, "Finals Crisis". It's the day before finals at Super Hero High and nothing is going right! Supergirl is missing, Wonder Woman and Cheetah break into a fight in gym class – something is just not right! The FCBD preview features the first two chapters of the upcoming graphic novel, hitting shelves this July. For more on the DC Super Hero Girls series, click here!

Oddly Normal – Image Comics:
Fantasy fans – "Oddly Normal" is definitely the pick for you this Free Comic Book Day! Oddly is a 10 year old half-witch with green hair and pointy ears who finds it a little difficult to fit in at school, being so much different than the other kids. On her 10th birthday, she makes a wish that turns out to be a huge disaster – it causes her parents to go missing! Oddly must travel to Fignation, a strange, magical land to find out why her parents disappeared, all while juggling school, bullies, and Evil itself! If you like "Oddly Normal", you're in luck! There's a whole slew of already-existing trades you can get to gobble up this fantabulous tale!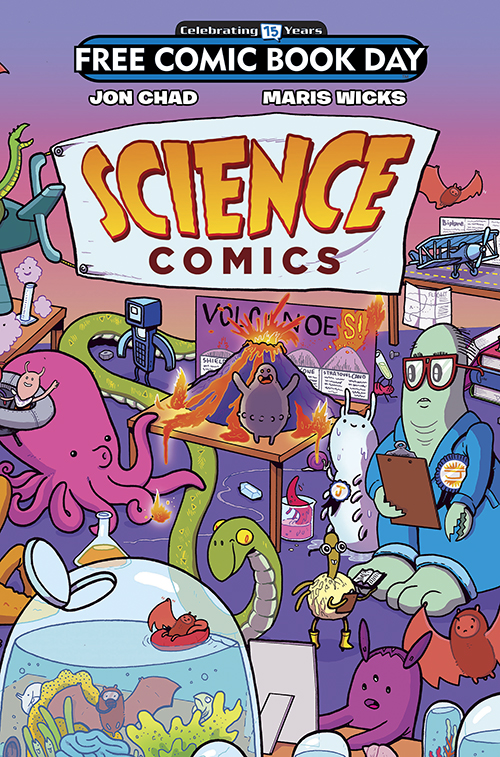 Science Comics – :01 First Second:
"Science Comics" combines two of the greatest things in life. Science and Comics! First Second's brand new series features a different realm of the world of Science in each book, covering everything from coral reefs to the human body to dinosaurs. Their FCBD book gives you a glimpse into the types of stories and styles you can expect from the Science Comics series. It's funny. It's sciencey. And it's educational in a super fun way. Mom and Dad will never say no to buying you comic ever again when you ask them for these fantastically factual reads! And hey, this one is free – no one says no to free!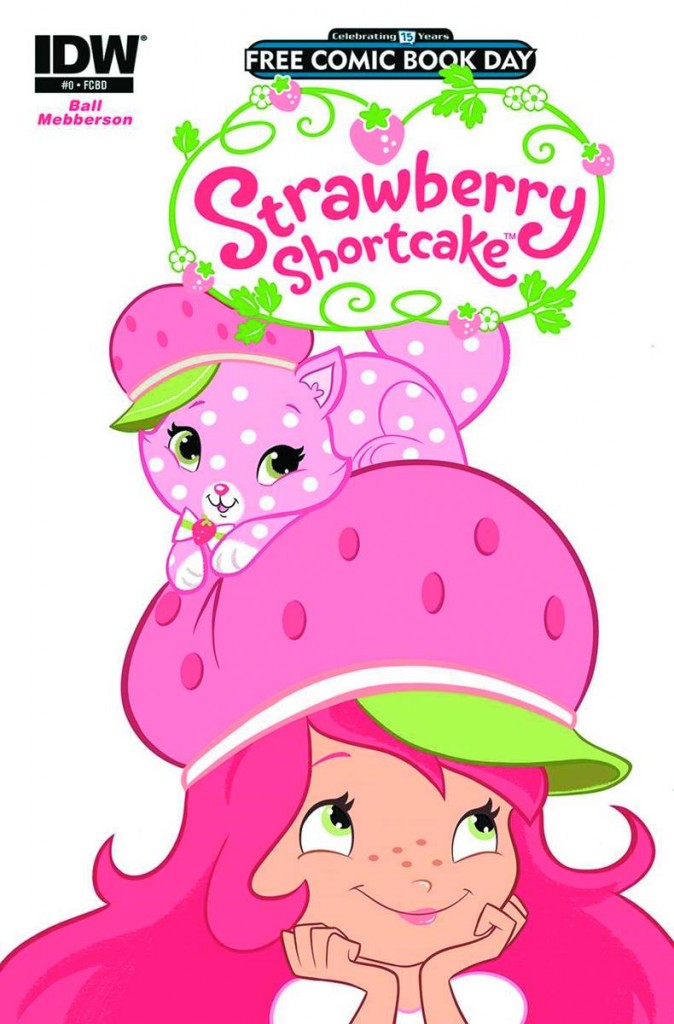 Strawberry Shortcake – IDW:
The brand new "Strawberry Shortcake" series from IDW just launched last week, so if you missed the first issue or are on the fence about trying it, FCBD is the perfect way to get a taste of this deliciously adorable read. We wrote a full post about it last week, so definitely give that a read if you want to know more about the series. We'll give you a recap, though: All your Strawberry Shortcake favorites are back in a brand new comic that's super cute, super funny, and filled with super evil sneaky bad guys!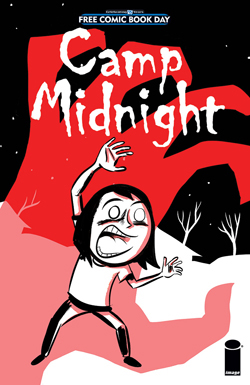 Camp Midnight – Image Comics:
"Camp Midnight" is a brand new graphic novel from Image Comics. It's not often you hear the words "horror" and "comedy" in the same sentence, but that's exactly what "Camp Midnight" is. A horror comedy filled with laughs, spooks, thrills, and ooey gooey goodness! The FCBD preview is a sneak peek into the first chapter of the book, showing readers how Skye ends up at Camp Midnight, a not so ordinary summer camp filled with totally real, totally creepy monsters. It's the perfect read for anyone with an evil stepmother, problems "fitting in", and anyone who loves a good awkward teen story.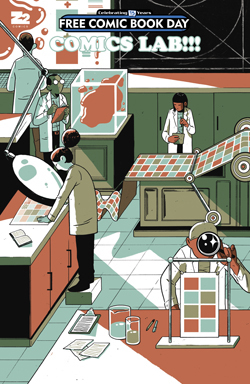 Z2 Comics Lab – Z2 Comics:
It's Z2's very first Free Comic Book Day, and they're totally crushing it. The "Z2 Comics Lab" isn't just a compilation of some of their best comics, the shorts are all ABOUT comics! "Comics Lab" is also great because it features two of our most favorite comics of the moment – "Welcome to Showside" and "Hyper Force Neo!" Kit, Moon, and Bella from "Welcome to Showside" find out what would happen if they were stuck in the worst comic ever and Dean Masters and the team from "Hyper Force Neo" take on a gross alien dude called Squatz who has ray guns that shoot out an army of Penciloids. An obvious must-read.
Want some more FCBD advice?  Free Comic Book Day can be a bit crowded and hectic – try going as early as possible and have a plan of which comics you're hoping to pick up so that you can grab them quickly, and before they sell out! Once the FCBD books are gone, they're gone forever.
Additionally, you may want to pick up some bags and boards if you don't have them. Most comic stores don't bag and board the FCBD issues. If you find a comic you like, definitely make sure to buy it to support the shop and the comic creators! The only way to guarantee more amazing comics in the future is to support the amazing comics of the present!