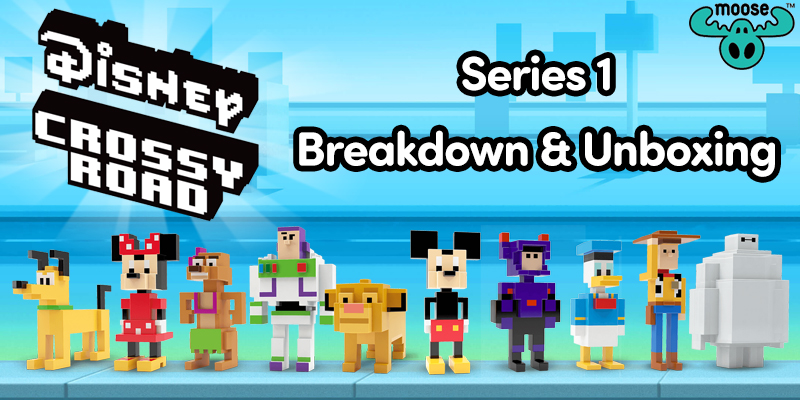 Take a Peek at the Adorable 8-Bit Collectibles in Disney Crossy Road Series 1
The amazing Disney Crossy Road figures from Moose Toys (Shopkins, Twozies, etc.) released earlier this month, and if you're like us, you've probably been struggling to find them. We hit up at least 10 stores trying to find some of these for our review (and for our collection) and we only lucked out at 2 stores. The good news is that this means the toys are a huge hit – they're selling out like crazy!
If you're a fan of the Disney Crossy Road mobile game or even if you're just a Disney fanatic, you're definitely going to want to add these adorable figures, keychains, and plush toys to your collection. We were lucky enough to find 4 out of the 5 types of items available in Disney Crossy Road Series 1, so let's take an in-depth look at what Disney/Pixar magic you can expect from this adorable 8-bit collection.
Here's What You'll Find in Disney Crossy Road Series 1: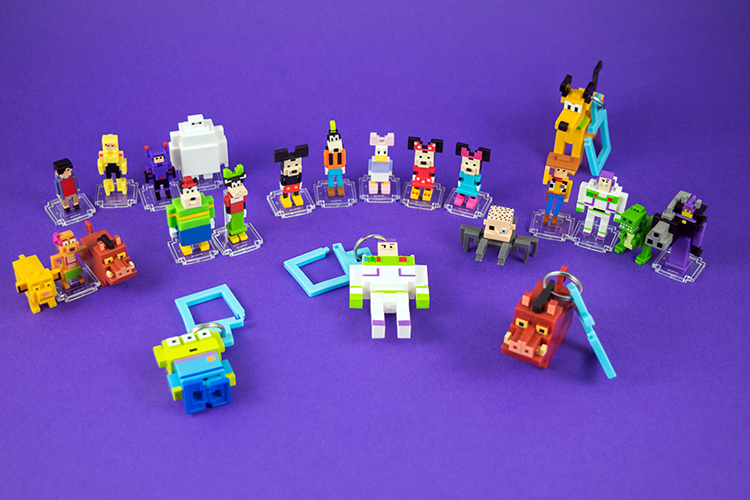 All of the figures in the collection are based on characters you'll find in the Disney Crossy Road mobile game. That means you can enjoy the fun by playing the game on your mobile device or bringing your own stories to life by playing with these new figures. Disney Crossy Road Series 1 features fan-favorite characters from Mickey and Friends, Big Hero 6, Toy Story, and The Lion King – all in pixel perfect 8-bit style.
There are over 40 Mini Figures, 12 Mystery Hangers, and 6 Plush Toys to collect in this first series. The Disney Crossy Road game features even more characters from even more Disney movies and is always being updated, which means there should be a ton more to collect in future series of these Moose Toys collectibles.
Mini Figures 7 Pack – $14.99
The 7-pack is a great way to get your collection started. You can see exactly what you're getting and there's no surprises and no risk of doubles – plus they feature at least one character from each of the available movies. Two of the five figures are exclusive to the 7-pack, so they're definitely worth picking up since the only other way to get them would be to trade with a friend. Our pack came with the exclusive Hiro Hamada and Clarabelle Cow figures along with Mickey Mouse, Simba, Woody, Buzz Lightyear, and Baymax.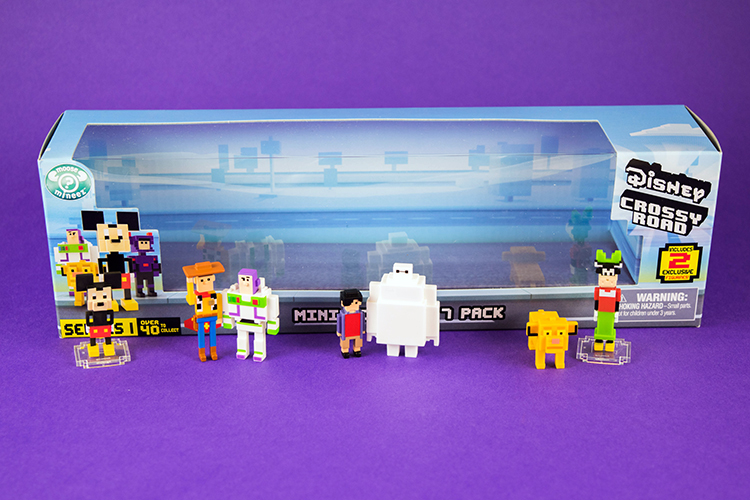 As you can see, the figures are really well made and detailed. They look exactly like the characters in the mobile game and they even come with little stands to help you display your collection in style. As toy collectors, we found these stands extremely helpful, as we're always knocking our stuff down – especially smaller collectibles. The Disney Crossy Road figures stand pretty well on their own, but the stands definitely help keep them more sturdy when you're ready to display them on your toy shelf or wherever else you stash your stuff.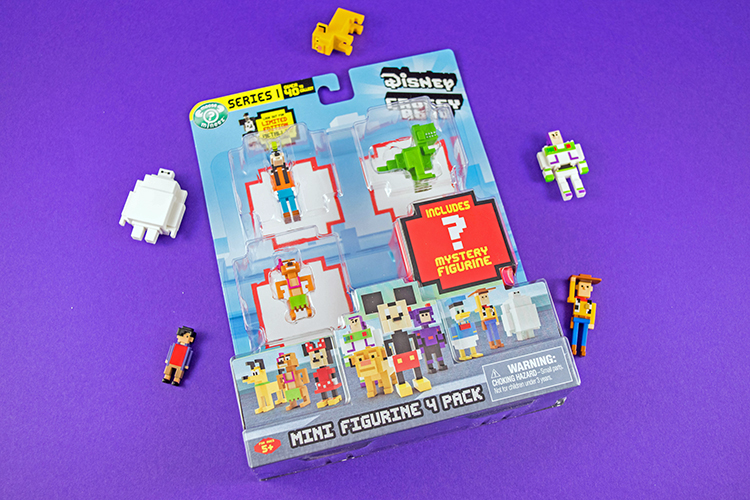 Mini Figure 4 Pack – $9.99
The 4-Pack comes with 4 mini figures, one of which will be a total mystery until you take it out of the box, adding in the element of surprise. These come with a variety of different characters, 3 of which you're able to see right through the packaging, so you'll be able to easily pick out ones you're missing. These also come with the little figure stands. You'll be able to find rare and limited edition figures in these packs, so use them to help build out your collection.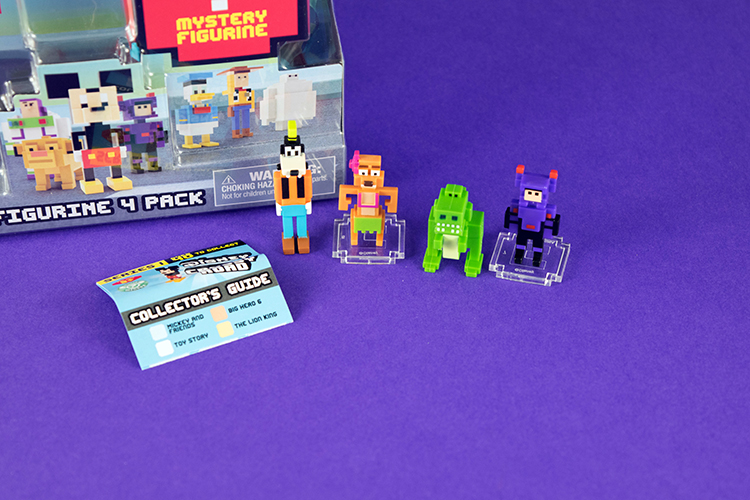 Fun Fact: There are also metallic figures to collect, including Steamboat Willie. We didn't find any, so the chase is still on for us. Hopefully you'll be luckier than we were!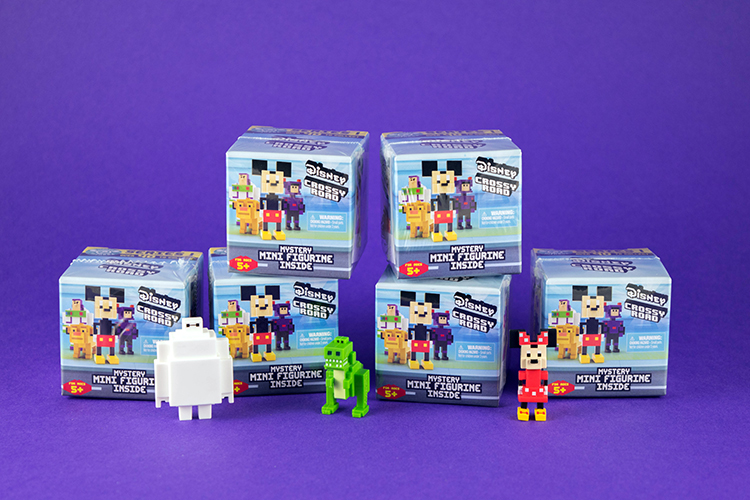 Mini Figure Single Pack – $2.99
The single packs come blind-boxed, meaning you won't know which figure is hiding inside until you open it up. The single packs can contain any of the 40+ figures, so you never know what you're going to get – exciting! These also come packaged with one of the clear figure stands. We bought 6 of these and ended up with a few doubles of the ones we found in our 7-pack and 4-pack. That's not a bad thing, though – it means we've got plenty to trade with our friends! (We're definitely hoping one of our friends has a Lenny the Binoculars available to trade, because we want him the most!)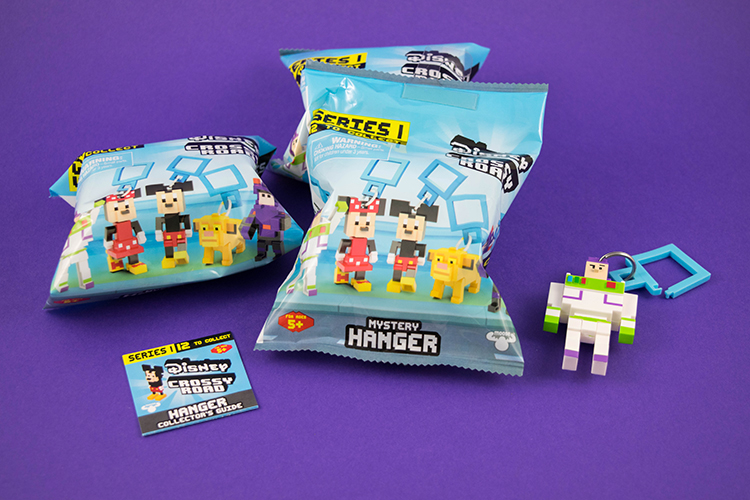 Mystery Hanger – $4.99
The Mystery Hangers are larger versions of the Disney Crossy Road figures that come with a key ring attached so you can rock your favorite character on your backpack or as a zipper pull. It's really fun to have a nice big version of your favorite character and carry them around with you everywhere you go. Series 1 Mystery Hangers include: Mickey, Minnie, Donald, Pluto, Simba, Pumbaa, Woody, Buzz, Rex, Alien, Hiro, and Baymax.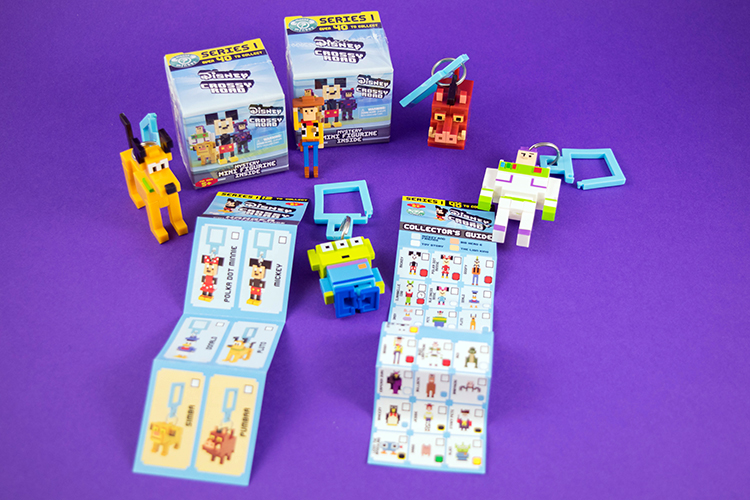 There's 12 Mystery Hangers available in Series 1, so it's not too hard to collect them all. We were super excited to unbox the Alien from Toy Story. We immediately hung from our bag the moment we were done taking these pictures!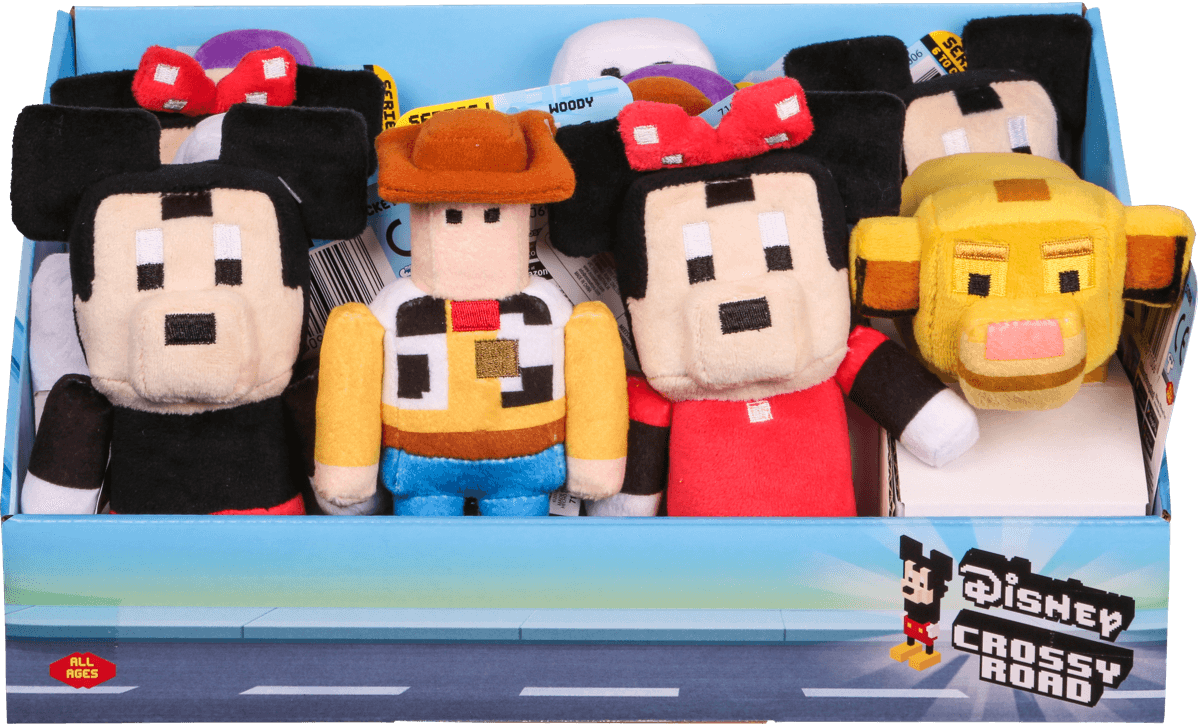 6″ Plush – $9.99:
The Plush Toys were the only ones we weren't able to find on our hunt. There are 6 plush toys available in Series 1 including Mickey, Minnie, Woody, Simba, Baymax, Buzz and more! They're totally cute, super soft, and they don't come blind-boxed so you'll be able to pick out whichever one you want to hug most.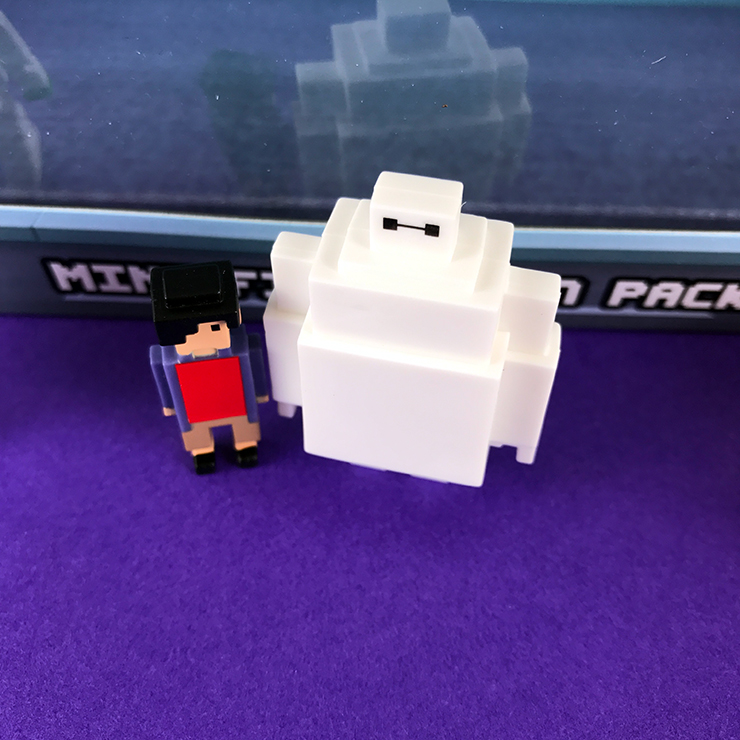 Out of the figures we unboxed, the Baymax is our absolute favorite. He's just so huge and totally adorable – he's probably even cuter as one of the Mystery Hangers. Also, being a very round and soft character, he looks super funny as a blocky pixel style character. We're loving the Disney Crossy Road figures and think they're a great fit for toy collectors and Disney fans of all ages. Ready to start collecting? You can pick these up at Toys R Us, Target, and more!
We can't wait to see which characters they release in future Series. We've got our fingers crossed for Nightmare Before Christmas figs for sure.
Need more collectible unboxings, breakdowns, and news? Click here!