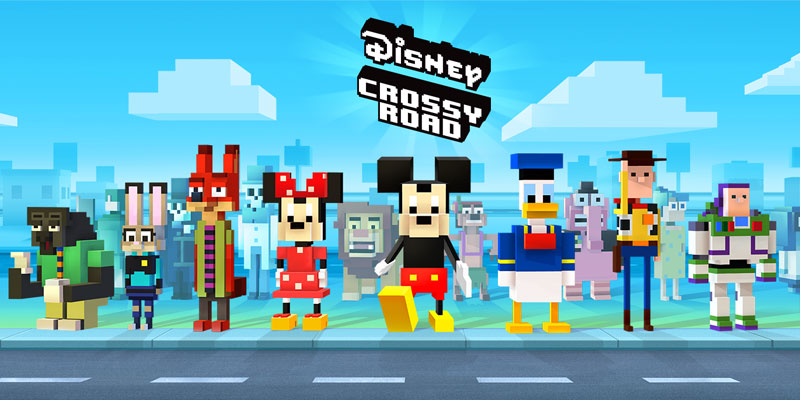 Disney Crossy Road is Adorably Addictive
Disney Crossy Road combines the awesome addictiveness of Hipster Whale's Crossy Road with the magic of Disney into one super fun game!
Disney Crossy Road plays pretty much the same as the original, with a few magical updates that you can see here. Instead of chickens, piggies, and other animals, you'll play as your favorite Disney characters. You'll of course start off with Mickey, and things will seem pretty familiar to you if you've played the original Crossy Road. You'll help Mickey by tapping to help him move forward and swiping to move him from side to side, while weaving in and out of traffic, hopping from log to log over a raging river, and collecting coins along the way. The main stage is mostly the same, with a few visual updates.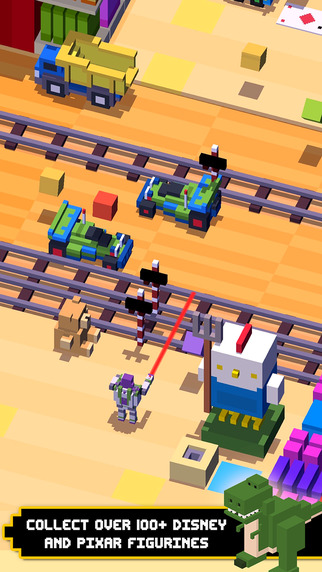 Once you have enough coins to unlock another character is when the magic really begins. (Don't worry, the game gives you freebies constantly, so you'll be able to do this pretty quick and pretty often.) When you unlock characters from a new collection, you'll also unlock the scenery and music that goes along with that Disney property. So if you unlock a Lion King character, the scenery will change to the Pride Lands and the cars will change to herds of animals. It'll also play a delightful 8-bit version of "I Just Can't Wait to be King". If you unlock a character from Wreck-It-Ralph, the scene will be Sugar Rush and there will be special candies to collect in addition to the coins. This keeps the game really fresh for people who've played before and really fun for everyone because you never know what you're gonna see next.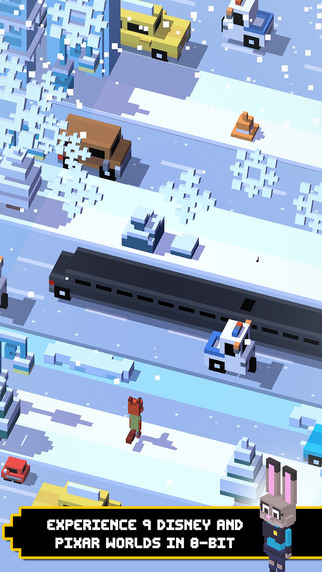 There's over 100 characters to collect across 9 Disney and Pixar properties. (And you know they'll be adding more in future updates!) To start, you can get characters from Tangled, Zootopia, Big Hero 6, The Lion King, The Haunted Mansion, Wreck-It-Ralph, Toy Story, Inside Out, and of course, Mickey & Friends. Some of the new worlds bring new challenges, like in the Tangled area you'll have to avoid barrels that are rolling down a hill while making your way through the level.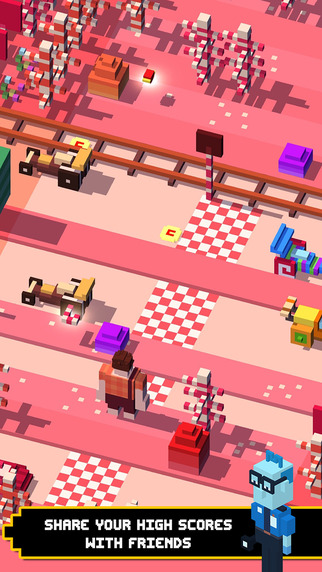 It's a great way to kill some time while you wait our your quests and ride builds during Disney Magic Kingdoms and a great way to pass the time before the big Disney Magical Dice release that's coming up soon. Disney has really stepped up their game recently (pun intended) and have been putting out hit after hit after hit. While it's always exciting to be a Disney fan, it's been even more exciting knowing that they've been pumping out such great quality games. But enough of our babbling, go download the game now and get to road crossing!
Disney Crossy Road is now available for FREE in the App Store, Google Play, and Amazon Marketplace.