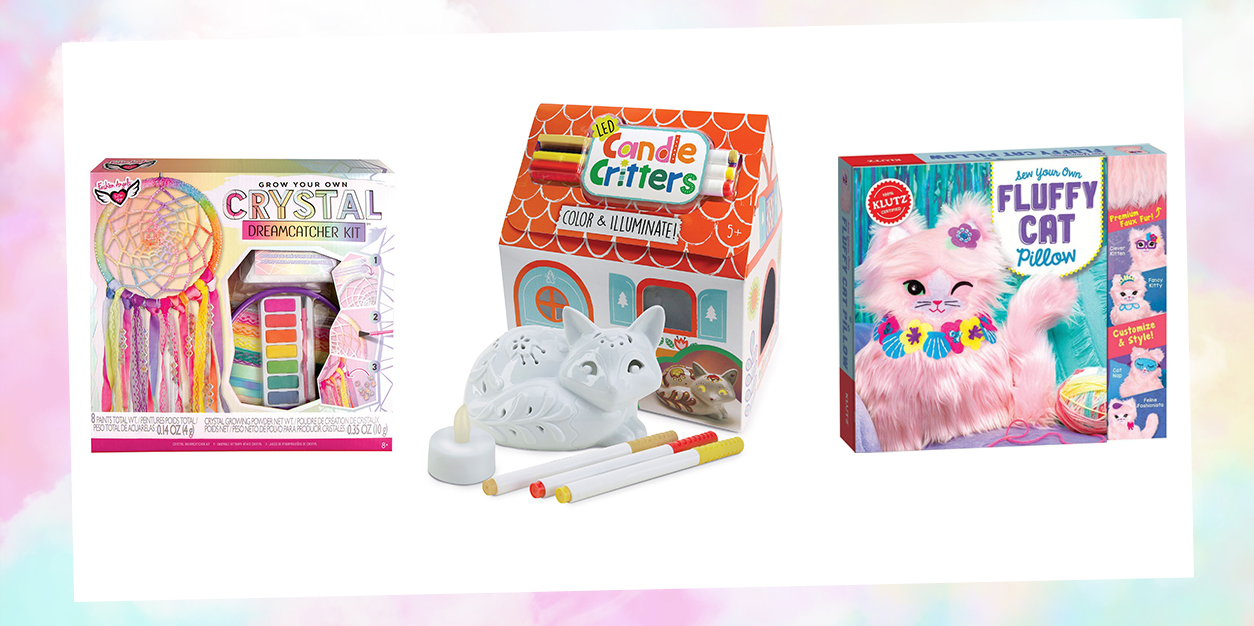 Snuggle Up and Chill Out With Our Cozy Night In GIVEAWAY
NOTE: We teamed up with Fashion Angels, Klutz, and Bright Stripes for this Cozy Night In Giveaway. All opinions are our own; we were under no obligation to give a positive review. Giveaway prizes provided by Fashion Angels, Klutz, and Bright Stripes.
Making time for yourself can sometimes be a challenge. When you've also got after school activities, endless homework, and family obligations filling your schedule, relaxation can sometimes take the back seat. Even when things are going well, a little "me time" is never a bad thing.
We think spending a cozy night at home is the perfect way to unwind. Grab your comfiest oversized sweater, a tasty snack, and spend a few uninterrupted hours of doing something just for you. Whether you're reading, gaming, or re-watching your favorite movie for the 100th time, your mind will appreciate the much-needed reset. Since crafting and creating are a great way to de-stress and boost your mood, we put together a list of craft kits that are perfect for finding your chill and spending a cozy night in. (Plus, it's National Craft Month, so it's never been a better time to get your DIY on).
That's why we teamed up with our friends at Fashion Angels, Klutz, and Bright Stripes to put together this amazing Cozy Night In Prize Pack, complete with all the activities you'll find on our list!
Super Relaxing Craft Kits to Help You Find Your Chill: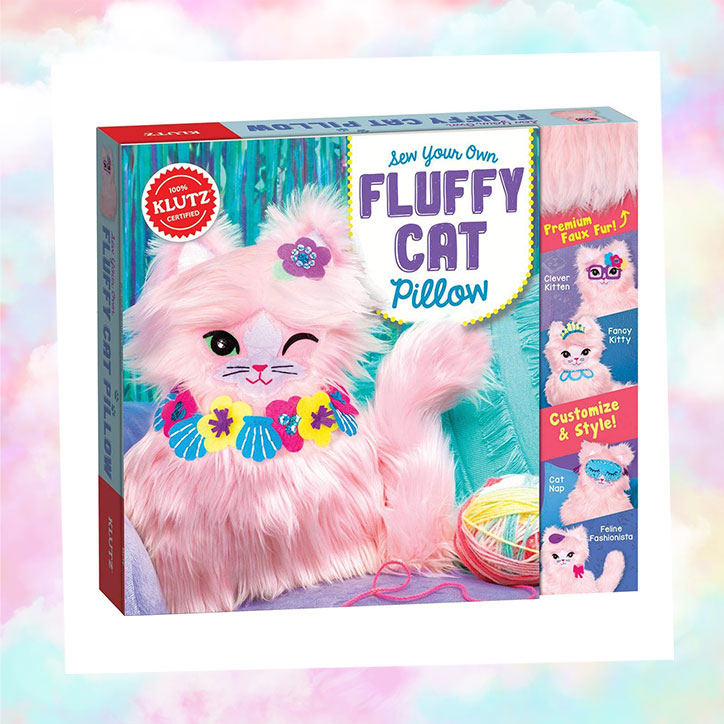 Sew Your Own Fluffy Cat Pillow from Klutz:
No cozy night is complete without a hoard of fluffy pillows and blankets to keep you comfy. Whether you're snuggling up on the couch or building a blanket fort, this Fluffy Cat Pillow is the perfect cozy companion.
Choose from five super cute designs, like the glasses-wearing Clever Kitten to the ultra-cozy Cat Nap kitten, complete with her own sleep mask. Once you choose the kitty that's right for you, follow the instructions to learn how to sew her into existence. Complete with ultra-soft faux fur, your kitty pillow will be one you'll love to cuddle every single night.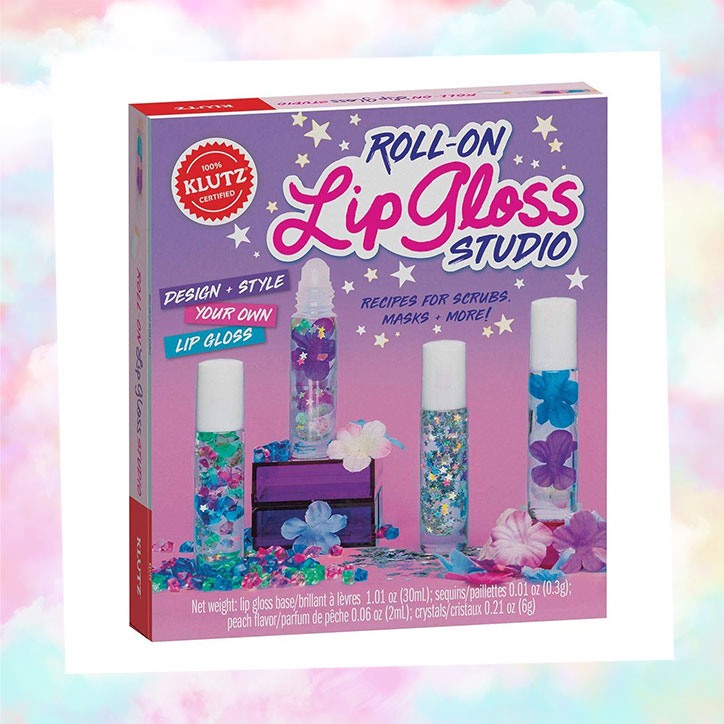 Roll-On Lip Gloss Studio from Klutz:
Cozy nights scream self-care, which is why we're swooning over the gorgeous lip-glosses you can make with this kit. Kick things off with a fun personality quiz to discover which mix of glitter, flowers, and crystals is right for you. Create 4 unique glosses that your lips will love, complete with soothing aloe and a delectable peach flavor.
While you're keeping your gloss game on point, you can also flip through the included book for some DIY scrubs, masks, and more to bring your self-care status to the next level. Cozy night indeed!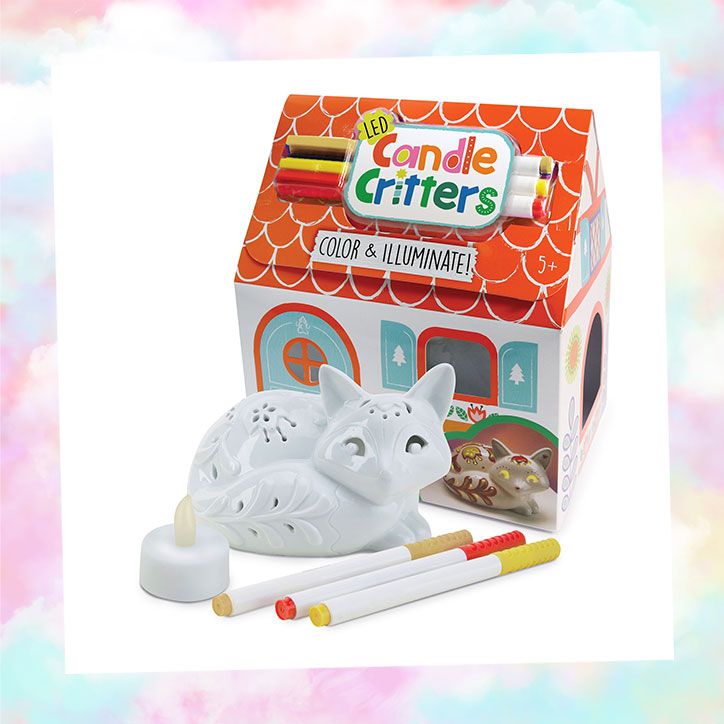 Set aside your worries and design a super cute ceramic candleholder! The Scandinavian inspired design will put you in the hygge mindset, perfect for your chill night at home. Using the included ceramic markers, draw beautiful designs on your new friend to make it your own.
Once you're done, pop in the LED tea light, turn off the lights, and gaze at the comforting glow radiating from your cute candle critter. Use it anytime you need to zone out and catch up on a little me time. Snuggle up with a good book for added relaxation!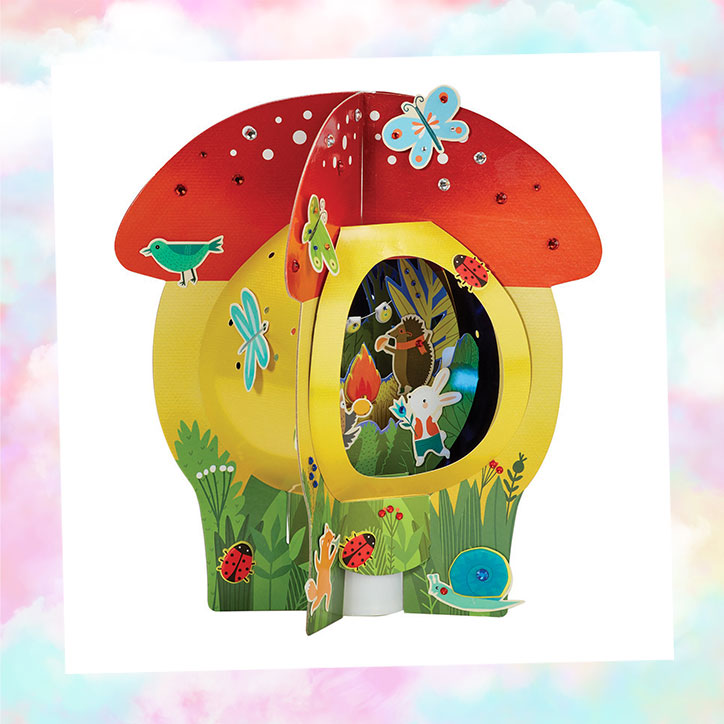 Lantern Lands Paper Lantern from Bright Stripes:
If you couldn't tell, we're kind of obsessed with craft creations that double as room decor. Giving your room a personal touch is a great way to transform an ordinary space into a place that radiates positive energy every time you enter. That's why we're loving these adorable paper lanterns from Bright Stripes!
Each Lantern Lands kit features a super cute theme, ranging from Forest Festival to Fairy Flower Party. They may look super intricate and impressive, but they're actually pretty simple to put together for even the most novice crafters. (Like us!)
Pop the cardboard pieces into place, decorate with puffy stickers and rhinestones, and add the LED tea light to transform your cozy hangout into a whimsical wonderland.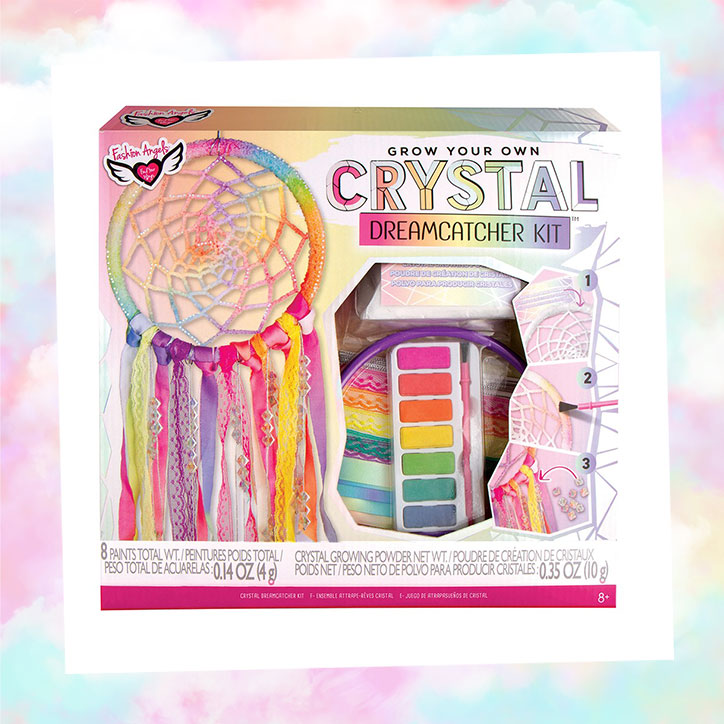 Grow Your Own Crystal Dreamcatcher Kit from Fashion Angels
Add a dose of glam to your cozy night in with this chic crystal dreamcatcher kit from Fashion Angels!
Watch crystals form around the hoop before your eyes and use the included watercolors to add a burst of color. Dazzle things up with strands of lace, ribbon, and crystal beads to complete the project. This one is perfect for a gloomy evening when you're feeling down, as it takes a few hours to complete. We think it pairs perfectly with a comfy pair of pajamas, freshly baked brownies, and your favorite movie.
Once your masterpiece is ready, hang it above your bed to ensure good vibes and ward off bad dreams as you drift off to sleep.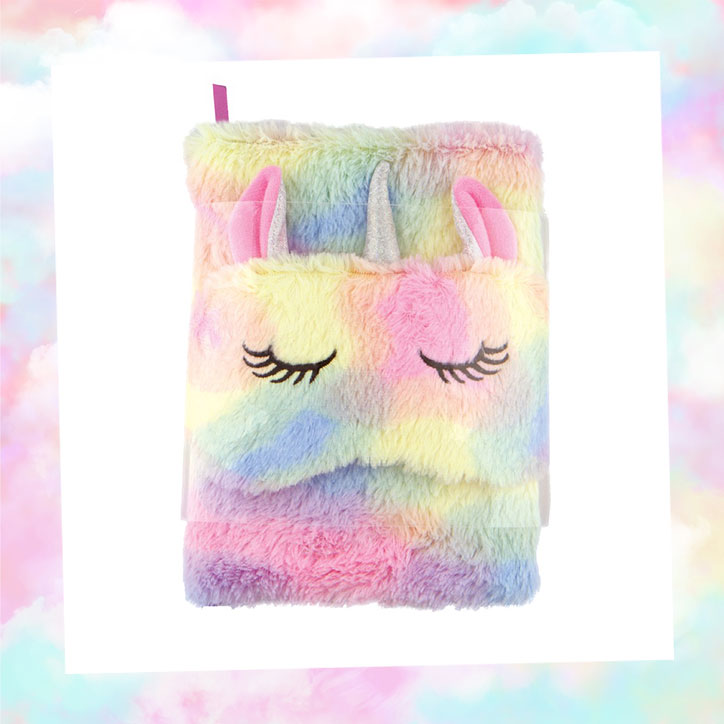 Fur Dream Journal & Sleep Mask Set from Fashion Angels
Journaling is a great way to unwind, and this dream journal from Fashion Angels is the perfect end to a cozy evening. Each night before bed, make a wish in your dream journal and pull the soft unicorn mask over your eyes for restful night's sleep.
After you're done having sweet dreams, record them in your journal to keep those chill vibes going strong into the next morning. Writing out your dreams isn't just a relaxing way to ease in your day, it's also useful for learning more about what's been on your mind.
Cozy Night In Giveaway: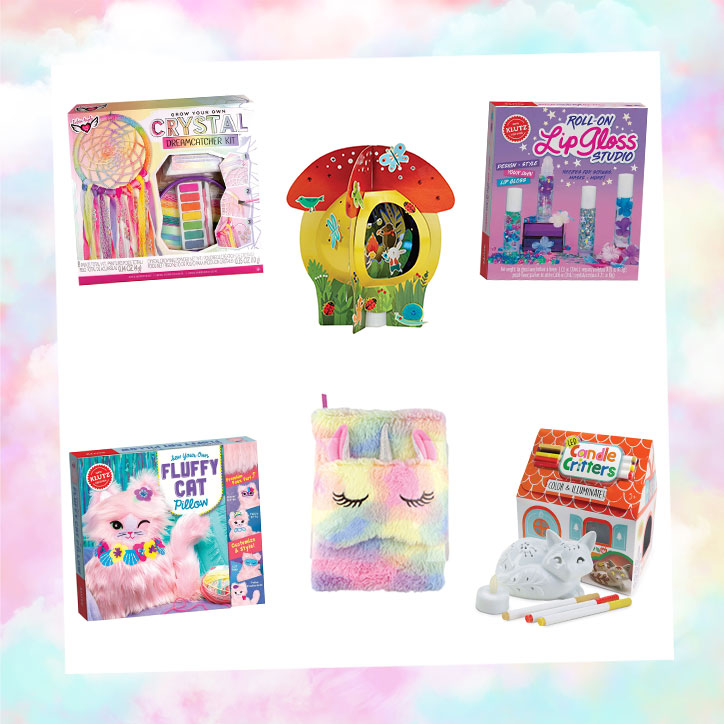 WHAT DO I WIN?:
ONE lucky winner will receive a Cozy Night In Prize Pack that includes:
– ONE (1) Grow Your Own Crystal Dreamcatcher Kit from Fashion Angels
– ONE (1) Fur Dream Journal & Sleep Mask Set from Fashion Angels
– ONE (1) Sew Your Own Fluffy Cat Pillow Kit from Klutz
– ONE (1) Roll-On Lip Gloss Studio Kit from Klutz
– ONE (1) LED Candle Critters Kit from Bright Stripes
– ONE (1) Lantern Lands Paper Lantern Kit from Bright Stripes
*Prizes generously provided by Fashion Angels, Klutz, and Bright Stripes
HOW DO I ENTER?:
Grab a parent or guardian and have them fill out the form below by March 19, 2020 at 11:59pm ET.
Giveaway runs from 03/05/20 at 05:30 pm ET through 03/19/20 at 11:59 pm. Open to US residents ONLY. Be sure to read the fully detailed rules HERE before entering.
THIS GIVEAWAY HAS ENDED AND THE WINNER HAS BEEN CONTACTED.
You must be 18 or older to enter. Please, only ONE entry per person. If selected as a winner, we will provide your parent/guardian with an affidavit to confirm that you are a valid winner who has permission to win. They will be REQUIRED to sign and return the affidavit to YAYOMG! to claim your prize. Prizes will not be mailed out without signed parental consent.
Reading also an amazing way to spend a relaxing night at home! Find your next favorite book by clicking here!