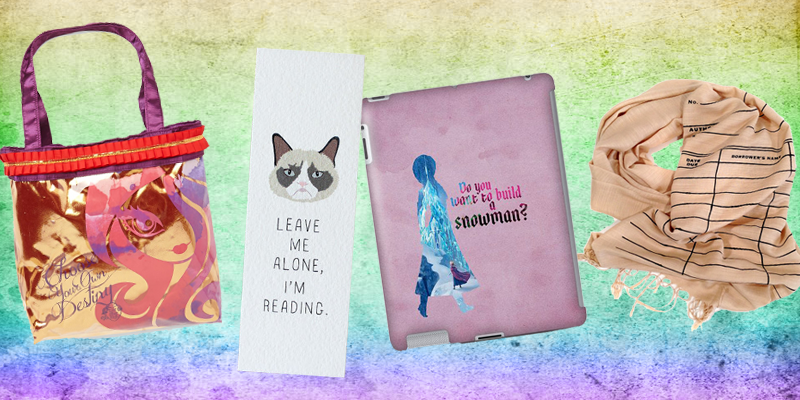 Cutest Book Accessories Ever
It's no secret that we absolutely love to read! Every chance we get (on the train, on the bus, at lunch, before bed), we're cracking open our latest literary obsessions, itching to read one more chapter. Back in our summer reading post, we promised some sweet book accessories to go along with whatever (awesome) book you're reading lately! Whether you're a total book nerd, an Ever After High fanatic, or completely devoted to your feline friends, check out our picks for the cutest book accessories:

The Book Nerd
These book accessories are great for you if you can't get enough of that literary life! Chances are, you've been obsessed with books since you learned to read (welcome to the club!). Books aren't just annoying homework assignments, they're a way of life! You're inspired by them, you learn from them, and you probably have a notebook somewhere in your room with quotes from your favorites.

The Cat Lover
MEOW-dy, cat lovers! These accessories are for you guys, just trying to show the kitties some love! (Meanwhile, have you ever tried to read a book with a cat around? Hint: it's impossible.)

The Disney Fan
Did you know that most of the Disney princess movies we know and love were adapted from super old fairy tales? Disney movies are practically the only exceptions to the rule that the books are better than the movies (don't tell anyone we said that).


The Library Goer
Do you love going to the library to get your books? So do we. It's so peaceful in there. Plus, if rows and rows of free books is wrong, we don't want to be right.

The Ever After High Fan
Last but absolutely-without-a-doubt not least, here are reading accessories for all the Ever After High fans out there! Considering that The Storybook of Legends is an incredibly important part of the Ever After High story, it seems only fair to don your reading material in Ever After High fineries!
There are so many amazing book accessories out there, it was so tough to pick these select few. What are your favorite ways to celebrate your love for literature? Check out our Summer Reading Picks for lots of books to cram into these book totes! Happy reading!