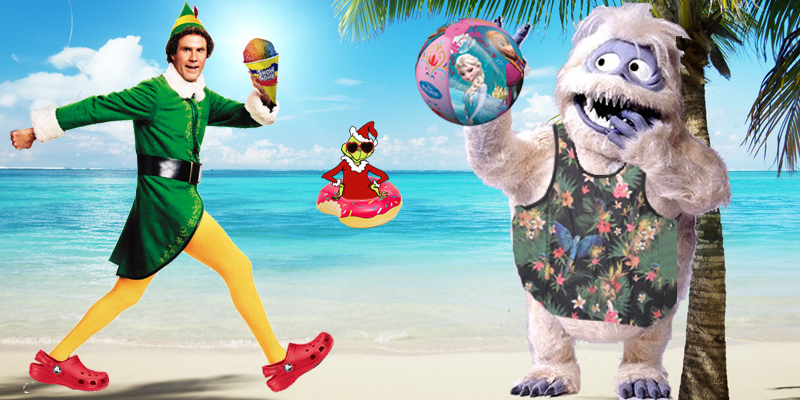 How Christmas Characters Spend Their Summer Vacation
Hooray! July 25th means it's only 6 months until Christmas – aka it's Christmas in July! Only 6 more months until we get to get lots of presents from Santa, cram a ton of Christmas cookies in our faces, and watch our favorite Christmas specials on repeat for weeks! But what do all those Christmas characters do for the rest of the year when no one is watching them? When the snow melts and the holiday cheer fades and we all swap winter coats for bathing suits what happens to Frosty, Rudolph, and even Santa? We think we've got it figured out!
 How Christmas Characters Spend Their Summer Vacation:

Since Bumble is a reformed baddie who no longer enjoys eating every creature who crosses his path, he spends his summers at the beach. (doing whatever snow does in Summer!) Since we know another famous snowman who enjoys summer, we think that Bumble and Olaf spend their summers together – hitting the beach, frolicking through the flowers, and getting gorgeously tanned.
Something tells us they'll become total besties and post tons of #beachselfies on Insta! Fingers crossed for a few random musical numbers as well!

When Santa and Jack Frost aren't busy saving the world from being engulfed in complete and total darkness, they love hitting up summer camp! This year they're joining Mitchie and Connect 3 at Camp Rock. Something tells us their Final Jam number is going to be legendary, as long as Tess keeps her ego in check and doesn't ruin everything!
After the annual end of summer bonfire, Jack Frost can freeze the lake and everyone can go ice skating! Fun Fact: Santa is AWESOME at arts and crafts.

Buddy the Elf, what's your favorite snow cone flavor? In the summer, Buddy and Jovie head to their summer house in Hawaii and spend their summers relaxing under a palm trees on the beach. Buddy uses his legit snowball making skills to run the local snow cone stand. He makes a perfect scoop every time! (He also serves candy, candy canes, candy corn, and syrup!)
After a few months of fun in the sun, Buddy heads back to the North Pole to help Santa and the rest of the elves prepare for Christmas and visits his family in New York City.


After returning all the Christmas presents to the Whos in Whoville and joining them for their annual Roast Beast, the Grinch realized that the reason he was such a curmudgeon was that the cold weather in Mount Crumpit was really starting to get to him. The Grinch and Max decided to spend the summer at a lake house so they can enjoy the warm weather and grow their hearts even more than three sizes larger!
Grinchypants has started riding his bike every morning and loves swimming in the lake with Max. They make s'mores together every night, and Max likes to chase the fireflies. Mr. Grinch has invited the Whos to come up from Whoville for a finishing trip and an epic game of hide and seek.

Turns out, Frosty the Snowman is seriously obsessed with going to the water park! He likes to chill out in the lazy river, but his absolute favorite is the really high, super scary water slide. Since he's already awesome at sliding on his belly, he likes to go down belly first! He dreams of one day opening his own water park called Frosty's Jolly Happy Water World.
Maybe Olaf and Bumble will take a trip to chill out snowman style at Frosty's water park sometime?
Now that you know what your favorite Christmas characters have been up to all summer, it's time to turn up the AC, put on your favorite holiday sweater, and get in the Christmas in July spirit! Mom and Dad probably won't let you set up the tree 6 months early, but your Christmas List awaits! Only 6 months left to fill that sucker up with lots of awesome junk!