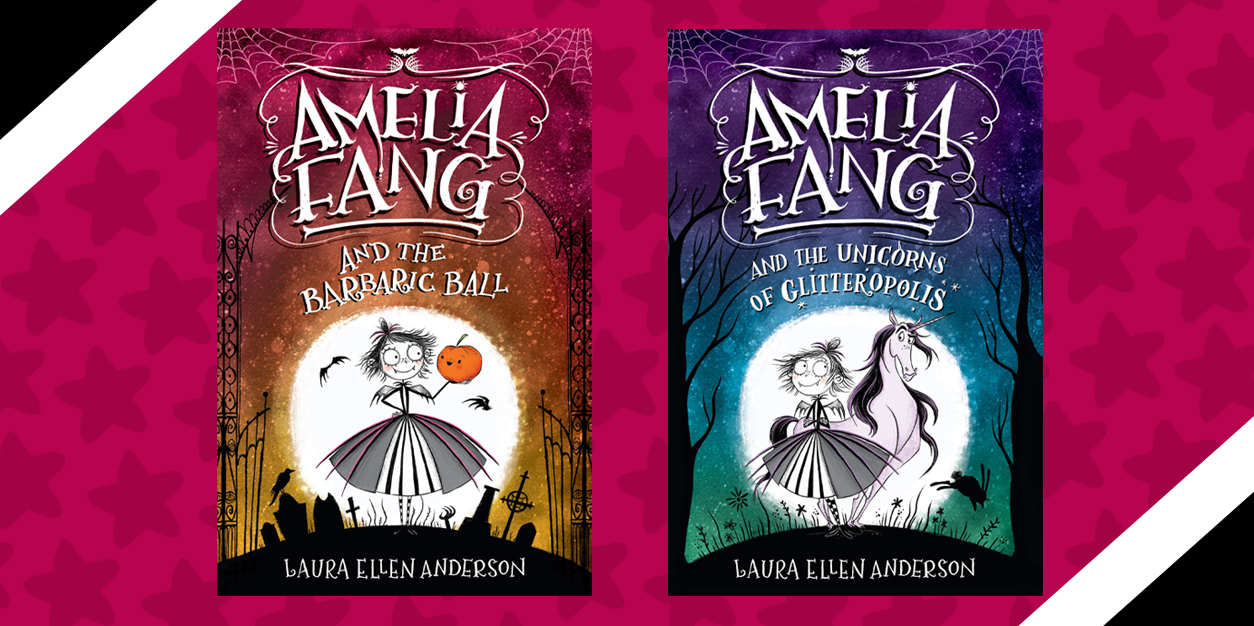 Amelia Fang: Interview With Author Laura Ellen Anderson + GIVEAWAY!
NOTE: We teamed up with Penguin Random House for this Amelia Fang Giveaway. All opinions are our own; we were under no obligation to give a positive review. Giveaway prizes provided by Penguin Random House.
Meet Amelia Fang, a friendly young vampire with a love of pumpkins and a big heart!
In this new series from Laura Ellen Anderson, we follow the quirky Amelia and her pet pumpkin Squashy along for their hilarious adventures through the world of Nocturnia. You'll meet lots of unforgettable characters along the way, but watch out for kittens, fairies, unicorns, and other terrible creatures of the Light!
Amelia will navigate friendships with her besties Florence and Grimaldi, life at Catacomb Academy, and find her place within her family who want her to grow into the vampiress she's destined to be. Amelia has her own ideas about how to live and we love how she's a strong, unique female lead who shines bright in a gothic world.
The books are filled with gorgeous illustrations, lots of spooky puns, and are perfect for fans who wish it was Halloween all year long!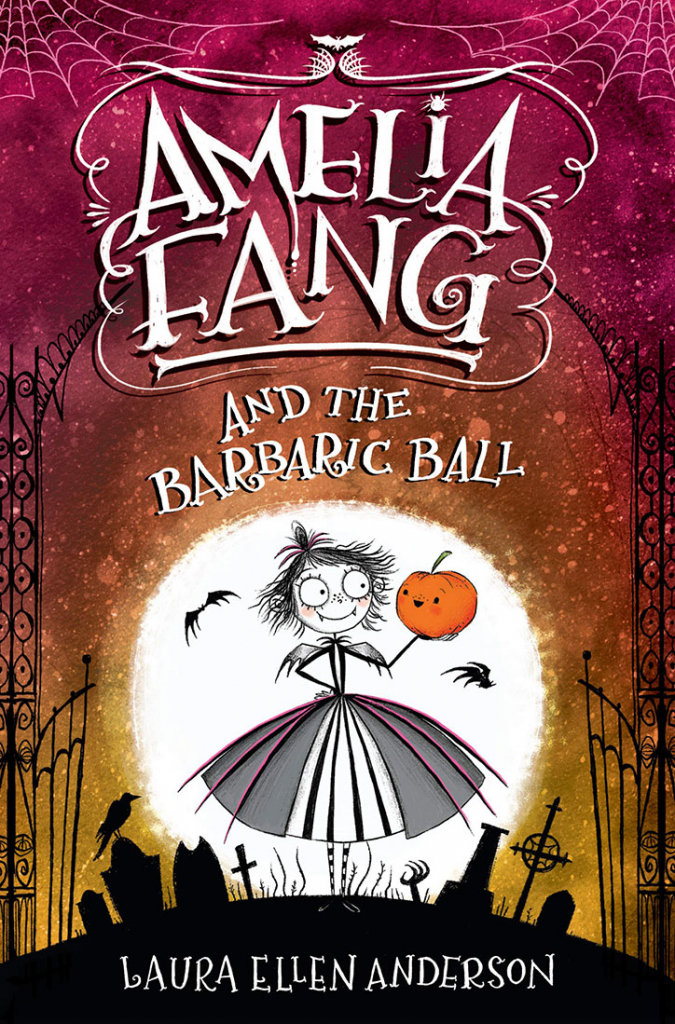 Meet Amelia Fang.
She loves playing Goblin Tag, and cuddling her pet pumpkin, Squashy. She hates going to her mum and dad's boring Barbaric Ball. Oh, and one more thing – Amelia is a vampire.
When the spoilt prince of Nocturnia captures Squashy, Amelia must plan a daring rescue. But things in the Kingdom of the Dark may not be all they seem…
Join Amelia on her first abominable adventure. She won't bite!
Amelia Fang and the Barbaric Ball
AUTHOR: Laura Ellen Anderson
PUBLISHER: Delacorte Books for Young Readers
DATE: July 30, 2019
We caught up with author Laura Ellen Anderson about the inspirations behind the fantastic Amelia Fang series! Plus – we teamed up with Penguin Random House to give one lucky winner a chance to WIN an Amelia Fang Prize Pack!
Interview with Amelia Fang Author Laura Ellen Anderson:
What inspired you to bring Amelia Fang and the world of Nocturnia to life?

LAURA ELLEN ANDERSON: I've always been a huge fan of animated film, particularly anything by Disney Pixar and Tim Burton's earlier creations such as the Nightmare Before Christmas and Corpse Bride. And I LOVE Fall and Halloween!

My dream was to create a quirky gothic story with fun characters the reader can relate to and enjoy spending time with. Having worked with other incredible authors and bringing their characters to life through my illustrations, I was desperate to bring my own world to life. It was important to me to create a strong female lead, and a book which had themes important for today's society, of friendship, acceptance and tolerance.
Which 3 words would you use to describe Amelia?

LAURA: Brave, Friendly, Loyal
If Amelia lived in our world, who do you think her heroes/idols would be?

LAURA ANDERSON: I think Amelia would be particularly inspired by Sir David Attenborough because of his passion for nature and love of animals. Amelia wants to be a pumpkinologist when she grows up and help poorly pumpkins! So, I can imagine in our world, she would want to be a vet or a zoologist so that she can study/help animals in one way or another.
If you were invited to a Barbaric Ball, what would you wear?

LAURA: I think I'd go for the crazy, quirky Helena Bonham Carter vibe! Think Bellatrix Le Strange mixed with Lydia from Beetlejuice… Messy, curly hair, smoky eye make-up with a black and white stripy dress, and lacey black gloves. Maybe a pair of sparkly black Converse trainers instead of posh shoes, to give me that cool fun edge!
We always ask our authors to share words of wisdom/advice for their readers, but we'd love to hear what Amelia would have to say. What advice do you think she would share with the readers of your book/YAYOMG! readers?

LAURA: Be inspired by the things you love – in my case, all things Fall, Halloween, Tim Burton films and PUMPKINS!

Make time for your family and friends and keep smiling. It really does make you feel GREAT, even during trickier times. If you love writing and drawing, keep at it! If you're passionate about something, it will come shining through. So follow your dreams and ambitions, try your best, and most importantly, ALWAYS BE YOURSELF!
Amelia Fang Giveaway: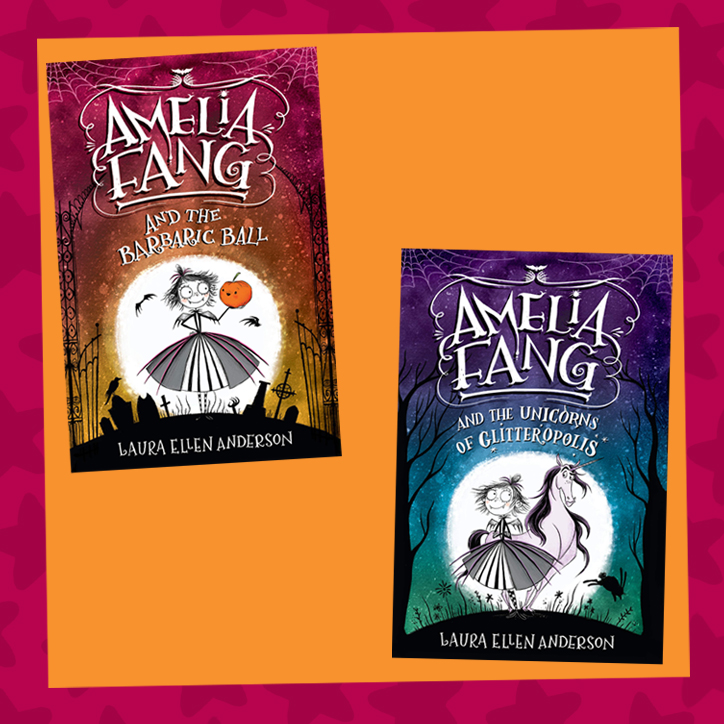 WHAT DO I WIN?:
ONE lucky winner will an Amelia Fang Prize Pack that includes:
– ONE (1) copy of Amelia Fang and the Barbaric Ball by Laura Ellen Anderson
– ONE (1) copy of Amelia Fang and the Unicorns of Glitteropolis by Laura Ellen Anderson
*Prizes generously provided by Delacorte Books for Young Readers.
HOW DO I ENTER?:
Grab a parent or guardian and have them fill out the form below by August 13, 2019 at 11:59pm ET.
Giveaway runs from 07/30/19 at 11:30 am ET through 08/13/19 at 11:59 pm. Open to US residents ONLY. Be sure to read the fully detailed rules HERE before entering.
THIS GIVEAWAY HAS ENDED AND THE WINNER HAS BEEN CONTACTED.
You must be 18 or older to enter. Please, only ONE entry per person. If selected as a winner, we will provide your parent/guardian with an affidavit to confirm that you are a valid winner who has permission to win. They will be REQUIRED to sign and return the affidavit to YAYOMG! to claim your prize. Prizes will not be mailed out without signed parental consent.
Looking for even more amazing reads? We've got you covered, click here!