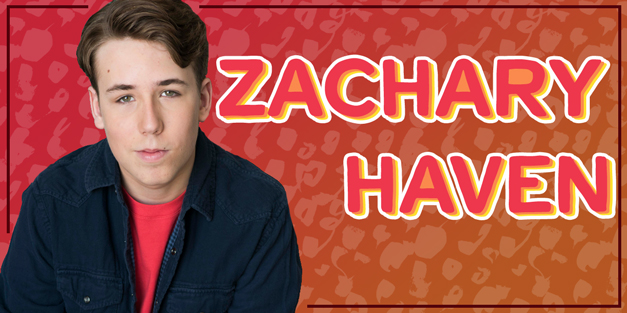 Zachary Haven Shares his Love of Acting, Gaming, and Swordplay
You may not know Zachary Haven now, but he's absolutely one to watch! This talented young actor on the rise has already landed quite a few roles, including one in the new film, Father Figures, where he stars as "Ethan," the son of Ed Helms' character, Peter. Being able to watch and learn from the star-studded cast, Zachary has taken their advice to heart and learned quite a bit about acting and the fun of being on set. When he's not acting, Zachary is an avid gamer who gives his time and attention to many charities.
Get to know Zachary Haven as he chats about his favorite memories from the set of his new film, the best advice he's been given, and his love of swordplay in the interview below.
Get to Know Zachary Haven:

On working alongside Ed Helms in their new film, Father Figures:
"Ed was amazing to work with. He taught me how improvising really works well on set, and that you don't have to stick to the script. He also taught me that it is okay to play around in between takes. You don't have to be serious the whole time."
His three favorite memories from the set:
"My favorite memory could be one of these three:
The first was when we were doing a scene, and in between the takes, Ed would set off the car alarm. This was a great lesson of how you can have fun in between takes.
The second memory was probably the hardest time I had to keep from laughing uncontrollably. There was a scene where Peter was talking to my character, Ethan, and he was improvising and asking me really funny questions and saying dad jokes, and the whole time, I was supposed to be mad and ignoring him. That was tough, and I broke out laughing immediately when they yelled cut.
The third best memory from the set was getting to play with Glenn Close's dog, Pip."
He has a passion for swordplay and video games:
"When I was younger, my brother and I would play with foam swords all the time. A friend of mine told me about Swordplay, and I checked it out. It was so much fun, but also exhausting. Holding a 10-pound iron sword is much more exhausting than a foam sword. What was great about the class is that it teaches you quick reaction timing and hand to eye coordination. I loved learning the different sequences and choreography to perform real sword fights without getting hurt."
"My favorite video games are Overwatch, Players Unknown Battlegrounds, and Destiny 2. I often do Twitch streaming on these games on my Twitch and YouTube account, ZlittleDude."
On his charity work and drive to help further Alzheimer's research:
"My grandmother just recently passed away because of the horrific disease. I want to help make sure that no one has to suffer from this disease in the future. We must find a cure!"

Something you might not know about him…:
"I guess people wouldn't know that I was born deaf and that I have a lot of back pain. When I was one, I had osteomyelitis and discitis. It was debilitating. I went from running around to not being able to even sit up. While I do not have the disease anymore, I do have lasting spinal pain from it."
The place he'd most like to travel:
"I would love to go to Australia. It seems like a really cool place. Plus, I would love to hold a koala bear! They are so cute and cuddly looking."
The advice he's taken to heart:
"The best acting advice I have ever received was 'don't play a scene, be a part of it!'
The best life advice is to 'make every breath count and do something you love!'"
Did you know? Actor Cooper Friedman who played Doy on Girl Meets World also loves gaming! Click here to get to know him and see his legendary Legend of Zelda inspired birthday cake!