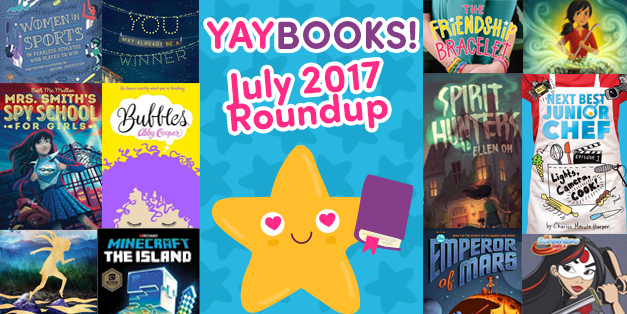 YAYBOOKS! July 2017 Roundup
Can you guys believe we're already on our third YAYBOOKS! Roundup? We sure can't! It's been three months of amazing book recommendations and lots of reading adventures for us and for our YAYOMGers. This monthly list has helped us make new author and publisher friends and it's helped tons of YAYOMGers find their latest favorite book.
Now that it's July and the Summer heat is blazing, turn on the air conditioning and snuggle up with one of the fantastic books you'll find below.
YAYBOOKS! July 2017 Roundup: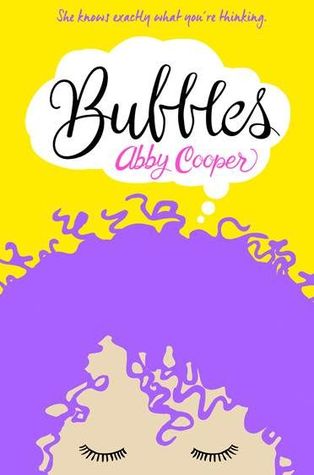 Bubbles
Author: Abby Cooper
Publisher: Farrar, Straus, and Giroux
Date: July 3
YAYOMG!:
As huge fans of Abby Cooper's debut novel, Sticks and Stones, adding her second novel, Bubbles, onto our list of Most Anticipated Reads of the Year was basically a no brainer. We're super excited that it's finally July so that all of you can get your hands on this novel and get a chance to enter Sohpie Mulvaney's world. She faces a lot of the same issues you guys do on a daily basis – school stress, family struggles, BFF drama – except Sophie can see bubbles above people's heads that tell her what they're thinking. Bubbles is a great mix of humor, a hint of magic, and the perfect read for anyone struggling with anxiety or needing a little push outside their comfort zone.
SYNOPSIS:
Twelve-year-old Sophie Mulvaney's world has been turned upside down. Mom lost her job at the TV station and broke up with Pratik, whom Sophie adored. Her teacher is making them do a special project about risk-taking, so Sophie gets roped into doing a triathlon. And to top it all off, she's started seeing bubbles above people's heads that tell her what these people are thinking. Seeing other people's thoughts seems like it should be cool, but it's actually just stressful. What does it mean that Pratik wishes she and Mom were with him to eat dinner? Is her best friend Kaya really going out with their other best friend, Rafael, whom Sophie also has a crush on? And can Sophie's mom ever go back to her old self? In this funny, heartwarming novel, Sophie comes to learn that people are more than what they seem—or what they think.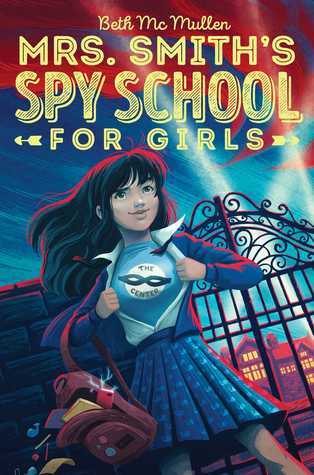 Mrs. Smith's Spy School for Girls
Author: Beth McMullen
Publisher: Aladdin
Date: July 4
YAYOMG!:
If you're looking for a way to turn your dull Summer into an action-packed spy adventure, this is the book for you. Read it by the pool, read it up in a tree, read it incognito while trying to diffuse a bomb. Mrs. Smith's Spy School for Girls is the book version of a Summer blockbuster – it's got high energy, big thrills, twists, and lots of OMG moments that'll have you on the edge of your seat. You'll probably want to pop some popcorn for this one.
By the time you finish this exciting read, you'll be an expert spy ready to take on any challenge. We promise it'll give you all the thrills you need this Summer and have you snooping around your school this Fall trying to figure out if it's secretly a spy training facility.
SYNOPSIS:
A girl discovers her boarding school is actually an elite spy-training program, and she must learn the skills of the trade in order to find her mother in this action-packed middle grade debut.
After a botched escape plan from her boarding school, Abigail is stunned to discover the school is actually a cover for an elite spy ring called The Center, along with being training grounds for future spies. Even more shocking? Abigail's mother is a top agent for The Center and she has gone MIA, with valuable information that many people would like to have—at any cost. Along with a former nemesis and charming boy from her grade, Abigail goes through a crash course in Spy Training 101, often with hilarious—and sometimes painful—results. But Abigail realizes she might be a better spy-in-training than she thought—and the answers to her mother's whereabouts are a lot closer than she thinks…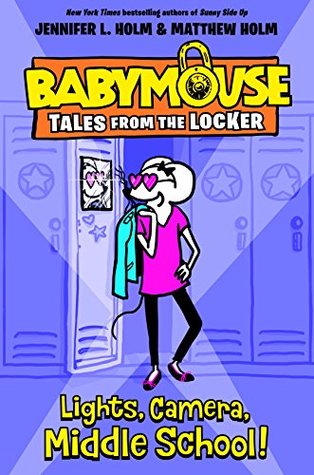 Babymouse Tales from the Locker: Lights, Camera, Middle School
Author: Jennifer L. Holm
Illustrator: Matthew Holm
Publisher: Random House Books for Young Readers
Date: July 4
YAYOMG!:
If you grew up reading Babymouse, you know that that she's totally sassy, glamorous, and totally cool. She struggles with a lot of the same worries and situations as an ordinary kid, which is what makes her so easy to relate to. This new Babymouse graphic novel marks the first in her brand new series of middle school adventures. That's right – Babymouse is headed to middle school to tackle mean girls, homework, and the ever present feeling like you have to fit in. But if you know anything about Babymouse, you know that it's her life goal to stand out, be herself, and make statement, and that's exactly what she's about to do!
SYNOPSIS:
It's a new kind of book for Babymouse! Fans of Dork Diaries, Diary of a Wimpy Kid, and James Patterson's Middle School books, this is going to be epic. . . .

For Babymouse, middle school is like a monster movie. You can never be sure who's a friend and who's an enemy, and the halls are filled with mean-girl zombies. Instead of brains, the zombies hunger for stuff—the perfect wedge sandals or the right shade of sparkly lip gloss—and they expect everyone to be just like them.

But Babymouse doesn't want to fit in—she wants to stand out! So she joins the film club to write and direct a sweeping cinematic epic. Will making the film of her dreams turn into a nightmare?

Thanks to Babymouse, middle school gets schooled in this hilarious new series from bestselling authors Jennifer L. Holm and Matthew Holm.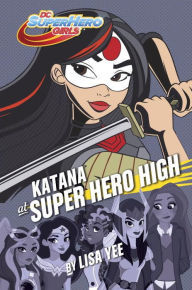 DC Super Hero Girls: Katana at Super Hero High
Author: Lisa Yee
Publisher: Random House Books for Young Readers
Date: July 4
YAYOMG!:
The fourth book in the DC Super Hero Girls series features the fierce Samurai, Katana! Katana doesn't get nearly enough screen time in the animated series, so we're super psyched that there's an entire book dedicated to her. Katana's adventure includes strange voices, secret passageways beneath the school, teamwork, a baddie named the Dragon King, and a mystery Katana must solve about her grandmother before it's too late. Get your cape on, grab your sword, and get ready to save the day alongside Katana, Supergirl, Wondy, and all your other favorite DC Super Hero Girls. When you're done reading, see if you can ace our Intergalactic Games quiz!
SYNOPSIS:
Sword-wielding Katana isn't like most high school students–but with classmates like Wonder Woman, Batgirl, and Supergirl, Super Hero High isn't like most high schools!
In addition to training to be a super hero, Katana also follows the noble warrior traditions of the Samurai. Now an unknown source has given her the responsibility of guarding a hundred ancient Samurai swords–but why her, and for what purpose? With the help of Wonder Woman, Supergirl, Ms. Martian, and some of her other super friends, she intends to find out. But she just made captain of the fencing team, she has a huge school project due, and a villain with ties to her family's past seems to be amassing an army. Maintaining her inner peace isn't going to be easy… but Katana has the steel to save the day!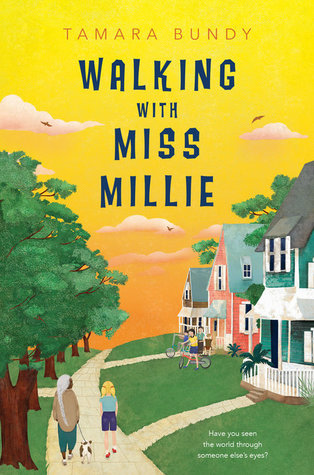 Walking with Miss Millie
Author: Tamara Bundy
Publisher: Nancy Paulsen Books
Date: July 4
YAYOMG!:
Readers of historical fiction will love this extremely sweet read about coming to terms with changes we can't control, accepting each other's differences, and finding friends in the most unlikely of places. We haven't had a chance to read this one, but we're excited to add it to our list for the Summer. Taking place in 1960's Georgia, we have a feeling the story will read like a sticky, humid Southern day and teach important lessons of racism, acceptance, and learning from our elders. They're wise and experienced, afterall.
SYNOPSIS:
A poignant middle grade debut about the friendship between a white girl and an elderly black woman in the 1960s South.
Alice is angry at having to move to Rainbow, Georgia—a too small, too hot, dried-up place she's sure will never feel like home. Then she gets put in charge of walking her elderly neighbor's dog. But Clarence won't budge without Miss Millie, so Alice and Miss Millie walk him together. Strolling with Miss Millie quickly becomes the highlight of Alice's day, as she learns about the town's past and meets a mix of its catty and kind residents. As the two become confidantes, Alice is finally able to express her heartache over her father's desertion; and when Miss Millie tells her family story, Alice begins to understand the shameful history of Segregation, and recognize the racism they need to fight against. Navigating the neighborhood with Miss Millie gives Alice new perspective, the wisdom to move on from her anger, and even enables her to laugh again.
Tamara Bundy's beautifully written story reminds readers that there is nothing like friendship to lighten one's load, and make anyplace a home.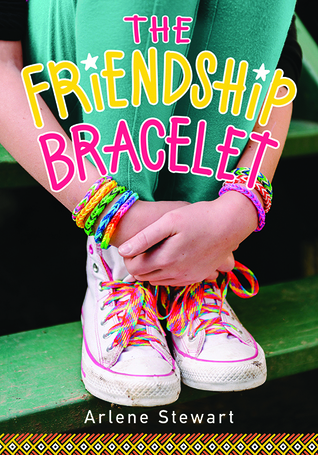 The Friendship Bracelet
Author: Arlene Stewart
Publisher: Sourcebooks Jabberwocky
Date: July 4
YAYOMG!:
We were lucky enough to read an advance copy of The Friendship Bracelet, but before we tell you what you need to know – can we just take a moment to gush about how amazing the cover turned out? It's so vibrant and colorful and just the perfect way to represent the story. If you've ever had to face the school year alone after a best friend moved away or switched schools, you'll find a lot to relate to in this adorable read. Filled with pop culture references and middle school awkwardness, you'll feel like you're right there alongside Olivia rooting for her against terrible mean girls, as she makes new friends, and while she threads together friendship bracelets and weaves her life back together.
SYNOPSIS:
An old friendship bracelet might provide the threads Olivia needs to connect a new group of friends in this sweet new middle grade series.
As class klutz and all-around misfit, Olivia Jones thought that starting middle school would be tough enough. What's worse, her BFF and next-door neighbor, Alex, is moving to Paris. Then Olivia discovers an old friendship bracelet in her mother's drawer and realizes there might be a way for her to feel connected to Alex, even when they're an ocean apart. Life without her BFF is hard, but when Olivia's cousins move into the neighborhood, she discovers there are lots of opportunities for making new friends.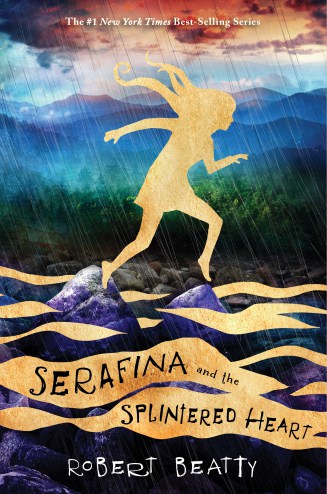 Serafina and the Splintered Heart
Author: Robert Beatty
Publisher: Disney Publishing
Date: July 4
YAYOMG!:
Fans of the Serafina series, get excited, it's time to head back to Biltmore Estate. We love the way the Serafina series perfectly combines eerie vibes, mysterious happenings, and high stakes adventure. Reading these books gives us a lot of the same feels we had while reading Harry Potter, and it's one of the things we love most about it.
Serafina and the Splintered Heart (what an insanely great title!) brings big changes for our heroine as she doesn't just face a battle, but she must figure out who she can trust, harness her powers, and save everyone she loves from devastation. There's lots of twists that'll keep you on your toes and it's so action-packed you'll have a hard time putting it down. Serafina lives in such an intricate, magic driven world that's beautifully detailed by the author, and she's a fierce heroine who never gives up.
SYNOPSIS:
The storms are coming….
Something has happened to Serafina. She has awoken into a darkness she does not understand, scarred from a terrible battle, only to find that life at Biltmore Estate has changed in unimaginable ways. Old friends do unthinkable things and enemies seem all around. A mysterious threat moves towards Biltmore, a force without a name, bringing with it violent storms and flooding that stands to uproot everything in its path. Serafina must uncover the truth about what has happened to her and find a way to harness her strange new powers before it's too late.
With only days to achieve the impossible, Serafina fights to reclaim herself as the Guardian of Biltmore, friend of Braeden, daughter of her Pa, and heroine of the Blue Ridge Mountains and all the folk and creatures that call it home. In the epic third installment of Robert Beatty's #1 bestselling series, Serafina takes her rightful place among literary champions as she battles fiercely to defend all she loves and become everything that she is meant to be.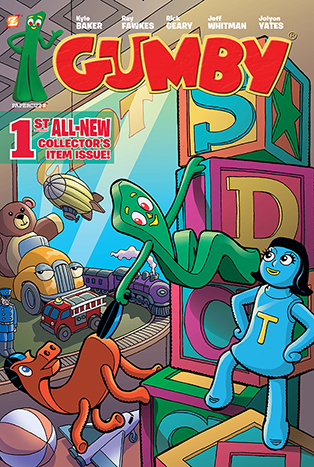 Gumby: Volume #1
Authors:
Jeff Whitman, Ray Fawkes, Kyle Baker
Illustrators:
Kyle Baker, Jolyon Yates
Publisher:
Papercutz
Date:
July 5

YAYOMG!:
He can change into anything with his pals
Pokey, Prickle, and Goo!
He can turn into a comic book if he wants to! Okay, that's not exactly how the song goes, but that's what happened here.
Gumby
is back for the first time in over a decade, and this time he's here in the form of colorful comic collection with contributions from a variety of iconic children's and young adult authors. This first volume features 3 different comic adventures, insanely fantastic artwork, and gets us super excited for the upcoming
Gumby
animated series and movies that are in the works from the
Jim Henson Company.
We're personally looking forward to
Art Baltazar's
take on
Gumby
in one of the future installments of this series, his charming crayon doodle style and wacky sense of humor will be a great fit for sure.
SYNOPSIS:
Gumby, Pokey and the gang are back with new adventures for the first time in over ten years! Newly reimagined stories bring the magic of the classic clay boy to a new generation. First, moon creatures invade the toy store where Gumby lives! Gumby and his friends must muster up the courage to contain these triangular foes. Also featuring more stories of the flexible green gumbino told by today's top storytellers like Ray Fawkes and Kyle Baker!

It All Comes Down to This
Author: Karen English
Publisher: Clarion Books
Date: July 11
YAYOMG!:
Like Walking with Miss Millie that we mentioned above, this story takes place in the 1960's and tackles racial injustice, but in a much different way. Head to the West Coast and step into Sophie's life in 1965, a young black girl who just moved into a predominately white neighborhood. All Sophie really wants is what any of you guys want – to work on her hobbies and hang out with her friends, but there's some important things going around her that she just can't ignore. Her sister is headed off for college, her parents' marriage is on the rocks, and the historic Watt's riots are about to break out. This novel tackles prejudice and the Civil Rights movement in a way that's digestible for young readers and even though it's set in the past, brings to light some heavy issues we're facing in the present day.
SYNOPSIS:
It's 1965, Los Angeles. All twelve-year-old Sophie wants to do is write her book, star in the community play, and hang out with her friend Jennifer. But she's the new black kid in a nearly all-white neighborhood; her beloved sister, Lily, is going away to college soon; and her parents' marriage is rocky. There's also her family's new, disapproving housekeeper to deal with. When riots erupt in nearby Watts and a friend is unfairly arrested, Sophie learns that life—and her own place in it—is even more complicated than she'd once thought.
Leavened with gentle humor, this story is perfect for fans of Rita Williams-Garcia.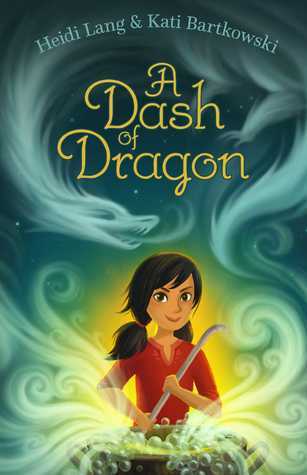 A Dash of Dragon
Authors: Heidi Lang and Kati Bartkowski
Publisher: Aladdin Books
Date: July 11
YAYOMG!:
Ever since we saw the cover reveal for this book, we've knew we HAD to read it. You can tell the girl is totally fearless and the steam coming off the cauldron just lures you in to what's bound to be a magical and exciting read. Thankfully, we were right!
Lailu Loganberry is just thirteen years old, but she's been training to be a chef for basically her entire life. Her cooking skills outshine even some of the most seasoned chefs, so when her restaurant faces the threat of being shut down, you can bet she'll do anything she can to fight for it. This includes facing off against an elven mafia, taking on her restaurant rival (aka the totally obnoxious boy from school), crushing on egotistical hero types, and SO much more.
This book is a total delight and it's bound to be a fast favorite for a lot of you out there. We love how the author blended together a medieval fantasy with a cooking based storyline.
SYNOPSIS:
For years Lailu has trained to be the best chef in the city. Her specialty? Monster cuisine. When her mentor agrees to open a new restaurant with Lailu as the head chef, she's never been more excited. But her celebration is cut short when she discovers that her mentor borrowed money from Mr. Boss, a vicious loan shark. If they can't pay him back, Lailu will not only lose her restaurant—she'll have to cook for Mr. Boss for the rest of her life.
As Lailu scrambles to raise the money in time, she becomes trapped in a deadly conflict between the king's cold-blooded assassin, the terrifying elf mafia, and Mr. Boss' ruthless crew. Worst of all, her only hope in outsmarting Mr. Boss lies with the one person she hates—Greg, the most obnoxious boy in school and her rival in the restaurant business.
But like Lailu always says, if you can't stand the heat, stay out of the kitchen. And she's determined to succeed, no matter the cost!

You May Already Be a Winner
Author: Ann Dee Ellis
Publisher: Dial Books
Date: July 11
YAYOMG!:
If you thought you were going to make it through this list without us giving you a heartbreaker, you thought wrong. This book has been compared to the likes of The Thing About Jellyfish and Crenshaw, so you know you're going to need a comforting snack and a box of issues by your side while reading this one. It's our "we're not telling you anything, you've just gotta read it for yourself" pick of the month. This one is for those of you who have to step up a little more often than you'd like, grow up a little faster than is necessary, or have ever had to take over and help out your family in a really big way that's far beyond your years.
SYNOPSIS:
For fans of Ali Benjamin's The Thing About Jellyfish and Katherine Applegate's Crenshaw comes the humorous and heart aching story of one girl's struggle to keep hope alive for her and her younger sister in Sunny Pines Trailer Park.

Twelve-year-old Olivia Hales has a foolproof plan for winning a million dollars so that she and her little sister, Berkeley, can leave behind Sunny Pines Trailer Park.
But first she has to:
– Fix the swamp cooler and make dinner and put Berkeley to bed because her mom is too busy to do all that
– Write another letter to her dad even though he hasn't written back yet
– Teach Berk the important stuff, like how to make chalk drawings, because they can't afford day care and Olivia has to stay home from school to watch her
– Petition her oddball neighbors for a circus spectacular, because there needs to be something to look forward to at dumb-bum Sunny Pines
– Become a super-secret spy to impress her new friend Bart
– Enter a minimum of fourteen sweepstakes a day. Who knows? She may already be a winner!
Olivia has thought of everything . . . except herself. Who will take care of her when she needs it? Luckily, somewhere deep down between her small intestine and stomach is a tiny voice reminding her that sometimes people can surprise you–and sometimes your family is right next door.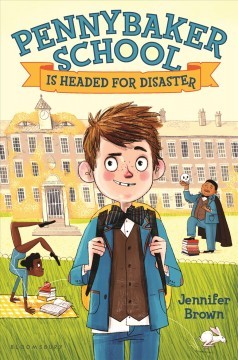 Pennybaker School is Headed for Disaster
Author: Jennifer Brown
Publisher: Bloomsbury Kids
Date: July 11
YAYOMG!:
Words we'd use to describe this book: hilarious, clever, delightful, quirky, magical, wacky, and fun! The best part? It's the first book in a brand new series, so you'll have lots more to enjoy where this came from. After accidentally creating magic out out his grandfather's old potions, Thomas Fallgrout finds himself enrolled at the Pennybaker Academy for the Uniquely Gifted. The kids who attend this school have all sorts of wildly unique talents, like playing the didgeridoo, juggling chainsaws, and more. Life is never boring at the Pennybaker school, and you'll never be bored while reading it!
SYNOPSIS:
Thomas Fallgrout always thought of himself as a regular kid until the day he accidentally creates a little big of magic using his grandpa's old potions. Suddenly, he's pulled from public school and enrolled in Pennybaker Academy for the Uniquely Gifted, where kids are busy perfecting their chainsaw juggling, unicycling feats, and didgeridoo playing.
Pennybaker is full of spirit thanks to its most beloved teacher: the late, great Helen Heirmauser. The school has even erected a statue of her head on a pedestal. Then, life is uprooted when the statue goes missing — and everyone thinks Thomas is behind its disappearance. Now his head is on the line. As his new friends turn on him, Thomas finds himself pairing up with the only person who will associate with him: his oddball next door neighbor Chip Mason. Together they work to hunt down the missing statue . . . only to discover that maybe what they've both needed to find all along was true friendship.
Featuring black-and-white illustrations, this wildly fun first book kicks off a hilarious new middle-grade series from acclaimed author Jennifer Brown.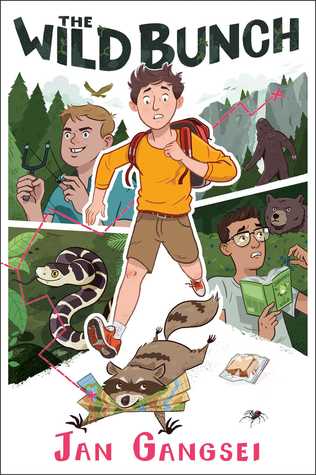 The Wild Bunch
Author: Jan Gangsei
Publisher: Aladdin
Date: July 11
YAYOMG!:
The Wild Bunch is a great choice to bring with you on a camping trip, because that's what this book is all about. A family camping trip gone completely and totally awry and a friendship forged between three very different kids on a hunt for a Bigfoot-like creature. Will the boys be able to work together and uncover the truth of the Beast of Bear Falls or will their differences tear them apart? This is a light and funny read that has a perfect place alongside the sleeping bag, camp bunk, or beach chair of a reluctant reader.
SYNOPSIS:
Three unlikely friends—brainiac Hector, bullish Jack, and sarcastic Paul—find themselves braving the wilderness in search of the mythical Beast of Bear Falls in this hilarious MAX novel.
As far as Paul Adams is concerned, the idea of a weekend camping in the nearby state park with his dad's two college friends and their sons, Hector and Jack, sounds like a nightmare. But even he finds the myth of the Beast of Bear Falls—a legendary Bigfoot creature—intriguing.
The trip gets off to a rough start, and calamity and disaster follow catastrophe. Against all odds, arguing most of the way, the crew face all sorts of obstacles natural and man-made. Can the three boys make it to Bear Falls and uncover the truth about the Sasquatch living there?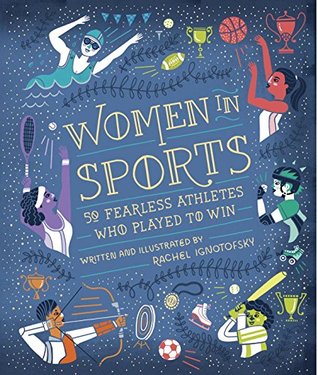 Women in Sports: 50 Fearless Athletes Who Played to Win
Author: Rachel Ignotofsky
Publisher: Ten Speed Press
Date: July 18
YAYOMG!:
Are you hearing squeals of delight through the glow of your screen right now? That's just us being totally excited that Women in Sports is finally here! We covered the amazing Women in Science book about the fearless women throughout history that made their mark in Science, Math, Technology, and Engineering (and the equally great interactive journal inspired by the series!) and now you're about to learn about the iconic women who made their mark in pioneering the Sports industry.
Complete with Rachel Ignotofsky's gorgeous artwork and oozing with tons of facts, you'll love learning about all these amazing women you rarely hear about in your history books. These 50 talented women fought to be included on all male teams, broke tons of records, and forged a path for all of us modern women who learning about, watching, and competing in sports.
SYNOPSIS:
Women in Sports highlights notable women's contributions to competitive athletics to inspire readers young and old. Keeping girls interested in sports has never been more important: research suggests that girls who play sports get better grades and have higher self-esteem–but girls are six times more likely to quit playing sports than boys and are unlikely to see female athlete role models in the media. A fascinating collection full of striking, singular art, Women in Sports features 50 profiles and illustrated portraits of women athletes from the 1800s to today including trailblazers, Olympians, and record-breakers in more than 40 different sports. The book also contains infographics about relevant topics such as muscle anatomy, a timeline of women's participation in sports, statistics about women in athletics, and influential female teams.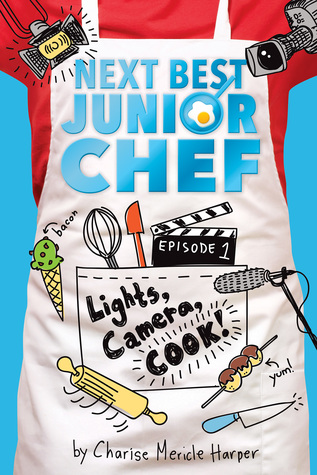 Next Best Junior Chef: Lights, Camera, Cook!
Author: Charise Mericle Harper
Illustrator: Aurélie Blard-Quintard
Publisher: HMH Books for Young Readers
Date: July 18
YAYOMG!:
GUYS! This book is basically like reading an episode of MasterChef Jr. instead of watching it. We know that lots of you are budding bakers and aspiring chefs, and we think the new Next Best Junior Chef series is going to be right up your alley. If you love experimenting in the kitchen and the thrills and suspense of reality TV shows, you'll love reading this book while waiting for your latest culinary creation to come out of the oven! We weren't able to read this one in advance, but you can bet it'll be at the top of our list when it releases in a few weeks.
SYNOPSIS:
A zesty series for fans of MasterChef Jr. and Kids Cook-off!
It's "lights, camera, cook!" for four tween contestants—energetic Tate, charming Rae, worldly Caroline, and hyper-competitive Oliver—who are all about to enter a televised cooking competition. What will the kids cook up? How will they all get along on- and off-camera? Which junior chef will have the grit—and maybe the grits—to make it through each challenge? And which junior chef will have to hang their apron up for good? Bonus: Includes real cooking techniques for the aspiring young chef!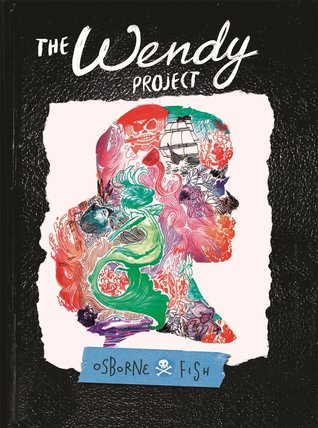 The Wendy Project
Author: Melissa Jane Osborne
Illustrator: Veronica Fish
Publisher: Super Genius
Date: July 18
YAYOMG!:
Everything about The Wendy Project is devastatingly beautiful, from the artwork to the story and everything in between. It's inspired by Wendy from Peter Pan and the world of Neverland, but tackling deeper themes of death and depression, so it's definitely intended for young readers who are more emotionally mature and ready for a story like this. Melissa Jane Osborne and Veronica Fish do an incredible job of illustrating the trauma of being in a car crash and the consequences and feelings we face after the fact by weaving in a classic fairytale we all know and love. We don't want to give too much away, so we'll stop here. Read this one, trust us!
SYNOPSIS:
16-year-old Wendy Davies crashes her car into a lake on a late summer night in New England with her two younger brothers in the backseat. When she wakes in the hospital, she is told that her youngest brother, Michael, is dead. Wendy — a once rational teenager – shocks her family by insisting that Michael is alive and in the custody of a mysterious flying boy. Placed in a new school, Wendy negotiates fantasy and reality as students and adults around her resemble characters from Neverland. Given a sketchbook by her therapist, Wendy starts to draw. But is The Wendy Project merely her safe space, or a portal between worlds?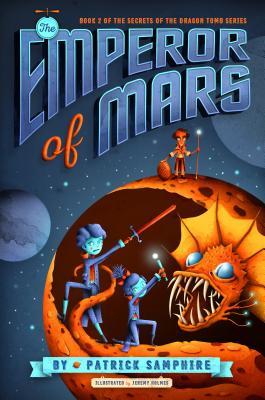 Secrets of the Dragon Tomb: The Emperor of Mars
Author: Patrick Samphire
Illustrator: Jeremy Holmes
Publisher: Henry Holt and Co.
Date: July 18
YAYOMG!:
If you loved the exhilarating Secrets of the Dragon Tomb, you'll be very excited to know that the sequel is headed to a bookstore near you this month! The Emperor of Mars picks up 8 months after the end of the previous book and we find Edward and Putty faced with entirely new challenges that include missing Martians, evil Emperors, sibling rivalry, and even a bit of romance. The sequel has all the puzzle solving, adventuring, and humor you remember from the first book but turned up a notch to make this read even better than the last!
One of our favorite things about this series is Patrick Samphire's incredible talented for painting a scene, especially in this incredible steampunk inspired take on the red planet.
SYNOPSIS:
A missing Martian. A sinister plot. A French spy.
If Edward thought life was going to be easy in Tharsis City, he was very, very wrong. The moment he intercepts a thief escaping from Lady Harleston's townhouse, he is caught up in a terrible scheme that threatens the whole of Mars.
Soon he's fighting off vicious sea serpents, battling a small army of heavily-armored thugs, and trying to unpick an impossible mystery. Meanwhile, Putty has declared war on her new governess, a war that, for the first time in her life, Putty may be in danger of losing.
Edward doesn't know whom he can trust. Will he make the right choice? Or will his family – and his entire planet – fall victim to the treacherous Emperor of Mars?
Join Edward and his family for a whole new, exciting adventure on Mars.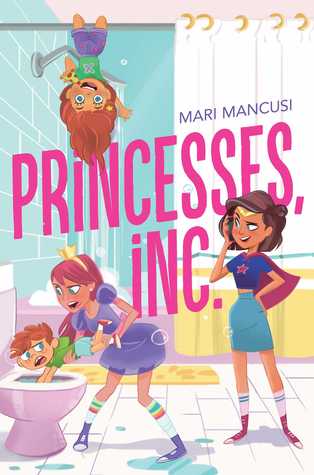 Princesses, Inc.
Author: Mari Mancusi
Publisher: Aladdin
Date: July 18
YAYOMG!:
The Babysitters Club meets ComicCon? SOLD. Hailey and her friends are dying to meet their favorite YouTuber, so they come up with a super unique babysitting service to raise the money to buy passes. They take things to the next level by dressing up in princess and pirate costumes to make themselves more alluring than the average babysitter! But caring for rambunctious kids and balancing school all while trying to earn enough to cash for ComicCon won't be easy. This is a really cute take on the classic babysitting adventure concept and if you loved Adventures in Babysitting on Disney Channel last Summer, we know you'll love reading this super fun story. Bonus Points: The main character has a passion for writing and love of video games!
SYNOPSIS:
Twelve-year-old Hailey and her friends form a unique babysitter's club in order to raise money to see their favorite YouTube star at a local ComicCon in this hilarious M!X novel.
Twelve-year-old Hailey and her BFFs are all big fans of Collin Prince, a YouTube star, and swoon-worthy crush. So when the opportunity to meet him at a local Comic-Con comes up, the girls jump at the chance. The problem? The convention isn't cheap—and the girls don't have the money to go. But Hailey isn't ready to give up just yet. In addition to meeting Collin at the convention, there is a young writer's competition that she is determined to enter—and win.
The girls dream up Princesses and Pirates, Inc., a babysitting service where the girls will dress up in costume to entertain their charges. Of course, they aren't as prepared as they thought they would be to deal with bratty kids, scheming older siblings (who are less than thrilled that their own babysitting jobs have dried up), and trying to balance their new "jobs" with school. And more responsibilities means less time for Hailey to work on her contest entry. Will their plan to make it to Comic-Con pay off…or could their business end up as shipwrecked as the pirates they portray?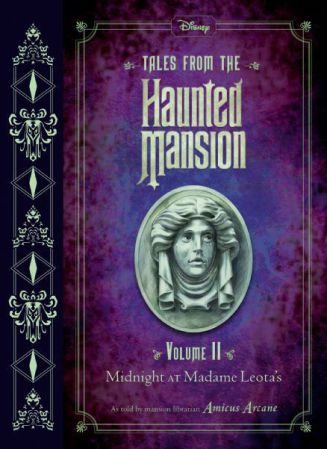 Tales from the Haunted Mansion: Volume II
Author: Amicus Arcane
Publisher: Disney Publishing
Date: July 18
YAYOMG!:
The first book in this series somehow slipped past our radar, but we're excited that we found it this time around. The Tales from the Haunted Mansions series features Amicus Arcane, the librarian from the Haunted Mansion as he shares tales of the mansion's 999 ghosts. If you've seen the movie or ridden the ride at Disney World, you know you're in for a scare. Spooky stories paired with eerie illustrations make these reads feel like they really came right out of a haunted library. Beware of hitch-hiking ghosts!
SYNOPSIS:
The Haunted Mansion's resident librarian, Amicus Arcane, has returned with another set of spooky stories to share. Follow along with him as he tells new terrifying tales while leading the Mansion's newest visitor to a secret seance with the mysterious Madame Leota.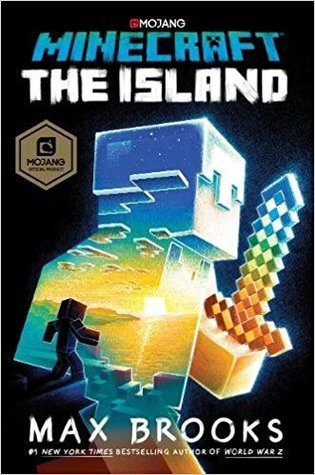 Minecraft: The Island
Author: Max Brooks
Publisher: Century
Date: July 18
YAYOMG!:
Minecrafters, put down your swords. The first official Minecraft novel has arrived, and it'll take you on an adventure inspired by your favorite game. The hero in this story wakes up in the world of Minecraft and must learn to fend for himself while figuring out exactly where and who he is. Filled with blocky scenery, crafting sequences, and fending off foes like creepers and zombies, this novel will take you on an exciting adventure that will inspire your gameplay once you step back into the digital world.
SYNOPSIS:
The first official Minecraft novel! In the tradition of iconic adventures like Robinson Crusoe and Treasure Island, the #1 New York Times bestselling author of World War Z tells the story of a hero—stranded in the world of Minecraft—who must unravel the secrets of a mysterious island in order to survive.
Washed up on a beach, the lone castaway looks around the shore. Where am I? Who am I? And why is everything made of blocks? But there isn't much time to soak up the sun. It's getting dark, and there's a strange new world to explore!
The top priority is finding food. The next is not becoming food. Because there are others out there on the island . . . like the horde of zombies that appear after night falls. Crafting a way out of this mess is a challenge like no other. Who could build a home while running from exploding creepers, armed skeletons, and an unstoppable tide of hot lava? Especially with no help except for a few makeshift tools and sage advice from an unlikely friend: a cow.
In this world, the rules don't always make sense, but courage and creativity go a long way. There are forests to explore, hidden underground tunnels to loot, and undead mobs to defeat. Only then will the secrets of the island be revealed.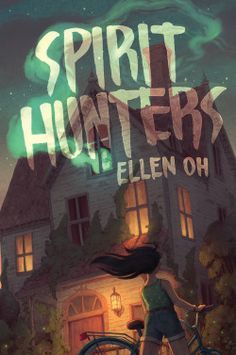 Spirit Hunters
Author: Ellen Oh
Publisher: Harper Collins Childrens
Date: July 25
YAYOMG!:
YASSS! We've been looking forward to Spirit Hunters for MONTHS and are beyond thrilled that it's almost here. If you scare easily, be warned. Early reviews of Spirit Hunters say this one isn't just a little spooky, it's actually pretty scary. If you love horror and want an exciting ghost story featuring a fantastic female character, look no further. Along with the scares, this story brings along great themes of family, friendship, and bravery that you won't want to miss. And that cover! Swoon!
SYNOPSIS:
We Need Diverse Books founder Ellen Oh returns with Spirit Hunters, a high-stakes middle grade mystery series about Harper Raine, the new seventh grader in town who must face down the dangerous ghosts haunting her younger brother. A riveting ghost story and captivating adventure, this tale will have you guessing at every turn!
Harper doesn't trust her new home from the moment she steps inside, and the rumors are that the Raine family's new house is haunted. Harper isn't sure she believes those rumors, until her younger brother, Michael, starts acting strangely. The whole atmosphere gives Harper a sense of déjà vu, but she can't remember why. She knows that the memories she's blocking will help make sense of her brother's behavior and the strange and threatening sensations she feels in this house, but will she be able to put the pieces together in time?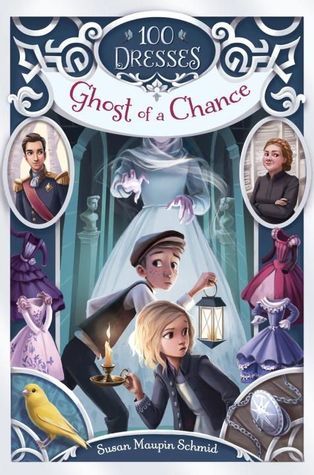 100 Dresses: Ghost of a Chance
Author: Susan Maupin Schmid
Publisher: Random House Books for Young Readers
Date: July 25
YAYOMG!:
The 100 Dresses series began with If the Magic Fits, introducing us to the characters and the 100 magical disguises of this enchanted series. The dresses that Darling Dimple discovers don't just make you look fabulous, they actually disguise you as someone else. In Ghost of a Chance, a bit of paranormal is mixed in with the ever-present whimsy and magic of the series, making it even more exciting than the last. Now that the story is all set up, we're excited to see where Darling, Roger, the one hundred dresses take us next!
SYNOPSIS:
Fans of the Land of Stories and the Descendants series are sure to find the lighthearted fantasy adventure of 100 Dresses a perfect fit!

Inside an enchanted castle, there's a closet—a closet with one hundred magical dresses that only Darling Dimple can wear. Each one disguises her as somebody else.

It turns out that Darling needs disguises. A thief is on the loose! Someone is causing an uproar among the servants—moving things around, stealing clothes from the laundry, and even pocketing Princess Mariposa's jewels. Then Darling and her friend Roger think they spot a ghost roaming the halls. Could the culprit be a spirit? Can Darling and Roger get to the bottom of it all? With the help of the one hundred dresses, there just might be a ghost of a chance.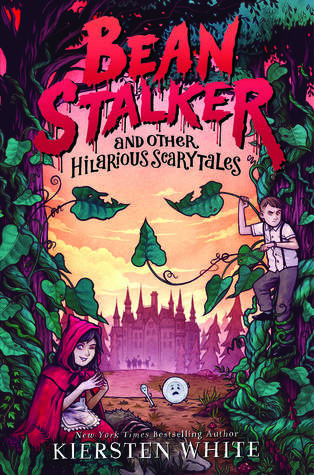 Beanstalker and Other Hilarious Scarytales
Author: Kiersten White
Publisher: Scholastic
Date: July 25
YAYOMG!:
As kids who were obsessed with books like The Stinky Cheese Man and Scary Stories to Tell in the Dark, we think we would have been utterly OBSESSED with a book like Beanstalker as kids. This book takes classic fairytales, twists them up, and spits them out as scarytales, sprinkling a bit of hilarity and spookiness on Rapunzel, Snow White, and your other favorite stories.
SYNOPSIS:
Once upon a time, a girl skipped into the forest and became a zombie.
Wait, no, that's not how this story is supposed to go. Let's try again.
Once upon a time, a boy did a horrible job as a sheep-sitter and burned his tongue on stolen pie.
No, children in these stories are always good and virtuous. From the top.
Once upon a time, a king and queen tried to find a princess for their son to marry, and he wound up fleeing from a group of very hairy vampires.
Hmmm…
What about, once upon a time, a bunch of fairy tales got twisted around to be completely hilarious, a tiny bit icky, and delightfully spooky scarytales… in other words, exactly what fairy tales were meant to be. Grab some flaming torches, maybe don't accept that bowl of pease porridge, and get ready for a wickedly fun ride with acclaimed author Kiersten White and fairy tales like you've never heard them before.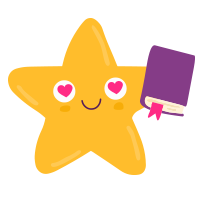 Now that you've added over 20 new reads to your pile, make sure to download your YAYOMG! Book Bingo card so you can start marking off squares as you tear through all these amazing reads. Stay tuned throughout the month for even more bookish goodness and if you're still in need of more things to read, click here!