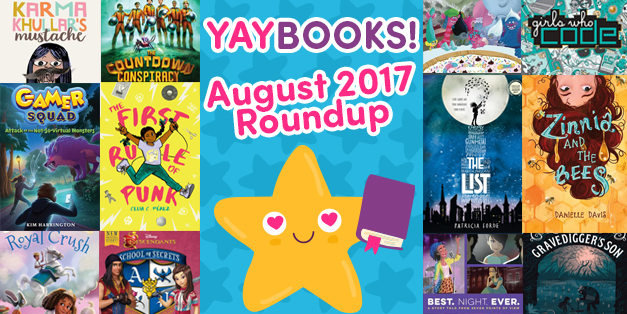 YAYBOOKS! August 2017 Roundup
Our August YAYBOOKS! Roundup is our longest one yet, topping off at 30 books! It seems like every single publisher has a slew of great reads hitting shelves this month, and we definitely can't complain! For those of you heading back to school – soak up your last few weeks of Summer vacation by chilling out with an amazing book in your yard or by the pool. You can also get a head start on picking out the books you plan to stash in your backpack to read on the bus, at lunch, or for future book reports.
Whether you're looking to cling to your last moments of Summer fun or escape or prepare for the pile of homework that's about to hit, there's at least one read here for you. Plus, it's never too late to start your YAYOMG! Book Bingo card.
YAYBOOKS! August 2017 Roundup: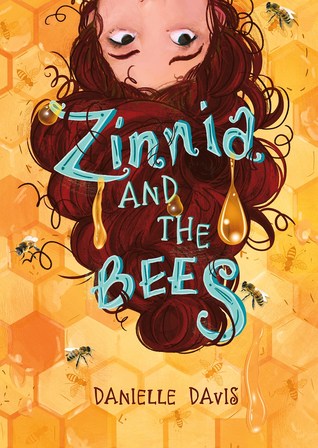 Zinnia and the Bees
Author: Danielle Davis
Publisher: Capstone Young Readers
Date: August 1
YAYOMG!:
Zinnia and the Bees truly stands out from the crowd in every way. From it's gorgeous cover to the heartwarming and clever story you'll find on the pages in between, there's just so much to adore about this book. The characters are quirky and totally loveable and Zinnia's struggles feel very real and true for middle schoolers dealing with the confusing phase of growing up, drifting from friends, and trying to figure out your place in the world. Plus, who could possibly resist friendship between a yarn bomber and nature lover? Too cute. For more on this adorable read, check out our interview with author Danielle Davis here!
SYNOPSIS:
A colony of honeybees mistakes seventh-grader Zinnia's hair for a hive ― and that's the least of her problems.
While Zinnia's classmates are celebrating the last day of seventh grade, she's in the vice principal's office, serving detention. Her offense? Harmlessly yarn-bombing a statue of the school mascot. When Zinnia rushes home to commiserate with her older brother and best friend, Adam, she's devastated to discover that he's gone ― with no explanation. Zinnia's day surely can't get any worse . . . until a colony of honeybees inhabits her hive-like hair!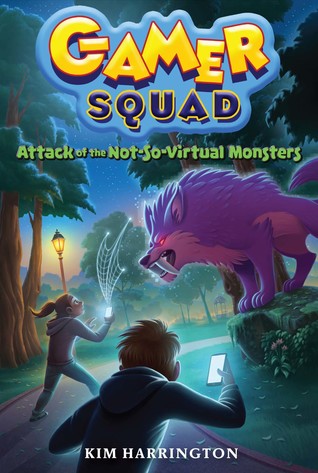 Gamer Squad: Attack of the Not So Virtual Monsters
Author: Kim Harrington
Publisher: Sterling Children's Books
Date: August 1
YAYOMG!:
If you spent last Summer endlessly hunting for Pokémon in your neighborhood while playing Pokémon Go, then this is the book series for you! The Gamer Squad series is perfect for avid gamers and totally nails the feeling we all had while making new friends in the neighborhood while tracking down hard to find Pokémon, bringing it all to life page after page in a very exciting and authentic way. The first two books in the Gamer Squad series follow BFFs Bex and Charlie as they adventure through their town playing the latest mobile games and what happens when these games come to life in the real world. Catch our full review and interview with the author!
When you're done tearing through Attack of the No-So Virtual Monsters, continue the excitement with Close Encounters of the Nerd Kind. The third book in the series, App of the Living Dead releases in October.
SYNOPSIS:
What happens when your cool virtual-reality game . . . becomes REAL?
Pokemon GO meets The Goonies in this action-packed middle-grade series.
Monsters Unleashed–where you catch virtual-reality monsters on your cellphone–is one of the hottest mobile games around, and Bex and Charlie just can't stop playing. They even check out an old map in Charlie's grandfather's attic in hopes of discovering some forgotten places in town where the rarest monsters might hide. But they find a strange machine up there too, and after Charlie switches it on, the WiFi goes down . . . and Bex's entire catalog of monsters vanishes! And that's not the worst of it: all the creatures she's collected on her phone escape into the real world. Can the friends nab the beasts before they become monster lunch?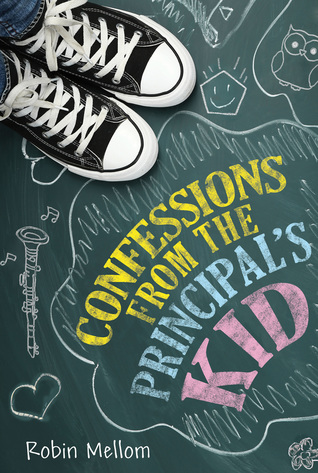 Confessions from the Principal's Kid
By: Robin Mellom
Publisher: HMH Books for Young Readers
Date: August 1
YAYOMG!:
Robin Mellom has such a great handle on the realness of elementary and middle school friendships. The way it's just the most important thing in the world to be close with your friends and the way it hurts as the distance grows between you. If you read The Pages Between Us, you saw the way that she tackled these friendship struggles alongside fellow author Lindsey Leavitt in such a unique way, and Confessions From the Principal's Kid looks to be just as touching. With school right around the corner for most of you, this book is the perfect way to ease back into that back to school mindset, especially if you've been feeling a little alone, outcasted, or misunderstood. Plus – any book that deems the math team is cool gets an insta-add to our TBR!
SYNOPSIS:
During the school day, fifth-grader Allie West is an outsider. Everyone knows the principal's kid might tattle to her mom! But after school, Allie is an insider. She's friendly with the janitor, knows the shortest routes around the building, and hangs out with the Afters, a group of misfits whose parents are teachers at their school. Although Allie secretly loves her insider life, she's sick of being an outsider—so she vows to join the Pentagon, the popular math team led by her ex–best friend. But can Allie change her status without betraying where she really belongs?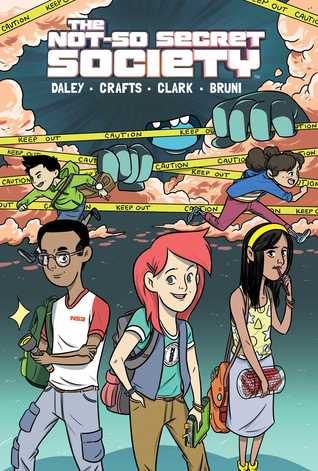 The Not-So Secret Society
By: Matthew and Arlene Daley
Illustrations: Wook Jin Clark
Publisher: KaBOOM!
Date: August 1
YAYOMG!:
Lovers of science, learning, and gummy bears – look no further. We found the perfect graphic novel for you! The NS3, or the Not So Secret Society is tightly knit group of 5 twelve year olds who live for science and big adventure. When things go awry with a school science project, they must work together and use science and tech to bring things back to normal. Being a comic, it's extremely funny and fast paced, and a great stepping stone for those of you who want to get started on reading comics. We have some fun stuff planned for this one on YAYOMG! coming up, so definitely stay tuned and stock up on gummy snacks to munch as you read!

SYNOPSIS:
Five young friends invent a candy-making machine for their school's annual science fair, but when their candy creation comes to life and escapes, they'll have to work together to find a solution before it destroys the entire city!
Madison, Ava, Emma, Aidan, and Dylan have pretty normal lives for a group of twelve-year olds: they go to school, participate in extracurricular activities, and oh, yeah, they also have AWESOME SCIENCE ADVENTURES. Together they form The Not-So Secret Society.
When the team invents a candy-making machine for their school's annual science fair, things don't go according to plan . . . when their candy creation comes to life and escapes! Halloween just got a whole lot scarier, and a whole lot more fun.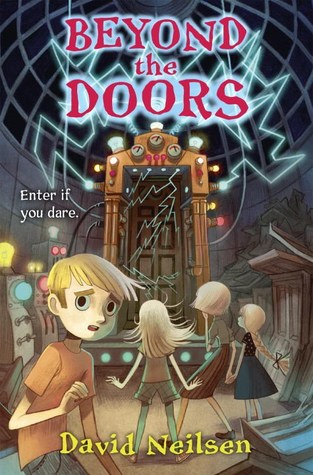 Beyond the Doors
By: David Neilsen
Publisher: Crown Books for Young Readers
Date: August 1
YAYOMG!:
The cover of Beyond the Doors is just so enticing, don't you think? The Rothbaum kids are obviously in for an intensely exciting adventure. This book is perfect for readers who a love a little sci-fi and creepy vibes along with their fantasy, as this book is like a hilarious time-traveling version of Narnia. Compared to Coraline and A Series of Unfortunate Events, you know you're in for a story that's larger than life and truly bizarre in the best way.
SYNOPSIS:
Fans of A Series of Unfortunate Events and Coraline will devour this dark and creepy, humor-laced tale about four siblings who discover a mysterious world where secrets hide around every corner.

When a family disaster forces the four Rothbaum children to live with their aunt Gladys, they immediately know there is something strange about their new home. The crazy, circular house looks like it stepped out of a scary movie. The front entrance is a four-story-tall drawbridge. And the only food in Aunt Gladys's kitchen is an endless supply of Honey Nut Oat Blast Ring-a-Dings cereal.
Strangest of all are the doors–there are none. Every doorway is a wide-open passageway–even the bathroom! Who lives in a house with no doors?
Their unease only grows when Aunt Gladys disappears for long stretches of time, leaving them alone to explore the strange house. When they discover just what Aunt Gladys has been doing with all her doors, the shocked siblings embark on an adventure that changes everything they believe about their family and the world.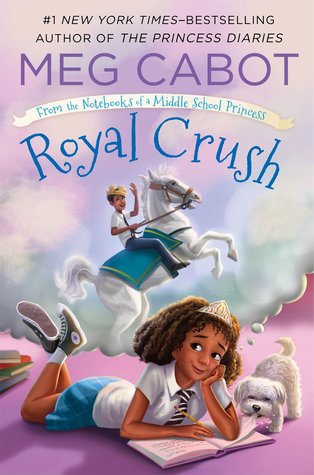 From the Notebooks of a Middle School Princess: Royal Crush
By: Meg Cabot
Publisher: Feiwel & Friends
Date: August 1
YAYOMG!:
If you dream of a life that's bigger than the walls of your middle school can contain, then Royal Crush is totally for you! This series is a spin-off of The Princess Diaries, featuring Olivia Grace Clarisse Mignonette Harrison, half-sister to Princess Mia Thermopolis of Genovia. The third book, Royal Crush, picks up after the events of the royal wedding in the previous book. While Princess Mia is enjoying her honeymoon and Olivia is dealing with her first crush. Feeling royal? Craft yourself a lace crown to wear while you read or check our lookbook for how you can rock a look like Olivia's.
SYNOPSIS:
Being the newest princess of Genovia is WAY more complicated than she expected, but Olivia Grace Clarisse Mignonette Harrison is getting used to it. She gets to live in an actual palace with two fabulous poodles, a pet iguana, her very own pony, and, best of all, a loving family to help her figure things out!
And right now Olivia, having finally admitted that she likes Prince Khalil as more than just a friend, could REALLY use some advice. What is a princess supposed to do once she's found a prince she likes? With her half-sister Mia busy enjoying her honeymoon, Olivia turns to Grandmere for help.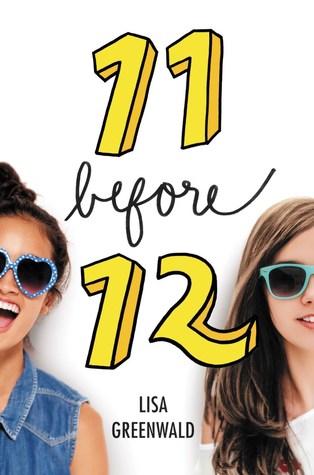 11 Before 12
By: Lisa Greenwald
Publisher: Katherine Tegen Books
Date: August 1
YAYOMG!:
We haven't had a chance to read this one just yet, but it's been on our radar for quite a while. We just thought the premise was so cute and something you guys might be experiencing as you head back to school this Fall. If you're feeling intimidated by the idea of heading to a larger school, doing more homework, and rushing to make it to class on time before the bell, 11 Before 12 is a great fit for you. Two besties, Kaylan and Arianna are heading into their first year of middle school and make a "bucket list" of eleven things they need to do before they turn 12 in November to help them tackle their first 100 days of school. It won't be without drama, twists, and turns, but then again, neither is life!
SYNOPSIS:
In this brand-new duology from acclaimed author Lisa Greenwald, two best friends kick-start middle school with a bucket list of eleven things they need to do to become AMAZING before their joint twelfth birthday party.
The first day of middle school means trading in freeze tag at the pool for new schedules, fabulous outfits, and a fresh start. But for eleven-year-old Kaylan, the chaos of new locker combinations, cafeteria cliques, and potential first kisses is more than she can handle. She dreads the start of sixth grade and feels like she wants—no, needs—a winning game plan.
Luckily, Kaylan and her effortlessly chill BFF, Arianna, have a fool-proof plan for tackling transitions: a list of eleven things they need to do to totally transform themselves before they both turn twelve in November. But between making guy friends, getting detention (and makeovers!), helping humanity, and having super-candid conversations with their moms about their flaws, the first 100 days of school turn out worse than Kaylan ever imagined. Kaylan and Ari forget to focus on their friendship and soon their loyalty to the list—what was meant to help them keep it together—becomes the very thing tearing their lives apart.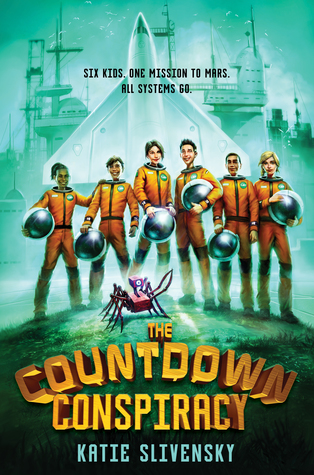 The Countdown Conspiracy
By: Katie Slivensky
Publisher: HarperCollins Childrens
Date: August 1
YAYOMG!:
The Countdown Conspiracy is a must-read for all our curious minded tinkerers out there. Whether you're on the robotics team at school or just have a interest in space travel, you're going to fall in love with the fiercely amazing Miranda Regent. This is is a high-energy, fast-paced read where the stakes are super high and the action never stops. It's an addictive read you just won't be able to put down. If a kid with dreams bigger than the universe itself, look no further – we found your new favorite book!
SYNOPSIS:
Ambassador, you are go for launch in T- minus 5…4…3…2…. Get ready to blast off with this high-action, high-stakes middle grade adventure that's perfect for fans of Chris Grabenstein and Peter Lerangis!
Miranda Regent can't believe she was just chosen as one of six kids from around the world to train for the first ever mission to Mars. But as soon as the official announcement is made, she begins receiving anonymous threatening messages…and when the training base is attacked, it looks like Miranda is the intended target. Now the entire mission—and everyone's lives—are at risk. And Miranda may be the only one who can save them.
The Martian meets The Goonies in this out-of-this-world middle grade debut where the stakes couldn't be higher.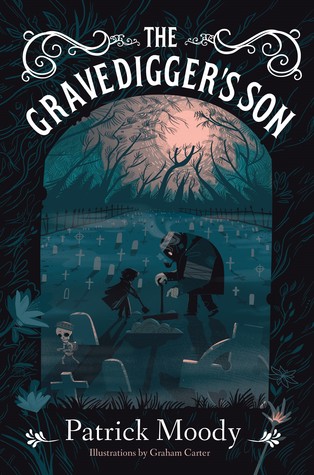 The Gravedigger's Son
By: Patrick Moody
Illustrator: Graham Carter
Publisher: Sky Pony Press
Date: August 1
YAYOMG!:
Drawn in by it's beautifully eerie cover, we knew instantly that this was a book we simply HAD to get our hands on. Ian is from a 1,000 year line of gravediggers, but he's much more interested in learning to heal and help the living than than deal with the dead. He can't exactly tell his father that though, so he spends his days alongside Bertram, his undead mentor, who keeps him company and teaches him the ways of the family business. Filled with dark witchy magic, exciting adventure, and a wonderfully fleshed out world, readers who love dark fantasy and ghost stories will definitely want to read The Gravedigger's Son.
SYNOPSIS:
"A Digger must not refuse a request from the Dead." —Rule Five of the Gravedigger's Code
Ian Fossor is last in a long line of Gravediggers. It's his family's job to bury the dead and then, when Called by the dearly departed, to help settle the worries that linger beyond the grave so spirits can find peace in the Beyond.
But Ian doesn't want to help the dead—he wants to be a Healer and help the living. Such a wish is, of course, selfish and impossible. Fossors are Gravediggers. So he reluctantly continues his training under the careful watch of his undead mentor, hoping every day that he's never Called and carefully avoiding the path that leads into the forbidden woods bordering the cemetery.
Just as Ian's friend, Fiona, convinces him to talk to his father, they're lured into the woods by a risen corpse that doesn't want to play by the rules. There, the two are captured by a coven of Weavers, dark magic witches who want only two thing—to escape the murky woods where they've been banished, and to raise the dead and shift the balance of power back to themselves.
Only Ian can stop them. With a little help from his friends. And his long-dead ancestors.
Equal parts spooky and melancholy, funny and heartfelt, The Gravedigger's Son is a gorgeous debut that will long sit beside Neil Gaiman's The Graveyard Book and Jonathan Auxier's The Night Gardener.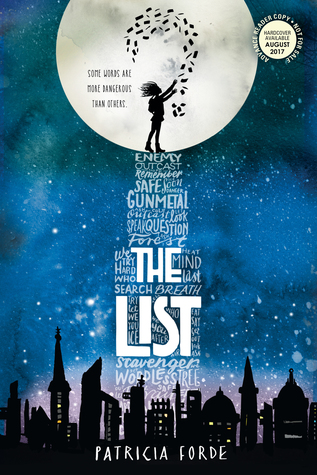 The List
By: Patricia Forde
Publisher: Sourcebooks Jabberwocky
Date: August 8
YAYOMG!:
What would you do if you and everyone in the world around you were restricted to just 500 words? How would you express yourself or make your opinions heard without sounding like everyone else? Paired with being forced to eat all the same meals, wear the same recycled clothes, and not even being able to choose your partner, things are looking quite grim in the city of Ark. This intense, deep, and beautifully written novel is a great way to dip your toe into dystopian futures and shows the importance of originality and being able to properly express yourself.
SYNOPSIS:
In the city of Ark, speech is constrained to five hundred sanctioned words. Speak outside the approved lexicon and face banishment. The exceptions are the Wordsmith and his apprentice Letta, the keepers and archivists of all language in their post-apocalyptic, neo-medieval world.
On the death of her master, Letta is suddenly promoted to Wordsmith, charged with collecting and saving words. But when she uncovers a sinister plan to suppress language and rob Ark's citizens of their power of speech, she realizes that it's up to her to save not only words, but culture itself.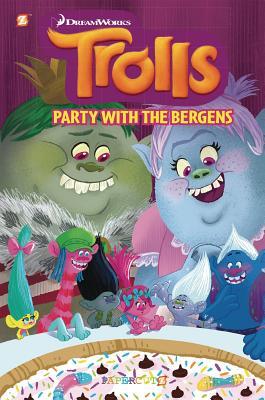 Trolls: Party with the Bergens
By: Dave Scheidt & Tini Howard
Illustrations: Kathryn Hudson
Publisher: Papercutz
Date: August 8
YAYOMG!:
Poppy and the rest of the Snack Pack are back for another fun graphic novel adventure! This time they're ready to party with the Bergens in the unique that way only the Trolls know how. Check back soon, we've got a special preview of the first story, "Pizza Party" headed your way!
SYNOPSIS:
In this all-new, 64-page graphic novel based upon the hit movie from DreamWorks, the Trolls are being thrown a surprise pizza party by none other than… The Bergens! But when the tomato sauce, cheese and dough disappear unexpectedly, they improvise and invent their own pizzas using gummy worms, frosting, sprinkles, and, of course, chocolate! Will this be the best party ever or a complete disaster?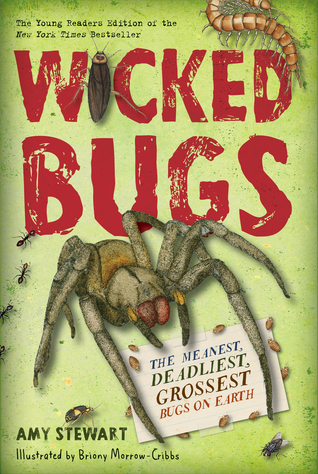 Wicked Bugs: The Meanest, Deadliest, Grossest Bugs on Earth
By: Amy Stewart
Illustrations: Briony Morrow-Cribbs
Publisher: Algonquin Young Readers
Date: August 8
YAYOMG!:
For those of you who can't get enough of everything creepy, crawly, and awesomely gross – this is the book for you! Have a pet tarantula? Not at all afraid of snakes? This wicked read for was made for kids who are dying to learn more about the grossest, deadliest, and meanest bugs on Earth!
SYNOPSIS:
Did you know there are zombie bugs that not only eat other bugs but also inhabit and control their bodies? There's even a wasp that delivers a perfectly-placed sting in a cockroach's brain and then leads the roach around by its antennae — like a dog on a leash. Scorpions glow in ultraviolet light. Lots of bugs dine on corpses. And if you want to know how much it hurts to get stung by a bullet ant (hint: it really, really hurts), you can consult the Schmidt Sting Pain Index. It ranks the pain produced by ants and other stinging creatures. How does it work? Dr. Schmidt, the scientist who created it, voluntarily subjected himself to the stings of 150 species.

Organized into thematic categories (Everyday Dangers, Unwelcome Invaders, Destructive Pests, and Terrible Threats) and featuring full-color illustrations by Briony Morrow-Cribbs, Wicked Bugs is an educational and creepy-cool guide to the worst of the worst of insects, arachnids, and other arthropods. This is the young readers adaptation of Amy Stewart's bestselling book for adult readers.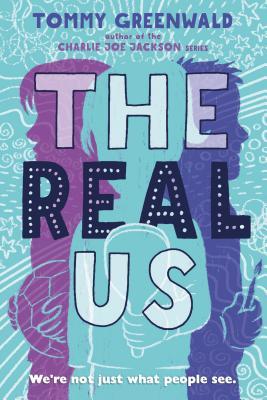 The Real Us
By: Tommy Greenwald
Illustrations: J.P. Coovert
Publisher: Roaring Brook Press
Date: August 8
YAYOMG!:
The Real Us is a fresh take on what middle school life is really like. Each and every student in your school is deeper than what's on the surface and has their own set of flaws, problems, and qualities that make them more than just "the popular girl" or "the sporty one". This book will give you great perspective to start your school year off right and get you fired up to change the status quo and even branch out and make new friends.

SYNOPSIS:
Laura Corbett and Damian White are loners, and not by choice. Kids make fun of smart, sarcastic Laura for her weight and artistic Damian for his tendency to sweat through his shirts. Calista Getz, however–well, everyone agrees that Calista is the prettiest girl in the whole school. Maybe even the whole state. Let's just say that she sits at the popular lunch table. Laura and Damian don't.
But when Calista wakes up just before the school dance with the BIGGEST pimple she has EVER seen right in the middle of her face, and her attempts to hide it backfire spectacularly, Laura and Damian are the only ones who don't ignore her. In fact, they seem to see not only past her pimple, but past her popularity, too. Together, they'll challenge the school's status quo in this hilarious, heartfelt novel The Real Us, by Tommy Greenwald.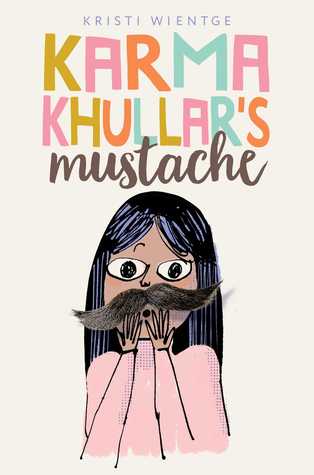 Karma Khullar's Mustache
By: Kristi Wientge
Publisher: Simon & Schuster Books for Young Readers
Date: August 15
YAYOMG!:
Gosh, we loved this book! We've got an interview with the incredible Kristi Wientge lined up for you guys when the book releases on August 15 (prepare to hear her most embarrassing middle school moments!) but for now, we'll just say – we're so glad Karma Khullar exists. She's hilariously funny, she's a serious over-thinker, and she's struggling with stuff that pretty much every kid can relate to. You can really feel the authenticity oozing from these pages while you read. It's a definite must-read for those of you entering middle school with something you're feeling self conscious about – whether it's a hairy upper lip, or something else entirely.
SYNOPSIS:
Debut author Kristi Wientge tackles the uncomfortable—but all too relatable—subject of female body hair and self-esteem with this sweet and charming novel in the tradition of Judy Blume.
Karma Khullar is about to start middle school, and she is super nervous. Not just because it seems like her best friend has found a newer, blonder best friend. Or the fact that her home life is shaken up by the death of her dadima. Or even that her dad is the new stay-at-home parent, leading her mother to spend most of her time at work. But because she's realized that she has seventeen hairs that have formed a mustache on her upper lip.
With everyone around her focused on other things, Karma is left to figure out what to make of her terrifyingly hairy surprise all on her own.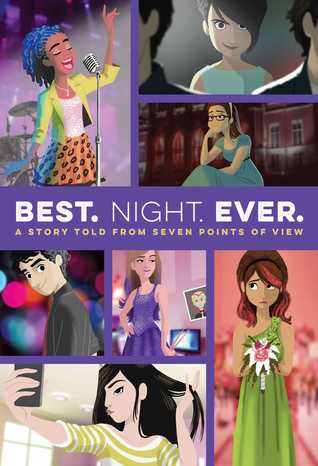 Best. Night. Ever.: A Story Told from Seven Points of View
By: Jen Malone, Rachel Alpine, Ronni Arno, Alison Cherry, Stephanie Faris, Gail Nall, and Dee Romito
Publisher: Aladdin
Date: August 15
YAYOMG!:
Do we even need to try and convince you guys to read a book that's being described as "Love Actually meets Adventures in Babysitting"? The intertwined stories of seven classmates getting ready for their big middle school dance is much more exciting than one might expect. It's not just all picking the perfect dress and taking the perfect pre-dance selfie. There's a wildly funny story about to unfold and you're going to absolutely love it. Seriously, we laughed so hard we cried.
SYNOPSIS:
Love Actually meets Adventures in Babysitting in this hilarious novel written by seven authors about seven classmates who are preparing for a crazy night at their middle school dance.
Lynnfield Middle School is prepped and ready for a dance to remember, including an awesome performance from Heart Grenade, the all-girl band who recently won a Battle of the Bands contest. Seven classmates—Carmen, Genevieve, Tess, Ryan, Ellie, Ashlyn, and Jade—intend to make the most of the night…or at least the five of them who are able to attend do. The other two would sacrifice almost anything to be there.
One thing's for sure—this entire crew is in for one epic night! Rachele Alpine, Ronni Arno, Alison Cherry, Stephanie Faris, Jen Malone, Gail Nall, and Dee Romito have created a charming, hilarious, and relatable novel that's perfect for anyone who can't wait to dance the night away.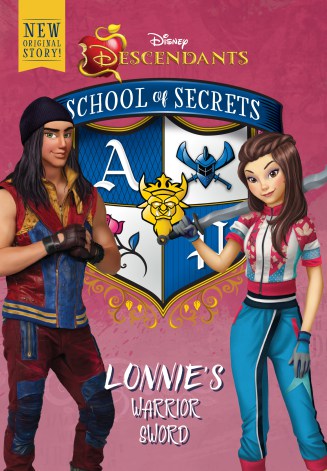 Disney Descendants: School of Secrets: Lonnie's Warrior Sword
By: Jessica Brody
Publisher: Disney Press
Date: August 15
YAYOMG!:
If you loved how fierce Lonnie was in Descendants 2, this is the book for you! The School of Secrets series puts the spotlight on the kids of Auradon and gives them their own story and time to shine. This time around, the focus is on Lonnie, daughter of Mulan. She's a strong, fearless girl and that totally shows in this fun, quick read about what means to be a true warrior.
SYNOPSIS:
Lonnie is the daughter of Mulan.
She's strong. She's fearless. And she's willing to fight for what she wants .like the very special sword that once belonged to her mother.
When Lonnie brings her friends Jay and Jordan on an forbidden trip to Imperial City to get it, she must prove she's a true warrior.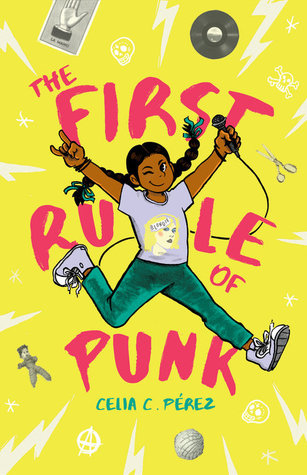 The First Rule of Punk
By: Celia C. Pérez
Publisher: Viking Books for Young Readers
Date: August 22
YAYOMG!:
We've never wanted to read a book more than we want to read this one. From the moment this book was announced, we've been dying to get our hands on it. Zines? Skateboarding? Punk Rock? Soyrizo? What more could you ever ask for in a book? This is the book we needed as kids and we're so excited that it exists for you edgier kids out there that dare to be yourself, no matter what the cost. If you live to rock out at concerts and read Bright Lite magazine, this is absolutely the book for you.
SYNOPSIS:
From debut author and longtime zine-maker Celia C. Perez, The First Rule of Punk is a wry and heartfelt exploration of friendship, finding your place, and learning to rock out like no one's watching.
There are no shortcuts to surviving your first day at a new school–you can't fix it with duct tape like you would your Chuck Taylors. On Day One, twelve-year-old Malu (Maria Luisa, if you want to annoy her) inadvertently upsets Posada Middle School's queen bee, violates the school's dress code with her punk rock look, and disappoints her college-professor mom in the process. Her dad, who now lives a thousand miles away, says things will get better as long as she remembers the first rule of punk: be yourself.
The real Malu loves rock music, skateboarding, zines, and Soyrizo (hold the cilantro, please). And when she assembles a group of like-minded misfits at school and starts a band, Malu finally begins to feel at home. She'll do anything to preserve this, which includes standing up to an anti-punk school administration to fight for her right to express herself!
Black and white illustrations and collage art throughout make The First Rule of Punk a perfect pick for fans of books like Roller Girl and online magazines like Rookie.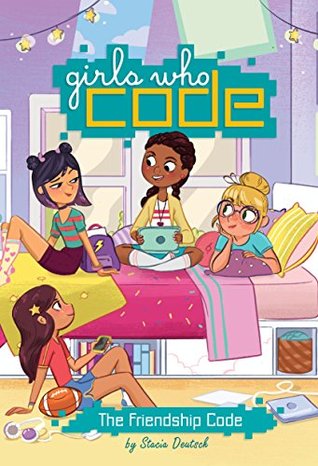 Girls Who Code: The Friendship Code
By: Stacia Deutsch
Publisher: Penguin Workshop
Date: August 22
*Foreword by Reshma Saujani, Founder of Girls Who Code
YAYOMG!:
When Penguin first announced this new series from Girls Who Code, we're pretty sure our excited shrieks were heard around the world. We adore Girls Who Code, an organization built to help girls discover their love of coding and tech while also building a supportive community of over 40,000 fellow coder girls. While you don't have to be interested in coding to fully enjoy this story, by the time you're finished, we have a feeling you'll want to join a coding club of your own. Even if you're just in it for a great story about friendship, we think you'll love this new series.
SYNOPSIS:
Perfect for fans of The Babysitters Club and anyone interested in computer science, this series is published in partnership with the organization Girls Who Code!
Loops, variables, input/output – Lucy can't wait to get started with the new coding club at school. Finally, an after school activity that she's really interested in. But Lucy's excitement turns to disappointment when she's put into a work group with girls she barely knows. All she wanted to do was make an app that she believes will help someone very special to her.
Suddenly, Lucy begins to get cryptic coding messages and needs some help translating them. She soon discovers that coding – and friendship – takes time, dedication, and some laughs!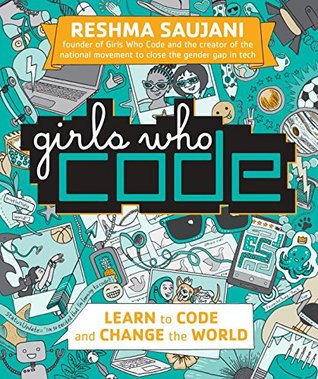 Girls Who Code: Learn to Code and Change the World
By: Reshma Saujani
Publisher: Viking Books for Young Readers
Date: August 22
YAYOMG!:
Another book from Girls Who Code, but this one is completely different. This book is an inspiring and informative resource for experienced coders and those who are just starting their coding journeys. There's lots of great illustrations, easy to understand history of computer science, and stories of real girls and women who make their dreams come true every single day with their coding skills. It's a great way to spark an interest in coding or just celebrate girl power.
SYNOPSIS:
Part how-to, part girl-empowerment, and all fun, from the leader of the movement championed by Sheryl Sandberg, Malala Yousafzai, and John Legend.
Since 2012, the organization Girls Who Code has taught computing skills to and inspired over 40,000 girls across America. Now its founder, Reshma Saujani, wants to inspire you to be a girl who codes! Bursting with dynamic artwork, down-to-earth explanations of coding principles, and real-life stories of girls and women working at places like Pixar and NASA, this graphically animated book shows what a huge role computer science plays in our lives and how much fun it can be. No matter your interest–sports, the arts, baking, student government, social justice–coding can help you do what you love and make your dreams come true. Whether you're a girl who's never coded before, a girl who codes, or a parent raising one, this entertaining book, printed in bold two-color and featuring art on every page, will have you itching to create your own apps, games, and robots to make the world a better place.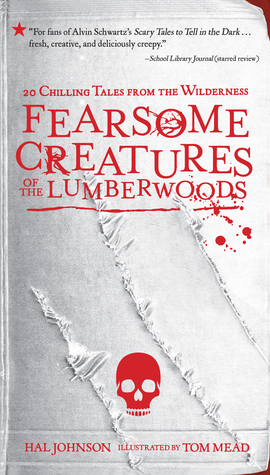 Fearsome Creatures of the Lumberwoods: 20 Chilling Tales from the Wilderness
By: Hal Johnson
Illustrations: Tom Mead
Publisher: Workman Publishing
Date: August 22
YAYOMG!:
If you're the kind of kid that thinks spooky stories should be told year round rather than just on Halloween, you need this book. Along with 20 scary stories of fantastical beasts, this book contains bone-chilling illustrations that are sure to make even the bravest reader check to be sure that there's nothing lurking under their bed before they go to sleep.
SYNOPSIS:
Just for kids, twenty bone-chilling tales about the most dangerous fantastical beasts in American folklore. Meet the Snoligoster, who feeds on the shadows of its victims. The Hodag, like a spiny-backed bull-horned rhinoceros. The Hoop Snake, which can chase prey at speeds of up to 60 miles per hour and then, with one sting of its tail, cause it to turn purple, swell up, and die.
Illustrated throughout, including eight drawings printed with glow-in-the-dark ink, Fearsome Creatures of the Lumberwoods is for every young reader who loves a good scare. The book was originally published in 1910 by William Thomas Cox and is now inspiringly retold by Hal Johnson, author of Immortal Lycanthropes. The creatures are all scales and claws, razor-sharp teeth and stealth, camouflage and single-minded nastiness. Straight out of the era of Paul Bunyan, they speak to an earlier time in American history, when the woods were indeed dark and deep and filled with mystery. The tone is smart and quirky. The illustrations have a sinewy, retro field-guide look. Read them around a campfire, if you dare.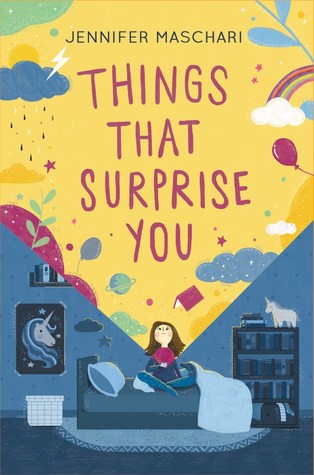 Things That Surprise You
By: Jennifer Maschari
Publisher: Balzer + Bray
Date: August 22
YAYOMG!:
This book is charming, sweet, and at times emotional look into what it's like to face middle school when you're not quite ready for things to change, especially when some larger than life things are happening at home. Emily's best friend is starting to change, her sister is home from eating disorder treatment, and her parents are recently divorced. So many of you guys face similar issues during your most impressionable and transitional years that can feel completely overwhelming, but help you grow into the person you're meant to be. This story is perfect for those of you clinging to the familiar innocence of your comfortable elementary school lives as you enter middle school this year, and beyond.
SYNOPSIS:
Emily Murphy is about to enter middle school. She's sort of excited… though not nearly as much as her best friend Hazel, who is ready for everything to be new. Emily wishes she and Hazel could just continue on as they always have, being the biggest fans ever of the Unicorn Chronicles, making up dance moves, and getting their regular order at The Slice.
But things are changing. At home, Emily and her mom are learning to move on after her parents' divorce. Hardest of all, her beloved sister Mina has been in a treatment facility to deal with her anorexia. Emily is eager to have her back, but anxious about her sister getting sick again.
Hazel is changing too. She has new friends from the field hockey team, is starting to wear makeup, and have crushes on boys. Emily is trying to keep up, but she keeps doing and saying the wrong thing. She want to be the perfect new Emily. But who is that really?
Things That Surprise You is a beautifully layered novel about navigating the often shifting bonds of family and friendship, and learning how to put the pieces back together when things fall apart.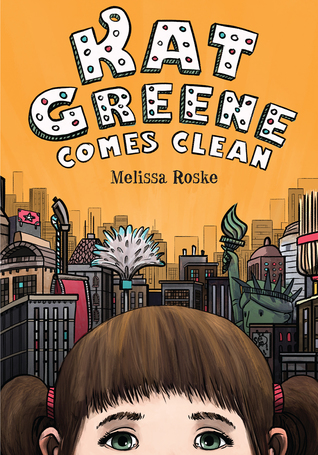 Kat Greene Comes Clean
By: Melissa Roske
Publisher: Charlesbridge
Date: August 22
YAYOMG!:
Kat Greene Comes Clean is a fantastic read for the back to school season. It's a funny and clever, yet very real story with a great backdrop of a uniquely progressive school in NYC. You'll definitely be able to relate to Kat's struggles with her boy-crazy best friend and dramatic school play experience, but this story also weaves in an emotional element of Kat dealing with her mother's obsession to clean. She struggles with OCD that just seems to be getting worse and Kat isn't sure exactly how to handle it. Life's struggles can be difficult sometimes, but surrounding yourself with supportive friends, family, and classmates can make all the difference.
SYNOPSIS:
Kat Greene lives in New York City and attends fifth grade in the very progressive Village Humanity School. At the moment she has three major problems–dealing with her boy-crazy best friend, partnering with the overzealous Sam in the class production of Harriet the Spy, and coping with her mother's preoccupation with cleanliness, a symptom of her worsening obsessive-compulsive disorder.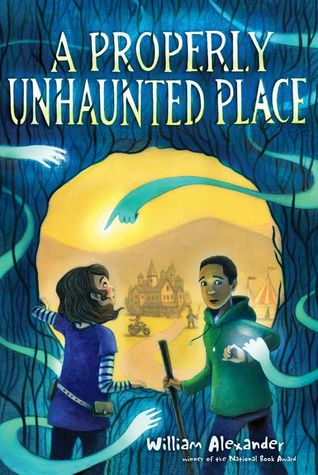 A Properly Unhaunted Place
By: William Alexander
Illustrations: Kelly Murphy
Publisher: Margaret K. McElderry Books
Date: August 22
YAYOMG!:
Where Rosa is from, a town being haunted is the norm. When her and her mother move to the only un-haunted town in the world, Rosa can't understand why. Jasper is a boy who's always lived in the ghost-free town of Ignot and has never seen a ghost in his entire life. Together these two new friends must work together to save the town from a mysterious angry phantom that suddenly appears and restore the peace before it's too late. A great story with a lot of layers, readers of all different age groups with find something to connect with.
SYNOPSIS:
From National Book Award–winning author William Alexander comes a wryly humorous story about two kids who try to save their town by bringing back its ghosts.
Rosa Ramona Díaz has just moved to the small, un-haunted town of Ingot—the only ghost-free town in the world. She doesn't want to be there. She doesn't understand how her mother—a librarian who specializes in ghost-appeasement—could possibly want to live in a place with no ghosts. Frankly, she doesn't understand why anyone would.
Jasper Chevalier has always lived in Ingot. His father plays a knight at the local Renaissance Festival, and his mother plays the queen. Jasper has never seen a ghost, and can't imagine his un-haunted town any other way. Then an apparition thunders into the festival grounds and turns the quiet town upside down.
Something otherworldly is about to be unleashed, and Rosa will need all her ghost appeasement tools—and a little help from Jasper—to rein in the angry spirits and restore peace to Ingot before it's too late.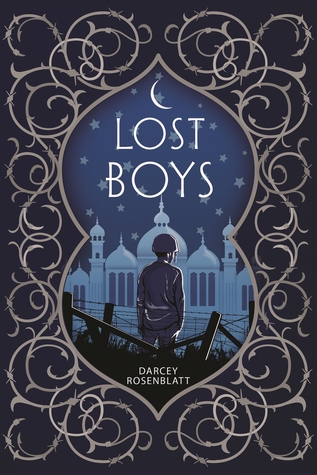 Lost Boys
By: Darcey Rosenblatt
Publisher: Henry Holt & Co. Books for Young Readers
Date: August 22
YAYOMG!:
Readers of historical fiction and tragic tales will love the inspiring story that is Lost Boys. We haven't had a chance to read this yet, but the music driven premise reminded us a little of "Kubo and the Two Strings" based in reality with even more at stake. Early reviews of Lost Boys call it inspiring, essential, chilling, suspenseful, and hopeful. Stories like this one are always a wonderful and educational way to connect with a time, place, and culture outside that's entirely different than your own.
SYNOPSIS:
Based on historical events, this unforgettable and inspiring tale for middle-grade readers is about a young boy torn from the only life he's ever known and held captive as a prisoner of war.
In 1982, twelve-year-old Reza has no interest in joining Iran's war effort against Iraq. But in the wake of a tragedy and at his mother's urging, he decides to enlist, assured by the authorities that he will achieve paradise should he die in service to his country.
War does not bring the glory the boys of Iran have been promised, and Reza soon finds himself held in a prisoner-of-war camp in Iraq, where the guards not only threaten violence—they act upon it. Will Reza make it out alive? And if he does, will he even have a home to return to?
Friendship, heartbreak, and Reza's very survival are at stake as he finds solace through music and forges his own path—wherever that might take him.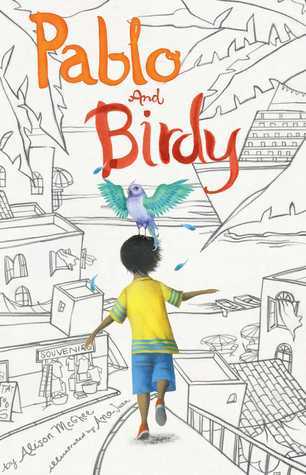 Pablo and Birdy
By: Alison McGhee
Publisher: Atheneum/Caitlyn Dlouhy Books
Date: August 22
YAYOMG!:
A magical tale set in a quiet beachside town, the mysterious and enchanting Pablo and the Birdy tackles the true meaning of family and belonging. Pablo is unsure of his origins and yearns for information and connection to who he is and where he comes from. The only one who might know what really happened is Pablo's best friend Birdy, a lavender parrot who's always been by his side since the day he drifted to shore. Unfortunately, being a parrot, Birdy can't exactly just share the details with him. Thankfully, the people of Isla have always kept Pablo and Birdy safe, but they've also protected him from learning the truth about his past. The locals are filled with many stories, some of which seem to mirror Pablo's own experiences. Are these just stories the locals share for fun or is Pablo about to discover the truth of where he comes from?

SYNOPSIS:
A boy who drifted into the seaside town of Isla as a baby searches for answers about where he and his parrot came from in this charmer of a tale laced with magical realism from New York Times bestselling author Alison McGhee.
The seaside town of Isla has many stories, the most notable being the legend of the Seafaring Parrot. Locals claim that the Seafarer remembers every sound, every whisper, cry, laugh, or snort ever uttered. But, though there have been rumored Seafarer sightings, no one has actually seen the bird before. Other stories surround a boy named Pablo, who had washed up on shore in a blow-up swimming pool as an infant with only a lavender parrot as a companion. Now, on the eve of his tenth birthday, the stories are repeated.
"At first I thought it was a huge fish," Emmanuel, the man who found and took Pablo in, says. Pierre, the baker's guess was a good one: Perhaps Pablo has come from an undiscovered country, one unknown to the rest of the world. Maybe the inhabitants there lived in tree houses, or underground. Or maybe he's a pirate baby. But Pablo wants the truth, and the only one who might know it is Birdy, his parrot. After all, she was there, holding onto the raft. But unlike most birds who live in Isla, Birdy can neither talk or fly. Or, at least, she never has. Until…one day, when strong winds begin to blow—winds similar to the ones that brought Pablo to shore—Birdy begins to mutter. Could Birdy be a Seafaring parrot? If she is, then she will be able to tell Pablo the true story of where he came from—of who tied him so lovingly and safely to that raft? But, if she is, that also means the second part of the Seafarer myth is true…that Seafaring Parrots will, eventually, fly away.
As Pablo is buzzing with questions, hopes, and fears, an old saying echoes in his mind: winds of change mean fortune lost or fortune gained. And while the winds rise in Isla, Pablo holds tight to Birdy. Would losing his companion, his dearest link to his past, be that loss?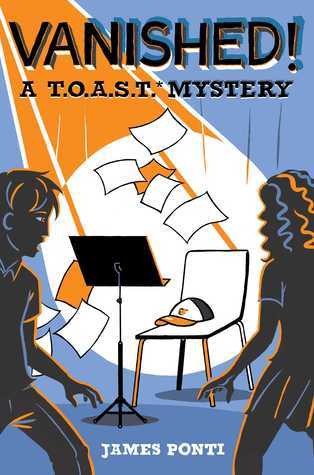 Vanished!
By: James Ponti
Publisher: Aladdin
Date: August 22
YAYOMG!:
"Middle school is hard. Solving cases for the FBI is even harder." with an enticing first line like that, how could you not be drawn into the world of the T.O.A.S.T. mystery series? Vanished! is the second book in the series, so you'll definitely want to pick up Framed! as well. Framed! sets up the story and has a really exciting art heist plot but Vanished! takes Florian and Margaret to the halls of… a prep school? Florian finds it a little lame compared to his last mission, but there's so much more going on than meets the eye. Vanished! has such a great voice and writing style inspired by the classic spy stories laced with humor, clues, and a huge punch of fun!

SYNOPSIS:
Florian Bates—the only kid on the FBI Director's speed dial and several international criminals' most wanted lists—must uncover the truth behind a series of middle school pranks that may or may not involve the daughter of the President of the United States in this hilarious second novel in the T.O.A.S.T. Mystery series.
Middle school is hard. Solving cases for the FBI is even harder. Doing both at the same time—well that's just crazy. But that doesn't stop Florian Bates!
After helping the FBI solve an art theft at the National Gallery and uncovering a DC spy ring, Florian's finding life at Alice Deal Middle School a little boring. But that's all about to change! His FBI handler, Marcus, has a job for him! Is it a bank robbery? Counterfeit ring? International espionage? Actually it's middle school pranks…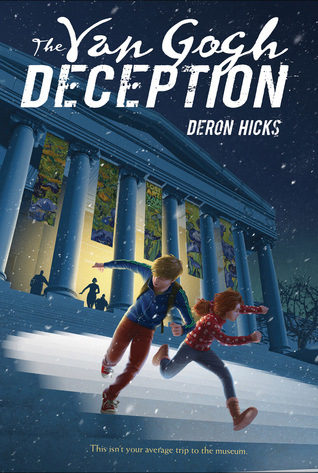 The Van Gogh Deception
By: Deron R. Hicks
Publisher: HMH Books for Young Readers
Date: August 29
YAYOMG!:
Described as "The DaVinci Code" meets "Home Alone" for middle graders you know this is going to be a high energy story with a lot on the line. After waking up with no recollection of who he is, the boy in this story must race not just to outsmart the guys behind an art fraud, but the case of his own missing identity. After a trip to the art museum with his new emergency foster family, he beings to remember bits and pieces of who he is and why such dangerous guys are after him. There are are QR codes throughout this book that you can scan to bring the paintings in the story to life and get a fun art history lesson.
SYNOPSIS:
When a young boy is discovered in Washington DC's National Gallery without any recollection of who he is, so begins a high-stakes race to unravel the greatest mystery of all: his identity. As the stakes continue to rise, the boy must piece together the disjointed clues of his origins while using his limited knowledge to stop one of the greatest art frauds ever attempted.
Digitally interactive, this museum mystery offers QR codes woven throughout the book that bring renowned paintings to readers' fingertips.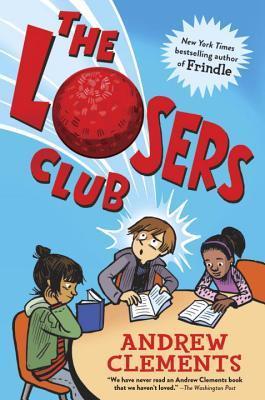 The Loser's Club
By: Andrew Clements
Publisher: Random House
Date: August 29
YAYOMG!:
A book about kids who love to read! If you've ever felt like you'd rather reading rather than do literally anything else, you NEED a copy of The Loser's Club in your life as soon as humanly possible. Run to your favorite bookstore or library now, we'll wait!
SYNOPSIS:
The beloved New York Times bestselling author of the modern classic Frindle celebrates books and the joy of reading with a new school story to love!
Sixth grader Alec can't put a good book down. So when Principal Vance lays down the law–pay attention in class, or else–Alec takes action. He can't lose all his reading time, so he starts a club. A club he intends to be the only member of. After all, reading isn't a team sport, and no one would want to join something called the Losers Club, right? But as more and more kids find their way to Alec's club–including his ex-friend turned bully and the girl Alec is maybe starting to like–Alec notices something. Real life might be messier than his favorite books, but it's just as interesting.
With The Losers Club, Andrew Clements brings us a new school story that's a love letter to books and to reading and that reminds us that sometimes the best stories are the ones that happen off the page–our own!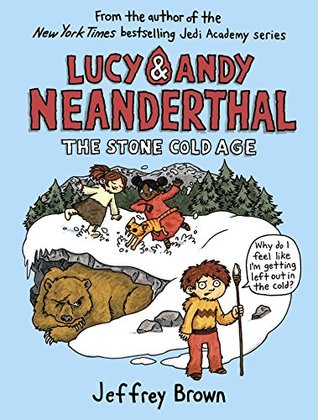 Lucy & Andy Neanderthal: The Stone Cold Age
By: Jeffrey Brown
Publisher: Crown Books for Young Readers
Date: August 29
YAYOMG!:
The second graphic novel in the Lucy & Andy Neanderthal series is finally here! If you loved the laugh out loud funny antics of Lucy and Andy's first book, you'll definitely love the sequel. After allowing a family of humans to move into their already pretty cramped cave, Lucy is living it up with all her new friends but Andy just wants his space and privacy back. These kids are going to survive the Ice Age, they'll need to survive each other first. Full of pranks, jokes, and historically accurate facts, this series is a seriously funny way to cool off this Summer. With a third volume on the way, you guys definitely don't want to miss this one.
SYNOPSIS:
From the author of the New York Times bestselling Jedi Academy books comes book two in the laugh-out-loud graphic novel series about Neanderthal siblings Lucy and Andy.

Neanderthal siblings Lucy and Andy are back to their paleo pranks. This time, they have to put up with more than just each other the cave is feeling awfully cramped since the humans moved in. They're in the Ice Age, and legroom comes at a real premium! Jeffrey Brown skillfully blends humor and history with paleontologist sections: Timeline of Key Discoveries, Ice Age Fact vs. Fiction, Silly Cavemen Myths, and more.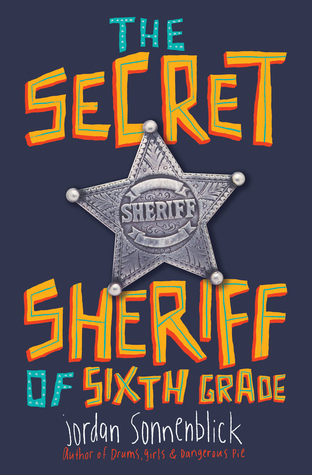 The Secret Sheriff of the Sixth Grade
By: Jordan Sonnenblick
Publisher: Scholastic
Date: August 29
YAYOMG!:
This book is so much more than just navigating the halls of middle school, it's also about navigating life. Maverick can't really control his less than perfect home life, so he decides to step up and start helping kids at school instead. Determined to make the school a better place for everyone, he becomes a vigilante of sorts, doing what he can to make unfair situations better for the kids involved. The Secret Sheriff of Sixth Grade reminds us all to "Be kind, for everyone you meet is fighting a hard battle."
SYNOPSIS:
In sixth grade, bad things can happen to good kids. Bullies will find your weakness and jump on it. Teachers will say you did something wrong when really didn't mean to do anything wrong. The kids who joke the loudest can drown out the quieter, nicer kids.
Maverick wants to change all that. One of the last things his father left him was a toy sheriff's badge, back when Maverick was little. Now he likes to carry it around to remind him of his dad – and also to remind him to make school a better place for everyone… even if that's a hard thing to do, especially when his own home life is falling apart.
THE SECRET SHERIFF OF SIXTH GRADE is a story about standing up for yourself – and being a hero at home and in the halls of your school.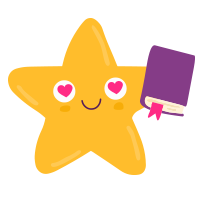 Looks like you guys have a LOT of reading to do! We hope we could help connect you with a new favorite book or author. As always, happy reading!