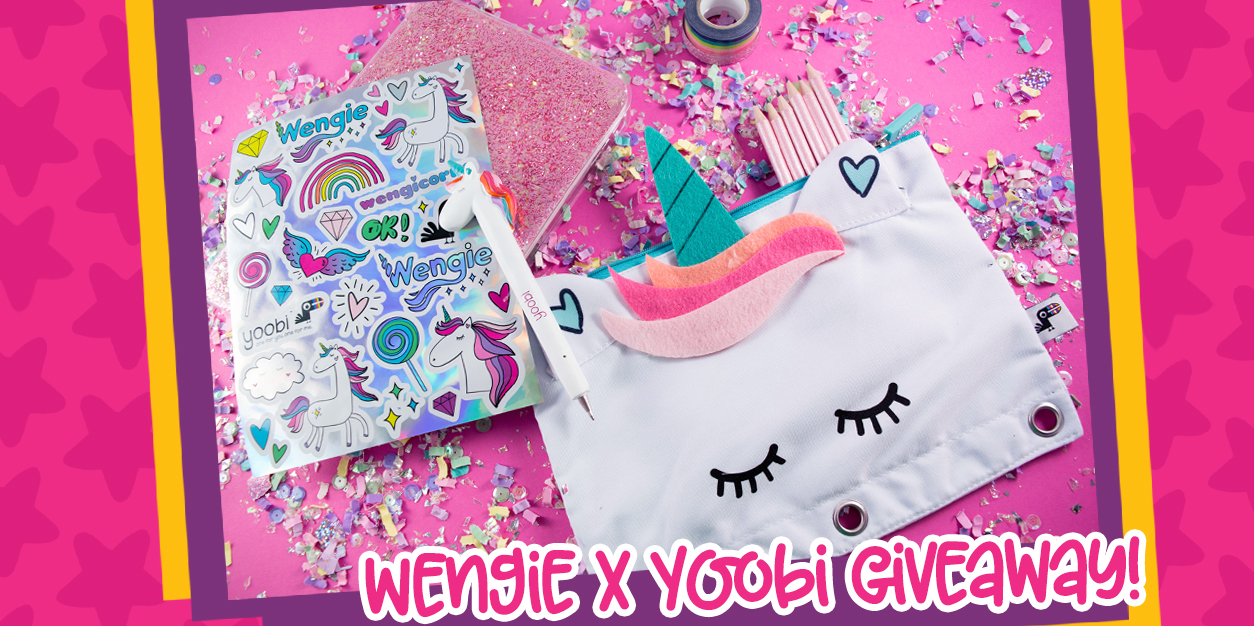 We Unboxed the Wengie x Yoobi Box + GIVEAWAY!
We recently got our hands on one of the limited edition Wengie x Yoobi collab boxes, and we've got to say, it exceeds our expectations. We're pretty much all unicorns, glitter, and rainbows all the time at YAYOMG!, so we had no doubt that we'd love every aspect of this epic collaboration. Expert level DIY-er, life hacker, and prankster Wengie teamed up with Yoobi, creator of the worlds cutest stationary items and school supplies for a special limited edition box. She chose 5 of her absolute favorite Yoobi items, designed a super cute sticker sheet, and the Wengie x Yoobi box was born. This box isn't just jam-packed with cuteness, it also does good. For each box purchased, Yoobi will be donating FIVE school supplies to a kid in need!
We're showing off all the items inside and giving YOU the chance to win! Take a peek at the Wengie x Yoobi box below and scroll all the way down for rules on how you can make your school year totally magical by entering our giveaway!
Wengie x Yoobi Unboxing: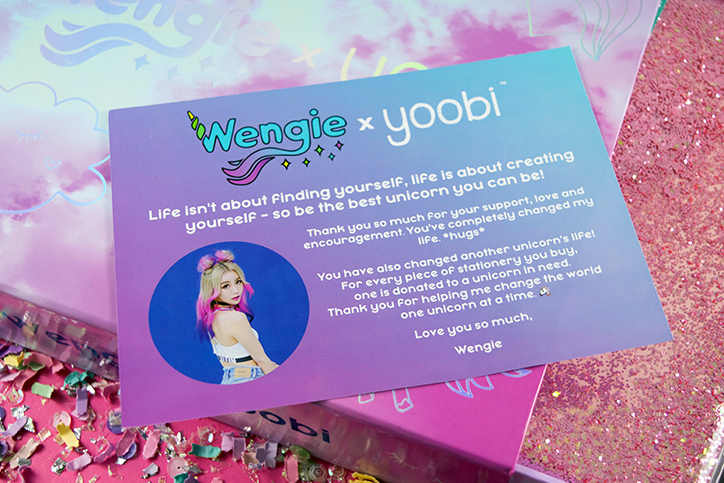 The Wengie x Yoobi collab starts with the box. It's colorful, decked out in tons of hearts and unicorns, and it can be reused! We think it's a great place to store craft supplies, sticker collections, or anything else you might need to organize. After pulling open the box, you'll find a special note from Wengie herself. You'll also discover the adorable items detailed below.

Custom Wengie Sticker Sheet:
All the designs on this magically metallic sticker sheet were designed exclusively for this box. Stick 'em all over your notebooks, locker mirrors, and pencil cases to shimmer in style this school year!

Unicorn Pen:
Out of all the items in the Wengie x Yoobi box, we're positive that this is the one that will get you the most compliments. Who wouldn't want a whimsical unicorn by their side to help them through the school day?

Liquid Glitter Journal:
How pretty is this journal? It's no wonder Wengie chose to include it in her Yoobi box! This journal isn't just pretty, it boasts thick paper and a sturdy cover, making it a great pick for getting extra creative with markers, washi, paints, glitter glue, and more!

Unicorn Binder Zip Case:
Clip this cutie into your binder and she'll keep your stuff organized for you! This unicorn binder case is made of sturdy cloth, so it will stand up to the wear and tear of backpacks and lockers, making sure all your stuff is always protected. Keep an extra pen inside in case you forget to bring one to class, stash some spare sticky notes to keep you on top of your organization game, or keep a highlighter in there to make your notes pop!

Rainbow and Glitter Washi Tape:
We love using washi tape to add vibrant colors and patterns to our journals and planners. What better way to do that than with rainbows and glitter? Never used washi before? The possibilities are endless. Make cute labels for your many cords and chargers, use it to decorate homemade cards, wrap it around boring pencils to give them colorful life, and more.

Pink Glitter Pencils:
These super sparkly pink pencils will give you lots of good vibes as you rock your homework, ace a test, or write about your day in your journal. They're also great for sketching unicorns or fanart for the amazing Wengie!
Wengie x Yoobi Box Giveaway: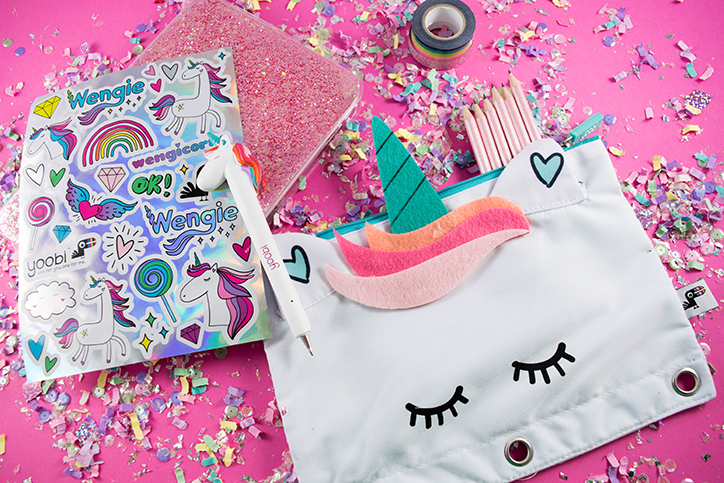 WHAT DO I WIN?:
One lucky winner will receive:
– ONE (1) Limited Edition Wengie x Yoobi box, which includes all the items picture above.
*NOTE: This giveaway is being run entirely by YAYOMG! and is in no way associated with Wengie or Yoobi.
HOW DO I ENTER?:
You must be 18 or older to enter. If you are under 18, please get your parents permission before entering or have a parent enter on your behalf. Then, head to Instagram and complete the following steps by August 6th!
1. Follow @yayomgofficial on Instagram
2. Head to the post below and leave a comment tagging a friend you think would love to win!
Giveaway begins on July 30, 2018 at 02:00 pm ET and ends on August 6, 2018 at 11:59pm ET and is open to US residents only.
– You must be 18 or older to enter. If you are under 18, you will need your parent's permission to enter and win.
*If selected as a winner, we will provide you with an affidavit to confirm that you are a valid winner who has permission to win. You will need to sign and return this affidavit in order to claim your prize. Entrants under 18, your parents will need to sign and return this document granting permission for you to win before we can send your prize. This step is non-negotiable and required to claim your prize.
Be sure to read the fully detailed rules HERE before entering.
Want to be an amazing DIY-er like Wengie? Craft back to school accessories for you and your bestie with the Klutz BFF Backpack Charms kit!