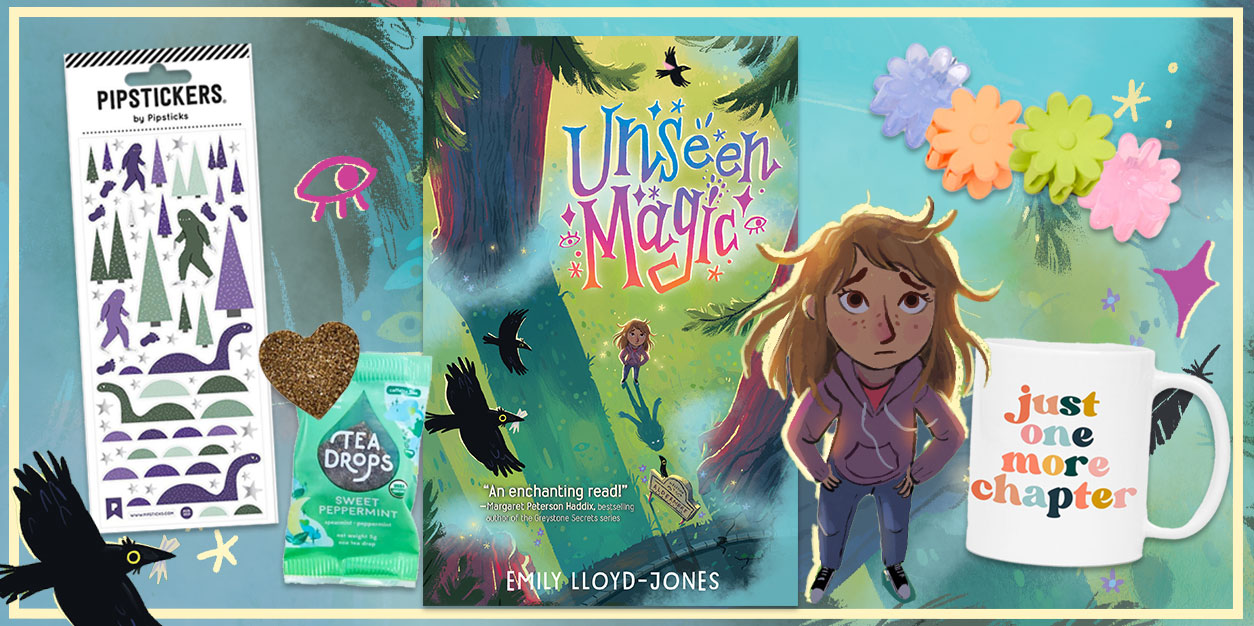 Explore a Magic-Infused Town & Face Your Fears in Unseen Magic + GIVEAWAY!
NOTE: This post is sponsored by HarperCollins.
The trick to all magic is: you can only see it if you know where to look, which is why we're helping you peek between the pages of an enchanting new book, Unseen Magic by Emily Lloyd-Jones.
Finley Barnes and her mom have never stayed in one place long, but the whimsical and mysterious Aldemere is the first place she's truly felt safe. Nestled at the edge of a lush redwood forest that some say is home to wandering Bigfoots, Aldemere seems like a quaint and picturesque place to settle down. But if the quirky rules aren't followed exactly, the town's magic becomes unruly – and even dangerous!
As a kid who struggles with anxiety, Fin's mind is often filled with worry, which is why she can usually be found at Talia's teashop, sipping on a special tea that allows her to trade away a memory to temporarily calm her fears. With the science fair on the horizon, Fin turns to her favorite magic tea to help ease her anxiety about her big presentation, but after discovering the shop owner isn't around to brew her a batch, she decides to do it herself.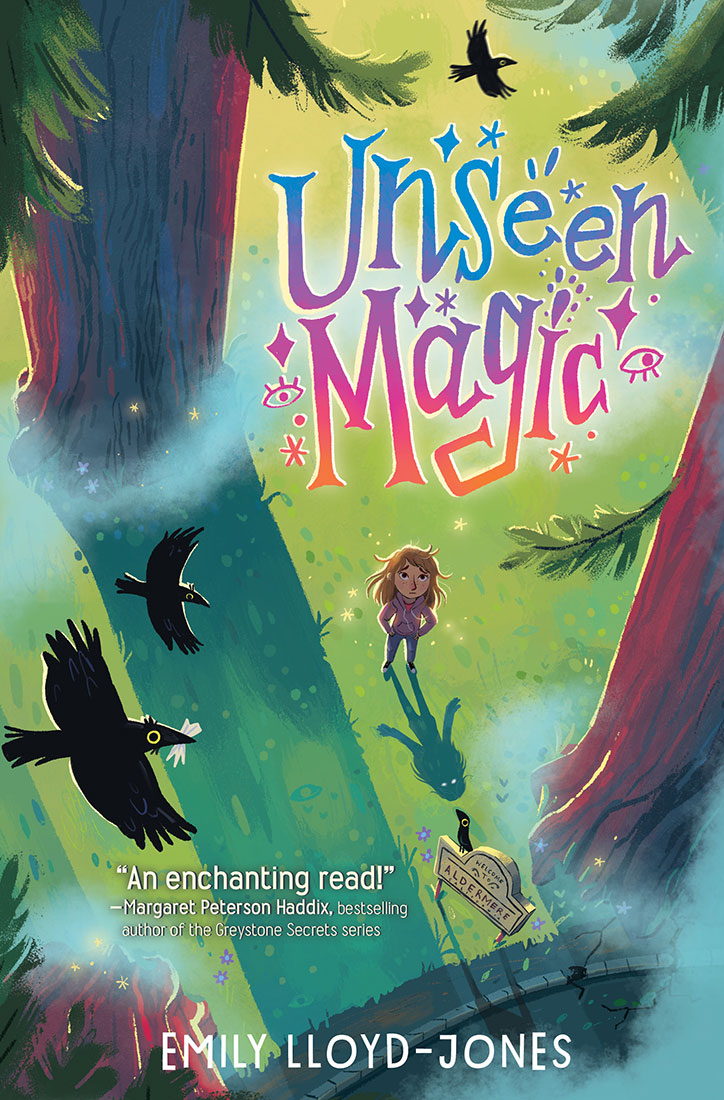 The trick to all magic is: you can only see it if you know where to look.
The magic-infused town of Aldermere is the first place eleven-year-old Fin has ever felt safe—and she'll do whatever it takes to save her home when she accidentally unleashes a shadow self who wreaks havoc everywhere she goes. Emily Lloyd-Jones's middle grade debut is an enchanting exploration of self-discovery and finding the place you truly belong. Unseen Magic is for fans of A Wish in the Dark and A Tangle of Knots.
Aldermere is a town with its own set of rules: there's a tea shop that vanishes if you try to force your way in, crows that must be fed or they'll go through your trash, and a bridge that has a toll that no one knows the cost of. Some say that there may even be bigfoots wandering through the woods.
For Fin, Aldermere is her new home. But she's worried that she'll do something to mess it up—that she was the reason she and her mother have constantly moved from place to place for so long. When an upcoming presentation at her school's science fair gives her increasing anxiety, Fin turns to magic to ease her fears. The cost is a memory, but there are things from her past Fin doesn't mind forgetting. This will be the last time she relies on magic anyway, she's sure.
Except things don't go exactly as planned. And instead of easing her anxiety, Fin accidentally unleashes an evil doppelganger. Suddenly Aldermere is overrun with unusual occurrences—and Fin is the only one who knows why. She will have to face her fears—literally—to stop it.
Emily Lloyd-Jones crafts an atmospheric novel full of magic and mischief while exploring what it means to stand up to your fears and accept yourself. Unseen Magic will captivate readers of Anna Meriano's Love, Sugar, Magic series and Natalie Lloyd's A Snicker of Magic.
Unseen Magic
AUTHORS: Emily Lloyd-Jones
PUBLISHER: Greenwillow Books
DATE: February 22, 2022
Making a mistake in the careful process, Fin accidentally unleashes an evil doppelganger in the form of a tea monster who seems determined to destroy the town. In order to save her home, she'll have to face her fears – literally – and be the bravest she's ever been!
Unseen Magic is a charming, magical read that will inspire you to find the courage inside your heart to overcome your own fears IRL. We think it will totally charm you, which is why we teamed up with our friends at HarperCollins for a giveaway! In addition to a copy of this fabulous read, one lucky winner will receive a prize pack inspired by Fin's adventures and the mysterious town of Aldemere.
Ready to enter? Grab your favorite adult and have them enter below for your chance to WIN!
Unseen Magic Giveaway: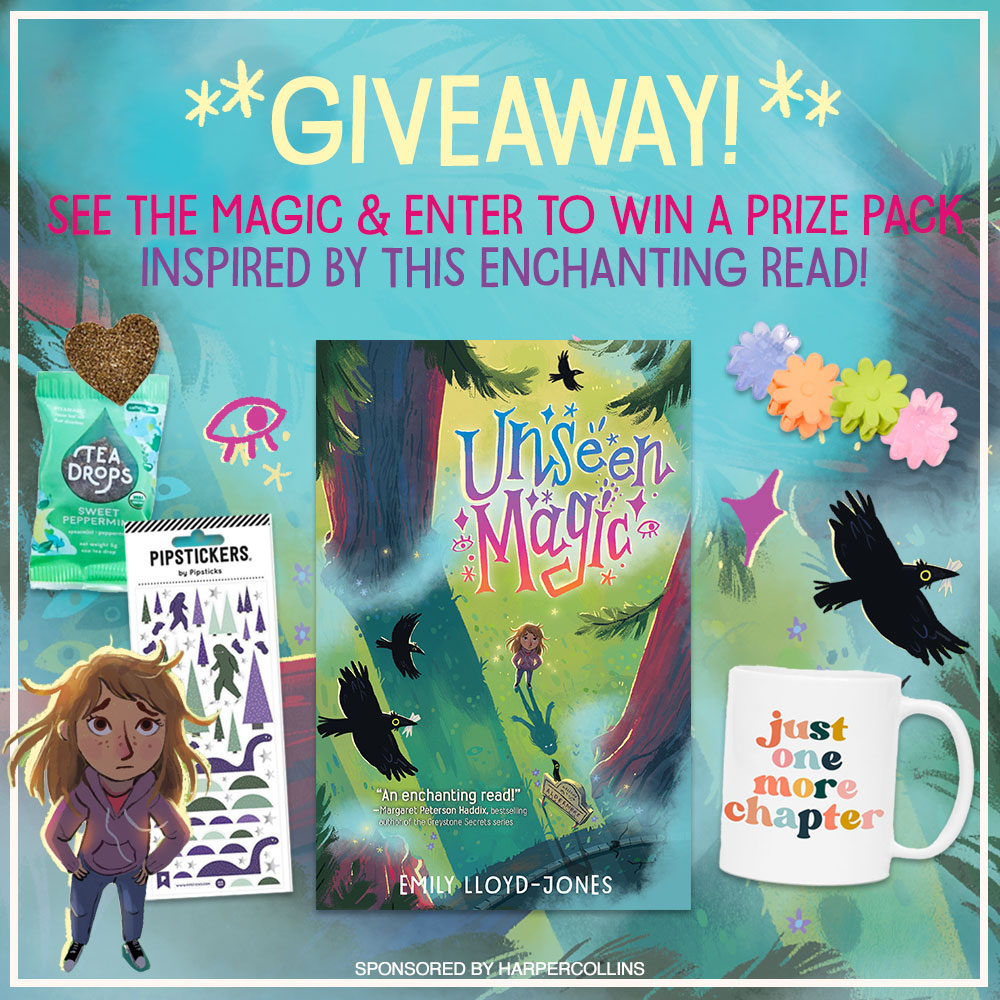 WHAT DO I WIN?:
ONE lucky winner will receive an Unseen Magic Prize Pack that includes:
– ONE (1) copy of Unseen Magic by Emily-Lloyd Jones
– ONE (1) "Just One More Chapter" mug
– ONE (1) box of Sweet Peppermint Tea (10-pack) from Tea Drops
– ONE (1 set of Clever Cryptids stickers from Pipsticks
– ONE (1) set of Pastel Rainbow Daisy Mini Hair Claws (12-pack) from Claire's
*Prizes provided by HarperCollins & YAYOMG!
HOW DO I ENTER?:
Grab a parent or guardian and have them fill out the form below by March 22, 2022 at 11:59pm ET.
Giveaway runs from 02/22/22 at 10:00 am ET through 03/22/22 at 11:59 pm. Open to US residents ONLY. Be sure to read the fully detailed rules HERE before entering.
THIS GIVEAWAY HAS ENDED AND THE WINNER HAS BEEN CONTACTED.
You must be 18 or older to enter. Please, only ONE entry per person. If selected as a winner, we will provide your parent/guardian with an affidavit to confirm that you are a valid winner who has permission to win. They will be REQUIRED to sign and return the affidavit to YAYOMG! to claim your prize. Prizes will not be mailed out without signed parental consent.
Ready to be enchanted by this amazing read? Unseen Magic is now available from HarperCollins!