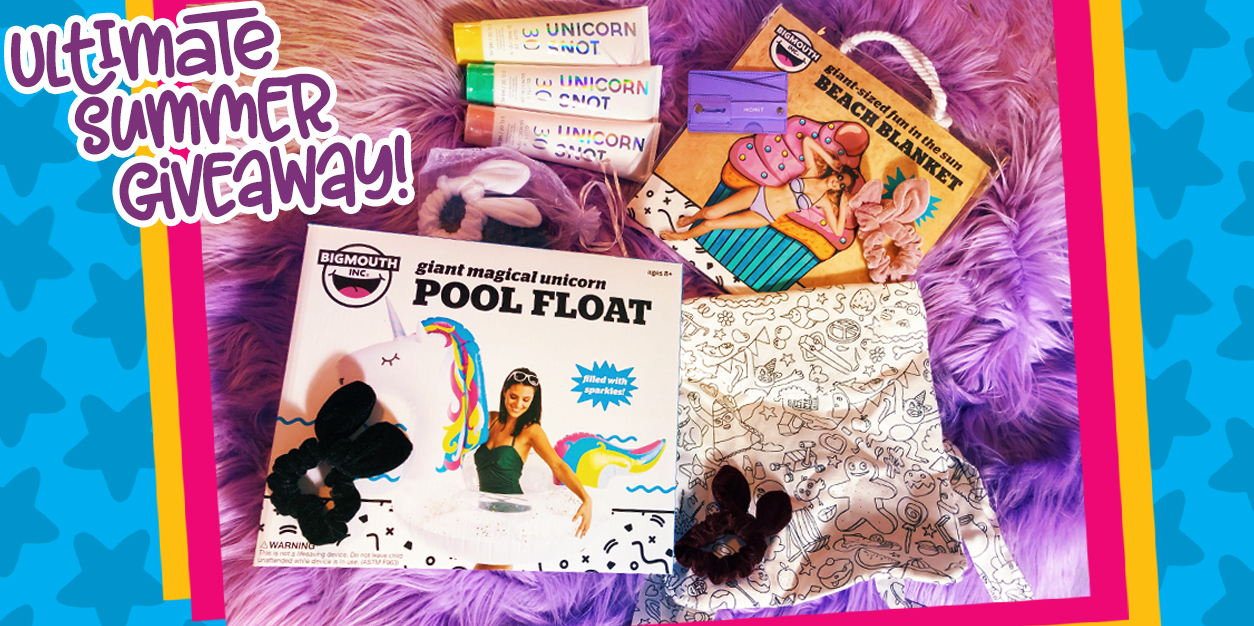 Our 6 Summer Essentials + Ultimate Summer GIVEAWAY!
NOTE: Some of the items on this list and our Ultimate Summer Giveaway Prize Pack were provided by the brands OMY and Monet. No money was exchanged, and all opinions are our own. These items made our list because we think they are great products!
Summer has arrived and with that comes fun outdoor adventures, trips to the beach, sleepaway camp, and lots of sunny days. As we learned from the iconic Phineas and Ferb, it's crucial to make the most of those 104 days of Summer vacation before school is back in session. That's why we put together some of our picks for Summer essentials that we think will help you make the most of those lazy pool days, amusement park trips, and more!
Loving everything on our list? You're in luck! We're giving away everything on our list so that one lucky winner can have the ultimate Summer. Keep on reading to see our picks and for rules on how you can enter!
Our 6 Summer Essentials + Ultimate Summer GIVEAWAY!:

Customizable Backpack from OMY:
Wherever you may be headed this Summer, this OMY DIY Backpack is a great place to stash all your stuff. This adorable mini backpack is great for carrying all your Summer-essentials, and the DIY aspect means you can get creative and let your personality shine! Designing your bag makes for a great road trip activity or for those days where it's just too hot to go outside.

Pastel Phone Wallet from Monet:
We think the Monet wallet makes for the perfect Summer accessory. It sticks to your phone, making it super easy to stash away cash and cards for those spur of the moment ice cream treats or Summer shopping sprees. Since there are so many Summer activities where it's useful to carry a bag, the Monet makes so much sense as your go-to accessory for the season. Plus, there's an adjustable strap on the back that allows for an easy grip for selfies and kickstand, just like a PopSocket. They come in LOTS of awesome colors, but if you win our giveaway, you'll be getting the sold-out Barney Purple shade.

Unicorn Snot Holographic Glitter Sunscreen from FCTRY:
Hands down, the most essential Summer accessory is sunblock. Thankfully, Unicorn Snot makes sunscreen not just useful, but super fabulous! This sunscreen comes in 3 shimmery colors, each with an SPF of 30 to keep you looking awesome and protecting your skin while you're at the pool, the beach, or munching on snacks at a BBQ. This sunblock is made from cosmetic grade glitter and other good ingredients, making it safe for sensitive skin. We're including all three colors in our giveaway, Blue, Gold, and Pink, which means you'll have plenty to share with your besties!

Magical Unicorn Pool Float from Big Mouth:
Everyone loves unicorns, so why not bring one with you to pool?! Pop on your cutest sunnies, rock some of that glitter sunblock, and float the day away, unicorn style. There are a ton of totally awesome Big Mouth floats to choose from like avocados to mermaid tails and emoji. We picked this one because we knew our YAYOMG! readers wouldn't be able to resist this glitter-filled unicorn!


Cupcake Beach Blanket from Big Mouth:
This delicious looking cupcake isn't just a towel, it's an enormous beach blanket! Clocking in at a super huge 5ft wide, it's perfect for picnics, beach trips, and sitting on to watch the fireworks this 4th of July! If you've ever wondered where everyone on Instagram has been getting all their unique and boldly colored beach stuff, now you're in the know!
Scrunchies are the perfect way to keep your hair out of your face on a hot Summer day. Any Brooklyn and Bailey fan knows how in-demand their scrunchies can be, and we've got two full sets to share. The winner of our giveaway will receive the Rosy Pink set and the Mermaid Tail set, seen above. With 6 colors to pick from, you'll be able to rock a different scrunchie to match every outfit you wear this season and even when you head back to school. Tie your hair up for a Summer bonfire, a trip to the boardwalk, or while you're devouring your latest Summer read. Can't figure out what to read this Summer? We've got you covered!
Ultimate Summer Giveaway:


WHAT DO I WIN?:
ONE (1) lucky winner will receive our Ultimate Summer Giveaway Prize Pack that includes:
– ONE (1) DIY Backpack, graciously provided by OMY
– ONE (1) Monet Phone Wallet, kindly provided by Monet (Barney Purple)
– THREE (3) Tubes of Unicorn Snot Glitter Sunscreen (Blue, Pink, and Gold)
– ONE (1) Big Mouth Magical Unicorn Pool Float
– ONE (1) Big Mouth Cupcake Beach Blanket
– TWO (2) Packs of Brooklyn and Bailey Scrunchies – the Rosy Pink Set and Mermaid Tail Set (Six scrunchies in total)
HOW DO I ENTER?:
Get permission from your parent or guardian and head to Instagram and complete the following steps by July 2, 2018!
1. Follow @yayomgofficial on Instagram
2. Comment on the giveaway and tag a friend you think would love to win!
Giveaway begins on June 25, 2018 at 11:00 am ET and ends on July 2, 2018 at 11:59pm ET and is open to US residents only.
– You must be 18 or older to enter. If you are under 18, you'll need to get permission from your parent/guardian to enter and again if you win.
*If selected as a winner, we will provide you with an affidavit to confirm that you are a valid winner who has permission to win. You will need to sign and return this affidavit in order to claim your prize. Entrants under 18, your parents will need to sign and return this document granting permission for you to win before we can send your prize. This step is non-negotiable and required to claim your prize.
Be sure to read the fully detailed rules HERE before entering.
THIS GIVEAWAY HAS ENDED AND THE PRIZE HAS BEEN CLAIMED.
Feeling those Summertime vibes? Here's how all your favorite Christmas characters spend their Summer vacation!