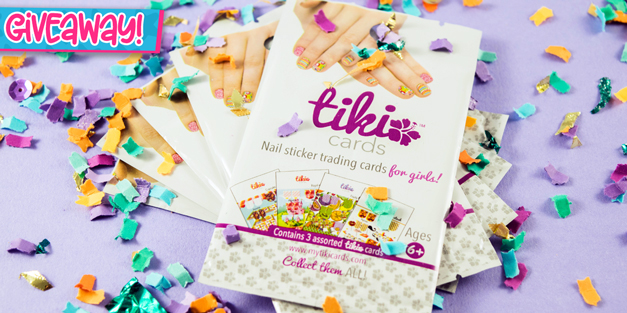 Tiki Cards: Super Cute Tradable Nail Stickers + GIVEAWAY!
Love the thrill of ripping open a blind boxed toy or a new pack of cards? If you're someone who loves to collect and trade, we've found your new must-have accessory – Tiki Cards!
Tiki Cards are colorful, tradable nail stickers, making them super fun on so many different levels. Thanks to our friends at Tiki Cards for sending us some to give away and review!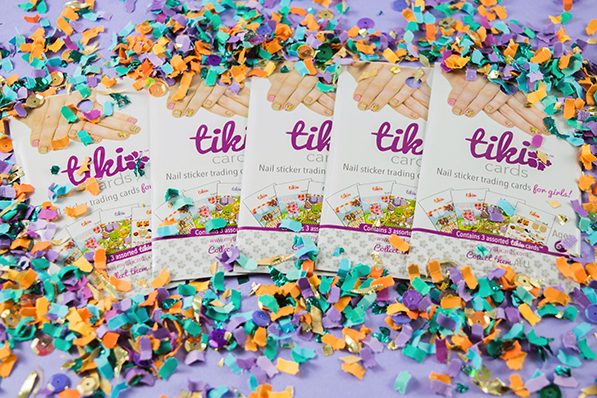 Each set of Tiki Cards comes packaged like a pack of trading cards, meaning you won't know what's inside until you open it. Inside, you'll find three themed cards, each with a set of nail art stickers for you to wear and trade with your friends.
Heading to a pool party? Rock the Tropical Breezes set, complete with flip flop and beach ball patterns. Wearing red and black today? Rock the Ladybug Hug set. Not much of a dancer? Trade with your Just Dance set to a friend for a soccer themed set and show off your sporty side. No matter what your style, mood, or interest, there's a nail design that was designed with you in mind. There's currently 36 different designs to collect, including seasons, sports, animals, holidays, and more.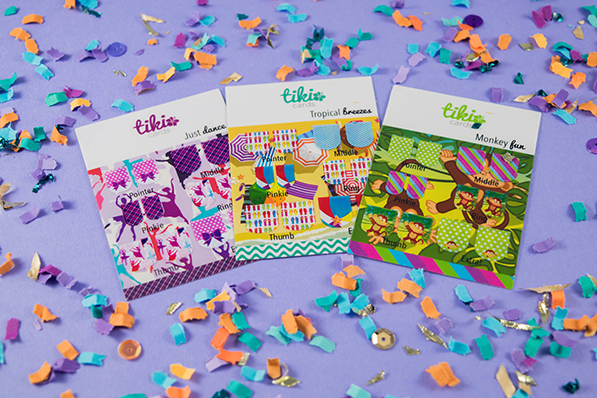 Taking a closer look at the cards, you'll see that each one comes with 12 nail stickers. There's one for each of your 5 fingers and then an extra one that can be used in case any mistakes are made or if any of the stickers don't perfectly fit your nail size. Flip over to the other side of the card and you'll find the extremely simple instructions. Make sure your nails are clean and dry, peel off the sticker, press it into place, and trim any excess bits with a nail clipper or or nail file. All you need is a few minutes and a steady hand and you'll be in cute mani heaven!
It's easy enough to do yourself and there's no top coat or heat tools necessary in order to make them stick. It was so easy that even we could do it, and we never EVER wear nail polish and we're pretty horrible at all things makeup. Each card also features a hashtag you can use when showing off your fabulous new nail art to the world.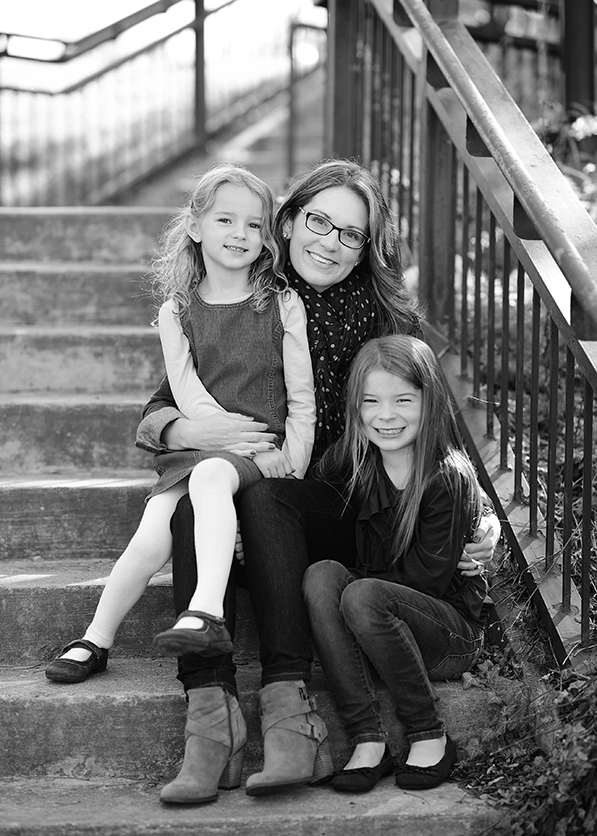 The thing we like best about Tiki Cards? The story and the hard-working woman behind it! We're all about celebrating girls and women who inspire and encourage other girls to follow their dreams, and that's exactly what Tiki Cards founder Kelly O'Donnell is all about. Here's what she had to say:
"I started Tiki Cards with my daughters (Tess and Kate, ages 10 and 8) to show them that their ideas have value and meaning for the world, and they can take an innovation from prototype to market. I want not just my girls but ALL our girls to grow up knowing that women own businesses, invent things, and are leaders in their communities. Tiki Cards has been a fun way to model that for them and do something exciting together as a family."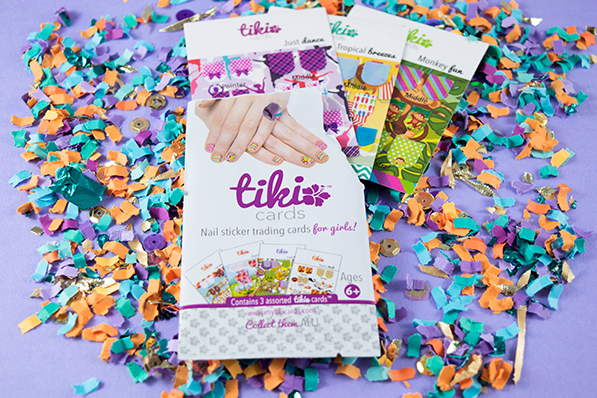 We can definitely see these being traded like crazy at school, the way we used to go nuts for trading stickers and filling up our sticker books. Tiki Cards make that experience even more fun by adding the element of surprise and giving the stickers a purpose. Nail art is awesome but sometimes it's such a hassle having to paint, dry, stencil, and basically BE an artist in order to pull it off. We love that Tiki Cards makes the whole process super fun and super easy.
These nail stickers make for a great activity to do with your bestie when you have a sleepover or to stash as a favor inside a party gift bag.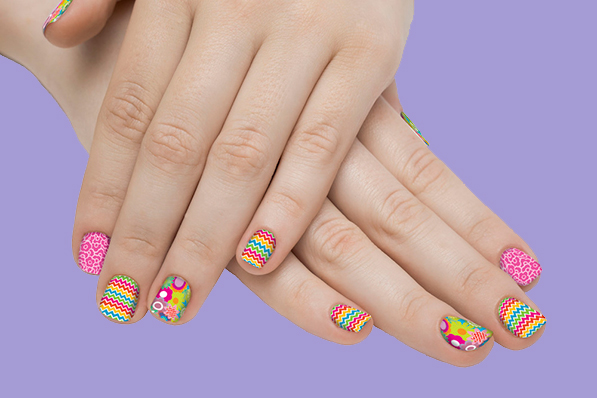 So how can you get some? Well, you can try to win some below OR you can hit up the Tiki Cards website. Packs cost $4.99 each (with 3 random designs inside) and mega packs go for $19.99 (15 random designs inside). As always, ask a parent for permission first!
Tiki Cards Giveaway:
WHAT DO I WIN?:
– Four (4) Packs of Tiki Cards Nail Stickers. (12 cards in total.) Since these are packed like trading cards, we do not know which designs you'll find inside.
HOW DO I ENTER?:
Just fill out the form below by August 31st at 11:59pm EST. Giveaway begins on 8/18/2017 at 1pm EST and ends on 8/31/2017 at 11:59pm EST.
You must be 18 or older to enter. If you are under 18, you'll need to get permission from your parent/guardian to enter and again if you win. Please provide THEIR email address when entering below. If chosen as a winner, you'll need to provide contact info where we can reach your parent/guardian if you win. Be sure to read the fully detailed rules HERE before entering.
THIS GIVEAWAY HAS ENDED AND THE PRIZE HAS BEEN CLAIMED.

Good luck to everyone who enters!If you like fun beauty accessories, we think you'll love Glamspin!
Note: We received this product for free from Tiki Cards in exchange for a fair and honest review. We were under no obligation to write a positive review. Giveaway prize provided by Tiki Cards.