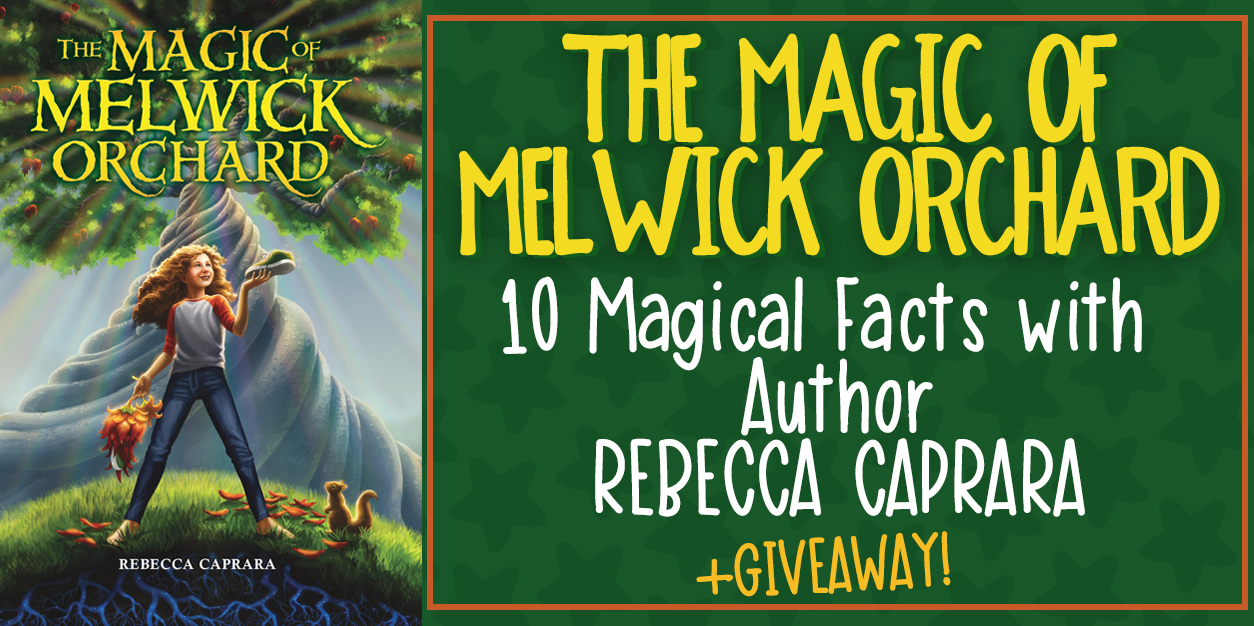 10 Magical Facts About The Magic of Melwick Orchard with Author Rebecca Caprara + ARC GIVEAWAY!
The Magic of Melwick Orchard doesn't release until September, but we recently had the pleasure of reading it early, and we can't stop gushing about it! We instantly fell in love with the resilient, spunky Isabel and her sister Junie. The book is fantastically written, tackling real issues like illness and depression, weaving them in flawlessly with the author's lyrical writing style and a whole lot of whimsy and magic.
This hopeful story walks the line between fantasy and reality, shining a light on the importance of sisterhood and family in a way that will have you unable to stop reading until the very last page.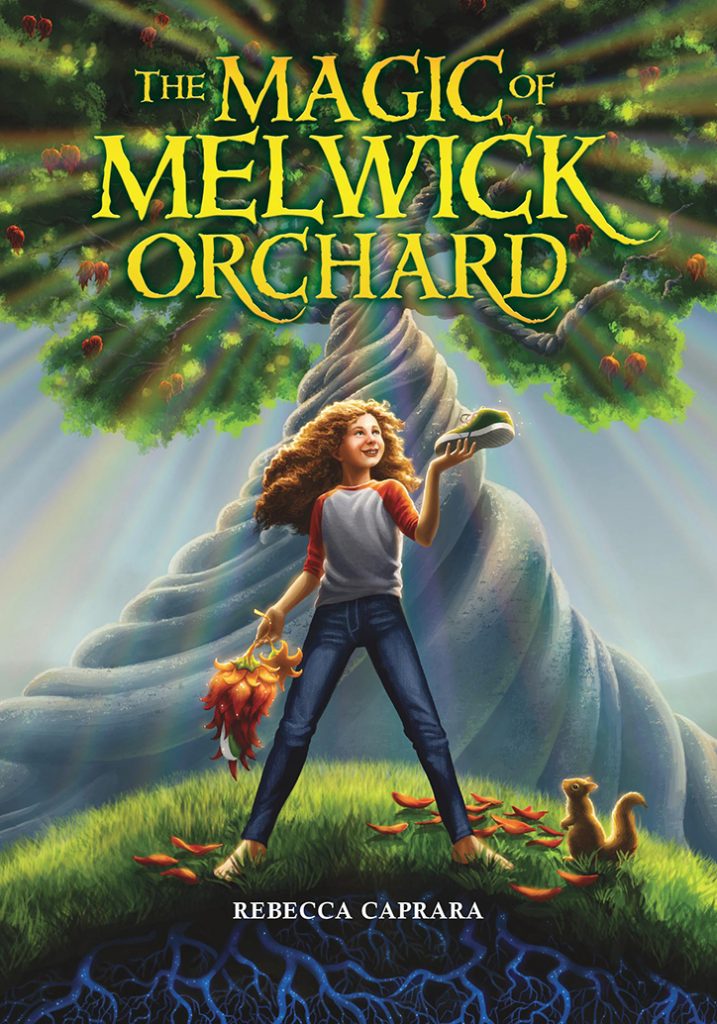 SYNOPSIS:
"After more moves than they can count, Isabel and Junie's family finally put down roots. People in town whisper strange stories about the abandoned orchard behind their new home, but the sisters are happy to have acres of land to explore and trees to swing beneath. For the first time in a while, life feels perfecterrific.
But then Junie is diagnosed with cancer and everything changes. Isa's mom falls into a deep depression, and mounting medical bills force Isa's dad to work longer and longer days. As for Isa… well, she's slowly becoming invisible. No one seems to notice that her clothes are falling apart, her stomach is empty, and her heart is breaking.
In an act of frustration, Isa buries her out-grown sneakers in the orchard. The trees haven't produced fruit in decades, but the next day something magical happens: a sapling sprouts the strangest, most magnificent buds Isa has ever seen. When they bloom to reveal an entire harvest of new shoes, Isa feels inspired. Can she use the magical tree to save her family?"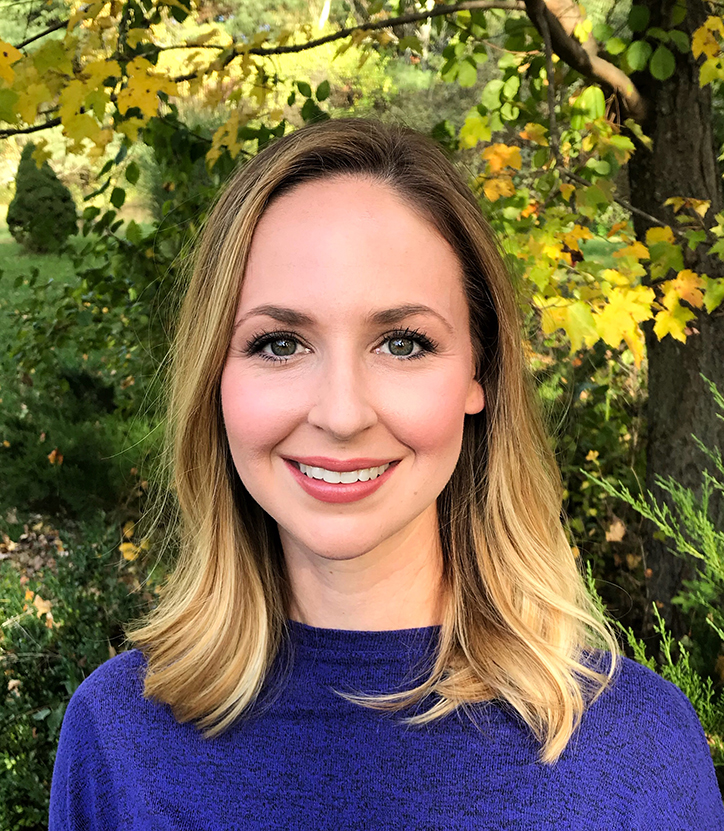 The book may not hit bookstores until September, but that doesn't mean you have to wait until then to get excited about it. Rebecca is taking readers beyond the pages of her book in the form of 10 Magical Facts! Get to know this heartfelt and enchanting story and keep on reading for your chance to win a signed ARC of The Magic of Melwick Orchard.
10 Magical Facts About The Magic of Melwick Orchard with Author Rebecca Caprara:
FACT #1:
The very first chapter of the book was written nearly six years ago. I was attending a writing workshop in Big Sur, California and I was totally stuck on another project. I decided to go for a hike through a nearby redwood forest to clear my head. Suddenly this silvery fog rolled in, I looked up at those massive trees, and POOF! An idea sprouted! I ran back to my cabin and began typing what became the very first chapter of The Magic of Melwick Orchard.
FACT #2:
The original title of the book was The Orchard of Oddities, followed by Chance Seedling. My editor and I eventually decided to change the title, with some help from my agent, critique partners, and Lerner's Sales & Marketing team. Publishing a book is definitely a collaborative effort!
FACT #3:
The book takes place in Bridgebury, a fictional New England town, inspired by the small town where I grew up.
FACT #4:
Coming up with a name for the mysterious orchard was HARD! I experimented with countless options, but nothing sounded quite right. Then, in true Junie fashion, I tried mashing two words together—in this case, my parents' names: my mom is Melissa; my father's college nickname was Wick. The result? Melwick! I knew immediately that it was *the one*.
FACT #5:
On the last day of fifth grade, I gave my awesome Language Arts teacher, Mrs. Hansen, a thank you card. I told her how much I loved her class and I promised her that I would write a book one day. I'm so happy that I'm finally making good on that promise decades later. (Better late than never, right?!?)
FACT #6:
I was three months pregnant when I started working on this book, so I began writing a story about sisterhood long before I knew I'd have daughters of my own. Watching the bond my girls share has been amazing, and definitely impacts my writing.
FACT #7:
I consulted many sources while writing and researching The Magic of Melwick Orchard, including nurses, doctors, books, websites, as well as a childhood cancer survivor and fellow author. I'm so grateful for the feedback I received, which helped me shape the story in a sensitive and truthful way.
FACT #8:
I dedicated the book to my grandparents, whom I love dearly, because they're the strong roots of our family tree—not to mention fellow readers, writers, Scrabble-masters, and some of my greatest cheerleaders.
FACT #9:
Unlike Junie, I do not like carrot cake. But chocolate, vanilla, strawberry cupcakes? Yes, please!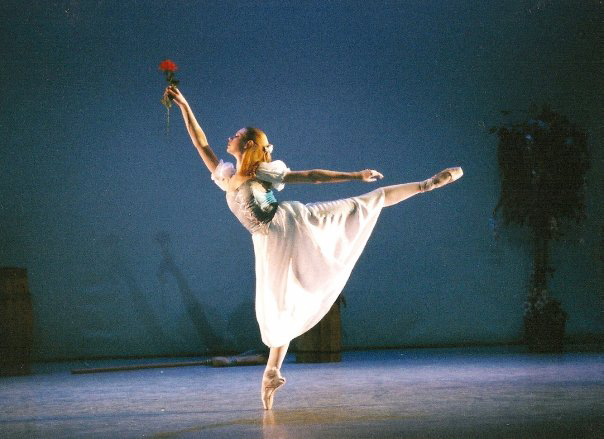 FACT #10:
I studied classical ballet for many years and performed as a soloist in a small company before going to college. I still love to dance, and I even teach children's classes at a local ballet school. In fact, the "easy peasy, lemon squeezy" rhyming game that Isa and Junie play was inspired by my students' favorite phrase.
The Magic of Melwick Orchard ARC Giveaway: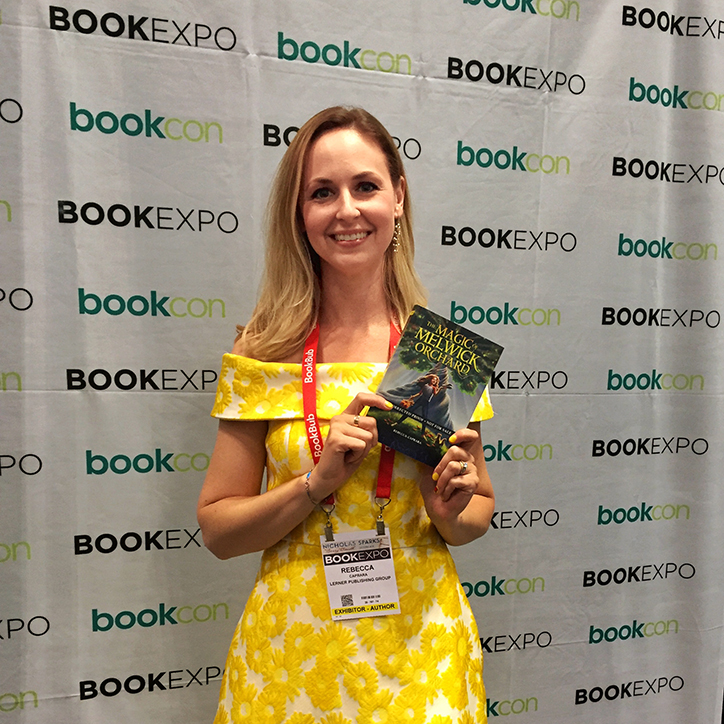 We had the absolute pleasure of meeting author Rebecca Caprara at this year's Book Expo of America in NYC. She was super sweet and extremely excited to share her book with potential readers. She even signed an ARC (Advance Reader Copy) for us to giveaway on YAYOMG!
The book isn't officially hitting shelves until September, but one lucky winner will get the chance to read this heartfelt middle grade book that's being hailed as, "A beautiful bloom of a book, rooted in friendship, hope, and love. This stunning debut will make you believe in magic—on the page and in your heart!"
WHAT DO I WIN?:
– ONE (1) lucky winner will receive a signed ARC (Advance Reader Copy) of The Magic of Melwick Orchard by Rebecca Caprara, published by Carolrhoda Books.
HOW DO I ENTER?:
Get permission from your parent or guardian and head to Instagram and complete the following steps by June 18th, 2018!
1. Follow @yayomgofficial on Instagram
2. Read the rules below and then head to this post and leave a comment stating what YOU would want to grow from a magical tree!
Giveaway begins on June 11, 2018 at 12:00 am ET and ends on June 18, 2018 at 11:59pm ET and is open to US residents only.
– You must be 18 or older to enter. If you are under 18, you'll need to get permission from your parent/guardian to enter and again if you win.
*If selected as a winner, we will provide you with an affidavit to confirm that you are a valid winner who has permission to win. You will need to sign and return this affidavit in order to claim your prize. Entrants under 18, your parents will need to sign and return this document granting permission for you to win before we can send your prize. This step is non-negotiable and required to claim your prize.
Be sure to read the fully detailed rules HERE before entering.
THIS GIVEAWAY HAS ENDED AND THE PRIZE HAS BEEN CLAIMED.
Looking for more books to fill your heart with hope? We think you'll love Front Desk by Kelly Yang.