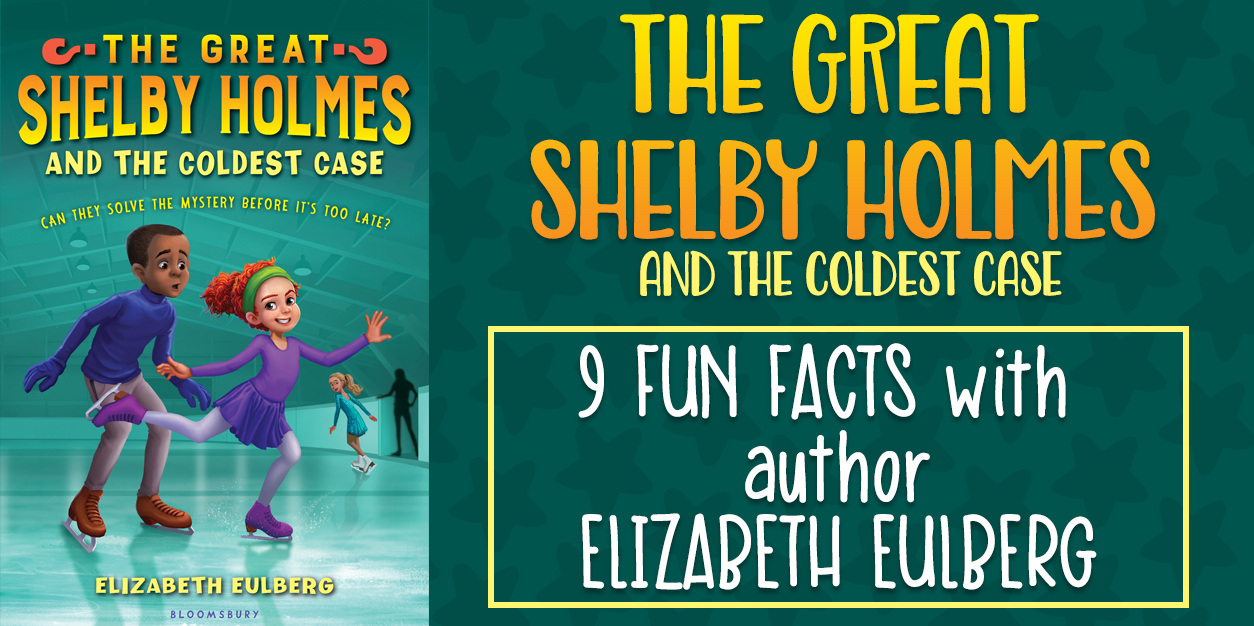 The Great Shelby Holmes and the Coldest Case Fun Facts with Author Elizabeth Eulberg
If you love solving mysteries and reading detective stories, it's time you met Shelby Holmes! Shelby and her best friend John Watson have taken on dognappers and suspicious teachers, but in The Great Shelby Holmes and the Coldest Case, they're about to take on their hardest case yet!
In this third installment, Shelby and John's super sleuthing abilities have made them local celebrities in their small Harlem neighborhood. The extra buzz has also landed them a brand new case involving a cipher and shady happenings at the local ice skating rink, and they'll have to go undercover as an award-winning figure skating duo in order to close the case and save the day.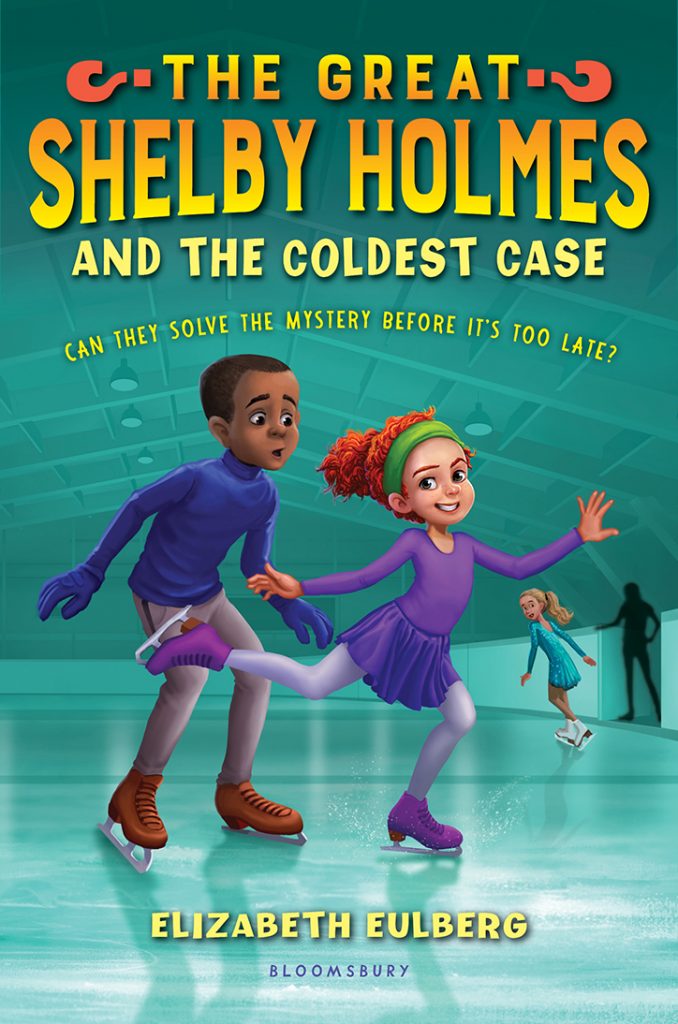 Acclaimed author Elizabeth Eulberg continues her hilarious middle-grade twist on Sherlock Holmes as detective duo Shelby and Watson tackle their trickiest case yet – going undercover…as figure skaters!
Being friends with a super sleuth isn't easy, especially when she's nine years old, four feet tall, and full of attitude. But for eleven-year-old John Watson, being friends with Shelby Holmes is just the adventure he's looking for.
After Watson's online journal chronicling his and Shelby's case-closing abilities attracts the attention of a newspaper reporter, the pair becomes a small "media sensation" in their Harlem neighborhood. So it's no surprise (at least, to Shelby!) when the article lands them a new client–a figure skating coach whose star athlete, Jordan Nelson, is receiving strange, threatening messages, written entirely in code.
There's no one better to crack the cipher than dynamic duo Shelby and Watson! But to gather information, Shelby decides that they'll have to go undercover . . . as an award-winning pair skating team. Can they use the laws of physics and their acting skills to maintain their covers and figure out who's sending Jordan such strange messages before it's too late?
AUTHOR: Elizabeth Eulberg
PUBLISHER: Bloomsbury Children's Books
DATE: September 4, 2018
The Shelby Holmes series is one of our favorites at the moment. It's a modern take on Sherlock Holmes with a fiercely smart, eccentric, and over the top super sleuth. John and Shelby's dynamic brings so many funny and heartwarming moments to the story, and we love the way that their friendship has really grown and progressed over the course of the books. Nothing gets us page turning like a good detective story, and this series is always full of intrigue, surprises, and mystery that keeps you on the edge of your seat. We admire Shelby's confidence, she might not be the most popular (or the most tall), but she's never afraid to just be herself and do whatever it takes to solve a case and bring justice to those who deserve it.
We're so excited that author Elizabeth Eulberg is on YAYOMG! today sharing 9 fun facts about how the series came to life, the very important research she had to do for The Coldest Case, and where you can meet her on tour!
The Great Shelby Holmes and the Coldest Case Fun Facts with Author Elizabeth Eulberg:
FACT #1:
While I loved reading detective stories when I was a kid (like Nancy Drew and Encyclopedia Brown,), I was not a fan of Sherlock Holmes. It's all my brother's fault! I was the musical one in our family and always got the leads in the school musical. When we did Sherlock Holmes, I was put in the chorus, while my brother played Sherlock. So obviously like any younger sister, I decided Sherlock Holmes was the worst.
Many years later, I became intrigued by Sherlock Holmes after watching a TV show, Sherlock. I had my a-ha moment to create a girl-version of Sherlock: Shelby Holmes!
FACT #2:
I do lots of research for these books. I study forensics (the clues found at a crime scene) and forensic psychology (how criminals act), but the most important research I do is also the hardest. See, Shelby is addicted to sugar. So sometimes I need to get in her mindset and that requires me to…and it's hard for me to talk about…eat candy. And cookies! And go to fancy bakeries to take pictures for the illustrator Erwin Madrid to use for inspiration. It's a hard job, but someone has to do it!
FACT #3:
While The Great Shelby Holmes and the Coldest Case involves figure skaters and skating rinks, I didn't get in ice skates for research since I once broke my arm figure skating! True story. I wasn't doing anything fancy, I just fell and landed on my arm. So instead I stayed on the ground and watched figure skating competitions and some fun movies (like Ice Princess and The Cutting Edge).
FACT #4:
Shelby Holmes is smarter than me. Sad, but true. Whenever she makes a seemingly easy deduction when she meets someone (like in the first book, The Great Shelby Holmes, she is able to deduce that someone had just gotten back from Cozumel, Mexico by simply looking at him!), it takes me a really long time to figure it out. I have to do it backwards: what clue could she find to lead her to make that leap (with that, I found a certain rock that only exists in three places in the world and had the guy wear a new necklace with that rock…and gave him a sunburn so she knew he was in a warmer climate).
FACT #5:
The Great Shelby Holmes and the Coldest Case marks my debut as an artist! Now, I can't actually draw, but this case involves ciphers, which is a secret code where certain symbols—in this it's figure skating stick figures—replace letters of the alphabet. When I was discussing the cipher with the amazing designers at my publisher I said, "it should be really simple and something a kid could do…maybe I should just do it!"
FACT #6:
Don't lie to me, I'll catch you! Remember what I said about researching forensic psychology above? That includes something called micro facial expressions. It's a way you can tell if someone is lying. There are exceptions, but if someone glances up and to the right it means they're lying (to the left means they're recalling something). Also, if someone fidgets a lot, it can mean they're uncomfortable and might be lying.
FACT #7:
I'm currently working on the fourth Shelby Holmes book. Shelby and Watson will be investigating a haunted house! I've had to watch a lot of those ghost hunting shows on TV and eat candy since the book takes place around Halloween. Again, the sacrifices I must make!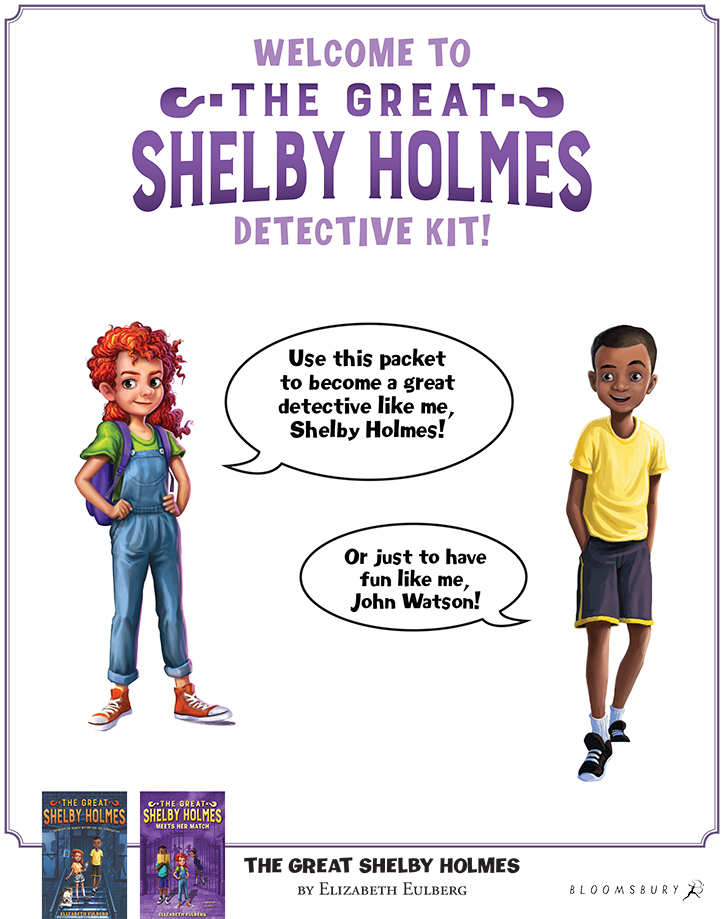 FACT #8:
Training to be a detective (and writing a detective series) can be fun! Think you've got what it takes? Check out this fun activity kit to test out your skills. And be sure to eat some candy while you're doing it—it's what Shelby would do!
FACT #9:
I bring candy to my events! (Of course I do!) Here is where I'll be in the fall—more details can be found on my website. Hope to see you there!
If you want to snack on free candy and meet the author who brought Shelby to life, definitely hit up one of Elizabeth's book tour dates. Can't get enough mystery in your life? We think you'll love The Parker Inheritance by Varian Johnson!