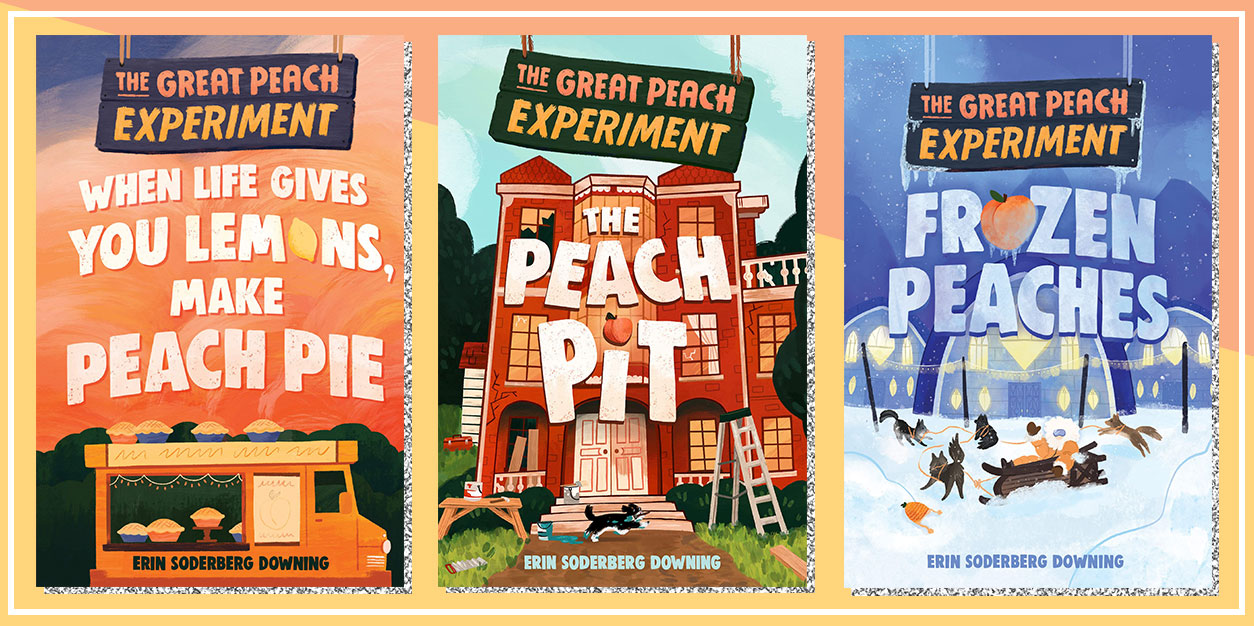 Embark on a Fun Family Adventure in The Great Peach Experiment Series + GIVEAWAY!
NOTE: This post is sponsored by Pixel+Ink.
The Peaches are back! The third book in The Great Peach Experiment series has arrived, and things are about to get frosty!
When this hilarious and heartwarming series kicks off, the Peach family is kind of a mess. Their mom passed away a few earlier, and things haven't been the same. As summer vacation approaches, the kids are all looking forward to enjoying their break and diving head first into their hobbies – but after a surprise sale of one of their mom's final inventions, they're suddenly millionaires, and their lives change forever! Dad's plan? Buying a food truck and spending the summer reconnecting, selling pies, and living out one of their mom's biggest dreams.
From their cross-country food truck adventure in When Life Gives You Peaches, Make Peach Pie to fixing up their aunt's historic (and possibly haunted) mansion into a thriving bed-and-breakfast in The Peach Pit, the Peaches prove they're better together as they navigate every struggle and wild business opportunity life throws their way!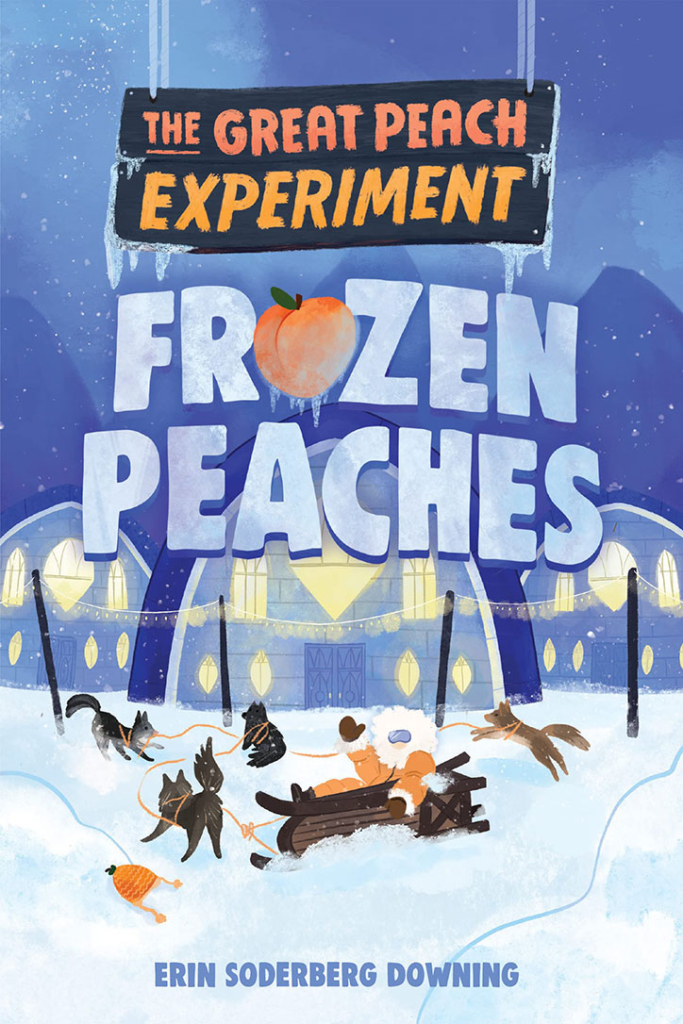 A frozen family "business trip" to Sweden's Ice Hotel sets the Peaches on a new grand adventure.
The third book in The Great Peach Experiment, great for fans of The Penderwicks and The Vanderbeekers.
Cashing in on his family's recent good-luck streak, ten-year-old Freddy Peach has been entering his family in a bunch of sweepstakes, but he doesn't really expect to win. And then he does—a free family trip to the Ice Hotel in Sweden!
Since the Peaches are now the proud owners of their own bed-and-breakfast, they decide they can't pass up on the opportunity. It's research. They'll learn more about what it takes to operate a successful hotel from one of the most famous tourist destinations in the world.
But what the Peaches don't know is that five families from five frozen locations have been brought together to compete for the honor of frozen best. They'll face-off in a series of challenges from dog sled racing to ice carving to an ice-cold cook out. But when the going gets tough, the Peaches have always come together in the past? Why should this time be any different?
The third book in the Great Peach Experiment series, Frozen Peaches is a sweet treat, mixing humor, adventure, warmth (despite the cold) and a lot of heart to make another great book readers will be delighted to devour.
The Great Peach Experiment
AUTHOR: Erin Soderberg Downing
PUBLISHER: Pixel+Ink
DATE: April 4, 2023
Frozen Peaches is the newest addition to the series and finds Lucy, Freddy, Herb, and their dad traveling across the globe on their biggest (and coolest) adventure yet! Since the family has had a streak of good luck, Freddy enters them into a bunch of sweepstakes hoping to win fabulous prizes – and they do! An all-expenses paid trip to a famous Ice Hotel in Sweden! Being a major tourist destination, the fam decides to use the opportunity to learn more about running a successful hotel. But they don't know that four other families from other chilly destinations are also on their way to compete in the Frozen Olympics! They'll have to compete in a bunch of chilly challenges like ice carving and dog sled racing to claim the title of Frozen Best. Can the family come together to win it all, or will their luck finally freeze over?
Ready to join the Peaches on all their wild adventures? We teamed up with our friends at Pixel+Ink for a giveaway! FIVE lucky winners will snag copies of all THREE books in The Great Peach Experiment series.
Ready to enter? Grab your favorite adult and have them enter below for your chance to WIN!
The Great Peach Experiment Giveaway:
WHAT DO I WIN?:
FIVE (5) lucky winners will receive a The Great Peach Experiment Prize Pack that includes:
– ONE (1) copy of The Great Peach Experiment: When Life Gives You Lemons, Make Peach Pie by Erin Soderberg Downing
– ONE (1) copy of The Great Peach Experiment: The Peach Pit by Erin Soderberg Downing
– ONE (1) copy of The Great Peach Experiment: Frozen Peaches by Erin Soderberg Downing
– ONE (1) The Great Peach Experiment stress ball keychain
*Prizes provided by Pixel+Ink
HOW DO I ENTER?:
Grab a parent or guardian and have them fill out the form below by May 2, 2023 at 11:59pm ET.
Giveaway runs from 04/02/23 at 10:00 am ET through 05/02/23 at 11:59 pm. Open to US residents ONLY. Be sure to read the fully detailed rules HERE before entering.
THIS GIVEAWAY HAS ENDED AND THE WINNERS HAVE BEEN CONTACTED.
You must be 18 or older to enter. Please, only ONE entry per person. If selected as a winner, we will provide your parent/guardian with an affidavit to confirm that you are a valid winner who has permission to win. They will be REQUIRED to sign and return the affidavit to YAYOMG! to claim your prize. Prizes will not be mailed out without signed parental consent.
EVEN MORE GREAT PEACH EXPERIMENT:
🍑 All three Great Peach Experiment books are now available from Pixel+Ink!
🍑 Want to know more about the Peaches? Check out these Fun Facts the author shared about the series!