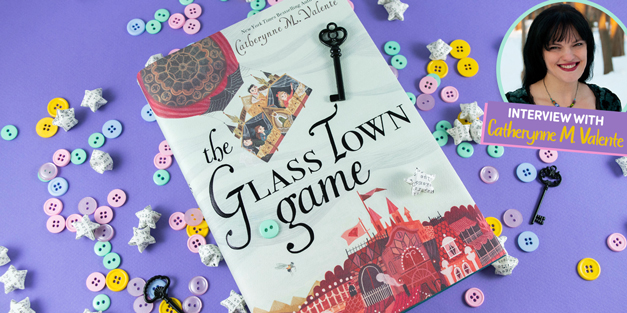 The Glass Town Game – Interview with Author Catherynne M. Valente
As a young reader and middle school student, you may have not have been handed one of the Brontë sisters iconic works to read just yet, but you've likely heard of them. You've more than definitely seen something on TV or in the movies that was inspired by Jane Eyre or Wuthering Heights.
The thing about Emily and Charlotte Brontë is that they didn't just grow up to be brilliant, driven novelists – they were always creative, brave, and wise beyond their years even as kids. Along with their siblings Anne and Branwell, they used to create detailed, imaginative worlds to escape to with their toys when the real world became too much. They didn't just play make believe, they wrote down everything about their worlds of Glass Town, Angria, and Gondal in impressive detail. Millions of readers around the world are fascinated by the Brontës and their lives, including author Catherynne M. Valente, author of The Glass Town Game.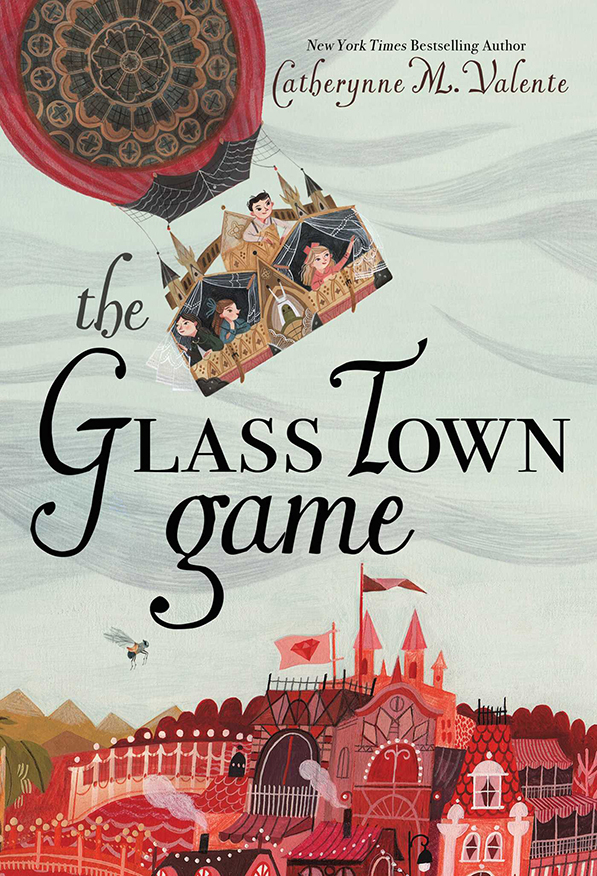 Captivated by the Brontës herself, Catherynne was inspired by how wise and creative Charlotte, Emily, Branwell, and Anne were as kids. She was so inspired in fact that she decided to write The Glass Town Game, a brand new middle grade novel that brings these extraordinary make-believe worlds to life for middle grade readers. The Glass Town Game is a gorgeously written fairytale adventure. If you love getting lost in strange fantasy worlds like Wonderland, Oz, or Narnia, this is a must-read for you.
Even though they grew up in the 1800's, a time so very different than our modern world, these characters are quite relatable. Charlotte is the oldest sister at 12 years old, sensible and strong – but not without her insecurities. Emily is 10, wild, and full of imagination. Anne is the youngest and worried she'll be left behind. As the only boy, Branwell sees himself as the leader, but is also his own worst enemy. They find themselves inside a whimsical world identical to the worlds they've created in their heads, complete with toy soldiers and dolls come to life. They soon discover that it's not quite as fun as it seems, as in addition to the fantastical settings and toys, the rules they've made up while playing these games also hold true, and things won't always work in their favor. It's hard for us to put into words just how wonderful this book really is, so we'll let the expert do the talking! We chatted with Catherynne Valente about her love of the Brontës and how this incredible story came to life.
The Glass Town Game – Interview with Catherynne M. Valente:

YAYOMG!: The Glass Town Game is both beautifully written and incredibly whimsical. What inspired you to write this story?
CATHERYNNE VALENTE: I've loved the Brontës since I was a kid—I first read Wuthering Heights in 8th grade, and it made me realize that adults were just as weird and bad at dating as me and my friends, which was quite a valuable revelation to have so young. When I later read Jane Eyre, I fell completely head over heels for it. And when I love something, I tend to read everything about it I can get my hands on, which is how I found out about Glass Town, Gondal, and Angria. I was captivated by this idea of four fearsomely intelligent children, two of whom became patron saints of literary fiction, creating a fantasy world for their toys just the way geeky children do now. I was asked to write a story set in the 19th century but not steampunk for an anthology, and I ended up writing something that knew from the first word it wanted to grow up to be something much more.
YAYOMG!: The characters in the book are based on the iconic novelists, the Brontë sisters, and their siblings. What made you want to bring the Brontës to a middle grade audience?
CATHERYNNE: They were such extraordinary kids. You can't actually write them as smart as they were in real life. No one would believe it. It's my hope that after having these adventures with Charlotte, Anne, Branwell, and Emily, kids nowadays might grow up and see Jane Eyre or Wuthering Heights or Agnes Grey on the shelf and reach for them eagerly. Jane Eyre is actually a YA novel, in my opinion, we just don't sell it that way. It's got everything we look for in a big YA bestseller: female protagonist, coming of age story, love triangle between a dark brooding guy and a safe but boring one, independence, a little dash of horror, and a mystery to solve.
YAYOMG!: If you could be whisked away to an imaginary fictional world, which would you choose?
CATHERYNNE: If I can't pick Fairyland from my own novels, probably Wonderland. Not too many things would want to kill me there, a serious consideration in modern fantasy.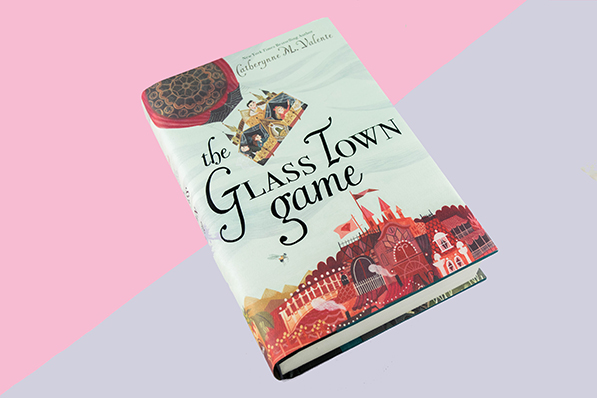 YAYOMG!: Which character do you relate to most? Which was your favorite to write?
CATHERYNNE: Oh, Charlotte, by far. I'm the oldest of a number of siblings, I ended up a writer, I was always precocious and bossy and determined to be in charge. But I think in the end, Branwell was one of my favorites to write. He's not the most sympathetic character in real life, so I had to find a way to get at this little boy who really does want to do the right thing, but can't, for so many reasons. Making him endearing to the audience endeared him to me.
YAYOMG!: Where is your favorite place to write, brainstorm, or plan your books?
CATHERYNNE: There's a room in my house we call the library, full of bookshelves and big windows, looking out on the garden. I like to do my thinking in a big red paisley chair there. I write in a little museum on the island where I live. It's closed nine months of the year and I use it as an office. No wi-fi reaches it and it's not terribly cozy or warm, so I'm highly motivated to get my work done as quickly as possible.
YAYOMG!: How was writing The Glass Town Game different than writing the Fairyland series?
CATHERYNNE: I didn't have my beloved narrator! The Fairyland novels have a 4th wall breaking narrator that lets me talk directly to the audience any time I want. It's so much fun and so useful—very hard to give that up and stick to a straightforward story where I can't wink through the lines at my readers.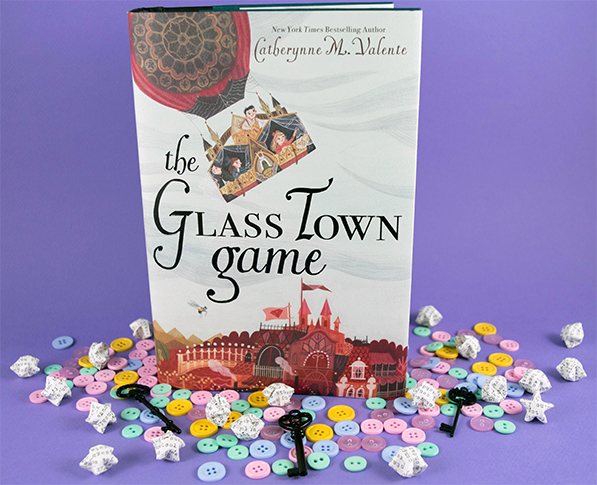 YAYOMG!: Do you have any favorite middle grade novels you'd like to recommend to our readers?
CATHERYNNE: One of my favorites is Salman Rushdie's Haroun and the Sea of Stories. It's so perfect to me, exactly what a middle grade book should be, yet utterly unique.
YAYOMG!: What advice would you share with readers who have imaginations as wild as the Brontës?
CATHERYNNE: Write it all down! You never know when you might want it later.
YAYOMG!: Is there anything you can share about what you're working on next?
CATHERYNNE: Actually, I think most of my future projects are secret right now! I'm working on a Mass Effect tie-in book and my next adult and middle grade novels, but I'm bound by contract to be mysterious about them for the moment.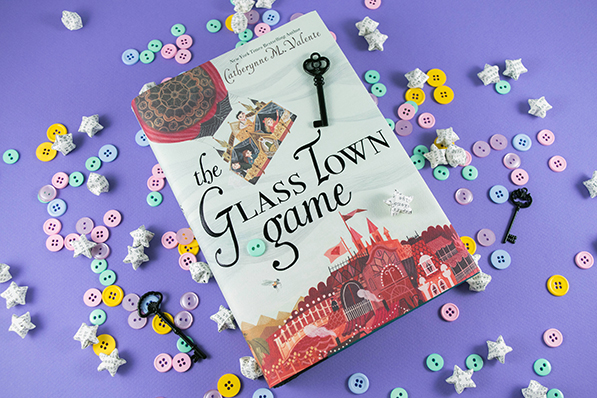 Ready to dive in to this whimsical adventure? The Glass Town Game is now available for your reading pleasure! Thank you so much to Catherynne for stopping by YAYOMG! and sharing this amazing story with us.
Note: We received this book for free from Simon & Schuster in exchange for a fair and honest review. We were under no obligation to write a positive review.