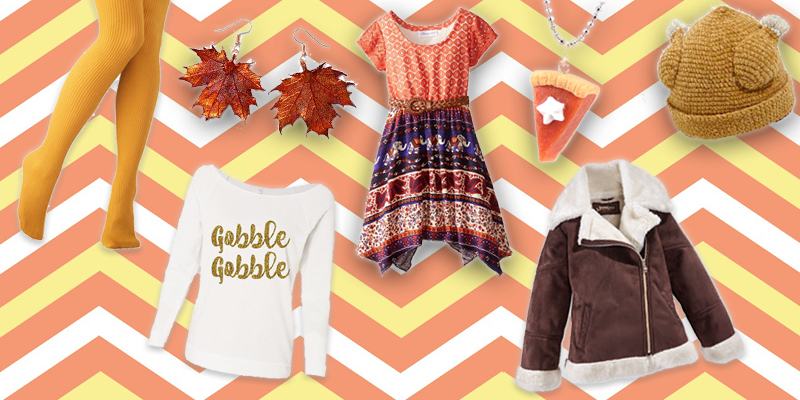 3 Cute Looks for Turkeylicious Thanksgiving Style
Turkey Day is right around the corner! While you anxiously await the moment you can cram a bunch of mashed potatoes and pies into your face, why not plan your outfit? Your Thanksgiving style is almost as important as the bird itself! (And family and being thankful for stuff, of course.)
We put together 3 Thanksgiving looks to inspire you! Since everyone's family celebrates differently, we picked a dressy look for you classy kids out there, a comfy look for those of you who like to keep it casual, and a turkey lover look for people who think food is the best part of Thanksgiving!
Turkey Day Style: Dressy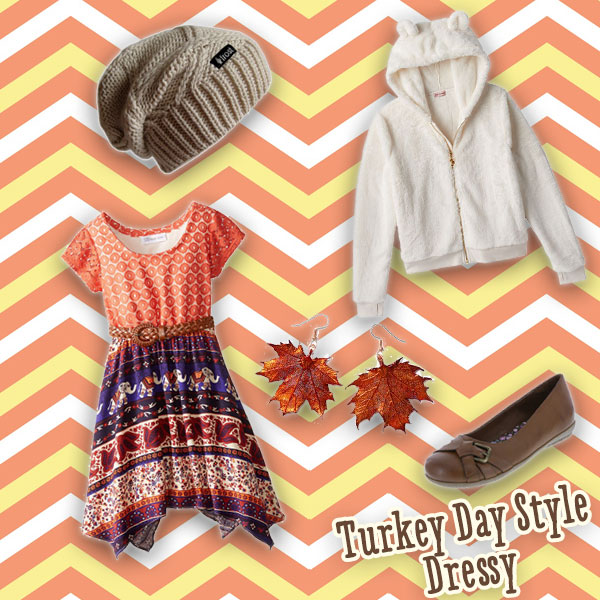 Dressing up for Thanksgiving doesn't have to be boring. It's basically your last excuse to don pretty fall colors like oranges, yellows, and browns before the winter holidays go full force and you're drowning in red and green for a month. A patterned dress like the one we chose above works great. It's pretty enough that you looked dressed up, but comfy enough that you won't be uncomfortable after all the pumpkin pie you're about to eat. You could also go with a solid dress and patterned tights for an even classier look.
For choose, we went with flats, since most people spend Thanksgiving indoors, but if heels are more your thing, do what makes you happy! Accessorize with a cute beanie and maybe some leaf jewelry, and you're done!
Turkey Day Style: Comfy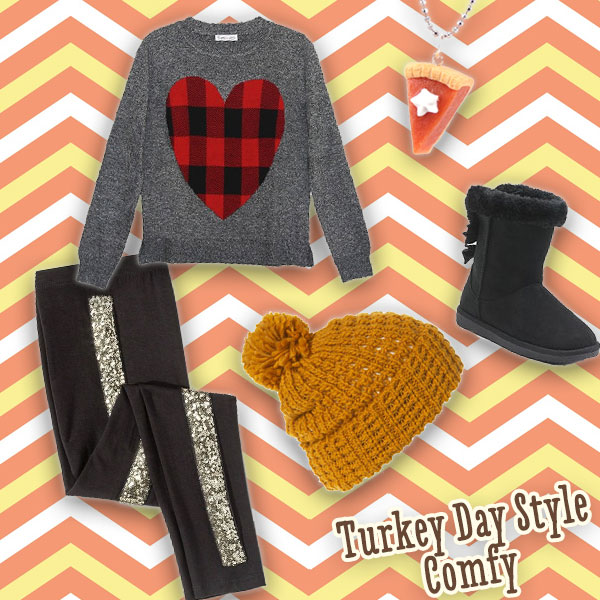 Thanksgiving is all about lounging around the house with your family, watching the parade or like 600 hours of football, so why not be comfy while you do it? Pairing an extra adorable pair of leggings with a cozy sweater will have you looking cute and keep you super warm.
Add in some color with a fall colored hat and some deliciousness with a pumpkin pie necklace. You're so festive! We suggest warm snuggly boots to top off your cozy style. Your feet will be happy whether you're just kickin' it at home or headed out for Black Friday shopping!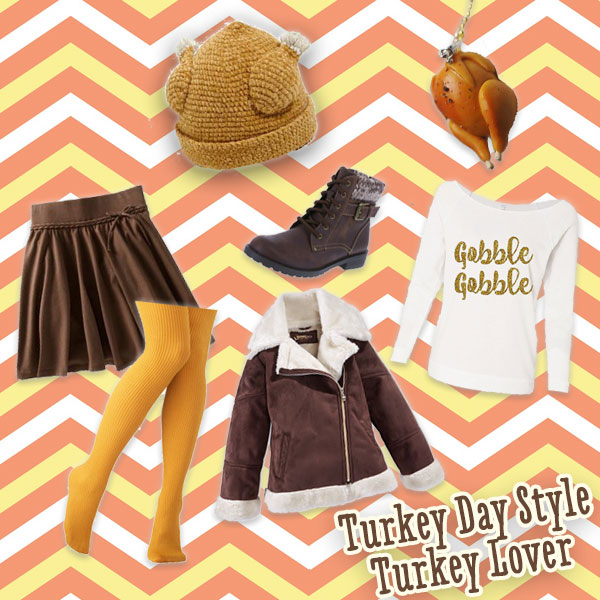 Turkey Day Style: Turkey Lover
This one is definitely our favorite. We basically just combined all the best things about the dressy look with all the best things about the comfy look, and added a little sense of humor.
Any excuse to wear sweater tights is okay with us, so we picked a cute mustard pair that can also be re-used in December when you decide you want to dress like Buddy the Elf for the entirety of the Christmas season. A comfortable skirt with some stretch will show off your cute tights but also give you some wiggle room for all that turkey that's about to go in your belly. Top it off with a fun Thanksgiving themed shirt, like "Gobble Gobble" or "Feast Mode", and you've got yourself adorable Thanksgiving style.
Turkey-fy your outfit with a knit turkey hat, turkey necklace, or pretty much any other silly Thanksgiving accessories. Just make sure not to be mistaken for the tasty bird at the dinner table. You may look cute enough to eat, but you'll definitely want to make it to dessert on such a delicious holiday!