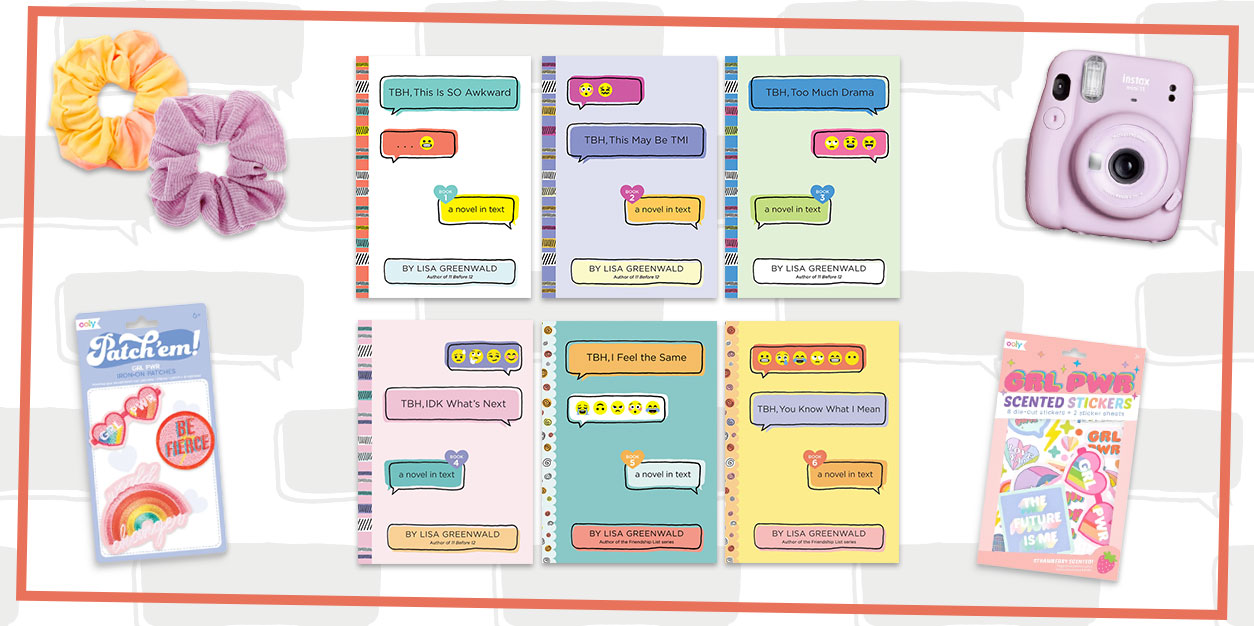 TBH Book Series GIVEAWAY!
NOTE: This post is sponsored by HarperCollins.
TBH, You Know What I Mean, the latest book in Lisa Greenwald's TBH book series, is honestly the best one yet!
The ultra-relatable series told through text messages, emojis, and passed notes has seen BFFAEs Cece, Gabby, and Prianka navigate their way through LOTS of drama. From first crushes to spilled secrets, there isn't anything this friend group can't handle when they've got each other. This time around, the book tackles even bigger topics like leadership, activism, and learning your limits.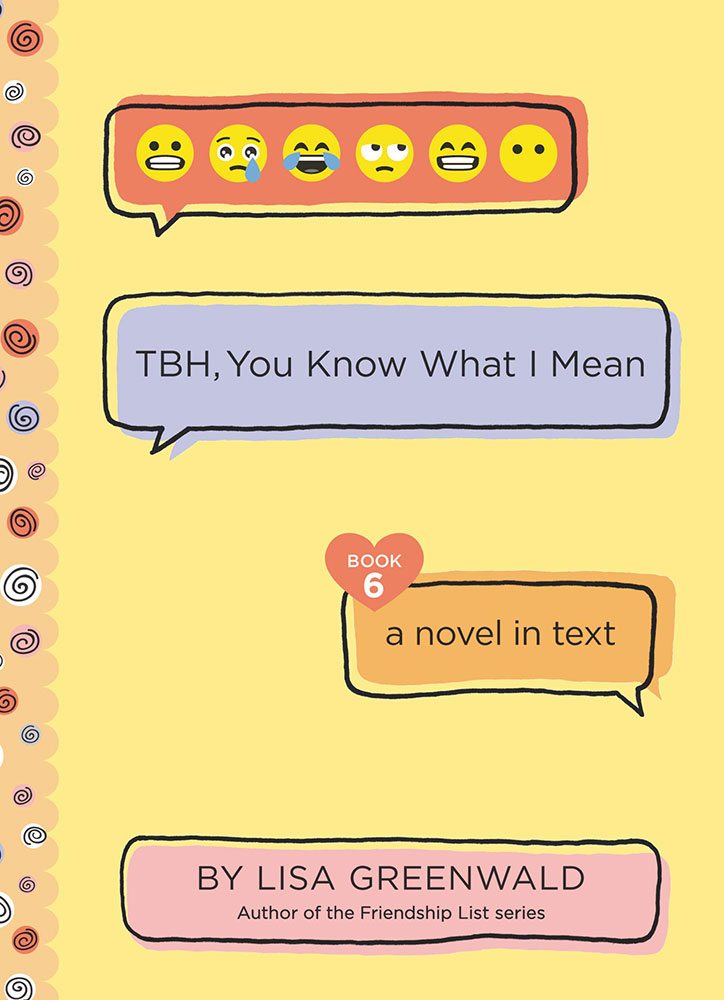 Three BFFs prove that girls can do anything they set their minds to in the sixth book in this hilarious series told entirely in text messages, emojis, and passed notes. Perfect for fans of Invisible Emmie and the Dork Diaries.
TBH, sometimes boys say dumb things about girls. And Cece is sick of it!
When she leads a super-successful event at school to raise awareness, everyone starts looking to her to take charge—of everything. Prianka needs ideas for National Poetry Month, Victoria wants advice on volunteer projects, and Gabby needs homework help.
To be honest, being a leader is fun but the pressure is OOC (out of control)! Can Cece help her friends without totally losing it herself?
TBH, You Know What I Mean
AUTHOR: Lisa Greenwald
PUBLISHER: Katherine Tegen Books
DATE: June 2, 2020
After organizing a community rock garden in the previous book, Cece is ready to take charge, and knows there's nothing she can't do. Inspired by events going on at school, she leads an event that leaves everyone super inspired and looking to her for advice on their own projects. Prianka wants to put together a school-wide poetry event, Gabby is drowning in homework, and Cece is really starting to feel the pressure! She'd do literally anything for her squad, but she's learning that being a leader is a LOT of work!
Ready to get reading? You're in luck! We've teamed up with HarperCollins to giveaway ALL SIX books in the series as well as a few other items to inspire you to celebrate your girl power! Grab an adult and have them enter below for your chance to win!
TBH Book Series Giveaway: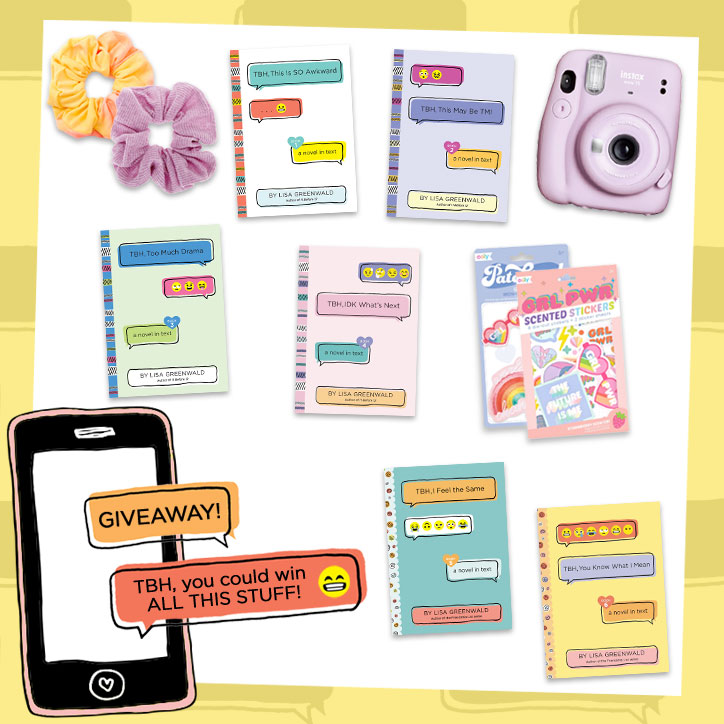 WHAT DO I WIN?:
ONE lucky winner will receive a TBH Prize Pack that includes:
ONE (1) copy of TBH, This Is So Awkward
ONE (1) copy of TBH, This May Be TMI
ONE (1) copy of TBH, Too Much Drama
ONE (1) copy of TBH, IDK What's Next
ONE (1) copy of TBH, I Feel the Same
ONE (1) copy of TBH, You Know What I Mean
ONE (1) Instax Mini 11 Camera from Fujifilm (Purple)
ONE (1) Pack of GRL PWR Scented Stickers from Ooly
ONE (1) Pack of GRL PWR Iron-On Patches from Ooly
THREE (3) Scrunchies from Claire's (Lilac, Pink, Sunset Tie-Dye)
*Prizes provided by HarperCollins and YAYOMG!
HOW DO I ENTER?:
Grab a parent or guardian and have them fill out the form below by July 8, 2020 at 11:59pm ET.
Giveaway runs from 06/08/20 at 09:00 am ET through 07/08/20 at 11:59 pm. Open to US residents ONLY. Be sure to read the fully detailed rules HERE before entering.
THIS GIVEAWAY HAS ENDED AND THE WINNER HAS BEEN CONTACTED.
You must be 18 or older to enter. Please, only ONE entry per person. If selected as a winner, we will provide your parent/guardian with an affidavit to confirm that you are a valid winner who has permission to win. They will be REQUIRED to sign and return the affidavit to YAYOMG! to claim your prize. Prizes will not be mailed out without signed parental consent.
Want to become a kick-butt leader like Cece? We've put together 5 tips to help you own your confidence and improve your leadership skills. We're also celebrating amazing women throughout history with these empowering quotes that are sure to inspire you!