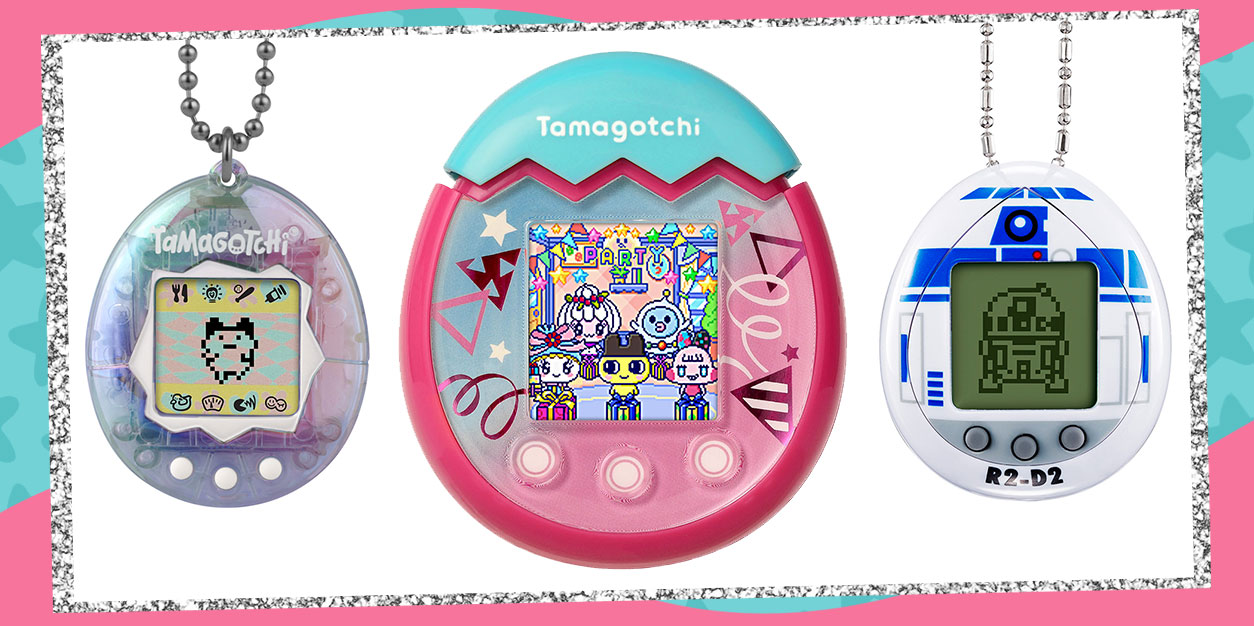 It's Time to Celebrate With Our Tamagotchi Pix Party GIVEAWAY!
NOTE: We teamed up with Bandai America for this Tamagotchi Pix Party Giveaway. All opinions are our own; we were under no obligation to give a positive review. Giveaway prizes provided by Bandai America & YAYOMG!.
Tamagotchi fam, there are SO many reasons to celebrate right now! Not only is the brand celebrating its 25th anniversary this year, the newest addition to the Tamagotchi Pix lineup, Tamagotchi Pix Party, is here with a TON of new ways to play!
We wouldn't be us if we weren't giving you a peek (and a chance to WIN!), so put on your cutest party fit, grab some confetti, and find your party vibe below for your perfect Tamagotchi pairing.
Ready to party Tama style? We teamed up with our friends at Bandai America to give ONE lucky winner a chance to win a Tamagotchi Pix Party Prize Pack featuring three amazing Tamagotchi products!
Grab your favorite adult and have them enter below for your chance to WIN!
Find Your Party Vibe & Get a Tamagotchi Pairing: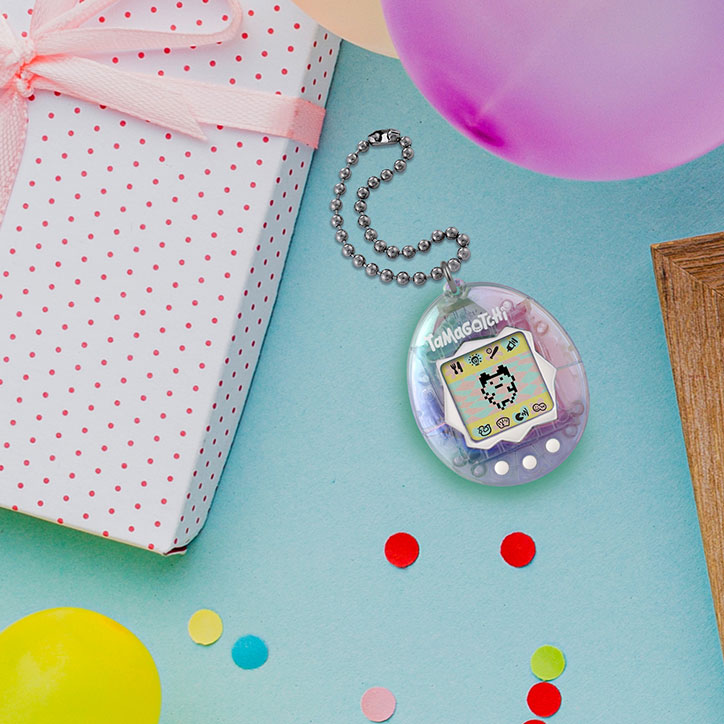 Original Tamagotchi – 25th Anniversary:
YOUR PARTY VIBE: Sparkly, colorful fun! If a low-key cozy sleepover complete with late-night convos and movie marathons is your style, you'll love the Original Tamagotchi.
TAMA DEETS: The OG in a shimmery shell, this Tamagotchi is ready to party. If you're all about throwback vibes, you'll love taking care of this digital pet in all its 1997 glory.
Using the original programming, the Original Tamagotchi lineup was made for collectors and virtual pet parents who aren't looking for all the bells and whistles that the newer Tamagotchi devices bring. Care for all of your Tama's needs from feeding to medicine and wait to see which adult character your new bestie becomes!
From fiery flames to sakura blossoms, they drop new colorways a few times a year, so there's a design to match your every mood, but this one was designed exclusively to celebrate the 25th anniversary of Tamagotchi. Classic, chic, and shimmery, just like the perfect party dress!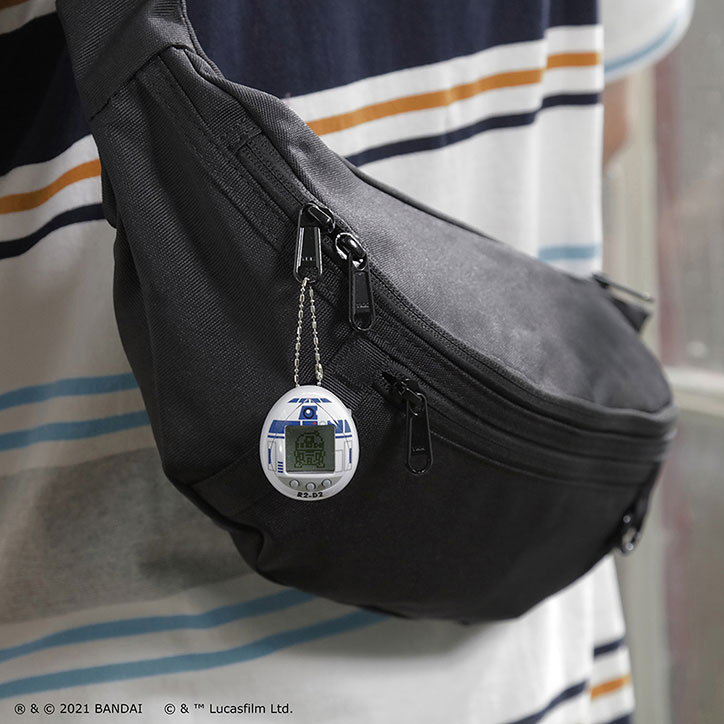 Star Wars R2-D2 Tamagotchi:
YOUR PARTY VIBE: Theme party galore! Bring on the costumes and themed party food – if you like your birthdays to be a representation of all your current obsessions, the Star Wars R2-DS Tamagotchi is SO your style.
TAMA DEETS: Star Wars fans will love this super adorable, tiny-sized-take on the Tamagotchi experience set in a galaxy far, far away.
It's up to you as a young Jedi to train R2-D2 to master various skills and keep him charged and happy. With 19 skills for R2 to learn and 7 mini-games to unlock as his level increases, there's always something new to work towards.
Complete with adorable animations from fan-favorite characters like Chewbacca and Boba Fett and themed minigames like Holochess and Light Saber Catch, you'll feel totally immersed in the Star Wars universe.
Hello Kitty, Pac-Man, or BT21 more your vibe? There's a Tama for pretty much everything you love – including a new Toy Story Tamagotchi that's out later this month!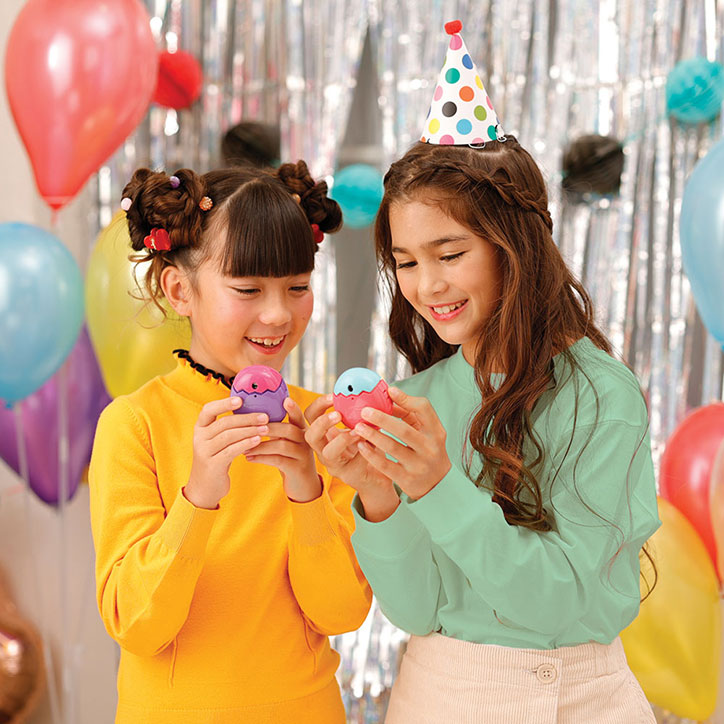 Tamagotchi Pix Party:
YOUR PARTY VIBE: Party of the YEAR! If you're looking for an epic bash with everything from a tiered candy table to a bounce house, the Tamagotchi Pix Party is the way to go.
TAMA DEETS: If you LIVE for parties, this is the Tamagotchi for you! Taking the Pix and giving it a party hat, this newly upgraded device is filled with new party-themed gameplay elements, making the Tamagotchi Pix Party a must-have.
Building off the already amazing Tamagotchi Pix, the Tamagotchi Pix Party allows you to host a party (or be a guest at a friend's party) right on your device. Invite your friends for an amazing night of party food and special games, and don't forget to use the built-in Pix camera to snap a selfie with your Tamagotchi character.
On top of the new party play, there are two new characters you can raise that are exclusive to the Tamagotchi Pix Party. With all these new additions PLUS the creative customization, photo features, and nurturing virtual pet play you LOVE from the Tamagotchi Pix, this is the best Tamagotchi yet and it really feels like a celebration of all things Tama!
Tamagotchi Pix Party Giveaway: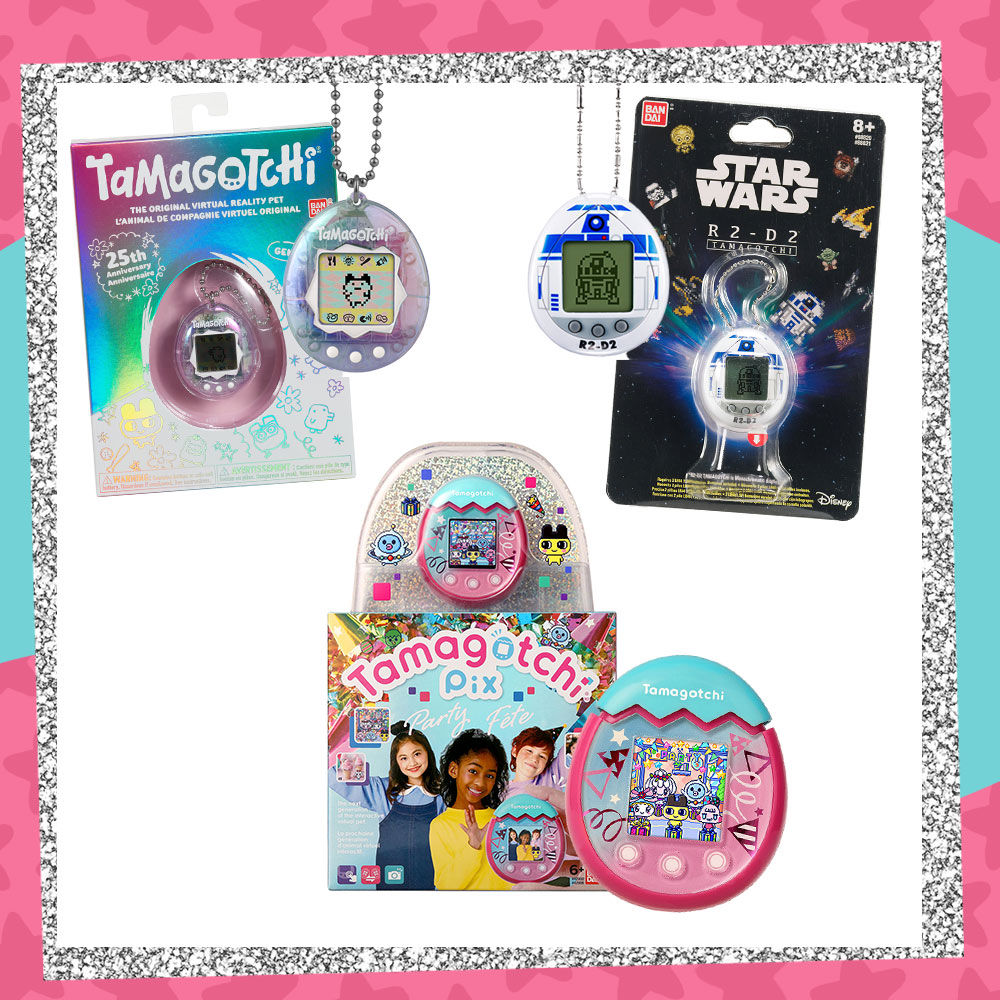 WHAT DO I WIN?:
ONE lucky winner will receive a Tamagotchi Pix Party Prize Pack that includes:
– ONE (1) Star Wars R2-D2 Tamagotchi (White)
– ONE (1) Original Tamagotchi (25th Anniversary)
– ONE (1) Tamagotchi Pix Party (Confetti)
*Prizes provided by Bandai America & YAYOMG!
HOW DO I ENTER?:
Grab a parent or guardian and have them fill out the form below by July 22, 2022 at 11:59pm ET.
Giveaway runs from 07/08/22 at 12:00 pm ET through 07/22/22 at 11:59 pm. Open to US residents ONLY. Be sure to read the fully detailed rules HERE before entering.
THIS GIVEAWAY HAS ENDED AND THE WINNER HAS BEEN CONTACTED.
You must be 18 or older to enter. Please, only ONE entry per person. If selected as a winner, we will provide your parent/guardian with an affidavit to confirm that you are a valid winner who has permission to win. They will be REQUIRED to sign and return the affidavit to YAYOMG! to claim your prize. Prizes will not be mailed out without signed parental consent.
Looking for even more fun? Take a peek at these posts:
?ENCHANTING GIVEAWAY: Enter to win a totally enchanting Ella Enchanted Prize Pack!
✨THROWBACK QUIZ: Pick Your Y2K Favs to Discover Your Turning Red Bestie!
?INSPIRING VIBES: Get to Know Hayley LeBlanc!