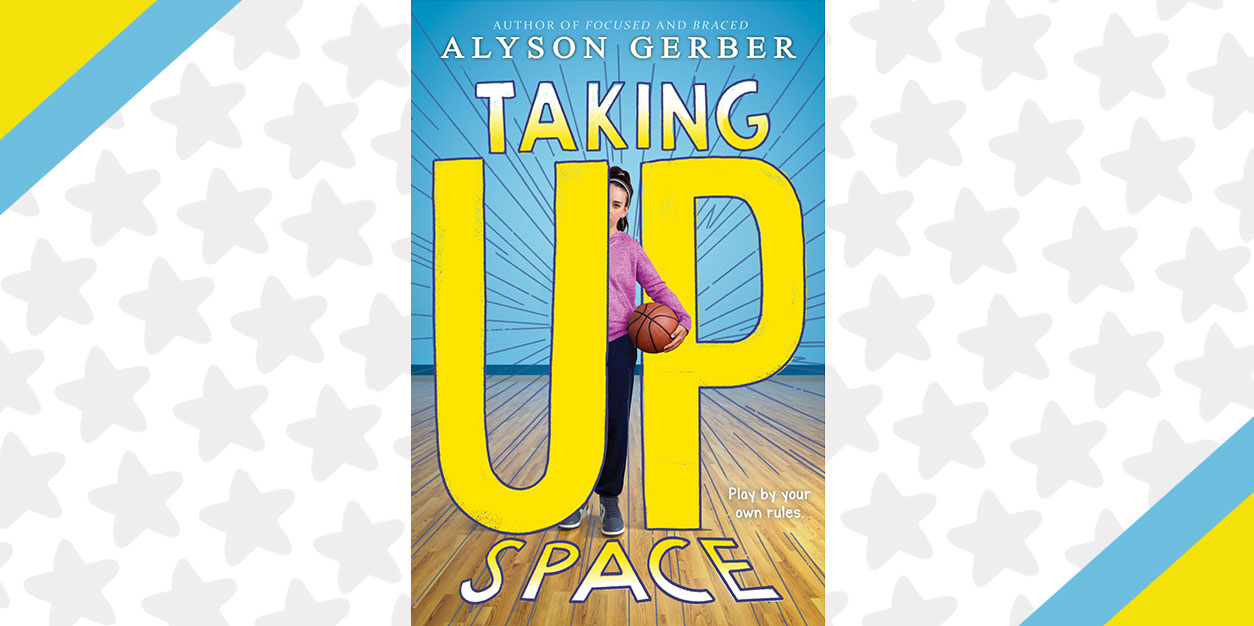 Play By Your Own Rules: 5 Fun Facts About Taking Up Space
Body image, basketball, and cooking competitions come to life in this amazing new read by Alyson Gerber, Taking Up Space!
Alyson Gerber is known for writing super authentic stories about middle school kids and the struggles they face – from changing friendships and family dynamics to the tougher stuff, like ADHD, self-esteem, and in the case of her newest novel, Taking Up Space, disordered eating. Her stories always feel like a warm hug, and it's for good reason – she writes with her whole heart, putting her own life experience into her characters to help her readers feel less alone. Her books help kids realize that they matter, that their feelings have value, and have helped kickstart important conversations both at home and in the classroom.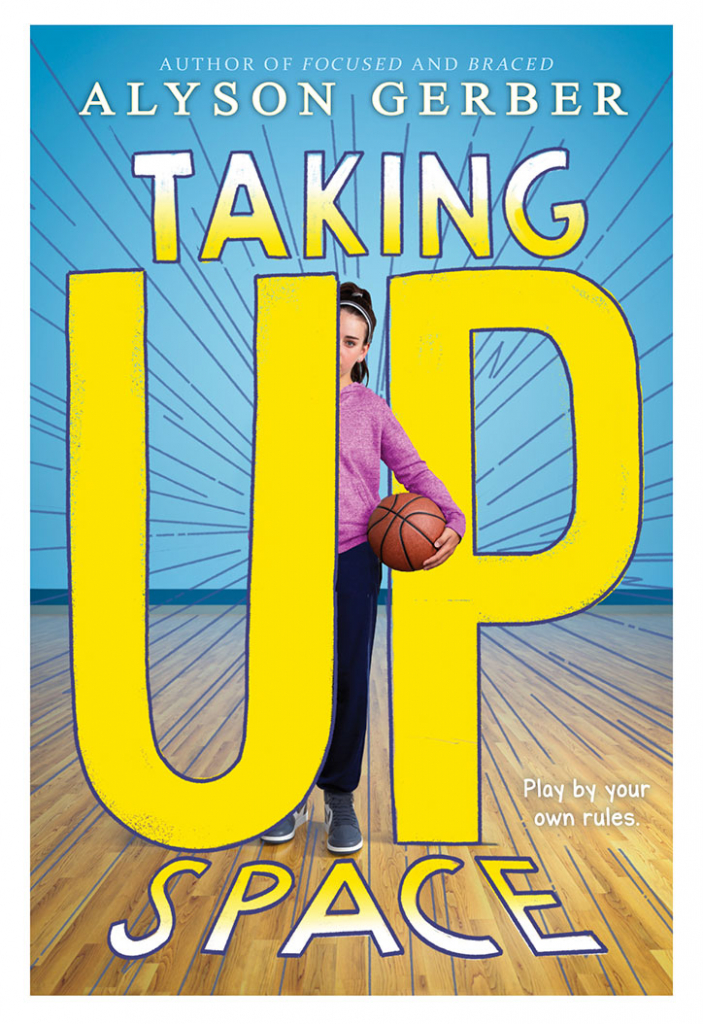 Sarah loves basketball more than anything. Being part of a team makes her feel important, like she matters. And it's the only thing that helps her forget her crush on the super-cute Benny, forget the mean girls who think she should quit the team, and forget how much it hurts when her mom forgets to feed her.
But lately it feels like Sarah can't even play basketball right. She's slower on the court, fouling out, and missing shots she should be able to make. It feels like everything is changing, her body especially.
When a cooking competition comes to school and Sarah and Benny become partners, Sarah feels pulled in a million directions. She'll have to dig deep to be able to be honest with her friends, discover a new love of cooking, and learn that she is enough, just the way she is.
Taking Up Space
AUTHORS: Alyson Gerber
PUBLISHER: Scholastic Inc
DATE: May 18, 2021
In Taking Up Space, Sarah is an amazing basketball player who's a total star on the court. Basketball helps her feel in control and forget the things clouding her mind, like her crush and the mean girls who think she should quit the team. When she suddenly starts moving slower and missing free throws, she feels like everything is changing – especially her body – and that her basketball dreams might be totally crushed forever.
Through a cooking competition at school, the encouragement from compassionate counselors, super supportive friends, and some tough convos with her mom, Sarah learns to love herself, develop a healthy relationship with food, and realizes that it's okay to take up space in her own life – a lesson we think is so important for all kids to learn.
We just know this amazing story about friendship, self-worth, and loving yourself exactly as you are will inspire you to play by your own rules IRL! We're so excited to share that author Alyson Gerber is here on YAYOMG! dishing out 5 fun facts about Taking Up Space, and her experiences that inspired her to write this empowering story.
Author Alyson Gerber Shares 5 Fun Facts About Taking Up Space: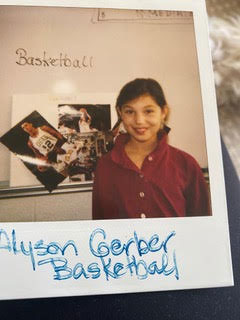 FACT #1:

In TAKING UP SPACE, the main character Sarah is a driven basketball player, hoping to play hoops in college one day. Unlike Sarah, I actually never played basketball, other than in gym class! But I played a lot of other sports growing up–soccer, lacrosse, and field hockey. I loved being on a team. And I watched so much basketball growing up and went to a lot of Celtics games as a kid.

I used that experience combined with endless research to develop Sarah's passion for basketball. I watched training camps and games on YouTube, dribbled a ball all around my house, and went to the ACC tournament. I also had a chance to interview some amazing female athletes, and I got great advice from my rockstar sister-in-law, who not only played D1 basketball, but made her college Hall of Fame, and then coached basketball.

It wasn't until after I finished writing TAKING UP SPACE that I realized my interest in basketball started way back when I was in third grade. I did an entire research report and presentation on the history of the sport!
FACT #2:

TAKING UP SPACE features a YouTube cooking competition called Chef Junior that Sarah enters with her crush Benny. I loved writing the cooking scenes. They were so exciting and fun! I even wrote extra scenes, because I loved creating this part of Sarah's character so much.

I started learning how to cook a few years ago, and like Sarah, I've been working hard to perfect the dishes that I enjoy eating. But in order to write Benny, Sarah's crush, I had a lot to learn. He is confident in the kitchen and passionate about cooking. I wanted to make sure I knew all the right language and I wanted to understand the nuances of the cooking world. My friend is a chef. She helped me learn, gave me great resources, and answered all my questions about growing up in a house like the one I imagined for Benny.
FACT #3:

One of my favorite parts about TAKING UP SPACE is the relationship between Sarah and her mom. Their shared love of mystery novels keeps them connected. This part of the story didn't develop until I was well into revising the book. It started out small and expanded into something more important as I revised and revised. I have always loved reading and watching mysteries, even as a kid. I was very into kid detectives and spies. They seemed like superheroes to me. I liked the idea of sneaking around to find clues and collect information, and I loved characters who noticed things that other people couldn't necessarily see.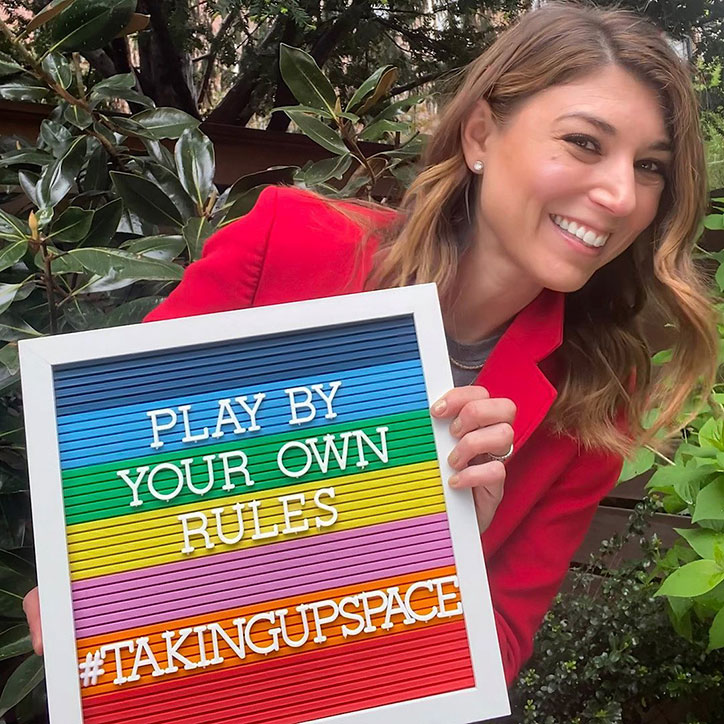 FACT #4:

TAKING UP SPACE is also a story about friendship! Ryan and Emilia are very important to Sarah for different reasons. They both play a big role in this book, because friends matter so much, especially in middle school. They're literally everything! One of my favorite parts about writing books for kids is exploring how friendships develop as my characters change.
FACT #5:

TAKING UP SPACE is based on my real-life experience. Like Sarah, I struggled with body image, food, and self-worth in middle school. I put a lot of my own feelings into Sarah's character, because I wanted her complicated emotions about food to feel authentic and relatable.

Unlike eating disorders, disordered eating is not a medical diagnosis. It's a way to describe irregular eating behaviors–thinking about food and your body all the time, dieting compulsively, and restricting and binging. Disordered eating is not talked about very often. Most people don't know what it is or that it's a problem. But it is so common that half of kids (and even more adults) struggle with it. And it can actually have a huge impact on a person's mental and physical health. I wanted to make sure readers struggling in both big and small ways know they matter.
Want to read even more relatable stories about kids who are stronger than they realize? We're giving away a book bundle of inspiring strong kid stories by author Lindsey Stoddard – enter here!