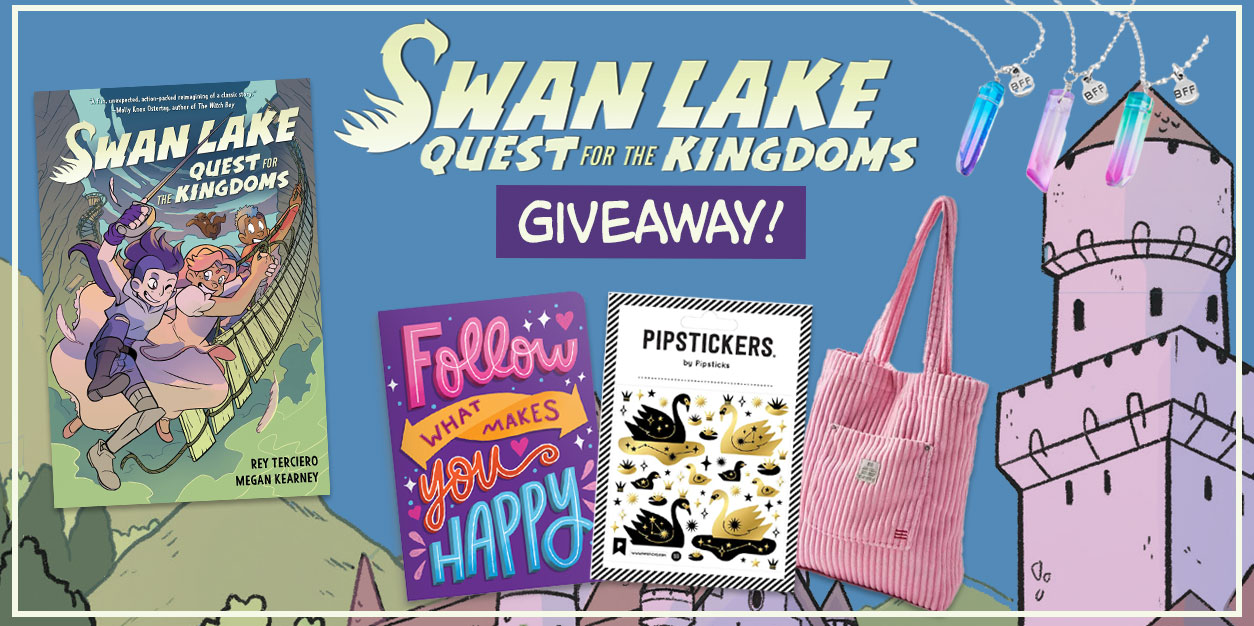 Join Two Fierce Princesses on an Epic Adventure in Swan Lake: Quest for the Kingdoms + GIVEAWAY!
NOTE: This post is sponsored by HarperCollins.
We just found your new favorite read! Feuding families, decades-old secrets, strange curses, and unlikely friends come to life in Swan Lake: Quest for the Kingdoms by Rey Terciero and Megan Kearney, the action-packed graphic novel adventure you've been searching for!
Odette is a princess with a love of ballet and a big secret. Due to a curse placed on her when she was born, she transforms into a swan EVERY. SINGLE. MORNING. Because of this, her parents are super overprotective, but Odette dreams of so much more. Dillie is spunky and fearless, never backing down from a challenge. She's a princess too, but she's much more interested in exploring and adventuring than wearing a crown.
After yet another fight with her parents, Odette flies off and finds herself at the lake nestled between their two castles, where she meets Dillie. The two click instantly, leaving them both with major questions about the "evil" their parents have been shielding them from. If there are awesome, kind people like Dillie out there who are accepting of her secret, then why has Odette been forbidden to leave all these years? And if Odette is so friendly, why has Dillie grown up hearing such terrible things about her family?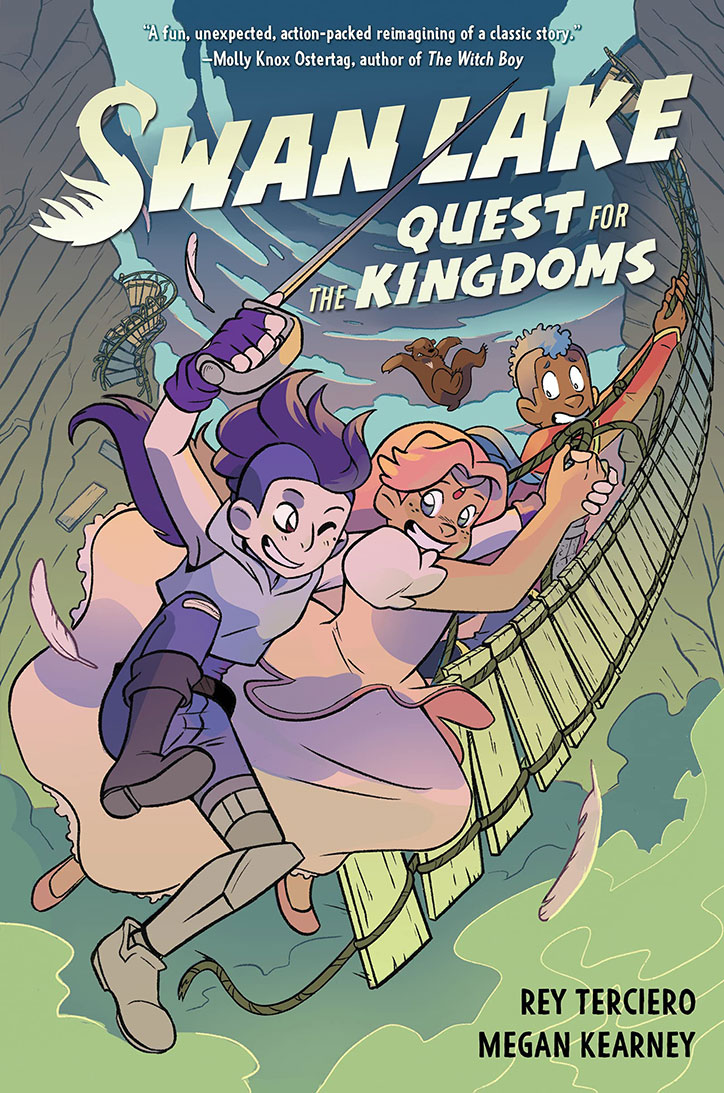 Frozen meets The Wizard of Oz in this swashbuckling adventure perfect for fans of Amulet and The Okay Witch, from the acclaimed author of Meg, Jo, Beth, and Amy.
Odette and Dillie are supposed to be enemies. Their kingdoms have been feuding since before they were born.
But when the two princesses meet each other at the lake that separates their castles, it's clear they were destined to be best friends. Odette–who lives with a curse that magically transforms her into a swan when the sun rises–is happy to find someone who treats her like everyone else. And Dillie has finally met someone who understands her dream of having an adventure instead of sitting on a throne.
When they discover that Odette's curse is the reason for tension between their families, they decide to follow an ancient legend that could lead them to someone who can set everything right. As they travel through enchanted lands, meet new allies, and fight terrible foes, Odette and Dillie are put to the ultimate test.
But when the time comes, will they choose their deepest wishes or the fragile fate of their world?
Swan Lake: Quest for the Kingdoms
AUTHOR: Rey Terciero
ILLUSTRATOR: Megan Kearney
PUBLISHER: Harper Alley
DATE: April 5, 2022
Determined to get some answers and break the curse, Odette and Dillie head out on a quest to find the one person who can possibly reverse the curse (and maybe even reunite their kingdoms once and for all!). Together they'll explore enchanted lands, meet new friends, encounter strange creatures, and take on anyone who tries to stand in their way. It's a thrilling romp filled with lots of humor, heart, and non-stop action.

We're totally obsessed with this empowering read. It's inspired by the iconic and timeless Swan Lake ballet but brings the story to life in an unexpected way through awesome illustrations, high-stakes adventure, and lots of sweet bestie moments. That's why we teamed up with our friends at HarperCollins for a Swan Lake: Quest for the Kingdoms giveaway. The winner will snag a copy of the book as well as a few other goodies inspired by the story.
Ready to enter? Grab your favorite adult and have them enter below for your chance to WIN!
Swan Lake: Quest for the Kingdoms Giveaway: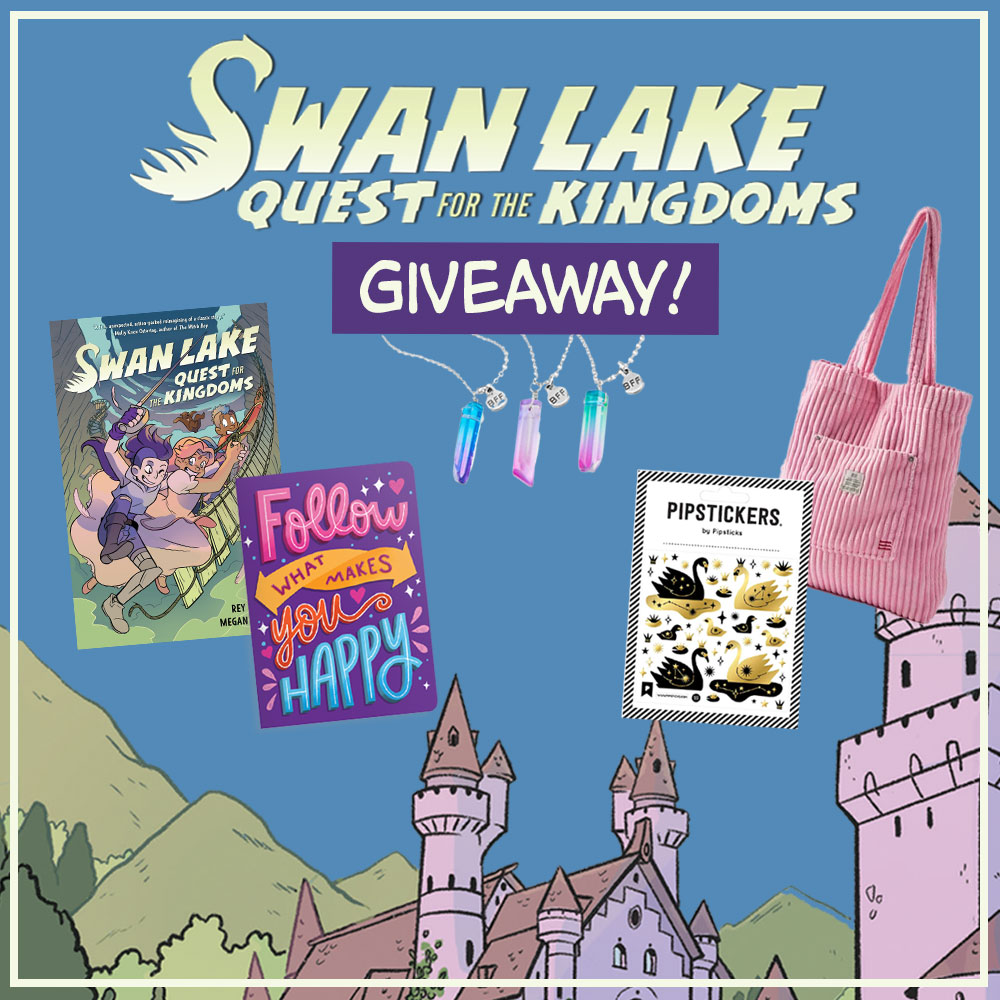 WHAT DO I WIN?:
ONE lucky winner will receive a Swan Lake: Quest for the Kingdoms Prize Pack that includes:
– ONE (1) copy of Swan Lake: Quest for the Kingdoms by Rey Terciero and Megan Kearney
– ONE (1) Pink Corduroy Tote Bag from Urban Outfitters
– ONE (1) Swan in a Million Sticker Sheet from Pipsticks
– ONE (1) set of Best Friends Ombre Mystical Gem Pendant Necklaces (3 Pack) from Claire's
– ONE (1) Follow What Makes You Happy Jot it Notebook from OOLY
*Prizes provided by HarperCollins & YAYOMG!
HOW DO I ENTER?:
Grab a parent or guardian and have them fill out the form below by May 11, 2022 at 11:59pm ET.
Giveaway runs from 04/11/22 at 10:30 am ET through 05/11/22 at 11:59 pm. Open to US residents ONLY. Be sure to read the fully detailed rules HERE before entering.
THIS GIVEAWAY HAS ENDED AND THE WINNER HAS BEEN CONTACTED.
You must be 18 or older to enter. Please, only ONE entry per person. If selected as a winner, we will provide your parent/guardian with an affidavit to confirm that you are a valid winner who has permission to win. They will be REQUIRED to sign and return the affidavit to YAYOMG! to claim your prize. Prizes will not be mailed out without signed parental consent.
Ready to join Odette and Dillie on their adventure?! Swan Lake: Quest for the Kingdoms is now available from HarperCollins!