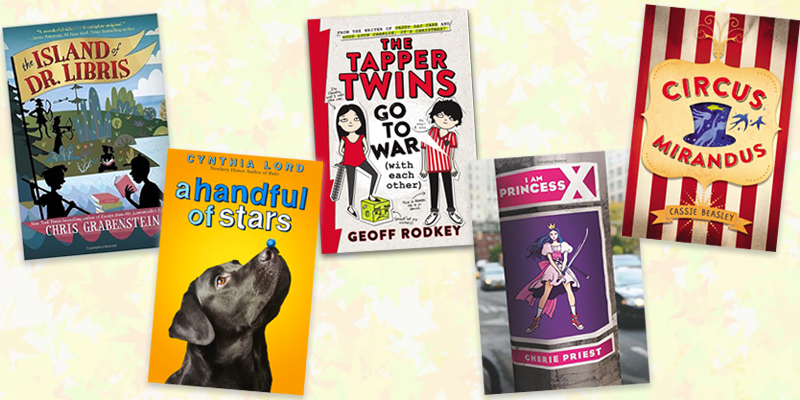 5 Books to Read This Summer
We here at YAYOMG know how exciting it can be when school lets out and summer arrives! There are so many amazing things to be done: family vacations to far away places, trips to the beach, swimming in the cool water, camping in nature, the list goes on! One of our favorite parts about summer, however, is when we get to head to the library (or local bookstore) and pick out the books that we're excited to read for the next few months. Aside from the few books on your school's summer reading list, summer is the time when you can finally pick out the books that you actually want to read!
We've put together a list of our top five picks for summer reads this year:
The Island of Dr. Libris by Chris Grabenstein
If you've ever read Escape from Mr. Lemoncello's Library or any of the Riley Mack Action Adventures, then you already know (and probably love) Chris Grabenstein! He loves to create wonderful adventures for his readers, and The Island of Dr. Libris is no different. Grabenstein brings his main character Billy face-to-face with the bookshelf of Dr. Libris when Billy's family stays in the doctor's cabin for the summer. When Billy starts noticing sounds coming from the books that live on the shelf, he's determined to find out what is going on. Full of mystery, action, and imagination, The Island of Dr. Libris is the perfect book for anyone seeking some adventure this summer!
A Handful of Stars by Cynthia Lord
With all of our talk about camping and adventures, we forgot one of the best things about summer: friends! If you love to read about different types of people coming together to form amazing bonds of friendship, then A Handful of Stars is something you should check out this summer. Oh and did we mention that it stars a cuddly and cute dog who brings our main characters, Salma and Lily, together? I mean, you can't go wrong with friendship and puppies. It's the perfect pick for your list of summer reads!
The Tapper Twins Go to War (With Each Other) by Geoff Rodkey
The first book in what we're sure is to become an extremely entertaining series, The Tapper Twins Go to War (With Each Other) is full of fun sibling rivalry. This book is packed with silly scenarios, perfect practical jokes, fun pictures, silly screenshots and chats, and so much more (like cool digital gaming art)! This book is perfect to bring with you on any trip, especially if you have friends or family members who enjoy a good joke. Plus, if you're anything like us, this book will ring so true when it comes to how much we love (and want to annoy) our siblings!
Circus Mirandus by Cassie Beasley
Circus adventure + magical mystery = everything we should be reading right now! The lead character Micah wants to prove that all of his grandfather's stories about the mystical Circus Mirandus are true. Against all odds (and disapproving family members), Micah and his friend Jenny set off to get what they deserve: answers. The lineup of mind-blowing creatures alone are enough to sell us on this book: an invisible tiger guard, a man who can bend light, and a flying bird woman (to name a few)! No matter what your plans for the summer, Circus Mirandus is sure to add a little…charm to whatever you're planning!
I am Princess X by Cherie Priest
As if the cover isn't enough to make us want to run out and read I Am Princess X, it's all about best friends, Libby and May, who create an amazing comic together called Princess X. When things go terribly wrong and Libby gets into a horrible accident, Princess X stops. Many years later, May starts to see Princess X signs, posters, patches, and stickers everywhere she goes. In order to investigate where all of the images of her childhood creation are coming from, May has to accept that they may be coming from the very person who helped build them – Libby. This will be a book that you refuse to put down this summer; it's perfect for the beach, when you have tons of time to get absorbed in this amazing story.
These five books are only the top choices on our long list of titles on our list of summer reads. Paired with fun bags, bookmarks, and rad patches (coming soon to a YAYOMG post near you!) we're super excited to have a summer packed with literary love!