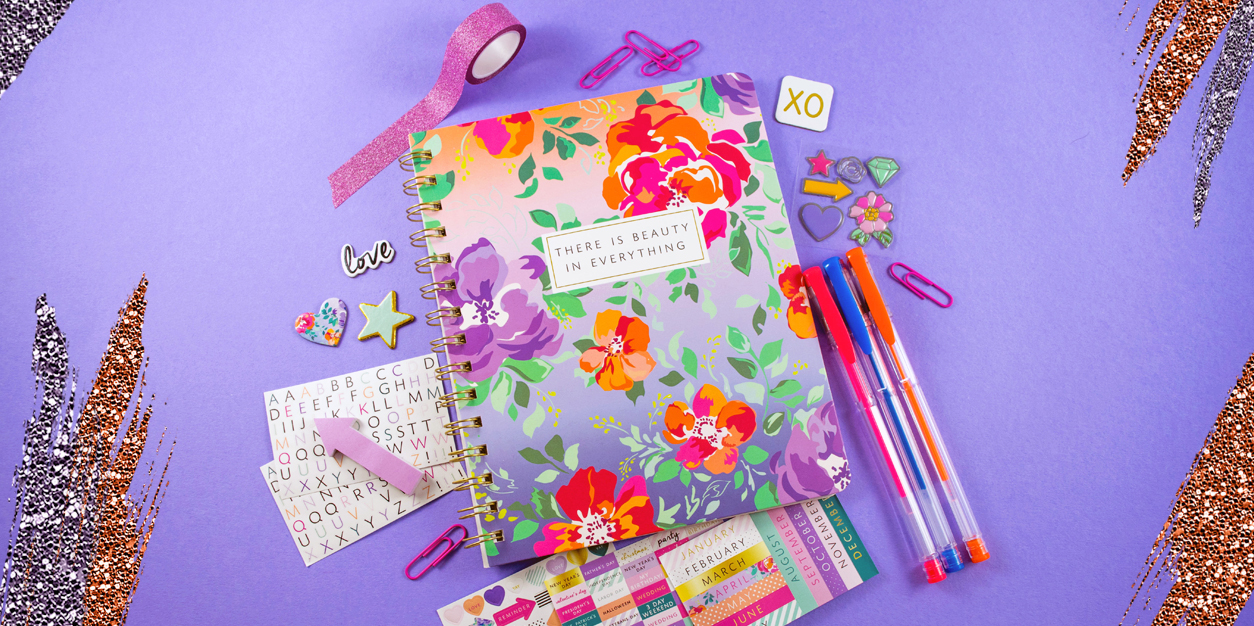 Plan Your Perfect Year With the STMT DIY Agenda Set + GIVEAWAY
Note: We teamed up with Horizon Group USA for this STMT DIY Agenda Set Giveaway. All opinions are our own; we were under no obligation to give a positive review.
There's never a bad time to start a new planner, but with all the upcoming holidays, midterm exams, and a new year on the horizon, it's certainly a pretty great time to start keeping track of all your most crucial moments and assignments. The new STMT DIY Agenda Set is totally gorgeous and a great way for you to spend some time getting organized, getting creative, and just generally getting it together.
We teamed up with our friends at Horizon Group USA to give one of YOU the chance to win an agenda set of your own! Whether you keep it for getting a jump on your 2019 goals or want to gift it to your most organized bestie, be sure to enter below!
Here's why we think you'll adore getting your plan on with this trendy agenda set.
An Up-Close Look at the STMT DIY Agenda Set: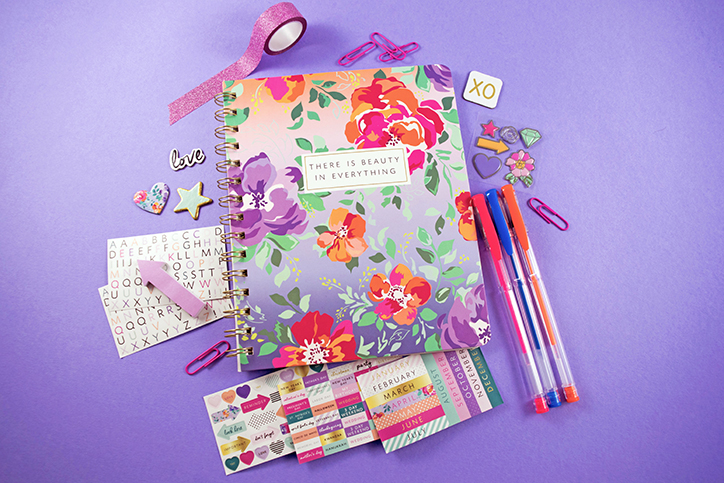 Before we get into everything you can do with this pretty planner, let's take a peek inside the box. The STMT DIY Agenda Set comes with everything you need to get started working towards your biggest dreams, including:
– Floral Agenda
– 3 Colorful Gel Pens
– A Sparkly Roll of Washi Tape
– Arrow Sticky Notes
– Paper Clips
– Chipped Cardboard Pieces
– Lots of Stickers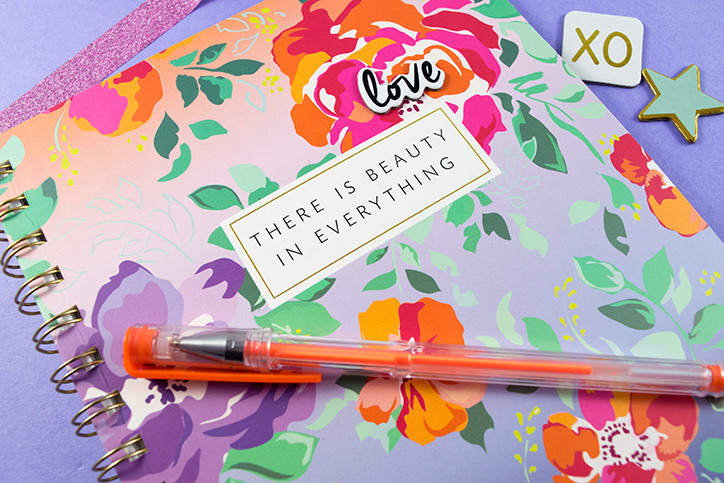 Plan Your Year:
Now that you everything you need to plan your perfect year, it's time to get started! The lovely floral pattern and inspirational quote on the cover will help you find your zen and put you in the planning mindset. Inside the cover, you'll find a useful pocket for stashing any vital items you may need to carry around with you. As you flip through the agenda you'll find twelve months worth of blank calendar pages, a page for birthday reminders, as well as a few lined and dotted pages for journaling, note-taking, and doodling.
We love that this agenda set comes with blank calendars and month labels. This allows for you to get started planning right away without having to wait for January to roll around. It also means that if you're like us and fall a little behind in getting your life together, you can always pick up on the next month without having to skip and waste too many pages.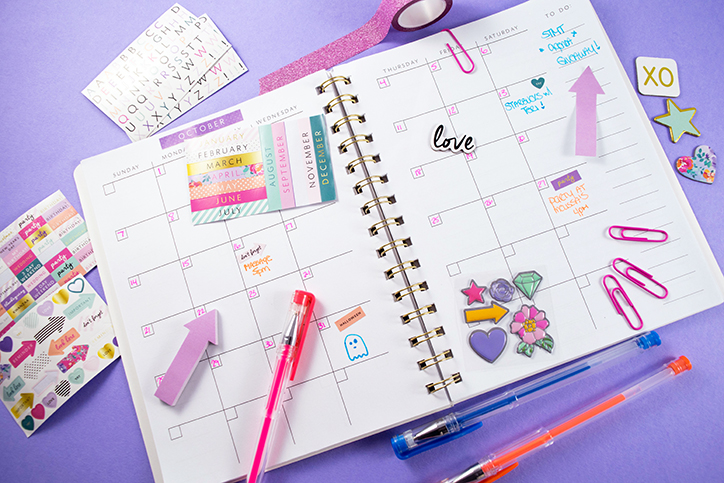 Make it Yours:
Who said your planner had to be boring? Make every page as dazzling as your personality with the included stickers, pens, and sticky notes. Grab any art supplies from your current stash to really take your creativity soar. We think this kit pairs perfectly with the STMT DIY Journal Kit because you'll have double the awesome accessories to decorate and organize with, as well as extra space for diary entries, sketches, and brain dumps.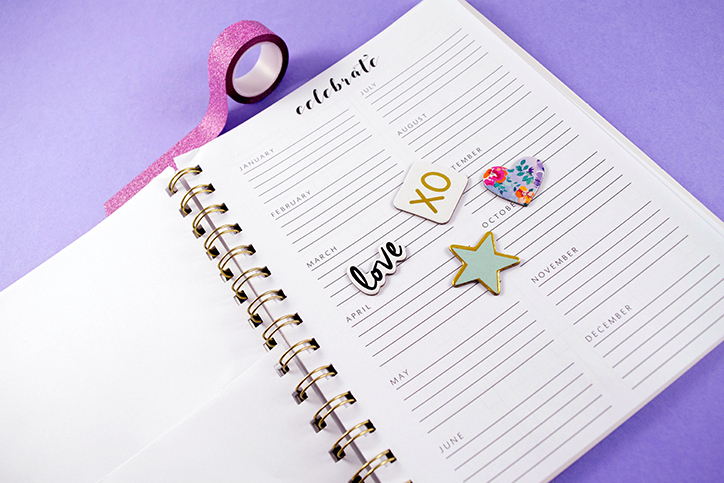 Get Creative:
Since you're in charge, you can do it your way! Here are a few suggestions for taking your planner to the next level:
Get Tracking: Use the dotted pages in the back to track anything you want to stay on top of or keep a memory of. From your moods to books you're reading to allowance saving progress, you can track anything! Make a simple tracker or look up ideas online for some seriously amazing inspiration.
Doodle Away: Just because this agenda starts out blank doesn't mean you need to keep it in pristine condition. Doodle in the margins, jot down your favorite quotes and lyrics, add stickers to the calendar, and let your imagination run wild. Be creative!
Be Scrappy: Use the included washi tape and paperclips (or even a glue stick), to clip in concert tickets, photos, and any other memories you may want to look back on.
Ready to find planner peace? Enter below to win an agenda set of your own! You can also pick one up at Amazon and Michaels for $24.99.
STMT DIY Agenda Set Giveaway:
WHAT DO I WIN?:
– One (1) lucky winner will receive a STMT DIY Agenda Set, courtesy of Horizon Group USA.
HOW DO I ENTER?:
You must be 18 or older to enter. If you are under 18, please have a parent or guardian enter on your behalf by filling out the form below by November 5! Giveaway begins on October 26, 2018 at 03:00 pm ET and ends on November 5, 2018 at 11:59pm ET. Open to US residents ONLY. Please, only ONE entry per person.
THIS GIVEAWAY HAS ENDED AND THE WINNER HAS BEEN SELECTED.
*If selected as a winner, we will provide your parent/guardian with an affidavit to confirm that you are a valid winner who has permission to win. They will need to sign and return this affidavit in order to claim your prize. This step is non-negotiable and REQUIRED to claim your prize. Be sure to read the fully detailed rules HERE before entering.
Looking for more fun ways to get creative? Click here!